Germany has always been considered one of the most popular countries in the world for a very good reason. Germany's beauties, attractions and many great and important historical sights have always attracted a lot of attention from tourists around the world. Also, Germany is home to many fairytale looking castles that are spread across the country. Those castles are still kept in great condition and are filled with luxurious halls, spiral staircases, polished furniture, large corridors and several fortresses. If you decide to visit some of them, be prepared to feel like you have stepped into some magical, far away land.
Heidelberg castle
It is safe to say that the Heidelberg castle is one of the most popular and frequently visited castles in Germany. We think this castle is a perfect place for many couples in love. Everything that you need for perfect romantic getaway you can find here. Situated on the slopes of Königstuhl Hill, Heidelberg Castle stands stunningly over the historic Old Town below.
Heidelberg palace
This castle is a perfect example of beautiful, breathtaking and extraordinary Renaissance architecture. One of the reasons why this stunning castle is so famous is its architecture and tumultuous history. Today this castle is half the palace that it once was and another half was left in ruins. Even though a large portion of it is destroyed, you can still tell how grand, majestic and glorious it used to be. Heidelberg castle tour is something that will certainly leave you breathless, but we need to mention that the interior of the palace can only be visited on a guided tour. As a symbol of German romanticism, this castle is truly some of the best works of architecture in the entire country.
Heidelberg castle facts
The first mention of Heidelberg Castle was recorded in 1225, so it is no wonder that this castle has a rich and turbulent history. Many great and interesting facts can be found about it. One of them is that the iconic Thirty Years War was the beginning of turbulent and incredibly difficult times for Heidelberg Castle. The castle was destroyed by lightning in 1764 leaving it permanently uninhabitable. Writing about the facts is also important to know that the Heidelberg Castle is a mix of Gothic and Renaissance styles which make it a very unique, stunning and simply beautiful place to visit.
Heidelberg castle wine barrel
We are talking about the world's largest wine barrel and it was even more impressive than what you can imagine. The Palace Courtyard and World's Largest Wine Barrel are open daily 8am until 5:30pm and these are the places really worth seeing. This is the place that has one of the country's best mellow, fine-textured and soft vine. This barrels astounding capacity of 219,000 liter is something that leaves many tourists amazed. The Heidelberg Tun was used primarily to store wine that the wine growers paid as taxes to the Bavarian ruler, although back in the 18th century, when it was built, the Heidelberg Tun was slightly larger.
Location of Heidelberg castle
Neuschwanstein castle
Neuschwanstein Castle is a 19th-century historicist palace and its immense beauty even inspired Walt Disney's vision of Sleeping Beauty's castle. It is located in Bavaria and many great stories and legends are still spread about this magical place. One of them is the story of the famous Mad King Ludwig who ruled Bavaria until his death in 1886.
Neuschwanstein castle inside
The interior of the castle is vibrant, whimsical, ornate, and over-the-top colorful. But that is what makes this castle so different from the others and so unique. Also the walls inside are something pretty spectacular that everyone needs to see. The walls of Neuschwanstein palace tell a very important story about Bavarian legendes, way of living, culture as well as many iconic and Biblical narratives. Its interior is incredibly special and stunning. Many warm and vibrant colours can be seen not just on the walls but the furniture is also pretty colorful as well. Wood of the best quality was used to make the imposing furniture of the castle. The details and conditions of both the interior and exterior are mind-blowing.
Neuschwanstein castle tour
The architecture very much follows a Medieval style and this castle only be visited within a guided tour. This is also an excellent opportunity to learn more about rich German history and legends about The Mad King Ludwig, the owner of this famous castle. This castle is so beautiful and popular that the castle receives as many as 6,000 visitors per day when the season is good. These tours can be done both in German or English language. It is very important to remember that you are required to book a guided tour and you need to buy tickets in advance online or at the ticket centre. One ticket costs 13 Euro for adults, children under 18 are free and if you have more questions be sure to contact +1 (702) 648-5873. These thing are essential to know:
Photography and video inside are strictly prohibited

Prepare for rain because here it's common

You have to pay a nominal fee to the park
Where to stay in Bavaria
You can take a one day-trip to the castles from Munich, and reach this castle easily via train, rental car, or big-bus tour company. However, depending on how much time you have in the region, we really advise you to stay in one of the smaller towns near the castles. Our recommendation is always the medieval village Füssen that is located only 3 km from this glorious and stunning caste.
Location of Neuschwanstein castle
Hohenschwangau castle
One of the greatest castles in Europe and one of the world's foremost tourist attractions, all of that and so much more is this stunning castle. Many think that the famous Walt Disney made its drawings of princesses castle thinking about these glorious castles in Germany. The good thing is that this castle is very near the Neuschwanstein castle, so you can visit them both at the same time. One is tied to the fairytale of Sleeping beauty and the other is associated more with the iconic Cinderella.
Cinderella castle
This castle has special and unique architecture both inside and outside and it truly looks like a fairytale caste. The Romanesque style of the castle made it an absolutely perfect architectural model for both Cinderella and Sleeping Beauty. When you do decide to visit it, you will be able to feel like you are living your own magical fairytale. The exterior of the castle is grandiose and many of the rooms inside have also classic Byzantine style. The castle's owner was as well King Ludwig, or The Mad King, as many would call him. The King was practically obsessed with building the perfect castle for him.
Hohenschwangau castle interior
As the other castle of the Mad King, Hohenschwangau castle also has very vibrant and colorful rooms, walls and furniture. Everything looks incredibly luxurious and pretty spektakular. One of the colors that dominate this space are various shades of blue and gold and that makes it perfect for the Cinderella story. The rooms are filled with amazing and valuable art pictures and pieces. The furniture is as unique and extraordinary as everything else and is still kept in a very good condition. Also, this castle was decorated with incredible scenes from medieval legends and poetry. When coming to visit this gorgeous castle inside be sure to know:
If you want to enter you have to book a guided tour

It takes only 30 minutes walk from the ticket centre to castle

The price tickets is €13 per castle

For advance reservations €2.50
Location of Hohenschwangau castle
Marburg castle
This castle is located in the student town Marburg that has so many great reasons to visit it during any time of the year. Of course, it's castle is very often one of the main and most popular reasons to come to this area of Germany, but at the same time, Marburg is a wonderful small town filled with beautiful river views and romantic spots.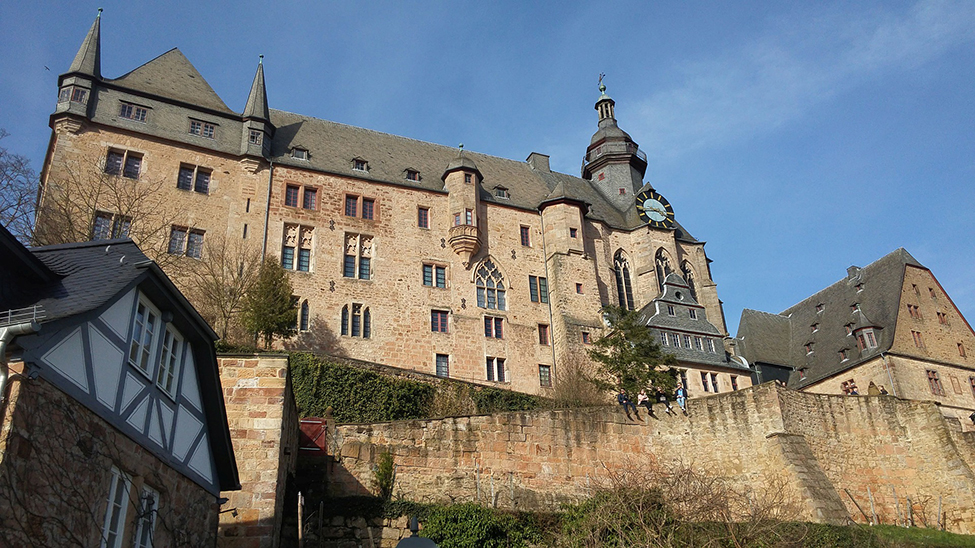 Marburg castle history
This beautiful, medieval castle is located on a hill above the town and it has an unbelievably outstanding view of all the remarkable beauty of Marburg. The castle has a very turbulent and rich history, but today it is mainly used as a set for many popular tv shows and films because it is still in a very good shape, both outside and inside. One of the most important and significant parts of the Marburgs castle history are iconic and famous Marburg files. The Marburg files are a very secret German records from the Foreign Minister of Nazi Germany. All these incredibly valuable documents were taken into Marburgcastle to be further investigated.
Marburg castle interior
Our honest advice is to explore both the castle and its impressive surroundings. You will be astonished with its beauty. It is safe to say that this castle is equally beautiful inside and outside. Rooms are luxurious and an incredible amount of hard work and details has been invested into creating this mesmerizing,medieval interior. So it is no wonder that this castle is truly fit for a true royalty.
How to get to Marburg castle
This lovely, university town is located in central Hessen, on the River Lahn. If you are coming from Frankfurt then it is easily reachable via train or car. You won't have to travel a lot, it is only one hour ride. We recommend you to go there on a one day trip so that you can properly explore Marburg. The city is well connected to Frankfurt and Kassel, so you can take a train from there to Marburg any day of the week that you want. If you decide to drive your car, all signs are well placed and marked. In the vicinity of the castle you will have at your disposal a large parking lot.
Location of Marburg castle
Eltz castle
Ornate architecture and unspoilt nature are just some of the stunning things you can visit and explore. Eltz is one of those few castles that has remained within the same family for centuries. This castle is almost 900 years old. This castle also looks like something that was taken away from the fairytale. The castle is built of the highest quality brick and there is a long and winding road paved with cobblestones. It is located on a hill, surrounded by untacked nature and forests. A lot of green conifers can be found all around the castle, making this place even more unique, beautiful and magical.
Eltz family
Eltz Castle has been in possession of the Eltz family for more than 800 years. It is spectacular that one family kept it together for so long. Owner of the castle today is Dr. Karl Graf von und zu Eltz-Kempenich. This is a very important and valuable family for entire German history. This family left the Eltz castle in a perfect condition and because of that Eltz castle is one of the few castles in Europe that's never been destroyed, by fire, by war or by anything. Although Eltz is an enormous and majestic castle, the atmosphere and furnishings inside are still very well preserved and in a good condition so that everything feels quite cozy, yet luxurious.
Eltz castle inside
This castle is simply stunning outside and inside. To be able to see its interior is something phenomenal. Marvellous paintings, valuable works of art, long draperies. Many of the walls were hand painted with artwork and that makes this place even more special. Almost every piece of furniture is carved and painted. Inside the castle you will be able to see amazing furniture pieces that this family has owned throughout the centuries. When being inside the castle be sure to remember:
No photographs allowed inside

The interior is open for tours from April until November

The castle is divided into three separate family spaces

You can't enter the Eltz family's private living space
How to find Eltz castle
Burg Eltz is located in southwestern Germany near the town of Wierschem. Approximately 800 meters from this fascinating castle you will be able to see the car park and that is also a place where a shuttle bus goes to the castle and back. From that car park there is a path that leads to the castle through the woodland and beautiful forests. At the same time this is an excellent opportunity to enjoy the nature and amazing surraundings of Eltz castle. This path is 1.3 kilometres long so it is not that far away from the castle.
Location of Eltz castle
Nuremberg castle
The Imperial Castle is the symbol of Nuremberg and it has been since the Middle Ages. Importance and enormous power that the Holy Roman Empire of the German Nation had was essential for the growth and popularity of this area and castle. Nuremberg was an important transit and export centre at its prime. This medieval fortress overlooks the Old Town and is an incredibly stunning piece of architecture. This castle was home to every emperor between 1050 and 1571.
Nuremberg Castle - tour
Unfortunately, there are no organized tours of Nuremberg castle, but the good thing is that you can visit and explore it on your own. This tour will take you to the entrance to Sinwell Tower with a wooden spiral staircase swirling all to the top, leading up to an observation platform. The Romanesque Imperial Chapel is an essential part of this stunning castle and this chapel is divided into two separate chapels with an identical floor plan. Our recommendation is to check out the Emperor's living room, which is then the most beautiful and glorious room of all in the castle. So, to sum everything up, these are the things you can see while touring the castle:
The Deep Well

Sinwell Tower

The Double Chapel

The Imperial Hall

Emperor's Living Room

Corner Chamber

The Imperial Castle Museum

Castle beautiful gardens
Nuremberg castle facts
Many great and interesting facts are swirling around this gorgeous castle and its long tradition. So here are some of the most important and significant facts about Nuremberg Castle.
Nuremberg was very important during the Nazi Germany period

Nuremberg was an early center of humanism, science and mechanical invention

Nuremberg is known for Nürnberger Bratwurst, shorter and thinner sausages than others
Location of Nuremberg castle
Hohenzollern castle
This magnificent and absolutely stunning castle is ancestral seat of the Prussian Royal House and of the Hohenzollern Princes. Family dynasty is incredibly strong and special. This castle attracts hundreds of thousands of visitors from all over the world. Even though the castle is located in Germany, it does belong to prussian royal family. Georg Friedrich Prince of Prussia and Sophie Princess of Prussia are the proud owners of this amazing castle and they are more than happy to receive visitors and tell them a story about their family dynasty and this castle. You can find more information on their website.
Hohenzollern castle interior
Although the castle's exterior is more than just impressive, many tourists want to know and see how it looks inside as well. Outside Hohenzollern castle looks like a mystical fortress hidden in clouds and surrounded with forest, but inside it seems to be even more beautiful and glorious. Both inside and outside this castle has neo-gothic style and is filled with golden-hued bricks. Many tourists come here not just because of its immense beauty, but also because this castle hides a wonderful and valuable art collection behind its walls. Inside the castle you will be able to see over 140 rooms, gilded coffered ceilings as well as marble columns inside. So, here is what you can expect to see:
Ancestry Hall - a place that holds the royal family tree and crests
Count's Hall - a hall that has kept its original design and has original wood flooring
The chapel - two chapels on the ground of the castle have stained glass windows
The library - this wonderful place is decorated with murals of the Hohenzollern family
The queen's bed-chamber - arguably the most beautiful room in the entire castle
Large and spectacular staircase - this staircase has stunning architecture and incredible details
Hohenzollern castle history
The first mention dates back to the early 11th century. Hohenzollern castle was considered to be the most fortified house in all of Germany. Unfortunately, the palace was completely destroyed in 1423 and the damage was quite devastating. Construction on a second castle began in 1454, but later this castle fell under Austrian control. Austria owned this castle for the next hundred years. In 1970 and in 1978 earthquakes caused immense damage to the Castle. Even though the castle has been uninhabited since the 18th century, it still remains to be one of Germany's most popular and fairytale-like castles.
Location of Hohenzollern castle
Lichtenste
in castle
This is perhaps one of the most impressive castles. The castle itself rises proudly and stands on the edge of a cliff. It certainly looks like something that came straight out of the movie. Even though it looks very imposing it is one of the smaller castles in Germany. One of the main symbols of this castle is its glorious tower that is rising from the walls. Primarily, it was used for defense.
History of Lichtenstein castle
Original castle dates back to around 1200 and that means this castle has a long and interesting history. The original castle was unfortunately incredibly destroyed, in the Reichskrieg's War of 1311. The old castle was once again sacked and completely destroyed by the city-state of Reutlingen in 1377. Today, that castle is called the Old Lichtenstein and a new one was built in 1390.
Lichtenstein castle today
Today this castle is one of the most beautiful and popular in all of Germany. That is why the castle is one of the iconic places in Germany that gathers a large number of tourists. Lichtenstein castle has great importance for the development of tourism. Fantastic architecture and amazing views are something to look forward to when coming to this castle. Here is something that every tourist need to know:
There is a 30-min guided tour of the castle Lichtenstein

The Basic tour shows the first floor and 2nd floor of the castle

For English-speaking guests, a handout in English is available on the tour
Location of Lichtenstein castle
Sigmaringen castle
Even though the competition is truly strong, Sigmaringen castle could be the fairest castle in all the land. It sounds unreal, but anyone who came to this place and saw this castle in its full glory can say how breathtakingly beautiful is. Sigmaringen castle is something that makes Germany really proud and today it has become one of the most popular castles to visit. At the same time, this castle is the largest and grandest. That is why Sigmaringen castle is on the top of the list. It is enormous and it stretches across the entire city block.
Sigmaringen castle interior
Almost everything in this castle is decorated in gothic style and it looks incredibly luxurious , worthy for kings and queens. Maybe the most impressive is the stunning red hall where everything from top to bottom is decorated in vibrant red and gold. The entire ceiling is painted and surrounded with gorgeous and unique golden details and decorations. The most important and valuable thing is the impressive private collection. The opulent Victorian interior and exterior architecture design are something that will leave anyone mesmerized. In the center of the castle you will find golden and white staircases covered with red carpet. Almost all the walls are covered with artistic paintings that represent royal families and owners of the castle.
Sigmaringen castle facts
Here are some facts that can give you all the information you need to know about this wonderful,historical place and castle:
Opening Hours: from April - October (9AM - 6PM)

Price ticket: €9.50 per person

Group tours in English can also be arranged with advance notice

The House of Hohenzollern are the current castle owners
Location of Sigmaringen castle
Munich Palace
This historical place has great value and a significant role for the entire country.The complex is enormous and it gathers large crowds during the entire year. The Munich Residence served as the seat of government and residence of the Bavarian dukes and kings.This building still has a great influence and is an important administrative factor for Germany.
Residence Museum
This museum has a truly impressive collection. The display of important ornaments, dokuments, jewels, ivories is something that you will be able to enjoy. All this constitutes a testimony to the past that was of great importance for the growth and development of the entire country. Rulers of Bavaria collected those valuable items for centuries and today many tourists come here regularly to see them. The treasure reached its full extent in the early nineteenth century and since that time it was carefully kept in the museum. Today,the Residence Museum is the most important palace museum in Europe. Here you will be able to find:
Old and authetinc furniture and paintings, tapestries, treasures

The Hall of Antiquities

Papal Rooms

The Ancestral Gallery

Charlotte Rooms
Each room of this palace represents a special epoch and depicts the best and most precious elements of it. Some of the best German painters and artists painted and decorated this place, so that today many tourists all around the world come here to admire their masterpiece work. The Renaissance and early baroque periods are represented in the rooms and sections of this magnificent place and, because of that, the Residence Museum is the ideal place for any art lover. Here is the information you will need if you decide to come here:
Price ticket is 9 euros regular

At the Munich Residence no reservation is required for groups

The maximum size of groups is limited to 25 people

Children under 18 are admitted free of charge
Palace architecture
The Nymphenburg Palace is a Baroque palace situated in Munich's western district. Max Emanuel was supposed to be the owner of this magnificent summer residence. Nymphenburg summer residence was designed to be part of a large estate. Present-day dimensions of this palace were created under the elector Max Emanuel. This is the place worthy of real royalty and the architecture is absolutely mesmerizing. Incredible amounts of detail has been invested in almost every corner of this summer palace. This luxurious and iconic building has left huge impact on German architecture.The arches in some rooms were classical and elegant at the same time, giving the palace rooms a noble atmosfere. So here is what to see in this stunning palace complex:
The central pavilion

The royal apartments

The annexes

Nymphenburg's park
Location of The Nymphenburg Palace
We hope that this blog was successful in describing to you all the beauty and great importance that castles in Germany still have. These famous castles are great medieval buildings whose immense beauty inspired legends and fairytales to be spread even today. We are sure that all those castles will leave you breathless and you will keep asking yourself if you are living some kind of modern fairytale. These places are not just magical, but at the same time, they are places that will take you on wonderful adventures and if you can share that experience with your loved ones, it will make it only better.