If you want to create memories dancing on tabletops till the AM, you're in the right place. We looked everywhere to find the best party cities in the world, it is now up to you to decide if you're going to plan your whole trip around it. A little party never killed nobody, right? From speakeasy in the heart of Manhattan to a cave-castle-turned disco, we did the hard work, and you'll do the fun part. Some of the coolest spots that deserve their spot on every top 10 nightlife cities in the world lists are:
Best nightlife in Europe
Are you ready to have your own EuroTrip, just without Matt Damon? We are not saying that you should opt for illegal activities, to be precise. The clubbing scene in Europe can be intense in the best way possible. Serbia may not be the first country that comes to mind, but it is an underdog worth checking. We'll tell you all about a legendary nightclub in Germany, you'll have to figure out a way to get in. And, a few secrets about the Dutch capital will help you have the best time of your life. Let's explore them all together.
Amsterdam nightlife - All-nighters in the Venice of North
Dutch charm is undeniable, and once you visit Amsterdam, you'll see that it follows you to every corner of the city. No matter the part of the year or the part of the day, you will find a bustling place in or around the city to bust out some moves. Lovers of EDM, jazz or alternative sounds will be pleased as they'll have a lot of options to choose from. You don't have to feel pressure to fit in or follow crazy trends; the clubbing scene in Amsterdam is chill and casual. Most of the clubs can be found in the outskirts of the town, where big industrial venues serve as party temples. Another great thing about Amsterdam is just how LGBT-friendly it is. That means that you don't have to limit yourself to just gay bars; wherever you go you'll feel welcomed.
Amsterdam nightclubs
Neighborhoods known for their lavish and active nightlife are the Rembrandtplein and Leidseplein. Another trendy district, as we all know, is the Red Light district. It is promiscuous, hedonistic, and everything you think it is, multiply it by 10. If you enjoy this type of fun, you do you. When it comes to nightclubs in Amsterdam, here are just some of them you ought to visit:
Radion: If you were looking for the best chance to go to your first rave, this is your sign. Former lecture hall today serves as a techno Eden that always leaves you wanting more. It has a 24-hour license, and it uses it to the maximum. Radion organizes special events, such as movies screenings, gathers hellishly talented DJs and artists, and somehow manages to have a different atmosphere each time you visit it. You should follow a smart casual dress code and buy your tickets in advance. They are sold on a 1 to 7-day basis, with prices starting at 10 euros ($11.15).
Club NYX: On the website, it says that their favorite element is the element of surprise, and that is all you need to know about this place. Mostly known for their drag queen performance nights, this club that can house up to 850 people is a great place to visit if you wish to dance to the Hot 100 hits. It is a happy place you can't miss.
Vondelbunker: Yes, you will be partying in a legit atomic bomb shelter, dating back to the 40s. It stands out for its love of everything DIY and the community, as it succeeds in staying open thanks to the volunteers, despite not having a cover charge at the door. DIY your outfit and head out to one of our favorite venues to enjoy alternative sounds.
Nightlife in Belgrade - Party capital of Europe
Do you know what a splav is? You cannot say you've partied until you've lost your voice on a party raft on the Sava river in downtown Belgrade. The capital of Serbia has been topping the best nightlife lists everywhere for quite some time now. Serbs have a soft spot for music, celebrations, hospitality, and stamina when partying. It may be the escapism of the 90s that made people super creative or just the love of a good time; either way, Belgrade is pretty diverse today because of it. You'll always get the perfect answer if you ask for a party spot recommendation based on your music taste. From small jazz bars clubs that have theme nights dedicated to a single artist or a music era to a bohemian quarter that is Skadarlija. This cobblestone street has kept its charm of old, and it takes you on a ride through restaurants and bars, each with a specific atmosphere and a band that plays mellow tunes by request.
Belgrade nightclubs
There are two distinctive seasons in Belgrade that affect the nightlife scene. During the summer, head out to one of those rafts we've mentioned to experience the most intense clubbing of your life. The energy is always spot on, the people are friendly and beautiful, the prices are reasonable, and the nights feel neverending. Winter nights are reserved for regular clubs, but they come with a twist in Belgrade. Many of them offer live music, with prominent local stars performing regularly. Reservations are essential tho, but you don't have to have a web of connections to get in (we're looking at you, New York).
Be ready to spend money on a table and a bottle or two of some liquor to have your spot at VIP areas. Districts known as Savamala and Beton hall are home to Belgrade's most popular clubs and bars. You should check out:
Freestyler: This is a favorite one among the locals, with the famous DJs performing every night till the early mornings. This party raft even has a winter season stage, so no matter the time of the year you visit Belgrade, you'll get to enjoy the trendy spot. It is divided into four sections for more straightforward navigation, from a bar table to a luxurious VIP area that will cost you up to 14 more people 430 euros a night. The wild atmosphere combined with the gorgeous view of the river is a winning situation.
Kasina by Community: If you're looking for a live performance act to accompany your night out, this is the place to be. Located in the city's heart known as Terazije, Kasina has lived a long and happy life as a respected party establishment. Originally opened as a brewery, it welcomes 700 people a night and requires a reservation. Its modern interior design and fast and friendly service aren't available for visitors under the age of 23, making it a tremendous adults-only space. Dress elegantly and enjoy the company of celebrities as you sip on unique cocktails. And for a bit of break, head out to the open space that puts you on lively Belgrade streets.
Lafayette Beograd: They took the motto Life is a cabaret to the heart, which paid off big time. Lafayette is located In the trendy area of Beton hall, and even though it is relatively new on the scene, it quickly found its audience. Witness a cabaret show in the company of prominent names of the business and entertainment industry of Europe, enjoy a light spectacle, charismatic staff, and performers, and soak in the glorious atmosphere of this one-of-a-kind club in Belgrade. As always, don't forget to reserve your table.
Berline nightlife - Spontaneous madness
If you have experience traveling and clubbing around Europe, you are familiar with the iconic status that Berlin has held for many years. It takes partying pretty seriously, making it a part of the cultural experience. With over 4.000 bars and clubs that create a partying Perpetuum mobile, it's a perfect spot for benders; be responsible tho. Nightlife in Berlin has a late start, as it assumes you'll party even when the sun is up again. We recommend you don't overthink your location and go with the flow, energy, and openness of people. The music scene is primarily notable for techno and house sounds, but it won't take you long to find a spot that feels good to your ears. An area known as Mitte in the central part of Berlin used to be the over-the-top wild hotspot in the 90s, but it is now very mainstream and houses a blend of famous venues and music genres.
Berlin nightclubs
The best way to experience the true spirit of this exciting town is to go to as many clubs as you possibly can or want to visit. Just don't go before 1 am, as you'll have to wait for hours till the clubs get flooded with people. The bouncers are intense, but it's for your own good. Be ready to answer their questions, don't be excessive while drinking and shouting, and don't break the house rules. Berlin's liberal and lively people repurposed former industrial area facilities to act as huge and fun party locations. To find the best spots, head out to Prenzlauer Berg in eastern Berlin, Wrangelstrasse, Friedrichshain for the alternative scene, or Kreuzberg if you crave urban places. Clubs with a reputation you should give a go are:
Berghain: It doesn't get more iconic. Getting into this club is an experience on its own, as it has one of the strictest entrance policies in the world. What started as a safe space for guys to indulge in their fetishes in the early 90s has evolved into a hedonistic party shrine that still upholds a promiscuous status. You can easily avoid the sex-related parts of the club and focus on partying. You'll probably be questioned at the entrance after waiting for some time, and all we can say is - try to act as naturally as possible. Like going to a techno club is your second nature, you know who's the house DJ for the night, you're dressed in all black and don't look like you're going to pass out from the anxiety.
As a practice run, check out the Berghaintrainer website to experience the process of entry interrogation. A party before the party, in a way. Once you step into this techno paradise, you'll see why it has to pay expensive taxes and why it welcomes people from all over the world. We don't know what's more impressive, the immaculate vibes that soothe even the techno virgins, how it managed to preserve the industrial feel of the venue, or the sound system that is a beast.
Watergate: This change of scenery from the previous club takes you to the river Spree, where it welcomes world-class acts for the ultimate experience. If you love to sway around the LED lights, this is the place for you. It also has a floating terrace, so when you step out for a breath of fresh air, you'll be greeted by the gorgeous Falckensteinstrasse panoramic views. For 15 euros ($16.8), you get to enjoy R&B and house parties inside a two-story club with ceiling-high windows.
Loophole Berlin: Laid-back vibes and the mix of genres will be an excellent palate cleanser after all the hardcore techno. Loophole organizes various art events and parties, with music covering everything from punk to pop. It is considered an event space more than a club, and it gathers the most interesting people with contrasting styles. If you come to the club every day for a week, not a single night will be the same as the others.
Party cities in America
Nightlife in America is carefully crafted to be a party for all your senses, and we couldn't be happier about it. Did you know that there are almost 63.000 nightclubs in the US alone? There isn't a chance for you to miss out on the fun, no matter your preferences or budget. Although we are sure that flyover states know how to party, we are sticking to the coast this time. We'll be heading out to infamous Vegas in look for a club worthy of Elvis himself and a slight change of pace hop to everyone's favorite concrete jungle. We are pretty stoked to share what we've found.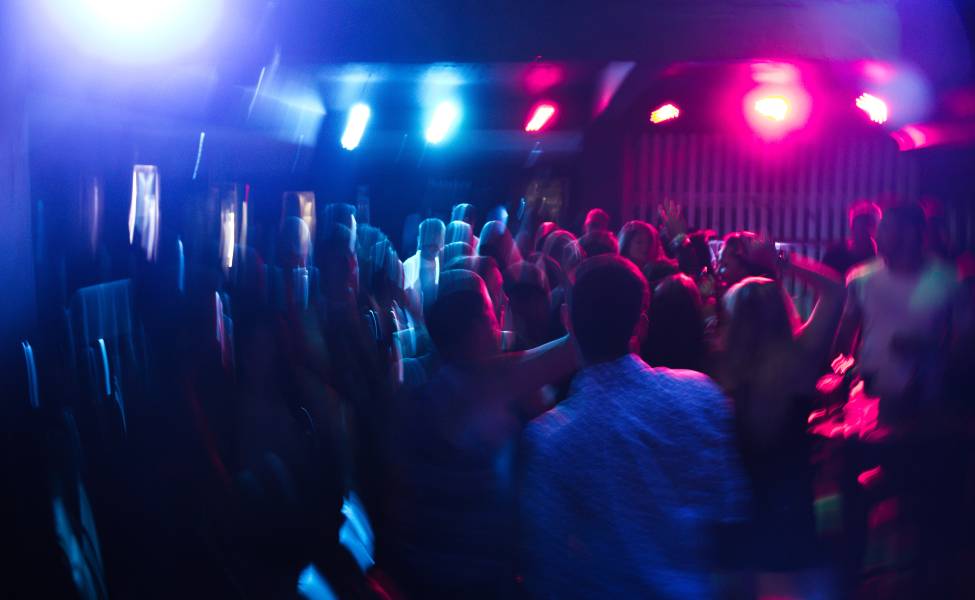 Nightlife in New York
A city that never sleeps also never fails to deliver. If you're looking for world-famous bars, rooftop parties, spots suitable for a hipster you still deny you are, or glamorous events, look no further than the Big Apple. New York is the destination for club-hopping, especially if you love to start late and witness the sunrise on your way back from the party. Chilling in a vintage bar where you can play out your 007 fantasies with a cocktail in your hand, happy hours that leave you most of the night to get a decent sleep, or even comedy clubs that are always better when you're boozed–up are just the tip of the iceberg. Trendy Brookly, Greenwich Village, and Chelsea are great spots if you're new to the NYC club scene. Who knows, maybe that person you got to see pour its heart out at an open mic night becomes the next Adele.
Where to go out in NYC?
Arguably, the most famous borough of NYC to search for a good time has to be Manhattan. Sophicitade yet diverse, it allows you to indulge in an aged whiskey at the speakeasy one minute, and in the next, sing your heart out to a 90s power ballad in the middle of a crowded dancefloor. We'll name a few spots scattered around the town, but they all deserve the love.
Time Out Market New York: If you prioritize your 8-hour sleep but still want to enjoy New York after dark, head out to this trendy spot. You'll get to enjoy first-class cocktails made with care and love by bartenders fun to watch, overlooking the Brooklyn Bridge. It doesn't get better than this, especially if you appreciate people-watching.
Paradise Club: Venue worthy of its location in Times Square, it is well-known for its Friday and Saturday parties. It gathers the elite, the best DJs worthy of your attention, and a gorgeously decorated place ideal for lavish private events. Indulge in epic performances that will change the way you see clubbing.
The Fleur Room: This place is stunning, and we can quickly just stop here. But we won't, as this rooftop lounge in Chelsea has the charm like no other. A 360 view of the Manhattan from the 35th floor is possible to rent for private events, which will make you feel like the main character. If you want to drink a dry martini in the same room as Idris Elba at this botanical-themed bar, be quick with your reservations. You might need a pull some connections, so good luck.
New York can be considered a luxurious destination, and you will find it alongside other exciting spots in our Luxury vacation blog.
Las Vegas nightlife - Clubs for days
This so-called boiling pot of entertainment may be the ultimate destination for all you party people. If you think your taste is too weird or specific, Vegas will prove you wrong. The Strip is rich with clubs on (literally) every step, and Downtown Las Vegas sure knows how to make you stay up all night. Vegas hotels have at least one club on their premises, and they cater their offer to every possible visitor. Innovation is the name of the game in Vegas, which means you get to satisfy your party needs in the technologically advanced venues that could easily make it to the next Tron movie. Las Vegas nightclubs also gather a talented bunch of DJs and performers, and we are not just talking about Copperfield. If you're hoping to bump into your favorite celebrity while drunk, head out to Nevada. It would be best if you did not lose your friend at some of these clubs:
Omnia at Caesars Palace: This one has been blowing people's minds since 2015. Dancing under a chandelier that resembles a spaceship? Count us in! After an intense couple of hours jumping up and down to the sound of the hottest DJs in the world, you'll never want to leave. The best parties are on Saturdays but don't hesitate to visit any time. If you fall in love with this place as much as we did, we recommend you check out other clubs that come from the creative minds of the Hakkasan group.
XS Nightclub: They're not trying to hide the fact that this is one of the most expensive nightclub projects in history. You'll be greeted by golden statues, dancing under expensive light shows, and even have access to the pool area. If you have a fancy taste, this is the place for you.
Apex social club: Rooftop parties in Vegas should be on your bucket list. It's modern, sophisticated, and fun enough, even for the most experienced party animals. If you spot a celebrity guest, try to act cool.
Click to read our blog that tells you all you need to know before visiting this exciting city!
Los Angeles nightlife - Experience the City of Angels
If you're a nightlife noobie, you won't have trouble finding a spot to party or silently sip on gin and juice in Los Angeles. From trendy nightclubs and speakeasies, or live music venues, LA has it all. FYI - getting a table in LA's hottest spots requires speed and booking on time, sometimes even some name-dropping. If you don't know where to start in the city of Angels, here's a little overview of the nightlife scene:
The madness of Hollywood: You can't say you've been partying in LA unless you've experienced West Hollywood nightlife. Once the playground of gangsters, Sunset Boulevard is the place to be. The infamous Sunset Strip is home to numerous nightclubs, bars, and music venues, including the legendary Whiskey A Go Go and Viper, comedy club The comedy store, and Mondrian. West Hollywood is also known for its upscale rooftop bars, such as Soho House, Skybar at Mondrian, or Harriet's Rooftop at 1 Hotel West Hollywood. Enjoying the sunset and LA skyline with a unique cocktail in hand? Sign us up!
Bohemian vibe of Silver Lake: If you're into a chill night out, head to Silver Lake, a trendy neighborhood that shouldn't be overlooked. Here you can find numerous dive bars, music venues, and restaurants that offer a more relaxed atmosphere. One popular spot in Silver Lake is The Satellite, a music venue that has hosted numerous famous acts over the years.
Find unique nightclubs in Downtown LA: Some would say the best places for dancing are in Downtown LA, and we can't say no to that. Just be prepared to spend money, sometimes in the $700-1700 range per night. The downtown area is home to places like Exchange LA, known for its massive dance floor and mindblowing sound system. One place in downtown LA you really shouldn't miss is The Edison - a speakeasy-style nightclub with exposed brick venues and a dress code that is located in a historic power plant. All your Great Gatsby dreams will come true, trust us.
Asian night clubs
Trying to limit ourselves when writing about nightlife in Asia has given us a headache. Destinations on this continent, especially in its southern parts, check off all the boxes. It is reasonably cheap, and lively, the people you'll meet along the way are the coolest, and the location is just divine. The Blade Runner feel of Tokyo's downtown neighborhoods is enough of a reason for you to keep exploring eccentric clubs and bars that'll make you fall in love with it even more. Thailand is also a fan favorite, with Phuket being the epicenter of fun, but we decided to shift the spotlight to other spots worthy of your attention. Let's take a look, shall we?
Tokyo nightclubs
No wonder people in Japan have the longest life expectancies in the world. Tokyo truly has it all, from entertaining tourist attractions that are the best at night, such as the Tokyo Tower, to nightclubs that attract a wide array of tourists alongside locals. Even though it does have a calmer atmosphere during the night, this unique city still radiates such exciting energy, whether you're enjoying the fireworks from a rooftop bar or a quiet street food restaurant bursting with colorful signs. Tokyo's most notable nightlife districts are Shibuya, Ginza, Shinjuku, and Roppongi; go there to find prominent nightclubs, chic bars, and even R-rated clubs and establishments.
Even though this city may feel overwhelming at times, the nightlife scene is easy to follow. Once you get the hang of different boroughs and learn the essential clubbing rules, there's no stopping you. We can't mention them all, so here are just some of the nightclubs in Tokyo worth checking:
Harlem in Tokyo: This place has been leading the world of hip-hop clubbing since 1997, and it still manages to be fresh. The up-and-coming DJs and trap artists create a perfect blend of classics and new hits to keep you on the dancefloor for hours. Drinks won't break your bank, which is always a plus, and the atmosphere will keep you wanting more.
PLUSTOKYO: If you're looking for a unique place to start the night before heading out to a club, make PLUSTOKYO your priority. It is located at the top of the shopping and dining complex.
Unique nightclubs
Clubbing became much more than just a 4x4 room with lights, booze, and music in the last decade. People are craving authenticity, as they should. So, the weirder the place, the better the experience checks out in this case. Partying on the rooftops has its perks, but not as much as an underwater party, don't you think? Here are just some of the exciting party places you should check out once in your life:
Imagine Punta Cana Night Club: Known as The Cave, but the Waynes have nothing to do with it. We have to thank the Caribbean sea for this marvel, actually. Located in the Dominican Republic, a former system of caves and caverns now serves as a party temple in which you dance the night away. Come on Fridays to show off your bachata skills, or rekindle your Step-Up obsession with a hip-hop-themed party on the weekend. Either way, the atmosphere is unbeatable. It doesn't have a dress code, but the age restriction doesn't allow people under 18 to enter. With 3 am closing time, it tests you to the limits, but it is sooo worth it.
Subsix Maldives: Can you picture yourself partying above the water? You'll be able to do just that in the world's first underwater nightclub/restaurant. Located in the mesmerizing Maldives, you need a speedboat and a few (maybe more) steep steps to reach it. During the day, it is a stylish restaurant that serves gourmet seafood dishes, and at night it becomes an adults-only nightclub with soft violet lighting. An extensive bar in the middle and huge windows that allow you to gaze upon the sea life while listening to some tunes are a recipe for a unique nightlife experience. We recommend you book in advance, as it is becoming more popular each season. Since you're already there, check out the fun and luxurious side of the Maldives, as it truly is one of the most beautiful islands in the world.
Map of the cities with the best night life
We are more than sure you won't make a mistake if you choose to visit any of the destinations we've mentioned. But, why stop at one? Take a look at this map we made you - great for orientation and even beetter for travel planning!
Writing about the best party destinations is the second best thing about them, we now leave you to do the best one. Dancing like nobody's watching is self-care; keep that in mind. Whether you like the idea of a quiet night in an NYC bar or see yourself as a social butterfly that thrives on loud music at 1 am, we gave you an idea or two. Good luck with your party endeavors in Vegas or Amsterdam!