Bosnia and Herzegovina, a small Balkan country, is a travel marvel you shouldn't miss. There are over 15 waterfalls scattered around the country, but primarily in the west, some even among the highest in Europe. Yes, you can swim in, under, and around some of them. We've made our top 10 list that you can use as a guide through your waterfalls in Bosnia tour. Here's a little sneak peek:
Skakavac waterfalls in Bosnia
Not one but three waterfalls in Bosnia are called Skakavac, and we cannot decide which is more beautiful. From the one close to the capital of Bosnia to a waterfall for which you have to go away from a beaten path, let's look at what they are like.
Skakavac waterfall near Sarajevo
| | |
| --- | --- |
| Where in Bosnia and Herzegovina is it located? | Just 12km north of Sarajevo, in the nature reserve with the same name |
| How high is it? | 98m (322ft) |
| How to get to it? | You can catch a bus in Sarajevo (line 69) that will take you as close to the marked trails as possible. If you decide to go by car, a 40-minute drive to the reserve through the town of Nahoreva awaits. |
| Does it have an entrance fee? | There are no fees for visiting this waterfall |
This Skakavac waterfall is Bosnia and Herzegovina's highest waterfall. It covers over 1430,70 ha (3533 acres) of land, which is there for you to explore. It's no wonder it is named and protected as a natural monument, as the nature surrounding it consists of over 1,500 species. It is situated deep in the spruce-fir and beech-fir forests. During wintertime, it completely freezes over, making it a sight you cannot miss. There are two ways to go to it up close - from a viewpoint at the top or a path that takes you to the foothill. On your walk through this nature reserve, you'll find picnic zones with wooden benches and many signs with fun info on the surrounding nature. If you're a fan of biking and hiking, the trails that lead to Skakavac are perfect, although slippery.
Skakavac of Sutjeska - Waterfall with the most expensive entrance fee in the world
| | |
| --- | --- |
| Where in Bosnia and Herzegovina is it located? | In the Perućica rainforest, which is a part of the Sutjeska National Park. |
| How high is it? | 78m (256ft) |
| How to get to it? | Perućica is located in the southeast of Bosnia, close to the Montenegro border and Tjentište. Follow the route M20 to the entrance of NP Sutjeska, from where you must continue on foot on the marked trailhead. |
| Does it have an entrance fee? | The entrance will cost you 1,000KM, which is around $545 (we'll explain later) |
This price tag may sound bonkers, but we promise it is worth it. Perućica is one of two rainforests in Europe, and its survival is the top priority. A few years back, the entrance to the whole Sutjeska National Park was free, but the destructive nature of the people is why we can't have nice things. Perućica is situated in the foothill of Bosnia's highest mountain, Maglić, where its creek encounters a valley from where the Skakavac waterfall cascades. If you decide to visit this waterfall, you'll have to book a guided tour for 10 people max and register your visit. The main reason for such a high entrance fee is the preservation of the rainforest over tourism. A one-hour walk to the waterfall can be challenging at times, but the views are more than worth it.
Kravice waterfall - Visit a waterfall near Mostar
| | |
| --- | --- |
| Where in Bosnia and Herzegovina is it located? | On the Trebižat river in the south of Bosnia and Herzegovina. The closest cities are Mostar and Ljubiški. |
| How high is it? | It has many slopes, the highest being 28m (80ft) high. |
| How to get to it? | It's a 60-minute drive from Mostar, following the route R425 and the signs through Sretnice, Čitluk, Potpolje, and Ljubiški. You could spend around $100 on a taxi or go on one of many Kravice falls tours for $40-60. |
| Does it have an entrance fee? | The entrance fee is 20KM or around $11; A little hack - tickets are being sold between 8 am and 8 pm, so if you decide to visit it in between, you wouldn't have to pay. |
Considered one of the most picturesque places in Bosnia, Kravice waterfall consists of over 8 slopes that gather in a 120-meter-wide pool. The strength of the water was once used for mills, which are no longer there, but the remanence of constructions can be seen. A natural grotto was formed close to it, and you can visit it in search of a cooler spot during summertime. It's a perfect spot for a full nature day. Swimming at this waterfall is allowed and best during summer when the pool is most shallow. Boat rides and rafting at Kravice waterfalls are a perfect way to experience it and will take you to an old shipwreck. And don't even get us started on the nighttime at Kravice Waterfall! It gets illuminated at all angels, which creates this serene look. Not far from the waterfall, there is a camping area and villas where you can rent a room if one day at this marvel isn't enough for you.
Štrbački buk - Biggest waterfall in Una National Park
| | |
| --- | --- |
| Where in Bosnia and Herzegovina is it located? | Its a part of the Una National Park, on a river of the same name |
| How high is it? | 24m (79 feet) |
| How to get to it? | Routes R408 takes you to the National park, whether you decide on a drive or to take a bus from Bihać. There are three entrances to the park, at Gorjevac, Orašac, or Ćukovi, where all transports stop, and a hike starts. The hike can be challenging at times. |
| Does it have an entrance fee? | The entrance to the Una National Park is charged, except if your name is Una. How neat! If you want to visit Štrbački buk, you will have to spend 6KM (around $3) |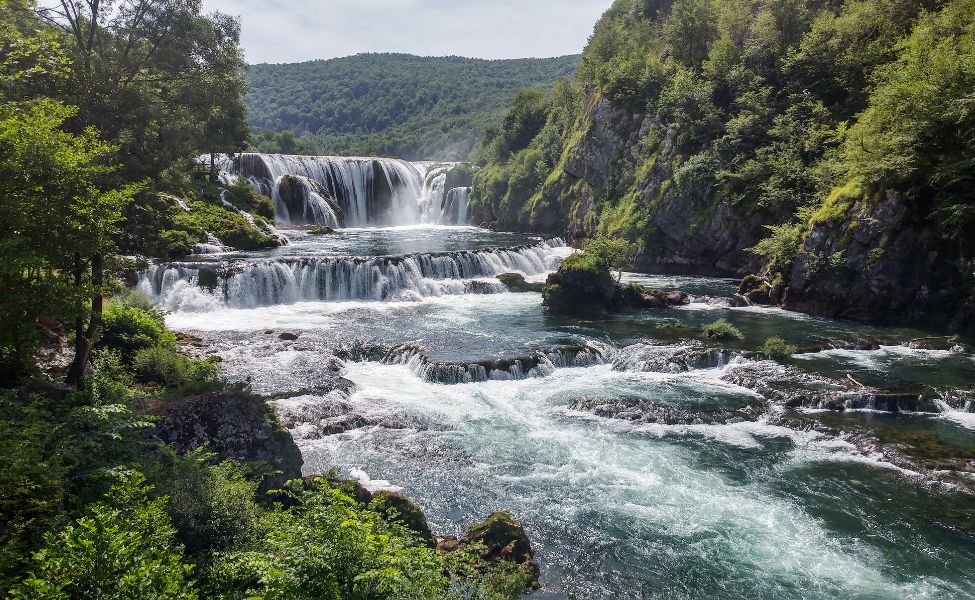 Štrbački buk, a 24 meters high and 40-meter-wide waterfall, consists of several waterfalls that connect, creating a magical scene in the middle of a dense forest. During the 20th century, numerous wooden mills were built on the banks of the waterfall, but today only a fragment of remains can be seen. However, this natural phenomenon is today a favorite place for lovers of nature, diving and fishing. There are a number of viewpoints along the river, so from a safe distance, you can enjoy the view and take memorable photos. It is possible to rent a boat for rafting at a price of 60 KM and fishing permits that last for one, three, or five days. The price of these permits ranges from 40 to 140 KM.
Martin Brod - Bosnian waterfall with a sad name
| | |
| --- | --- |
| Where in Bosnia and Herzegovina is it located? | About 24 kilometers upstream from Štrbački buk, in the Una National Park |
| How high is it? | Its many slopes differ in height, from 20 to 55m (66-180ft) |
| How to get to it? | Get on the R408 route in the town of Bihać and follow it around the national park and through Gorjevac, Orašac, Kulen Vakuf, all the way to the village of Martin Brod. From there, follow the marked roads to a bridge, old mills, and the waterfall |
| Does it have an entrance fee? | Around 3KM or $2 |
Even though it is smaller than its closes neighbor, it is more than worth visiting. The waterfall in Martin Brod is a tufa waterfall, which is why it has such a unique look. Its position and speed of the river Una made it a perfect place for rafting, as well as windmills and washing mills, which are still active. Even though the waterfall and the village are beautiful, the origin of the name is not so much. According to a local story, a girl named Marta, that used to live in this area, was head over heels for a soldier. On her way to meet him, she had to cross the river, which was too strong for her one day, and pulled her to death. In remembrance, the are was named after her.
Jajce Waterfall - Cascades in the heart of a city
| | |
| --- | --- |
| Where in Bosnia and Herzegovina is it located? | In the central part of the country, in the town of Jajce, at the conflux of the rivers Vrbas and Pliva. |
| How high is it? | 20m or about 65ft |
| How to get to it? | Roads E-761, E-661, and M16 all lead to the town of Jajce, and once you reach it, the rest will be easy. You'll need to cross the Pliva lake from the city center, go past the main bus station and follow the Drugo zasedanje AVNOJ-a street to the waterfall. |
| Does it have an entrance fee? | 4KM (around $2) from October to May, or 8KM (around $4) from May to October. |
How many cities around the world can say they have a waterfall in their center? It technically isn't called Jajce but Pliva waterfall, but we like both ways. It's a part of a walled city core, making it one of the most unique waterfalls in Bosnia. It also used to be a couple of meters taller, but the joint action of nature and wars flooded the area in the 90s, making it shorter. Jajce waterfall is also a travertine fall, and you will find clusters of pools and short slopes as you walk upstream. Due to its nature, it is believed to be more than 50 thousand years old! If you go downstream of the Pliva river, you'll see some more mills. There is a path to each of the 20 wooden mills, and a special experience is visiting them in the evening when they are fully illuminated. Get the best photos of the waterfall from the viewing platform built next to it.
If all these waterfalls in Bosnia don't make you want to visit it asap, we don't know what will. Considering Bosnia and Herzegovina has more falls than Italy. Germany and France combined, you'll have loads to discover. Put on your best walking shoes, bring eco-friendly sunscreen and prepare to be amazed. Bon Voyage!