Meet Dubrovnik, a UNESCO World Heritage Site famous for its must-see historical landmarks, spectacular landscapes, vivid beaches, and splendid cuisine. Located in the Dalmatia area of Croatia, splashed by the Adriatic Sea, Dubrovnik's timeless beauty has adorned the Croatian coastline for centuries. Rich in history and culture and surrounded by breathtaking landscapes, Dubrovnik offers many goods to its visitors. So if you are interested in visiting Dubrovnik and wondering about things to do there, come along with us as we tour Dubrovnik to find out:
Dubrovnik in a nutshell – General travel info
As you prepare for your travel to Dubrovnik, let us introduce you to some general travel information:
| | |
| --- | --- |
| Location | Dubrovnik–Neretva County, southern Dalmatia, Republic of Croatia |
| Time zone | GMT +1 |
| Weather | Mediterranean climate (hot, dry summers and mild, wet winters) |
| Official language | Standard Croatian, but English is a common language |
| Currency | Euro |
| Public transport in Dubrovnik | Bus, Taxi, Rent-a-car/bike/boat |
For a complete travel guide with further information on this tourist destination, check out our page Dubrovnik.
When to go to Dubrovnik – The best time to visit Dubrovnik, Croatia
When is the best time to go to Dubrovnik? Well, the best time to visit Dubrovnik depends on your travel aspirations, but whatever time you choose to go to Dubrovnik, it will carry you away.
Summertime to visit Dubrovnik: With the start of summer till August, sunbathed and warm, Dubrovnik welcomes visitors from all over the world (and gets crowded as well). During the peak season, there are several things to do in Dubrovnik, as tourists enjoy its beaches, experience the outdoors and get to know Dubrovnik through its cultural events – The Dubrovnik Summer Festival and The Libertas Film Festival. If the summer is the best time to visit Dubrovnik for you, know that the peak season lifts prices in Dubrovnik, from accommodation to tickets.
Spring and autumn time to visit Dubrovnik: If you are looking for budget-friendly travel, consider shoulder seasons – April–May and September–October – as it may be the best time to visit Dubrovnik for you. With pleasant, warm temperatures and fewer tourists, Dubrovnik is mesmerizing during spring and autumn – and much more accessible than during the peak season.
When winter is here: Winter is the time of the year when this city falls asleep and not the best time to visit Dubrovnik (or beyond the Wall).
Getting to (and staying in) Dubrovnik
When planning your trip to Dubrovnik, consider how to reach this destination and where to stay. Here is some helpful info:
How to get to Dubrovnik: Dubrovnik is an accessible tourist destination by plane, car, bus, train, or ferry. Travel costs can vary depending on your starting point, type of travel, and the time of the year you travel to Dubrovnik.

By plane: With its airport located 20 km away from the city center, Dubrovnik is well-connected with direct flights from European metropolises like Rome, Frankfurt, Paris, and London. An organized bus service will drive you to Dubrovnik, leaving 30 minutes after every regular flight. If you plan to get to Dubrovnik by plane, the lowest Rome–Dubrovnik return plane ticket costs € 130, while a direct flight from Podgorica, Montenegro, costs € 70.

By bus: Traveling to Dubrovnik by bus is another common way to reach this Croatian destination, whether you travel from the big cities in Croatia or neighboring countries. For example, if you are going from Zagreb to Dubrovnik, you can expect a 10-hour ride for a ticket price of around € 50. Dubrovnik also has local buses that will take you to your destination for € 1.5–2.

By train: Although there is no direct train connection to Dubrovnik, you can get to it by combining the train to Ploce or Split from Zagreb with a bus or car to the final destination. Regular one-way train tickets from Zagreb to Ploce or Split can vary from € 27 to € 40, depending on the class.

By car: With its well-connected roads, you can have a pleasant trip to Dubrovnik, enjoying the Croatian landscapes. Leaving from Zagreb or Split, take the A1 highway, then the D8 coastal road, to reach Dubrovnik in about 6–7 hours from Zagreb and 3–4 from Split. If you come from Western Europe, we recommend choosing the Rijeka–Dubrovnik route. Traveling from Central Europe, choose the Zagreb–Dubrovnik route within Croatia or through Bosnia and Herzegovina, Osijek–Mostar–Dubrovnik, or Sarajevo–Trebinje–Dubrovnik.

By ferry: If you would love to admire the panoramic view of the Croatia coastline and nearby islands, you can choose a ferry to reach Dubrovnik from cities like Split, Hvar, Korcula, and Mljet. The port of Gruz is only 3 km away from the center. For example, if you travel from Hvar to Dubrovnik by ferry, you will enjoy a 3–4 hour ride for € 37 one way.
Accommodation in Dubrovnik: If you are looking for places to stay in Dubrovnik, Croatia, you should know that, as a prominent tourist destination, there are many accommodation units in Dubrovnik, such as cheap and best-rated hotels, hostels, and private accommodations. For example, an overnight stay with breakfast in hotels in Dubrovnik will cost you around € 100 and up. Among budget-friendly hotels in Dubrovnik, Hotel Dubrovnik and Hotel Petka are affordable. At the same time, cheap accommodations in Dubrovnik, like hostels and apartments, are more affordable, with a price range from € 50 per overnight stay, depending on the distance of the city center and the tourist offer. Some of the best-rated hostels for cheap accommodation in Dubrovnik are the Old Town Hostel and Hostel 365 For U.
Dubrovnik pros & cons
As with any other tourist destination, visiting Dubrovnik has some pros and cons you should consider before your travel.
Why you should visit Dubrovnik: Dubrovnik is a city rich in history and culture that UNESCO values as a World Heritage Site. Its beautiful Old Town, as well as vivid landscapes, leave every visitor stunned. Mouth-watering wines and delicious local cuisine will make you want more of Dubrovnik. If you are a sun-seeker, visit Dubrovnik beaches to enjoy the Mediterranean climate and crystal clear waters.
In the peak season, Dubrovnik can be touristy and pricey: With the beginning of the peak season, Dubrovnik is bustling with tourists, making it hard to experience its top attractions and things to do in Dubrovnik thoroughly. In addition, Dubrovnik gets more crowded with tourists from cruise ships that dock in Dubrovnik port. Therefore, if you decide to visit Dubrovnik at that time of the year, you should know that it can be expensive, with higher prices for accommodations, food, tickets, etc.
The must-see Dubrovnik attractions – Best places to visit in Dubrovnik
Fall in love with the timeless beauty of the unique medieval city! If you decide to travel to Dubrovnik and explore the world's second-most famous open-air museum, make sure you visit its top attractions:
Dubrovnik City Walls with forts: This most famous Dubrovnik attraction is a must-visit sight. Built in the Middle Ages as a fortification to protect the city from enemy attacks, today, Dubrovnik City Walls with fortresses represent monuments to the glory of the Dubrovnik Republic. Several entrances lead to the Walls, almost two kilometers long, but the main entrance is near the Pile Gate. Walking the City Walls, tour the fortresses of Minceta, Lovrijenac, Orlando's Column, and Buza Gate, and listen to the historical stories they keep storytelling for their visitors. To escape the crowds and the heat, the best times to walk the City Walls are early morning or late afternoon. The City Walls of Dubrovnik's summer working hours depend on the month of the season, open for visitors from 8 a.m. till 5.30 or 7.30 p.m, while winter working hours are from 9 a.m. till 3 p.m. Tickets for a 2–3 hours guided tour on Dubrovnik City Walls can be booked from € 78, depending on the option chosen. Buying tickets online and in advance on their official website is recommended. Most important information about this Dubrovnik top attraction awaits on page Dubrovnik Fortress.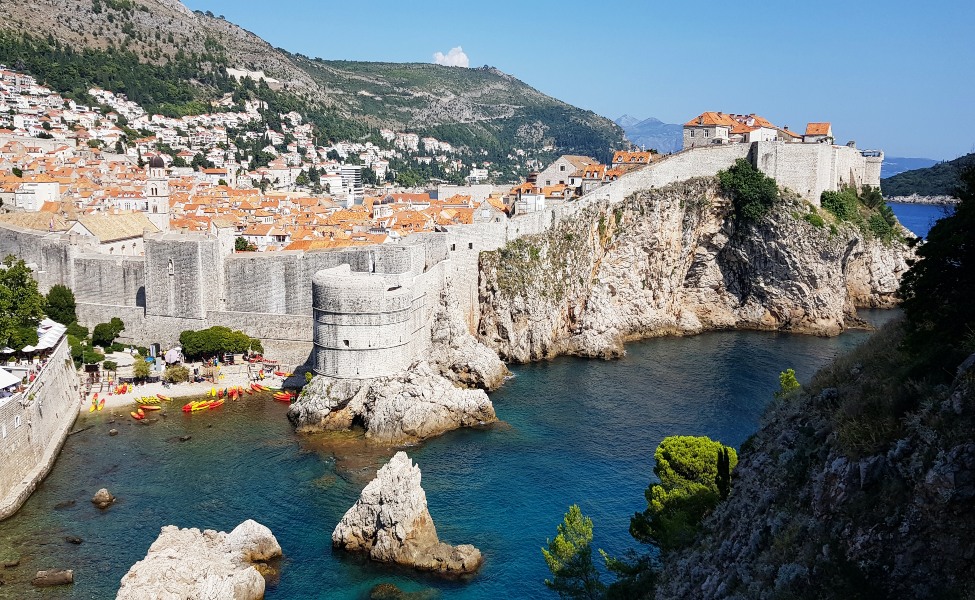 Dubrovnik churches and cathedrals: Another top attraction, Dubrovnik churches and cathedrals faithfully witness the rich cultural heritage woven into the city's history. Although you can find a temple of almost every religion in Dubrovnik, Catholic churches are numerous. The most famous one is Dubrovnik Cathedral, a beautiful 18th-century baroque-style cathedral in the heart of the Old Town, dedicated to the Assumption of the Virgin Mary. Dubrovnik Cathedral is open for entrance from 10 a.m. to 12 p.m. While the entrance to the Cathedral is free, access to the Treasury is € 2. Get to know all the cultural heritage of Dubrovnik – stop by the Majlis of the Islamic Community of Dubrovnik, or visit St. Saviour Church, the Franciscan Monastery, the Synagogue, and the Orthodox Church. You can visit always-open St. Saviour Church and the Orthodox Church from 8 a.m. to 2 p.m. – for free. While the Majlis of the Islamic Community of Dubrovnik doesn't offer regular tourist services, Dubrovnik Synagogue is open from 9 a.m. to 3 p.m., and the entry ticket is around € 7. Let our tourist guide help you visit Dubrovnik Temples.
Dubrovnik Stradun street: Surrounded by unique, 1.940-meter-long walls, Dubrovnik hides the most beautiful Stradun street in the heart of the stone city. Along the entire Stradun, which connects the eastern and western city gates, you can admire the proud traces of history, museums, historical buildings, and squares but also taste Dubrovnik specialties. Dubrovnik top attraction, Stradun street, is free to enter. Walk the Stradun with us!
Island of Lokrum: Near Dubrovnik, only a 15-minute boat ride away, is the island of Lokrum, a favorite excursion and bathing spot of Dubrovnik residents. Today, UNESCO protected this island as a nature reserve with lush vegetation. Furthermore, as the Dead Sea lake is located nearby, ideal for safe swimming for children and non-swimmers, Lokrum is a popular tourist attraction for family trips. You can reach Lokrum island by boat, which departs from the City Harbour every hour from 9 till 16, with a return boat ticket that will cost you € 7. Entrance ticket to the nature reserve for adults costs € 27, for children from 5 to 15 years € 5, and for groups of 10 people €20. Learn why you should also visit Lokrum.
When in Dubrovnik – Activities to experience Dubrovnik
Dubrovnik is more than its must-see sights, and numerous activities will guide you to get the most out of this destination. When in Dubrovnik, try to:
Explore the Old Town: The Old Town is proud to be a UNESCO World Heritage Site known for its stunning architecture, charming narrow streets, and historical landmarks. The main street in the Old Town is called Stradun, with restaurants, cafes, and shops. You can spend a whole day exploring the Old Town, its top attractions, and famous landmarks such as the Rector's Palace, the Franciscan Monastery, and St. Blaise Church. You can visit the Rector's Palace from 9 a.m. to 6 p.m. during the summer season or every day from 9 a.m. to 4 p.m., except Wednesdays, during winter. Entry ticket for visiting Rector's palace costs € 15 for adults or € 8 for children. If visiting the Franciscan Monastery in the Old Town, know that working hours are from 9 a.m. to 6 p.m. The entry ticket will cost around € 4 for adults or € 2 for children. There is no entrance fee for St. Blaise church.
Dubrovnik on foot: The best way to explore Dubrovnik is on foot, and many guided free walking tours will help you experience this famous Croatian city fully. However, the most popular walking tours are thematic ones that proudly lead you through Dubrovnik, both historic and filmed scenery – and the famous among them is the Game of Thrones Tour. Popular TV series were filmed in Dubrovnik and its nearby locations, making them famous worldwide. Proud of their massive success, Dubrovnik presents a Game of Thrones tour that leads you through the filming sites – its iconic walls, Lovrijenac Fort and Lokrum Island – that will make you feel as if you are in King's Landing. Depending on the tour company offers, you can choose a basic walking tour or a full-day tour with transportation, with a price range from € 26 to € 130.
Take a cable car ride: For panoramic views of Dubrovnik and the surrounding islands, take a cable car ride to Mount Srd top, as it is one of the unique things to do in Dubrovnik. The cable car ride takes about four minutes and offers breathtaking views of the city and the Adriatic Sea from the top, with a restaurant and a souvenir shop. The best time to visit is in the late afternoon when the sun sets, leaving the city bathed in golden light. If you're interested in a cable car ride, know that a round-trip ticket for adults costs € 27 or € 7 for children from 4 to 12 years old.
Swim and sunbathe at Banje Beach: Banje Beach is famous among Dubrovnik beaches. Outside the city walls, the beach is easily accessible by foot or taxi, offering crystal-clear waters and stunning views of the Old Town. There are several bars and restaurants on Banje Beach where you can enjoy a drink or a meal while admiring picturesque views. As it gets crowded in the summer, know that the best time to visit this Dubrovnik beach is early morning or late afternoon. Admission to the beach is free of charge.
Best day trips from Dubrovnik – Top things to do near Dubrovnik
Surrounded by well-known tourist attractions in the southern part of Croatia, Dubrovnik can be a starting point for numerous day trips, allowing you to visit the best places nearby. Furthermore, according to its geographical position, Dubrovnik offers the possibility of international one-day trips from Dubrovnik to the Bay of Kotor in Montenegro, the city of Mostar in Bosnia and Herzegovina, and other famous nearby sights. Therefore, we listed the best day trips from Dubrovnik, with the top things to do there:
Things to do in Lokrum island: If you seek a piece of heaven on Earth, untouched nature that takes your breath away, experience a day trip to Lokrum island. A 15-minute short boat ride will glide you to this nearby island, a nature reserve famous among tourists and residents for its stunning botanical gardens and historical sacred and profane medieval landmarks. The foremost exciting attraction is Fort Royal, which tops this island, providing a beautiful panoramic view of its surroundings and the Adriatic Sea. With a small lake called the Dead Sea, this island is popular with children and non-swimmers safe-swimming. A trip to Lokrum island is one of the best day trips from Dubrovnik that you can arrange from April to November. The round–trip fare is around € 20, and the entrance ticket for a nature reserve visit is around € 27 per person.
The best seafood in Croatia is just 1 hour from Dubrovnik: When in Dubrovnik, take a chance to visit one of the two largest peninsulas in Croatia – the Peljesac Peninsula and its Ston Town. This small town is famous for its 5.5 km long walls, one of the most extensive medieval fortifications in the world, and the Route Napoleon that stretches from Ston to Orebic. Food lovers among tourists visit Ston to enjoy pure seafood tastes with specialties made from the famous oysters they grow. The best seafood restaurants in Ston are Lukas Taverna, Konoba Mandrac, and Gastro Mare Kobas. If you want to visit Ston by bus, a round-way ticket will cost you around € 10.
Hop to Korcula island: This island in Croatia represents a combination of untouched nature, noble wilderness, and rich cultural and historical heritage. The island of Korcula is believed to be the famous explorer and adventurer Marco Polo's birthplace, so you should visit his house, today Marco Polo Museum. Among other Korcula island tourist attractions, visit Vela Spila, the oldest prehistoric site in Europe, and Korcula Town, adorned with medieval squares, churches, palaces, and houses, which gave it the epithet little Dubrovnik. The island of Korcula also offers numerous picturesque places where you can indulge in tastes of unique gastronomic specialties and autochthonous wine varieties, enjoy outdoor activities, or swim in crystal-clear waters. Dubrovnik–Korcula ferry ticket prices range from € 10 to € 25, and the journey takes about two hours, depending on the route.
Wine & dine in Dubrovnik – Taste travel guide
There is no better way to truly meet the culture of the visiting destination than to indulge in its autochthonic tastes. Dubrovnik is proud to serve you plenty of delicious local specialties and mouth-watering wines, offering you places to wine & dine. Thanks to its geographical position, a long history of winemaking can be tasted while in Dubrovnik at D'vino Wine Bar, Wine Bar Skar, and Otto Wine Bar, where you can enjoy some of the country's best wines. Dubrovnik is also famous for fresh seafood, so you should try it in its best seafood restaurants, such as Porto, Bota Sare, or Nautika, and Mediterranean restaurants, such as Restaurant Dubrovnik and Mediteraneo Food & Wine Bar, will serve you the most delicious local specialties from Mediterranean cuisine.
Where to go out in Dubrovnik – Nightlife city guide
From bars and pubs in the Stradun, clubs that stay open late, or neighborhood chill beach bars in Lapad, nightlife in Dubrovnik will enchant you with its scene and make you love its vibrant spirit. To hit the dance floor, visit Revelin Culture Club or Club Dubina, seek lovely sunsets in Cafe Buza or Sunset Lounge, or enjoy evenings in Dubrovnik bars and pubs such as Malvasija Wine Bar or Dionysus Bar, as they are some of the top places to visit in Dubrovnik. The best nightlife in Dubrovnik awaits you.
Now that we have explored this tourist destination, we hope you have gathered all the essential information on Dubrovnik highlights. We invite you to visit and enjoy Dubrovnik's top things to do!