The world is full of beautiful places and some of them are definitely sandy, warm and pleasant beaches, the ideal location to spend your summer holiday. Our planet is filled with incredible locations for endless summer holidays. Oceans and the sea side are special places for many tourists during warm, hot summer seasons. Those are incredibly beautiful and unique places and more often than not, they are an ideal escape from unbearably hot weather in the city. Sometimes they can also be a perfect place to go when you don't want to expose yourself to cold, snowy winter nights.
Best recommendations for a holiday with friends and family
It is a very different experience if you are traveling with friends or with the entire family with small kids. Because of that, this list that we created will contain beaches that will perfectly well suit both for young families and groups of friends eager to go a little bit wild and have some extra fun while vacationing. Family travel is a different realm from solo or group travel. It is even a different and slightly more difficult experience if you are vacationing for the first time with small children.
We would like to accommodate all sorts of wishes and desires for all groups of tourists and world travelers. Because of that, here is our bucket list that contains the best summer beaches and dreamy destinations you simply must go and visit.
Best beaches in Australia
This is our small, but valuable list of best and most visited beaches in Australia
On the other hand if you are young and looking for some much needed fun times with a close group of friends your needs for summer holiday and choice of beach will, probably, be a little bit different.
Lucky bay
Beach Lucky Bay is one of the most iconic places to visit while being in Australia. It is, as well, one of the most searched and visited locations for an ideal summer. It has authentic Aussie style, meaning that the beach has warm and white sand. It's coast side has a long path near the sea side that is perfect for taking beautiful walks while still enjoying the sea and warm sand underneath your toes. Kangaroo, the animal symbol of this incredible country, will likely visit these beaches as well. So, don't be surprised at all if you spot a kangaroo jumping around this amazing beach.
Also, driving on the Great ocean road is a wonderful experience as well and an absolute must for everyone who decides to come to Australia. Exploring this country's sea side and many sandy beaches.
You will enjoy:
bright blue sky
crystal clear, warm water
many palm trees and wild flowers
All of that will be, certainly, a very special and unforgettable experience for everyone. When it comes to partying, sometimes a great party can be improvised and happen outdoors and we cannot think of a better place than having some fun and listening to music with friends and family while being on this unique beach.
How to get to Lucky Bay
A 45-minute drive east from Esperance gets you to Lucky Bay in the Cape le Grand National Park. Alternatively, you can join a tour from Esperance.
Lucky Bay is also world wide famous as Australia's whitest beach and that is only one of the reasons why it is so special and often visited on this side of the Ocean. Many tourists come to this beach all around the world, several times during just one year, so it's no surprise that thousands of tourists confirm that Lucky Bay is an incredible location for tourist all ages.
Prices and cost of vacationing on this beach
When it comes to the price of vacation in this location, we also have some good news, it is very affordable. One of the best things and benefits is that Lucky Bay is not overcrowded as many other Australian usually beaches are. The view along the beach is truly fantastic and it can seem more like a picture than something created in the real world. This beach is also famous for its wildflowers. Green peppermints, blue lobelia, rare pink and red flowers are just some gifts that mother nature generously offered this beautiful country.
Bondi beach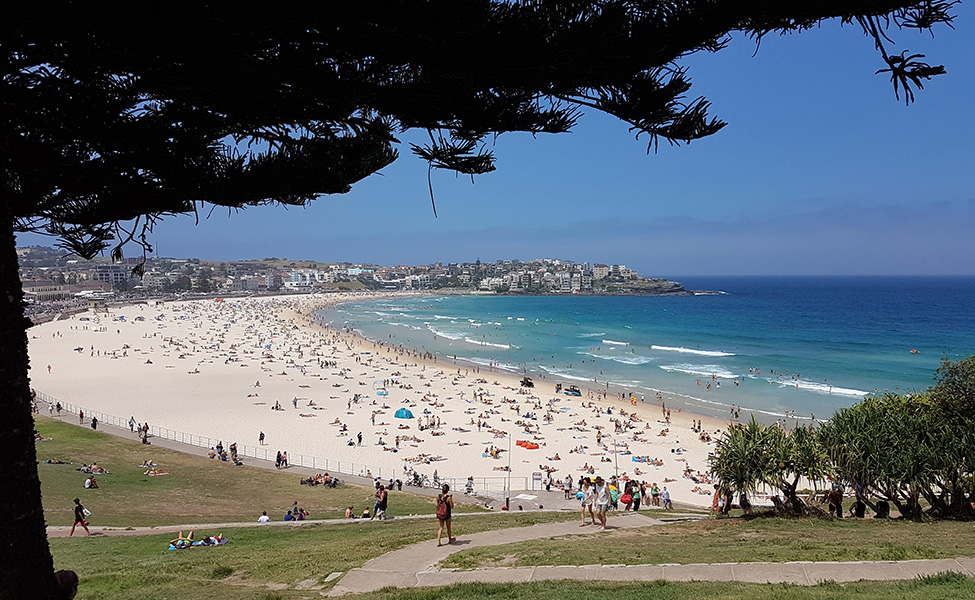 Australia is filled with many amazing and beautiful beaches, so it is no wonder this country is, again, present on this list and Bondi beach can be considered the most famous one here. Visiting Bondi beach in Sydney will bring you many great opportunities. Famous Australian surfing is certainly one of them. You may feel like everyone in Australia is always surfing and it is pretty sure to say that this country has amazingly talented surfers. Prices are also very affordable and if you have small children this beach is our recommendation for you.
Although, sometimes it can be pretty crowded so be sure to reserve your place at the right time. Many great and affordable hotels can also be found in the near proximity. Especially hotels that can provide a lot of fun for the youngest. From some of them you can see beautiful Australian sea sides and shores that are ideal for taking long evening walks near the ocean. Whether you are young, middle aged or going over your sixties this place is a place to go and enjoy as much as you can.
What to see on Bondi beach
Most people start walking at Bondi beach, but end up at Coogee Beach There are a couple of restaurants along the way, but if you prefer you can bring your own food and make yourself a wonderful picnic. Another perk of Bondi beach is the amazing view. It looks like something stolen straight from the paradice books. All of that makes vacation in this location a very pleasant experience for the entire family and it is so easy to spend the entire day enjoying and relaxing on this beach and its many wonderful possibilities .
The easiest way to Bondi beach
You can get there using train. If you prefer to catch the train, the stops from Central Station run through Central, Town Hall, Martin Place, Kings Cross, Edgecliff and then Bondi Junction. From Bondi Junction station, you can then catch the 380, 381, 382 or 333 bus which will take you to Bondi Beach.
Best beaches in Mexico
Mexico is full of beautiful summer places, that are ideal for rest and enjoyment. We have made for you a list of the best and most popular beaches in Mexico.
Mayan ruins of Tulum
Located in Mexico city, this historical and architectural miracle is one of the most searched and asked for places to visit on the entire planet. The Mayan ruins of Tulum are leftovers of the ancient city built by none other than famous Mayan people and the beach surrounding the city is one of the most beautiful beaches on the entire planet Earth. The beauty of this beach is beyond incredible and sometimes even words can't describe it properly. So, it is absolutely no wonder that this place is frequently visited and explored, not only by a huge number of tourists, but also many historians and archaeologists.
Why visit this beach
The color of this Ocean is incredibly unique and different. It is a very special bright blue color that not so many famous beaches have. This region has white sand beaches, a lot of interesting and rare tropical fruits, palm trees and rare flowers. The town is separated from the beach, but it's still in close proximity to some of the best hotels and apartments for tourists to stay.
Nevertheless, the Caribbean beach is a true paradise for everyone and all generations. Wildlife is also something pretty spectacular to see. Iguanas can be found in these areas, but be sure to remain respectful towards them.
Accommodation prices
However, we are not gonna lie or sugarcoat anything on this blog, the price to come and visit this incredible place is not that small. The Tulum has undergone major development in recent years, especially when it comes to tourism and that is why prices for some of the hotels and apartments in this area have gone up. One more tip, be sure to bring pesos to pay for your entrance tickets.
The best time to visit
The beauty of this area and its beaches is truly immense and no words could properly describe it. Waters are amazing and always warm and very clean. When it comes to the climate, it is really hot and humid. Levels of humidity are usually high, especially during May, June and July. So be prepared for that. This place is amazing to visit at any time of the year, but recent studies have shown that it's most frequently visited in November and even December. Because of that this beach resort is a great way to run away from winter and cold weather into some warm and more pleasant areas of the world. Go and check it out, we highly recommend it!
How to get there
Tulum is located approximately 81 miles [131 km] from Cancun. Seven days a week, the ADO busline runs first-class buses along a route from Palenque to Cancun [right through Tulum]. There are also Seven days a week, the ADO busline runs first-class buses along a route from Palenque to Cancun [right through Tulum]. There are also second and third class, so there is something for everyone. You can also get Taxi/Car service from airport direct to hotel in Tulum.
Cancun
Cancun is a wonderful place, mainly famous for its amazing coast line and luxury sandy beaches. Cancun has to offer even more than just that. So it is no wonder that many famous and important names choose this place for their ideal summer vacation. Cancun is located in famous Mexico city and it is, arguably, one of the most popular places to visit during holidays. Cancun is very proud of its beachfront and coast line and , in the same time, Cancun is full of resorts, restaurants and nightlife.
Fun thing to do in Cancun
scuba diving - this is really great and fun activity to do, especially if you are seeking some fun and wonderful way to create unforgettable memories
hiking - Cancun is mainly famous for its coast line and sandy beaches, but this area is also filled with stunning and untacked nature and wildlife. Cancun has very rich and developed flora and fauna and this can be discovered and explored through hiking around this mesmerizing place.
rent a boat - on the Cancun coat line you can find many great boats that are in good shape for pretty affordable price. This will allow you to see and properly explore Cancun area from completely different perspective. You can easily rent a boat every day of the week.
visit Theme parks - Cancun has many great theme parks that are ideal for entire family. Some of them are: Xavage park, Ventura park, Piston Pueblo and many more. They are open during the entire week and they offer their customers amazing and fun time. You can even take young children and they will love it. Our recommendation is to visit the water rides, because many claim they are the best.
Popular beaches in Cancun
Cancun is full of water parks, local markets with fresh food and vegetables, theme parks, different resorts and even ancient ruins. But still what makes Cancun so wonderful and special, especially for long and luxurious summer vacations is Cancun's stunning beaches and coast line. Here are some o our personal favorites:
Playa Marlin - this beach offers stunning view and looking at the sunset from this beautiful beach is something to die for. Not only that, playa Marlin is clean and luxurious with some of the best accommodation near by
Playa Chac Mool - this lovely beach is located right in the center of Cancun. It is one of the best and safest beaches you can find. It is also very family friendly. The water is beautiful, warm and very clean.
Playa Caracol - this is pretty clean and affordable beach. You should be aware that waves can, sometimes, be very big, so pay attention. That is the only reason why this beach is not a great place for small kids.
Playa Delfines - one of the perks of this beach is the fact that even its public there are no big crowds and this beach can give you some quiet, private and relaxing time. It is ideal if you are looking for some rest and getaway from big crowds and noise.
Best hotels in Cancun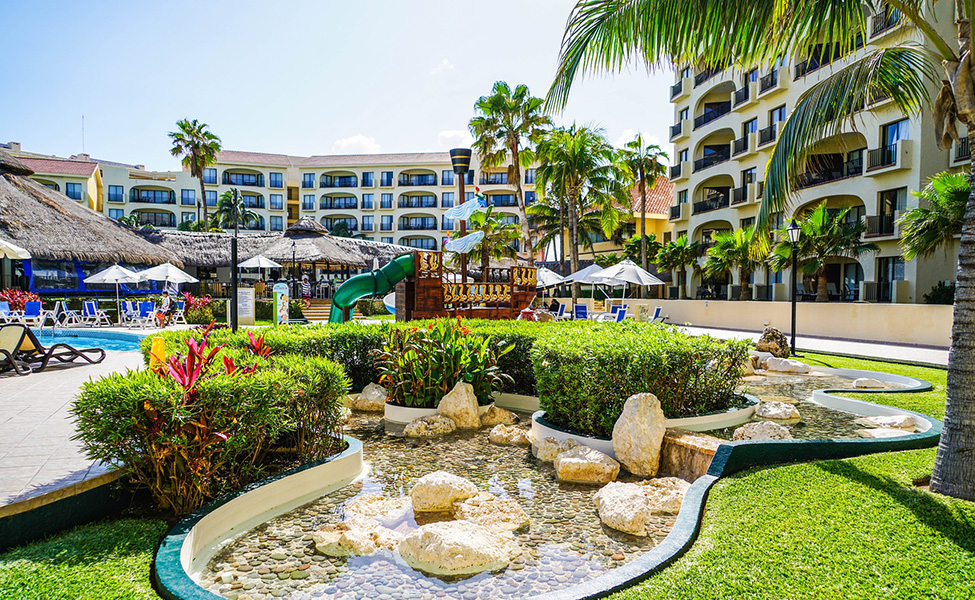 So far we can all agree that Cancun holiday can offer many great thing, amazing accommodation is one of them. There are two main areas in Cancun where you can stay. The most popular is Zona Hotelera. The other area is El Centro. Here are the best hotels:
Le Blanc Spa Resort -this is very modern resort with a couple of infinity pools facing the ocean to relax in. That is amazing place to watch sunset from
The Grand at Moon Palace - this is one of the best and most luxurious hotels that you can find in Cancun. The best restaurants and the newest rooms, each with their own private pool are just some of the splendid things this five star hotels has to offer.
The Royal Islander All Suites Resort - this is a place that has it all and is perfect for the whole family. It is stunning and beautiful. This wonderful resort is right on the beach. There's lots of pool space around the hotel.
So it is safe to say that what ever the weather or time of the year Cancun has some of the best offers for your ideal summer holiday on the beach. The waves are not too big, beaches are very clean and the water is always pleasantly warm. It is a perfect place both for young couple in love, as well as whole families. Go there and have the time of your life!
Here is a fun video of everything you can see in Cancun and what to expect from your jorney there. We hope you will be able to find some intresting and valuable information.
Best Indonesian beaches
Indonesia is made up of a whopping 17,800 islands. Indonesia is wonderful place with rich fauna and flora as well as countless linguistic and ethnic groups. Indonesia is probably one of the most diverse countries in the world. Welcoming and happy people, delicious food, affordable accommodation are just some of many perks that Indonesia has to offer its guests.
Blue Lagoon
Popularity of Blue Lagoon
Blue Lagoon beach is one of the most beautiful beaches in the entire world. It is visited during the entire year and thousands of people choose this magnificent destination for the perfect holiday. Blue Lagoon is one of the hidden beaches in east Bali. Many would say how this location reminds them of a true paradise. Its beauty is world wide famous and many people have had that wonderful chance to visit this extraordinary island.
Bali, Indonesia is a truly unique place to go
While being there you must explore:
Beautiful vegetation- rich flora and fauna
long rice fields - rice is incredibly healthy and beneficial for entire metabolism, and here you will be able to taste the best quality rice
palm trees - ideal for taking the best summer holiday pictures
amazing waterfalls - waterfalls are huge and can be found almost in every corner of Bali. We advise you to explore the nature and discover all the waterfalls.
warm climate - when most parts of the Earth are left in cold, do not worry, in Bali you will experience warm and pleasant clime
incredibly unique and rich culture - Indonesian people have very deep and strong roots. That allowed them to have great knowledge and many people from all around the world come to Bali seeking some powerful advice.
deep blue sea filled with colorful corals - water is incredibly warm and so clean you can almost see through it
There are are just some of the incredible things Bali can offer to its guests.
This beach is framed by lots of green trees and surrounded with many hills, so if you desire privacy, you can be sure you will be undisturbed if you decide to vacation at this location. Blue Lagoon is located under the North canyon Silayukti temple. It has extraordinary beauty.
Fun activities in Blue Lagoon
If you are searching for some extra fun activities to do while enjoying the deep blue sea, warm weather, sandy beaches and tropical flowers, you might as well try snorkeling. Blue Lagoon has incredibly clear and clean water that makes this experience even more fun. There are a lot of corals and different fishes near the shore. This beach is famous for black coloured fish with funny shaped tales. It is also a wonderful chance to take some interesting underwater pictures. Speaking about those fun activities, we highly advise you to try scuba diving as well, because Blue Lagoon is definitely the best place to truly admire the diverse and colorful underwater life and vegetation.
Ora beach
Ora beach is located on Seram Island and that is the largest island in Indonesia. To find this wonderful beach it is not that easy. This rare germ is hidden and not that easily reachable, but finding its way to this beach is definitely worth the effort . As soon as you come to this amazingly beautiful paradise like place you will be surrounded with so many different sounds of nature.
This beach is famous for its blooming vegetation and outstanding nature. You will be able to see:
Birds
the wind
pleasant sounds of deep blue sea
All of that and so much more will amaze everyone who finds its way to this remarkable beach and the fact that Ora beach is a bit hidden and not that easy to access, will make this vacation even more memorable and unforgettable.
Why to visit this place
This will also assure you to have complete privacy and some quiet time for yourself and people you choose to bring to holiday. So, it is safe to say that this place is perfect for relaxation and escape from all the stress that the real world can, sometimes, cause us. There will be no distraction from the modern world and if you decide to bring your family along the way, you will be able to completely enjoy some very private and quality family time.
Where to stay on Seram Island
Staying at Ora Beach Eco resort will bring you fantastic and one of a kind experience and we offer you two options if you are wondering where it is the best place to stay. Kamar Darat and Kamar Laut are very close to the amazing sea side and this beautiful beach. There you will find really good apartments to stay that can accommodate the entire family and all your desires and needs. The accommodation is very modern and comfortable, sometimes prices can be a little up, if the season is doing well, but during cold winter days, prices usually tend to decrease a bit.
If you decide to come to this island your holiday will certainly be filled with beautiful views, long sandy beaches and bright blue waters that are absolutely to die for.
Beaches in Greece
Greece is full of wonderful and beautiful beaches that have warm sand, clear waters and stunning sunsets that are absolutely to die for. That is why Greece is always a good choice, especially when you are planning your summer holiday. The best time to visit this country is definitely during the summer season because that is when the weather is perfect for swimming and spending entire day relaxing on the beach. Here are top 3 best beaches for ideal Greek holiday.
Navagio beach
Finally, we have come to a very special country that many people regularly visit during summer season, one and only Greece. When planning a holiday for the entire family, Greece is excellent. It is very family friendly country and you can explore endless possibilities and fun thing to do with your loved ones while visiting this stunning place.
Navagio beach is one of the most searched and frequently visited Greek places. Another good thing when it comes to this place is the price and, let me tell you, it is pretty affordable for many tourists. For a reasonable amount of money you will be able to find really dissent and well equipped accommodation. That is one of the reasons why Navagio beach is one of the most famous and beautiful beaches in Greece. It is as well one perfect, tropical, summer escape. The beach is long, spacious, very clean and full of amazing activities to do.
How to get to Navagio beach
It is located on a very popular tourist location, Zakynthos Island. This beach is also famous for an old remains of a ship that used to smuggle cigarettes from Turkey and today this ship has become something like a true historical symbol of Navagio beach. Many tourists come there to take photos and enjoy the most amazing view. The beach is only reachable by sea, and boat trips set sail from nearby Porto Vromi Bay or the village of Volimes, taking about 20 minutes to reach Navagio. Despite the fact that it can only be reached by sea, Navagio Beach gets packed with day-trippers and tourist boats in the summer high season.
Red beach
When you see pictures of Santorini, it's mostly Fira and Oia. Fira is the capital of Santorini and is located in the middle of the island. It's a nice little town, but it is SO packed. Oia is as gorgeous and even more than just that. As you explore the narrow streets, you stumble upon breathtaking views of the blue domes and white houses. Santorini is a small island, but it's filled with a variety of villages.
Fira is the main town, located fairly centrally, Imerovigli is a small town with incredible views. Sunsets are always breathtaking in this island and they are ideal for couples in love.
What to visit on Red beach
When already writing about Greece, Santorini Island is a special place you simply must visit and the Red beach is definitely one of the most interesting ones to go and see. While exploring this unique beach you will be able to discover a lot of wonderful red corals (hence the name of the beach itself). Santorini is one of the world's most popular islands and a must see destination. This beach was widely described as something so special, wonderful and spectacular...Something so different than usual Greek beaches.
The best way to visit Santorini Island
To reach the beach you have to walk a couple of minutes on a downhill path or you can access it by boat from Akrotiri port, Kamari or Perissa. A great number of visitors come to Red Beach just to stare and photograph it. The Red Beach can be visited in a number of different ways. It s popular stop with boat tours in Santorini, and these catamaran tours also typically take you on to places like White Beach which can only be accessed by sea. Most people tend to drive to Red Beach in either a hire car, or the increasingly popular ATV hires.
Little warning:
No matter how breath-taking Red beach is, beware of the potential danger that comes with it and that is rock fall danger. The danger is mentioned several times on Red beach review, but still, even that didn't stop many tourists to explore this unique place. So if you decide to come to this place, be aware of potential danger.
Paradise beach
The most famous out of all Mykonos beaches and located in one of the prettiest areas of breathtakingly beautiful Greece, Paradise beach carries its name very proudly. So we can safely say that the name itself is well earned. It is mostly famous for its vivid, lively and playful side. Many young people looking to party and for some fun come here. This is the perfect location to spend entire days and nights listening to some good music, partying and dancing. Paradise beach offers all sorts of fun activities that you can enjoy equally during the day and also in the evening. Night swimming and night parties are especially famous and because of that a lot of young tourists come with friends there.
How to get there and where to stay
You can travel to Mykonos by ferry from many different islands of the Aegean sea. To begin with, there is a regular ferry connection between Mykonos and Athens ports. Ferries depart from both Rafina and Piraeus ports.
It is located at the south of Mykonos Island. Paradise beach is pretty well equipped and organized. If you are wondering what are the best places to stay, Paradise beach also offers a lot of different possibilities. Near the seaside, a little bit behind the beach there is an excellent camping area for all passionate campers who like to spend the night under the open sky.
Many villas, apartments and hotels can be found in the near proximity to the beach as well. One of the main and most attractive symbols of this beach is the famous Cavo Paradiso Club that offers great cocktails and drinks to all the guests who like to party and relax. It also contains a swimming pool, Greek restaurant and a beach bar.
What to do on Mykonos island
Visit Matogianni Street - this is a street where everything happens
Visit Delos Archaeological Museum - see the famous statue of Dionysos
Visit Church of Panagia Paraportiani - Like the Mykonos Windmills it's a monument that attracts people for the photo opportunities, framing the asymmetrical white walls against the azure sky.
The golden sands and clear waters makes Paradise Beach Greece's number one for so many exited tourist that come here seeking for some fun and great times. Swim when its day, but then better party and sip cocktails when its night. Although famous for its partying ways, this beach is even more than just that, you'll find this impressive stretch of sand boasts lounges, umbrellas, volleyball nets and water sports for hire.
Best beach in North and South America
Maybe America is not really the first country that comes to your mind when you are planing your next summer holiday on the beach, but America has some of the nicest beaches in the world. Clean sands, pleasant waters and many great and fun attractions, all of that and much more can bring you the best beaches in the U.S. We tried to choose something different, but equally good for everyone tase and desires. Beaches in the U.S. are enorumeus and eager to always welcome their guest and offer them unforgetable summer vacation.
Long beach, Vancouver

Long beach carries its name very proudly and it is no wonder that it truly is the longest beach in this side of Canada and wonderful Vancouver Island. It is located within the boundaries of Pacific Rim and this beach offers the view that is to die for, as well as an amazing bright blue sea and paradise-like vegetation. Long beach is also a very popular location for camping.
Long beach area has beautiful and untouched nature and that is the reason why many experienced campers come to this place, mostly in the summer and spring seasons. This island has a magnificent National park that provides much needed protection for wildlife, nature, vegetation and beautiful forests of this mesmerizing area.
How to get there
You can use airplane, bus or train to visit this amazing destination whenever you like.
This destination will offer you not only beautiful sea side and warm beaches, but also incredibly rich and green forests. You can enjoy long walks near the sea and allow yourself to go further and explore some of the forests nearby as well. Long beach is also great for surfing and scuba diving and many other really fun beachy experiences.
The Copacabana beach
When it comes to the most searched beaches in the world, a huge amount of people very often turn to this splendid location and it certainly does have many perks. Copacabana beach is easily recognizable for its black wave motif and famous Copacabana palace. The Copacabana is a very important monument and during that time it was converted into one of the most luxurious hotels in this area and it is a special crown of this famous beach. The apartments and accommodation are on a very high level and you can be sure to have the best ever experience if you find enough money, resources and time to actually become a guest of this iconic place. It is located in Rio de Janeiro. Another attraction is Copacabana's Fortress that was initially used for the military, but today it has become a very popular historical museum.
Why to visit Copacabana
This beach has white and yellow sand, very warm, almost see through water and pleasant climate with occasional blows of summer winds that feel so refreshing. It is also very well equipped to fit everyone's needs. You will find all that you need for the ideal summer holiday:
sunbeds
large umbrellas
showers
changing rooms
All of that and so much more you can have in this amazing place. The accommodation and hotel guests can get some really good price deals. Copacabana beach extends for some 4 km and it's shore is equally mesmerizing as almost everything surrounding it. The amazing view and beautiful sunsets at the evenings are something that you simply must experience at least once in your life. It is a truly divine and remarkable destination for everyone who wants perfect rest and enjoyment.
Copacabana accommodation
For many of us, it is very important to have somewhere to go and something new to see, something to look forward to. Very often, we all love to dream about our perfect next place to visit. We like to imagine what our next holiday would look like. In Copacabana you will be able to offer you some of the world best hotels and apartments and don't worry there is something for anyone's taste and pocket.
Here is our small list of best Copacabana hotels:
Windsor California Hotel - this luxurious four star hotel is located right at the sea side of Copacabana beach so you can only imagine what an incredible view it offers. The accommodation is very comfortable and the furniture is contemporary. The service is also great and they will do all they can to make their guests happy.
Emiliano Rio - another great hotel where the whole family can relax and enjoy. It owns and outdoor infinite pool with stunning view and amazing rooftop.
Belmond Copacabana Palace - when it comes to real luxury and rich interior, this wonderful and famous hotel is the best place to go and , have no doubts, you will be treated like a true royalty. All rooms are luxurious and even bathrooms are made out of best marble.
Fun activities to do in Copacabana
Climb the Morro do Leme - this is a famous top where you can climb and enjoy the view. This is a great place to catch some scenic views.
Have a meal at Adega Perola - some of the best seafood tapas in the city can be found here. The food is always fresh. Oh, and don't be afraid to try the octopus, that is a very special dish.
Hear live music at Bip Bip - Bip Bip very old, but very famous bar. Many claim that it came from different era and time. Sounds of traditional samba can be heared very often from this bar.
We ask ourselves where do we want to go, what do we want to see, what are the best places to go and have a truly remarkable holiday experience. We believe that our list of top ten best beaches in the entire world would help you to decide.
We can consider ourselves very lucky to be living on a planet so beautiful like this. Being able to find and enjoy places that have wonderfully natural and still untacked sea sides was a real honor and we hope you will soon get a real chance to experience all of them first hand. We want you to have the best beach vacation ever!