When we talk about tourism, it is impossible not to mention the most popular continent, Asia. Asia is also the largest continent in the world. From the Asian part of Russia to Japan, from the far north to the island states in the south, wherever you travel you won't regret it.

Over four billion inhabitants, so many different cultures, perfect vacation spots, imposing buildings, ancient civilizations, are all things that Asia can offer you. Asia is full of amazing and stunningly beautiful countries. In what follows we will write more about many if them. This places are heaven on earth and they are definitely something you should not miss if you are going to Asia.
Forbidden City, China

If the road takes you to China, there is one place you must not miss. It is a Forbidden City. The Forbidden City covers an area of close to 72 hectares, while the total area of this magnificent building is a little more than 140,000 square meters. Legend testifies that in this building there are 9999 rooms and over 90 palaces with courtyards. The division into three parts of the Forbidden City was made. There is: the defences, the outer court and the inner court.
If you are going to visit Forbidden City, you must have a mask, green health code, registration form for temporary residence (required by hotels).
History of Forbidden City

The Forbidden City was built in 1420. during the reign of the Ming dynasty. It was the imperial capital of Ming and King dynasties. This is the best preserved imperial palace and the largest ancient palace in the world. The walls of this palace show the best that Chinese traditional architecture has to offer. When we tell you that it took 14 years to build this palace and that it was built by more than a million people, it is clear to you why it has become a famous tourist destination.
Tourism of Forbidden City
This place is very attractive during everz season. Fourteen million tourists visit the forbidden city every year. You must visit the rooms where Chinese royal families lived, valuable artworks and traditional gardens. It takes you at least two to three hours to tour the entire palace. This palace is located in the center of Beijing. The Forbidden City is open to tourists every day from 8:30 a.m. to 5 p.m., except Mondays. Entrance will cost you 40 or 60 yen depending on what time of year you visit this palace. It was named a UNESCO World Heritage Site in 1987.
Dead Sea
We present to you the deepest high salt lake in the world, the Dead Sea. Its maximum width is 16 kilometers, while its maximum depth is 30 meters.
About Dead Sea
Since it is much smaller than its original size, it is predicted to disappear over time. So don't forget to put the Dead Sea on the list of tourist destinations that you must visit. The Dead Sea has been attracting tourists from all over the world for thousands of years. This is also the largest natural spa in the world, which is rich in minerals that are considered medicinal and medically useful. Cleopatra made cosmetic preparations from medicinal products from the Dead Sea, while the ancient Egyptians used mud from this lake in the process of mummification.
Waters of the Dead Sea, the salt water from this lake has many minerals such as: sodium, bromine, potassium and magnesium, and all of them together are useful for humans. At the bottom of this lake there is clay that tourists apply to themselves due to its healing properties.The Dead Sea got its name from the fact that there is no animal world in it that you can usually find in other seas. All this is of course due to the large amount of salt contained in it.
Beaches of the Dead Sea

The Dead Sea has so many wonderful beaches that are ideal for relaxation as we are exploring. In this blog, we choose the most popular ones:
Ein Gedi Beach - If you do not want to pay the entrance fee to swim in the Dead Sea, the best alternative is Ein Gedi beach. This beach is great for complete relaxation. There are no cafes and similar places around it that would create a crowd. Ein Gedi Beach is mostly rocky but there is also a sandy part. If you want to get away from the crowds this is the ideal place.
Ein Bokek Beach - Ein Bokek beach is the complete opposite of Ein Gedi beach. Here you will find many hotels and spa centres, so the beach is full of tourists. The public beach in Ein Bokek is beautiful. Nearby are the remains of the fortress Metzad Bokek, which was built by the king of Judea. Be sure to visit it.
Vadi David - If you are hiking enthusiasts, Vadi David is the perfect destination for you. On one side you will see deserted hills in this valley, while on the other side a rich vegetative world awaits you. If you go hiking next to the waterfall, to the northwest, you will find the remains of a Calcolithic castle dedicated to the cult of the moon. If you go further, you will come across the Dry Canyon and the Roman fortress.
For lovers of active holidays, this is the perfect destination. Sea lovers, as well as non-swimmers, will hardly find a better place for tourism than the Dead Sea. No matter how deep you go into the sea, the water will not cross your shoulders.
When to visit the Dead Sea
During the tourist season, temperatures can be extremely high. In the spring, they can exceed 30 degrees Celsius, while during the summer they go over 40. Rain in the Dead Sea coast falls only in winter. The decision is up to you, but if you are going to visit Israel, the Dead Sea is the number one tourist attraction.
Siem Reap, Cambodia

Siem Reap is one of the places where there is no possibility of being bored. This relatively small town will satisfy everyone's taste. The variety of accommodation, food, modes of transport and attractions you have to try is striking. You can enjoy riding quads in the countryside, meeting very friendly locals, drinking coffee, or chatting in the silver and silk market. From a five star hotel such as a Viroth's Hotel and a Sabara Angkor Resort and Spa, to a hotel like La Villa du Bonheur which is accessible to everyone's pocket. Due to the monsoon climate, the best period to visit the Siem Reap is from November to April. If you don't like high heat, avoid April.
Floating village Siem Reap
Angkor Wat - is certainly the best preserved Angkorian temple. The central monument represents the holy mountain that was home to the Hindu god Vishnu. This magnificent building was invincible to any attacking force from the time it was built. The whole Angkor Wat complex covers just over 80 hectares.
Bantey Srei - just a 30-minute walk from Siem Reap is Banteay Srei, a tenth-century temple. The decoration of this temple is great, the place is not big but it is well preserved. Because of that, this temple is a favorite place for many people.
Other attraction - there is also a crocodile farm in the southern part of Siem Reap. This farm has about t crocodiles of different sizes. Entrance to a crocodile farm for foreigners pays one US dollar. The only war museum in Cambodia you will find in Siem Reap. It's a civil war museum. History buffs will have a great opportunity to find out what actually happened during the war in Cambodia.
Sagarmatha National Park, Nepal
The next tourist destination that we will present to you is a paradise for mountaineers. In the Sagarmatha National Park is the highest mountain peak in the world, Mount Everest. The altitude of Mount Everest is 8848 meters. Sagarmatha National Park is rich in wildlife. This place is home to over 118 species of birds. In the forests of the Sagarmatha National Park you can find Himalayan tigers, wolves, Himalayan black bears and many other wild animals. Rhododendron flowers are one of the main reasons to travel to Nepal. In the spring, the hills are filled with their colors, and that is a sight that will remain in everyone's memory. You can land by helicopter at the Kalapather base camp, which offers the most beautiful view of the Himalayas.
Mountain Flight

Every morning, during the tourist season, a flight is organized which gives tourists an overview of the entire mountain. If you are lucky enough to have a sunny day during the summer, you will clearly see all the mountains. This scene is fantastic. Five minutes after the plane takes off, mountain peaks appear in sight, and a kind guide will give you a brochure.
Gokyo Lakes

Near Mount Everest there is a group of lakes, which also have religious significance for Buddhists and Hindus. These are Gokyo Lakes. Since the lakes are located at an altitude of 5000 meters, this region is very cold, so visit it with the appropriate winter equipment. Except for the first and second lakes, the other lakes are far away, so the walking tour could last longer than four hours.
When to visit Sagarmatha National Park
These are key attractions not to be missed, but Sagarmatha National Park will offer you much more. The ideal time to visit the Sagarmatha National Park is October-November or possibly March-May.
Trans-Siberian Railway
One of the most popular tourist attractions in Asia is certainly the Trans-Siberian Railway. Seven days and seven nights of traveling by train will remain in your unforgettable memories. The vast expanses of Siberia and the journey that connects the European part of Russia with Mongolia and China are waiting for you. Close to 9300 kilometers of picturesque landscapes and exciting adventure.

Russian Emperor Nikolai laid the cornerstone for the construction of the railway in 1891. It was built by hand: axes, saw and it took a lot of effort to bulid it. Nearly 1.000 workers died in the construction of the Trans-Siberian Railway. In 1916, the entire railway line was finally completed and the first run took place in the same year.
Trans-Siberian Railway express
If you want to embark on an exciting train journey from Moscow to China, the best time to do that is from May to September. However, you will have a complete experience of Siberia only during the winter months. Ticket prices during the winter months are much cheaper than during the season. The price of a ticket for the first class costs over 1000 euros, while you will be able to find tickets for the second and third class from 250 to 600 euros. If money is not a problem for you, you can also choose to travel by private, luxury trains. The most famous such train is called Imperial Russia. You will find luxury in every part of this train. There are three routes which this train takes:
Moscow - Vladivostok
Moscow - Beijing
Moscow - Ulaanbaatar - Beijing
This train stays at each station for between five and 30 minutes. Over 200.000 tourists travel by this train every year. If you want something new, unusual and exciting you have every recommendation for Trans - Siberian Railway.
Ha Long, Vietnam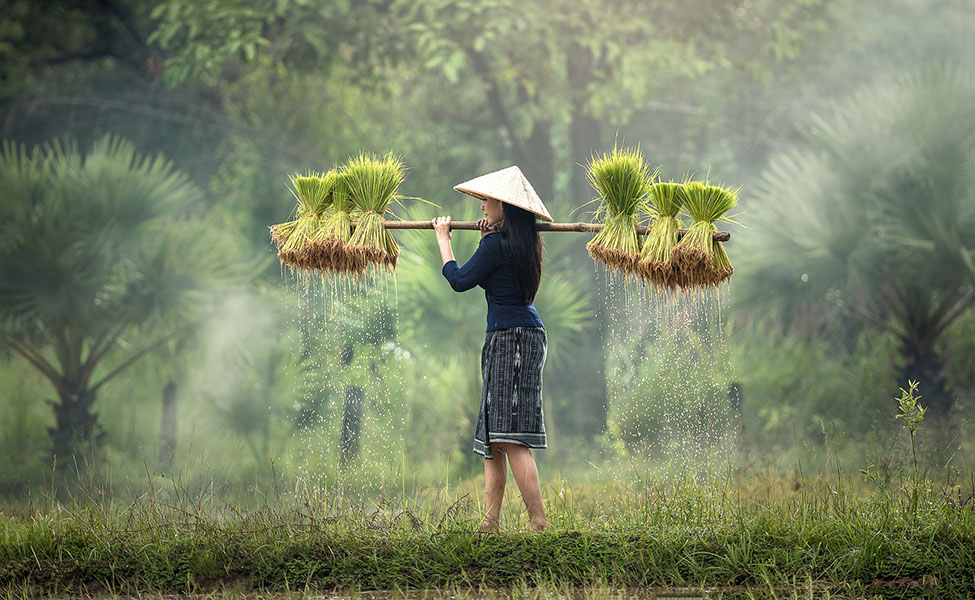 Another unusual place will be on our list of Top 10 Attractions Must See in Asia. It is a Ha Long Bay. If there is one bay that is divine to most of the world's great travelers, it is Ha Long Bay. Apart from giving a beautiful picture, these islands also have unusual names, so some of them are Pencil, Bison, Turtle. Some parts of this bay are protected, so construction and even tourism are prohibited in them. In those places where there is no ban, the place is full of tourists. The origin of the name of this island is also interesting. His name in translation means one who goes down to the sea. Apart from beautiful islands, this place is full of sea rocks and caves. The small islands are stunning.
Ha Long city
The period from October to April is ideal for visiting the Ha long. This is the time of year when rains are much less frequent in Vietnam. However, just in case, it is necessary to bring a jacket or clothes for the rain. If you have visited Vietnam, but have not been to Ha Long, be sure to come back one more time. This place is one of those that you should definitely see.
Sri Lanka

They call it the pearl of the Indian Ocean, but also the most beautiful island in the world, we present to you Her Majesty, Sri Lanka. Sri Lanka is located in the very south of Asia. Over 800.000 tourists a year visit this magical island. With the exception of the mountainous part of the island, the temperature in Sri Lanka is above 30 degrees for most of the year. The best period to visit this country is from November to April.
Why visit Sri Lanka
Sri Lanka tourism is something that always gathers a lot of people. Some of the most beautiful beaches in the world are located in Sri Lanka.The beautiful beaches of Sri Lanka could be listed for days, but we will still leave you to discover something for yourself. Also this place is famous for its healing methodes. The country's native healing system, Ayurveda has been perfected over more than five thousand years. Meditation plays a large role in maintaining a perfect mental health. If you come here you will find peace.
The most famous attractions in Sri Lanka are:
Authentic villages, tropical beaches, sea turtle farms, tea factories, botanical gardens are just some of what you should not miss if you are in Sri Lanka. You must visit misty waterfalls and enjoy a romantic walk with your beloved one.
In the small mountain town of Ela there is a Nine Arch Bridge. The fantastic view you will have of the tea fields all around it is priceless.
Yala National Park which is full of wild animals. Be careful, this is the place where you will most likely meet a leopard. Apart from leopards, this place is a natural habitat for sloth beers, elephants and crocodiles.
Nilaveli Beach is a sandy beach where you will see many fishing boats. This beach is popular both among tourists and locals. Along the beach there are many restaurants specializing in fish specialties. If you want to watch whales, the best choice for you is a beach Mirissa. The water is crystal clear and the hotels around this beach are luxurious. The main advantage of this beach is that it is located relatively close to the capital.
Mount Fuji, Japan

Have you ever walked above the clouds? Have you ever welcomed the dawn in the land of the rising sun? Visit the beautiful Mount Fuji and you will have the opportunity to do both. Mount Fuji is the target of pilgrimages for thousands of tourists every summer. This is the main tourist attraction in Japan especially during July and August. During these two months, over 200.000 tourists visited Mount Fuji. From Tokyo to Mount Fuji it takes a little longer than an hour to travel by fast train. Although Tokyo is about 100 km away, if it is a sunny day and nice weather, you will clearly see this mountain from Tokyo.
About Mount Fuji
Mount Fuji belongs to the group of volcanic mountains. You don't need mountaineering equipment for a walking tour of Mount Fuji. Most of the way to the top of the mountain is a well-trodden path. And that small rocky part of the road is easily overcome. 17 huts were built on various parts of the mountain so that tourists would have a place to rest.
If you have already climbed to the top of the mountain, you must see the sunset or sunrise. These scenes will stay in your memory for a lifetime. When the sky lights up, all tourists will be delighted. When the last red-yellow flame is extinguished, there will be endless blue around you. That is the moment when you realize that the cloud is below you. If your trip takes you to Japan, be sure to take a walk on Mount Fuji. This is one of the places you must definitely see.
Fun facts about Mount Fuji:
It is a volcano that has been dormant since its last eruption
It is considered the sacred symbol of Japan
The base of the volcano is about 78 miles
Palawan, Philippines

We present to you an island that has been declared the most beautiful island in the world several times. It is the island of Palawan in the Philippines. This is a tourist attraction you just must see. If you are looking for the perfect place for scuba diving, swimming or kayaking, then it is definitely a Palawan.
The calm, turquoise water itself is a beautiful sight. Wildlife is available both on land and in the water and they make this island even more popular. Whether you want recreation, adventure or a holiday, Palawan is the right choice for you. The uninhabited islands in the vicinity and fishing villages are a favorite destination of many tourists. The most beautiful and pleasant weather in the Philippines is in the period from november to february, so accordingly it is the best period to visit and the island of Palawan. Palawan Island is valid for one of the luxurious resorts. All hotels and accommodation facilities are full of luxury.
Puerto Princesa
One of the places that were rightly on the list of seven new wonders of the world is the Underground River National Park in Porto Princesa. In the lower part of the course of this river, you will see the influence of the tide, and its specificity is that it flows directly into the South Korean sea. The limestone and karst landscape are the main features of this national park. In addition, the underground river national park includes one of the most beautiful cave systems in the world. The Underground River National Park is located just 76 km northwest of Puerto Princesa. If you decide to visit this wonderful place, be sure to check out:
spectacular limestone karst
stunning landscape
river emerging into sea
River National Park
Bali, Indonesia

If you want to dive, Bali will offer you some of the most beautiful places for diving. But that's not all, Bali attracts different types of tourists and that is exactly why it is the main attraction of Indonesia. Fans of beautiful beaches, artists and culture lovers, mountaineers, cyclists, but also everyone who wants an exciting nightlife come to Bali. We will present you just a few tourist attractions in Bali that you should not miss:
Kuta Beach - Looking for good surfing? Do you like big waves? Kuta beach is the right choice for you. Here you will have fun like never before. Book surfing lessons, rent surfboards and parasols and enjoy the beach all day. Cold Coconut is the perfect refreshment on a hot day, you must try it.
Sekumpul Waterfall - Sekumpul Waterfall is located 66 km north of Ubud. The locals say that this waterfall is the most beautiful in Bali, and it consists of seven falls. But if you are on your way to this beautiful waterfall, hire a local guide. The locals will try to charge you additional fees and with the help of a guide you will find it easier to negotiate with them.
Tegallalang and Jatiluwih Rice Terraces - Here is one destination for lovers of good photography. The beautiful fields of rice in the photos look like a little masterpiece. Be sure to visit Tegalalang and Jatiluwih Rice Terraces. Tegallalang Rice Terraces are about a thirty minute drive from the entrance. Pay attention because the locals are asking for donations for the maintenance of the terraces, but also an entrance fee. Bring some more money. Hectares of rice fields are located in Jatiluwih. There may not be as many tourist destinations to visit here, but it is beautiful for a walk.
We hope that this blog helped you and gave you some useful and valuable information about this gorgeous and enormous continent. There are so many great places to visit and explore, so be free and enjoy yourself. Countries in Asia are something so unique and special, something you only see once in life, so go there and enjoy to the fullest.
If you liked this blog, we invite you to read more interesting facts about similar topics. Be sure to chek out our blog Top 10 best beaches in the world.