Listen, we all deserve to feel like royalty from time to time. The best way to do so is to organize a luxurious trip packed with sunbathing, private tours, and glam accommodations. Regardless of the season, preferences, or budget, lounging with a drink in your hand is one (not-that-short) planning session away. We compiled a list of destinations worldwide, unique experiences, and luxurious places you ought to visit. Try to contain yourself 'till the end of the blog before breaking the bank. Want a little sneak peek of where we'll be taking you? These are just some of the destination we'll tell you all about: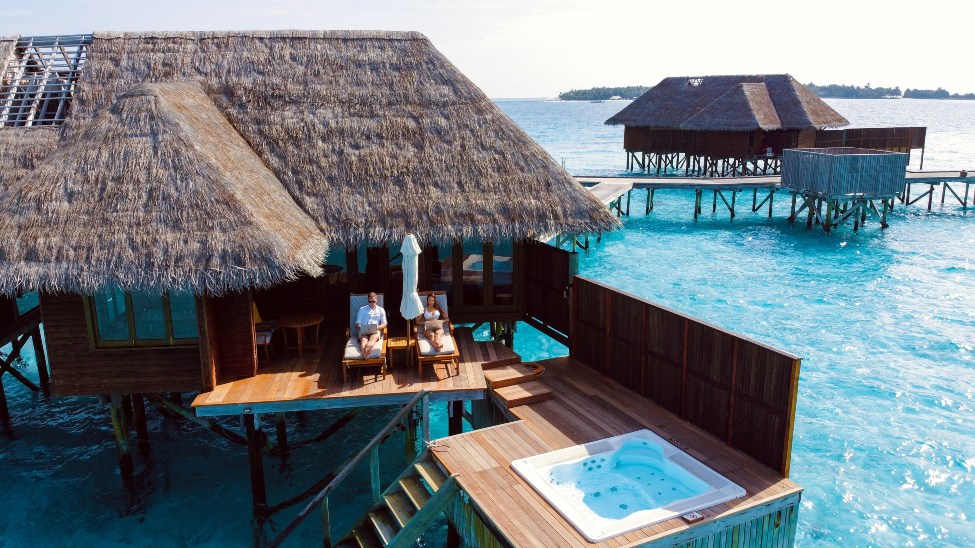 Luxury vacation in Europe
Your European bragging story is just around the corner. From wine tastings to privately visiting the Colosseum, Europe has a lot to offer to tourists seeking luxurious getaways. You won't go wrong with any part of this diverse continent, but some of the locations ooze with elegance more than others. Whether you find yourself just outside Barcelona hiking in the foothills of Mount Tibidabo or throwing a phone in the fountain in Paris (don't do it), you'll have the time of your life. Let's take a look at some destinations worth checking.
Barcelona - City of wine
A city of many talents and beauties is best described using numbers. Home of the 9 UNESCO-protected monuments, more than 60 parks, and over 50 museums, one and only Royal Gold Architecture medal and, as legends say, may be even older than Rome. But don't say that to Italians, it won't end well. We were told that the best Spanish wine comes from Catalonia, which isn't surprising considering its ten diverse wine regions. Let's see what this is all about, shall we?
Barcelona wine bars
The best way to feel like a local and satisfy your upscale taste is to head out to one of the wine bars and taste the exquisite wines from some of the best cellars in the world. Wine tours are also trendy, and the best ones can cost you more than $600. They usually last at least a couple of hours and take you to the best wineries, organizing tastings and lavish lunches. We especially recommend the ones that will take you to the Montserrat wineries. But, If you want to stay in the city, check out these bars:
Barcelona wine bar
Vistro 49 Cocktails and Wine
Matos Bar de Vins & Enoteca
AmoVino
Bar Mut
Gresca
Wine from Barcelona
Besides the widely cultivated ones, Tempranillo black grapes give the Barcelonian wine its recognizable taste, which is far more rich, layered, and has a higher alcohol percentage than other wines made in Spain. You really can't go wrong with any of them, but we recommend you stick to the most popular local wines when ordering a big glass. Some of them are:
Priorat wines: If you're a fan of intense red wine, this will be your paradise. They are delicate, and some have very complex aromas. Clos Mogador (2012), Scala Dei Cartoixa (2010), Mas d'en Gil Clos Fontà (2009) were all praised by sommeliers, and each cost around $100 a bottle.
Montsant wines: With grapes cultivated in the similar fashion as in the Priorat region, these wines are Mediterranean-influenced. They are also kosher and ideal for people who are unsure if red wine is their favorite. Mas de Can Blau (2011) and Clos Mogador's Manyetes (2016) are just divine. Prices for a bottle vary in the $50-80 range.
Terra Alta wines: For all the Merlot, Morenillo, and Cabernet Sauvignon lovers, wines from this region are a way to go. Also, it offers wines with attractive aromas, aftertaste, and floral/fruity hints. Celler Piñol wines, like L'Avi Arrufi or Sa Natura (2011), are perfect examples.
Pair your wine with the Escudella stew or Jamón Ibérico, the most expensive ham in the world that can cost you up to $4.500 a leg, and you'll start contemplating your permanent relocation to Barcelona.
Rome - Luxurious walk through history
As it usually goes in Italy, significant historical monuments and art can be found at every step. We all know the food is excellent, the language is one of the most lovable ones, and cat people will adore it. Why, you may ask. Well, the law protects their right to live where they were born, so many of them enjoy strolling through the busiest parts of the city. The best way to experience true luxury in Rome is to go on a private, intimate tour of its most remarkable features. Here's what we've learned.
Private tours in Rome
Skip-the-line tours are fan favorites, and we can see why. They sometimes give you early access and always guarantee easy and fast entrance. From Colosseum to the Vatican, don't miss out on any of these unique tours:
Golf cart private tour of Rome: Three-hour tour that even includes lunch will cost you up to $360 and give you a memorable VIP treatment. With the wind in your hair and the Colosseum at the tip of your fingers, you'll visit Rome's most exciting neighborhoods and over 20 must-see attractions.
Colosseum and Gladiator entrance private tour: Experienced tour guide will tell you all about Ancient Rome, and skip-the-line tickets will speed up your entrance to Colosseum, Palatine Hill, and the Roman Forum. This wonder will cost you at least $230.
Vatican After-Hours: VIP visit that keeps on giving and taking. Be prepared to spend over $4.000 for a private viewing of the Vatican Museums, Gallery of Maps, Sistine Chapel, Raphael Rooms, and many works of art.
The 10 Tastings of Rome With Locals: Private food tour teaches you the history behind popular Italian dishes, and you even get to taste some. All of that for around $110.
Monaco - Yachting capital of the world
So, you have a yacht, and gold on your food is not a novelty. Well, good for you. We are sure you've found your way to Monaco already. But for us mortals, even coming for a yacht show can be pricey. If you are looking to buy or rent one, the Monaco Yacht Show is the place to be. The whole event is glamorous; it exhibits superyachts ready to be purchased or chartered and gathers the industry's most prominent names. If you want to feel like the top 1% for even just a few hours, we recommend you visit this gem of a country on the French Riviera and go on a private tour.
Renting a yacht for a day or going on an organized cruise is a great way to explore the beautiful nature of this region. The luxury starts from the moment you step on the boat with top-notch service, food, and amenities. Go snorkeling and swimming in ridiculously clear water and enjoy the unique coastal cities along the way. Sometimes, these sightseeing excursions can cost you up to $1.500, but spending a day on a yacht is a wonderful experience. If you find yourself in good company, you might even get invited to a superyacht party. We are rooting for you!
Monaco things to do
We feel kinda bad for only talking about yachts when Mocano truly has a lot to offer. So, when you want to take a break from life at sea, find glamour and excitement at:
Monaco Grand Prix: In the late spring, this F1 race takes place on the Circuit de Monaco, and the VIP tickets go from $2.400 to $3.555.
Casino de Monte Carlo: 007 life is one step closer, but without life-threatening danger, this exciting casino will jeopardize all your free time.
Attend a party at Jimmy's Monte Carlo: Star-studded guest list keeps surprising us; just act cool if Bono joins you on the dancefloor.
Paris - Elegante shopping sprees
She's beauty and she's grace, but also one of the most expensive cities in Europe. Private tours are an essential part of every luxury visit to Paris, so don't be shy and book yourself some skip-the-line guided access to Louvre. Parisians have it all going for them, stunning views, fantastic art and music and food, intriguing history, and their city has the reputation as the most romantic city in the world. But, the one thing that Paris does better than the rest is fashion, and you can take the most advantage of it by going shopping in the most fabulous stores all lined close to each other.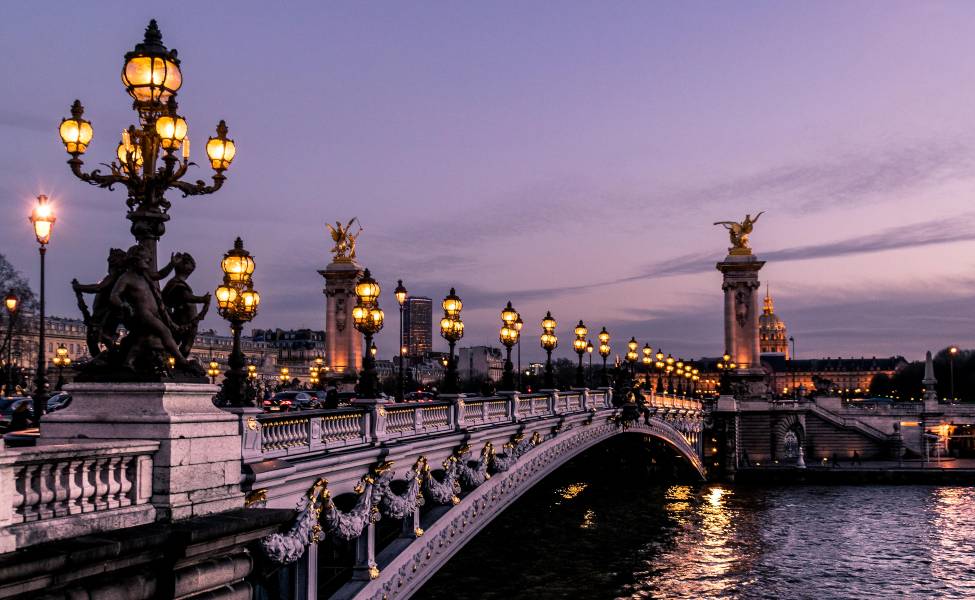 Shopping in Paris
If you love designer clothes and rare items, the best place to find them is the shopping streets and corners of the city of lights that are charming just to look at. During Fashion Week, Paris becomes even more glamorous, and if you have your Miranda, or you are the devil in Prada, we'll see you there. But, if you just want to get the taste of it, take a stroll down both ends of Rue Saint-Honoré. Original Chanel store, Dior, Givenchy, and some of the most exciting niche brands will welcome you in their homes. Some other city spots worth checking are:
Hermès at 17 Rue de Sèvres
Louis Vuitton at 101 Av. des Champs-Élysées
Galeries Lafayette at 40 Boulevard Haussmann
Sonia Rykiel at 175 Boulevard Saint-Germain
Luxury travel Africa
We won't even pretend to understand all the intricacies of cultural heritage in Africa, but what we can do is appreciate it with zero appropriation while visiting. Traveling to Africa offers you a wide array of activities, popular luxury safaris for example, and we recommend it, especially if you love hot weather to be your companion. Besides stunning nature, towns in Africa have impressive attractions and architecture. Light blue Zanzibar beaches and incredible wildlife hold a special place in our hearts. We'll tell you what to expect.
Tanzania - Land of the luxury safaris
You should start a tab in Zanzibar 'cause you will most certainly come back once you visit this extraordinary country. The mix of places to see and things to do makes this African country one of the most attractive destinations for tourists who love direct contact with nature. The best way to experience it all is via safari tours that take you to the heart of the action. Mixed terrains, the contrast of snowy mountains and clear-water islands, and fascinating animals inspire you to explore and learn even more. This privilege will cost you at least $600 and up per day, with Horseback Safaris even costing $9000 for eight days.
This is a 24-hour experience, as you stay in one of many scattered camps around Tanzania. They are mostly made of sustainable materials and give you 360 views of your surroundings. From there, you continue your explorations following the safari you choose. The most popular camps and safaris are:
Safari camps: The Palms at Zanzibar; Sanctuary Kusini; The Highlands at The Ngorongoro Conservation Area; Lemala Mara at Western Serengeti
Safari tours: Great Migration Safari during June and July; Herd Tracker Safaris; Wildebeest river crossings; Tanzania couple safari
Luxury destinations in Asia
Can you imagine yourself sipping tea in a luxurious hotel lounge that just makes you forget all your worries? Because we sure can. Visiting Asia is always a unique experience for all the senses, and that is especially true when you decide to treat yourself to a nice luxury vacation. Excellent spa treatments await you, alongside private tours, fine dining, high-tech experiences, nature exploration, and stunning views from hotels or resorts. Continue reading to find out more about places to be. And, if you're feeling fancy and want to travel all over Asia, check out our blog on top attractions in Asia.
Dubai - Peak of luxurious tourism
The surreal looks of this city in the United Arab Emirates feel like something straight out of a futuristic novel. There isn't one thing that we can single out as the most luxurious because, to be honest, even going to Dubai says a lot about your rich taste. Reaching the top of Burj Khalifa should definitely be on your bucket list, alongside a private hot-air balloon ride that overlooks the Dubai desert. Dates don't get any better. Here are some of the most indulging activities that will enrich your vacation in Dubai:
Dinner in the sky: A crane holding you, your table, and other guests 50 meters above the ground as you wine and dine and have the whole of Dubai as your background is really on-brand for this crazy city. You can go with your friends, use this opportunity to meet new people, or organize a special event for a loved one throughout the week. The most expensive table times are dinner reservations on weekends, which will set you back about $218, but usually, you can get your seat for about $164-191.
Cars, planes, and yachts: Tour the city and its surroundings in a magnificent superyacht, get a private helicopter ride to the Sir Baniyas Island or glide a Lamborghini, Ferrari, or a McLaren through the butter-smooth streets of Dubai. You get 7 hours to pretend that your life is that cool, even if it isn't.
Luxury safari: Explore a desert via luxury safari that usually includes Range Rover rides, 60-minute safari tours, camel rides, up-close falcon shows, entertainment portions, and fine dining. This delight can cost around $3.500
Visit the Global village and Dubai Miracle garden: Go on cultural and natural journeys through these magnificent places of entertainment. The global village consists of many outlets and pavilions, dining areas to try exciting street food, thrill rides, games, and shows with talented performers. To relax after all that bling, go to the Miracle garden to see over 250 million plants and a butterfly garden. Admission to the garden will cost you a little less than $10.
Thailand - Luxury train experience
This one is truly magical. Thailand is blessed with stunning nature and showcases it in the best possible way. One of the unique experiences is the Eastern and Oriental Express which takes you on a journey from Singapore to Thailand. Accommodation is as luxurious as it gets, with many options, the presidential cabin being the most lavish one.
Service and entertainment will be provided at all times; your suite will have a private shower and electricity. You won't get bored of your daily meals either, accompanied by coffee and tea servings. Stops along the way take you to rice fields, villages, and War museum, and you can add some excursions to your trip. This three-day fairytale will cost you a minimum of $3.000 per person. Do you think it's worth it?
Japan - Michelin star recorder
The fascinating and long history isn't the only impressive thing about Japan. Focus on unique experiences in the land of the rising sun makes it perfect for luxury-seeking enthusiasts. You can get the views from the top on your helicopter tour around Tokyo, learn the art of Kiriko glass cutting or spend an evening with a sake expert. Despite it being home to many spots that pop culture immortalized, the fascinating fact about Japan is how many Michelin star restaurants are situated there.
Restaurants in Japan
The latest info is that 668 different restaurants in Japan have at least one Michelin star, and 29 of them have 3-star status. Good job, Japan! This culinary hotspot can be ideal for aspiring food bloggers, novelists, and writers, but there isn't a better place in the world for people with expensive taste buds. Come to watch masters at work, try exquisite food, and be prepared to pay a lot. And we mean it - some of these meals can cost you a couple of hundred dollars. Also, some waiting lists for reservations can be pretty long, don't say we didn't warn you. Here are some of the most popular restaurants you won't regret visiting:
Hajime in Osaka: A perfect fusion of French delicacies and Japanese techniques.
Kohaku in Tokyo: This is where sushi dreams come true.
Kyoto Kitcho Arashiyama: You will get unique recipes served in Japanese porcelain.
Kojyu in Tokyo: Our recommendation is multi-course menus pared with good wine or sake.
Luxurious spots in North and Central America
A wide selection will make you feel a bit overwhelmed, not going to lie. Lights of the modern cities will lure you in, culinary wonders can be found at every turn, you'll feel like a celebrity in luxury resorts, and you might actually see one. After doing our research, we understand everybody who has a summer house in Mexico, and we so envy them. Our list contains just enough magic to get your imagination running, and you should too, and inspire you to book your next vacation ASAP. From ocean views to Times Square, let our virtual tour begin.
New York - Hotels and the City
The big apple is dripping with luxury on every corner, with experiences that will empty your pockets in seconds and award-winning restaurants, plays, and exhibitions. The magic of lights and skyscrapers is best appreciated from the air, so don't miss the New York helicopter tour. At the end of the day, the most prestigious tourist category is the New York hotels. NYC locals are no strangers to bars, restaurants, and other entertainment spaces that these hotels include, so don't be alarmed if you are the only tourist enjoying the overpriced cheesecake at the Waldorf Astoria. If you've ever researched New York City in any capacity, you've probably seen the shoebox apartments going for a couple of hundred dollars a month. Home of the brownstones, penthouses overlooking Central Park, and Billionaires' Row has a lot to offer to its wealthy citizens and visitors. If apartments and homes for rent in NYC are some of the most expensive in the world, wait until you see this concrete jungle's fabulous hotel offer.
Top hotels in New York
When choosing a New York hotel, you need to sort your priorities and choose between locations vs. views. Many of these hotels have rooms or suites once rented by huge celebrities, but be ready to pay even more if you want those specifically. Service is top-notch wherever you go, some have better spas or gym areas, and some are famous for their rooftop parties. Just the idea of being in New York makes us giggle with excitement, we wouldn't be able to contain ourselves if we stayed in any of these hotels:
The Plaza Hotel at 5th Avenue
Four Seasons hotel at 57 E 57th St
Soho Grand Hotel at 310 W Broadway
The Roosevelt Hotel at 45 E 45th St
The Ritz-Carlton New York at Central Park
The Peninsula Hotel at 700 5th Ave
Glamping in Costa Rica
Rainforests in central America, overlooked by a volcano, undoubtedly are the best possible destination for glamping, don't you agree? Costa Rica is filled with adrenaline activities to complement your stays, such as Volcano ziplines or ATV tours. But, Costa Rica became known for its many glamping lodges and retreats. Enjoying the best possible accommodations, alongside all the benefits of nature, is possible there. We did some research, big-time FOMO hit us, and eventually, we compiled a list of the best-rated glamping spots. Some of them are:
Pacuare Lodge: Eat a meal 19 meters above the jungle floor, stay in a jungle villa and enjoy a pool for at least $545 a night.
Lapa's Nest Treehouse: Just outside Corcovado National Park, this treehouse will cost you a minimum of $275 a night.
Ocho Artisan bungalows: Huts and cottages in the center of Tamarindo will make you one with nature, and their price tag sits at a minimum of $350 a night.
Luxury escape Australia
Land down under has a few tricks up its sleeve and can easily give Barcelonian wine a run for its money. Australia is famous for its unique wildlife, crisp, clean Tasmanian air, exciting nightlife, and surfing spots. Put it all in one trip, add a visit to a Sydney Opera House event or Blue mountains private tour, and you got yourself a glamorous week planned. But, there is one particular place that only Australia can offer you. Can you guess where this is going?
Great Barrier Reef tours
The star of every luxury trip to Australia, this reef is a magnificent natural wonder that can even be seen from space. And you can visit it, explore it and snorkel around with its many animals. Because there is a lot to explore, the best way to see as much as possible is to get one of the package deals that combines tours and activities at the reef. Great Barrier Reef is considered a world heritage place, which we mentioned in our blog about the most famous world heritage sites. If you have always wanted to swim with sharks, now's the time to do it. Some of the popular activities you should try are:
Shark diving tours: The fanciest version of this adventure is going on a private charter boat for a few days and having shark diving tours in many locations. Prices can go up to $3.000 depending on how long your trip is.
Swimming with whales: Minke whales await you for around $1.700 if you go on a four-day trip.
Premium snorkeling tours: Usually are a day-long activity that can cost $200 and up.
Scuba diving tours
Visiting an array of reefs and islands
Helicopter tours
Antarctica Vacation
If you had told us that we'd be able to visit Antarctica one day, explore parts of it and observe it from the comfort of a luxurious cruiser, we honestly would think you had a little bit too much to drink. But, here we are. You'll get the chance to smile and wave, boys and girls, from the very luxurious ships, take some fantastic photos, be on land, and have very informative excursions. We gathered all the essential information; let's just sit back and be amazed together.
Luxury cruise Antarctica
Silversea cruises are known for their luxurious voyages to many destinations, but excursions to Antarctica are described as the closest thing to visiting another planet. You can fly directly to your ship or start your quest from one of the starting points in South America or New Zealand. Silversea has three big boats and small luxurious ones that take up to 270 passengers. You'll have lots of open deck space to enjoy the views, and most of the rooms have verandas. When you find yourself at the end of the world, zodiac expeditions take you even closer to the ice glaciers, penguins, and land where you can continue exploring on foot. The crew is with you at all times; experts from essential fields will be your guides and companions. Cruise fares include:
Air transportation to and from the ships
Overnight stay in a hotel before the voyage
One day stay in a hotel room after the excursion
Possibility of equipment renting
Cruises are very costly, as prices go from a little under $10.000 up to over $20.000. It is totally up to you to decide if it's worth it, but if you ask us, we say YES. Ships have entertainment and dining areas that will make you feel comfortable, fitness spaces, and an intimate and luxurious atmosphere. We encourage you to bring your kids, if they are five or older, as this will genuinely blow their minds. Passengers in December of 2021 got a chance to see the solar eclipse in Antarctica that won't be seen for the next 400 years.
Luxury Islands
When we talk about extravagant vacation resorts, the first thing that comes to mind usually is a private island, see-through water, bungalows, cocktails on the beach, and pure enjoyment. All of that, and so much more, is what you'll find at the islands we researched so you don't have to. You're welcome. We hope you'll be mindful of the culture you'll get to know and the hospitality you'll experience. Stick around to find out all about the curated luxury experiences for you.
Maldives - Resorts for days
There aren't enough words to express how jealous we are every day of the people who spend their vacation on this heavenly archipelago. With many opportunities for water exploration, unique fauna consisting of protected coral reefs, and fascinating culture, it isn't surprising that the Maldives houses some of the most luxurious resorts globally. You'll see how exclusive they are, as they offer you the best possible service, privacy, and up-close experience of the Indian ocean. Infinity pools, private decks, and direct access to the water are just some of the perks. Before we go into severe credit card debt, we'll tell you all about the best resorts.
Maldives luxury resorts
Just a reminder, these can be surprisingly expensive. But, if you want to spoil yourself, and we think you should, there isn't a better way. Besides accommodations, these resorts have an abundance of activities prepared just for you - pool party, trips to lonely dunes, fishing, and so much more. When you go to this nation of islands, we recommend you stay at:
Sun Siyam Resorts: Arguably the best seats in the house, you will be situated in the 5-star rooms that open to the lagoon and sand; or are you more of a water and dolphins kind of person? Say no more, as you can watch them in the dolphin ocean suite from your bed. Possibilities are endless, and so can be your bill if you add all the fun activities at your disposal. Floating breakfast has your name all over it.
Ayada Maldives: All-inclusive packages are the best way to experience this resort of wonders. You'll be taken care of from the moment of arrival until departure, with the exciting villas and suites, impeccable service, excursions and equipment for water sports, all-day-long entertainment, and the finest dining. Ocean and beach villas are the way to go, we promise.
Sheraton Maldives: Romantic getaways don't get any more romantic than this. Water bungalows with spectacular ocean views that you can enjoy from your private plunge pool, spa and fitness areas, open-air restaurants, and experiences for all ages do make a tropical paradise.
Bali - Ultimate spa retreat
It was tough not to run to the closest massage parlor after reading about all the benefits of the Balinese massages, but nothing can be compared to the authentic spa resorts that only Bali has to offer. Once you've explored the wonderful nature of this Indonesian island, taken the best-looking photo on the Bali swing, visited the monkeys in their forest, and appreciated the fascinating history of the temples, you should round up your trip with a day-long spa treatment. The good news is that you don't have to be a guest of the resort to enjoy its luxurious spa area. We asked around and found out which ones were the best ones.
Spas in Bali
Most of the resorts in Bali have a spa area that is to die for, and we cannot recommend them enough. The environment where you'll be massaged and treated is usually part of the experience itself. Using the best that nature offers, respecting it, and building around it have made Bali's spas that special. Some treatments can last for hours, with packages including more than one service. Flower baths are a peek of enjoyment, plus a great photo opportunity. Prices vary, you can get a 2-hour all-inclusive deal for around $36 but also pay almost $170 for the same amount of time somewhere else. We suggest you book in advance. Experience has shown that the best spa spots in Bali are:
Spa at Maya Ubud
Spa at Fivelements Retreat
Spa Village Resort Tembok
Glo day Spa and Salon
Spa at Ayana Resort and Spa
Hawaii - Paradise for golfers
We can't stress this enough when we say that a visit to Hawaii can rejuvenate you in a day. All you have to do is be respectful of the land, culture, and people who welcome you with open arms. Many resorts, beachfront bars, and activities fit the luxury criterion, but one that stands out is golfing. You can choose from more than 70 golf courses, depending on which part of Hawaii you visit or how good of a golfer you are. Some of the best golf courses and resorts that you should definitely check out are:
Fairmont Orchid
The Ritz-Carlton Maui Kapalua
Ocean Tower by Hilton Grand Vacations
Four seasons resorts
Grand Wailea, A Waldorf Astoria Resort
Map of luxury destinations
Before we let you go, we'll leave you with this map. This is where you'll find all of the destinations mentioned in the blog, and it will make orientation much easier. You can even use it for travel planning, route mapping, and such. Have fun with it!
We can already smell the salty water and exotic meals, hear the excitement in the air and sense our wallets hiding from us. Investing in travel and one-of-a-kind experiences is worth every penny, but we also understand some of our picks can feel hard to reach. So, whether you decided to visit any of the destinations, are currently recovering from your last vacation, or just wanted to see what the rich are up to these days, we hope you found entertainment and valuable tips in our blog.