Europe is full of wonderful places to visit. So wonderful that sometimes it is even difficult to decide where to go next and what to see first. This list includes ten unique and special places that you can explore in Europe, whether you decide to go on your own, with friends or with family. Here you can learn more about the most interesting, famous and special destinations and hidden gems that Europe has to offer.
Reykjavik
The main symbols of Reykjavik
The capital of Iceland is located in the north of the country and the choices for all sorts of activities there are truly enormous.
One of the most famous historical churches, Hallgrimskirkja is in the center of the city, and is definitely one of the best places to visit while in Iceland. Hallgrimskirkja is a Lutheran church and it represents one of the tallest and most impressive buildings created in Icelandic culture. It is also used as an observation tower, where tourists can take a lift and view this city from a far while gazing at the amazing mountains that surround it. Near the observation tower, you can discover warm and terminal waters that can have truly amazing benefits for health and overall well-being.
Reykjavik is also famous for having many swimming pools. There are in total 18 swimming pools all around Reykjavik and all of them look stunning. Some of them have both outdoor and indoor pools with many fun activities in them. One of the most famous swimming pools is located in the center of Reykjavik and it dates back to 1937.
Reykjavik Pride street
Also in town center, there is one narrow and crooked street painted in all the colors of the rainbow. Not only that it looks different and remarkable, it is also a nod to LGBTQ+ population and their human rights. Along the street tourists can see many of small houses also painted in bright colors, each of them special in their own way.
What to see in Reykjavik
Reykjavik is a very trustically rich city. In addition to the above symbols, the city has many other interesting attractions, which must be part of the tour through the city.
National Museum of Iceland - This museum tell a story about rich Icelandic culture. Exhibits give an excellent overview of Iceland's history and culture, and the free smartphone audio guide adds a wealth of detail.
Harpa hall and conference centre - Harpa is one of Reykjavik's greatest and most distinguished landmarks. The structure is breathtaking.
Maritime Museum - this is a museum specializing in the display of objects relating to ships and travel on large bodies of water
Saga Museum - this is a Viking Museum that intimately recreates key moments in Icelandic early history,
Church Reykjavic - it is one of the most popular and visited locations in this city and its architecture is absolutely stunning
Street art - This city is filled with beautiful street art that can be found around any corner. It can be really fun and exiting to explore all the places that street art can be found.
Creative and stunning murals on building facades around the Old Harbour and Grandi are the result of a collaboration between the Iceland Airwaves music festival and the Berlin-based Urban Nation art initiative. Titled Wall Poetry, these murals are either inspired by individual songs by the likes of Mercury Rev, John Grant or Gus Gus, or are genuine collaborations between the street artist and music artist.
Amsterdam
One of the most popular cities to visit and the capital of Netherlands, Amsterdam, is definitely one of those places you cannot skip to see. Famous worldwide for its free, sometimes even wild spirit, Amsterdam offers many great locations for young people to see and enjoy themselves. The history of Amsterdam is rich and fascinating and the city is famous for so many amazing things to see and explore. Dating back to the 13th century, Amsterdam got its start as a trading city. Even in its earliest days, this city saw the value of building relationships with other cultures, especially when it helped facilitate trade and economic development. Amsterdam is known as a liberal city and often the more left-oriented parties hold the most political power.
The most visited places in Amsterdam
Some places in Amsterdam can be defined as its most important touristic symbols. These spots best represent the spirit and tradition of the city.
Old Centre
Amsterdam's historic city is one of the largest and best-preserved in Europe. The old town has an elegant gables and delicate spires. Many great pictures can be taken in the old city centre. In the oldest part of Amsterdam you can still walk through medieval streets. Many famous locations are here as well, some of them are downtown shopping areas and attractions such as the:
Royal Palace,
Old Church,
Amsterdam Museum,
Madame Tussauds.
It is always busy and full of tourist and locals and many great restaurants as well.
Dam Square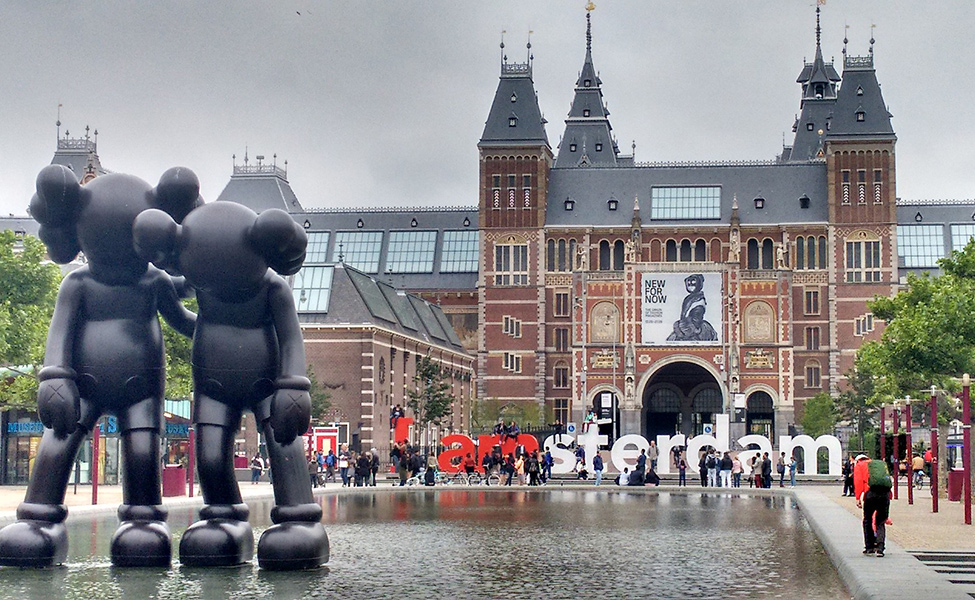 The Dam is located just a five-minute walk down the Denmark from Central Station. It is the heart of this city. The Dam takes you into this jam-packed square, jostling with locals and tourists day and night. There is always something going on. Dam Square lies in the historical center of Amsterdam. The Dam derives its name from its original function, because a dam on the Amstel River, that is also the name of the city. This is a place where you can see all, and have all. It is not just beautifully designed, but it also well connected with some other areas of this city.
The Van Gogh museum
The Van Gogh museum has the largest collections of his famous artistic paintings and drawings. The museum has over two million visitors every year and it is one of the most popular museums in the world. His paintings have strong symbolic meaning behind them and his entire work had a huge impact on Dutch art and impressionism. Explore Vincent van Gogh's famous paintings and drawings, work by his artist friends and contemporaries, French and Japanese prints and more. Van Gogh painted a number of impressive flower still lifes, such as Sunflowers and Irises. Vincent gained many new impressions in Paris. He drew cafes and boulevards and the landscape along the Seine. This museum will be something special to see for any art lover. You can book tickets here.
Red Light District
One of the iconic places in this wonderful city is The Red Light District . It is a street that has it all, from important historical museums to modern day sex shop. A true mixture of everything. This area is famous for having a large number of sex shops, theatres and coffee shops and is certenly one of the places you cannot miss.
The Anne Frank house
When it comes to Amsterdam's history, The Anne Frank house is a great place to visit while staying in this city. It is located in the city centre and it represents not only her home, but also a biographical museum dedicated to the pain and suffering of Jewish people in the middle of the war. Anne Frank is one of Amsterdam's best-known historical figures. Anne and her family lived in hiding from the Nazis for more than two years in a house on the Prinsengracht. Anne was eventually deported to the Bergen-Belsen concentration camp in 1945. During the Nazi occupation of the Netherlands, more than 100,000 people were deported and killed in concentration camps. Anne's original diary and other notebooks are on display in this museum made in her honor. Around a million visitors flock to the Anne Frank Huis every year.In 2005, the apartment was restored to its 1930s appearance, inspired by descriptions in Anne Frank's letters, but they are not alwys open to public.
Lisbon
History of Lisbon
Lisbon is a city with soul and many colorful places to see. It is a city full of narrow and old streets. Lisbon is probably most famous for ornate architecture and popular Fado music. When a very special period of the year comes for Lisabon, then you can discover this city in its true glory. At that time Lisbon is full of music, different festivities and all sorts of food and drinks are always on display. People sing and play instruments every day and they are not stopping during the nights either. Lisbon's history really begins with the Romans, who occupied what they described as an ancient Phoenician colony. History traces the city back to the Phoenicians, who settled in the port they named Alisubbo. In the first half of the 18th century, the profits from the plantations and the gold and diamond deposits of Brazil brought a new flurry of optimism and excitement to Lisbon. All of that and much more make this city worth seeing.
What to see in Lisbon
We have selected for you the most visited attractions in Lisbon. embark on a digital adventure through one of the most beautiful cities in Europe.
Jeronimos monastery
This is famous and very popular place to visit at almost any time of the year. It is located in the Belem district, in the west of Lisbon. It is one of the most decorated churches in Portugal with stunning architecture. The religious building was designed by the famous Portuguese architect Diogo de Boitaca. Temple has a single nave that is held up by six beautifully sculpted columns. It is also important to say that the Church houses the tombs of Vasco da Gama and Luís de Camões, a Portuguese poet and writer.
Castelo de S. Jorge
This is an important location in Lisbon because of rich history and cultural heritage. It is open 7 days a week. Castelo de S. Jorge is now a place where you can enjoy our heritage, get to know a little about Lisbon's history. There is wonderful permanent exhibition where you can discover many great things about Lisbon and Portuguese culture. The Castle was built in the 11th century. The purpose of the castle was to house military troops. The garden of the Castelo de S. Jorge is the only remaining green space where the native species of Portuguese forest dominate. The garden is filled with live, carob, strawberry, umbrella pine and various fruit trees that visitors can see and explore.
The waterfront Belem
The waterfront Belem is a very special neighborhood that has some of the most important monuments and museums. One of them is a medieval fortress. Tourists can visit the tower from the waterfront and schedule a tour of this medieval fortress. Belem Tower is open all year round , but it can get crowded during summer. There is also a very famous National Tile Museum. The museum is full of tiles in all colors, sizes and many of them are very old and rare. This museum also owns a gift shop and a caffe where you can find books about tiles and creation of it.
The Rossio
Became an important place in the city during the 13th and 14th centuries. The Rossio has been a meeting place for people of Lisbon for centuries. It is located in the downtown of Lisbon and has been one of its main squares since the Middle Ages. Other highlights in this respect refer to two baroque fountains located on two sides of the square, as well as to the 19th century cobblestone pavement designed in wave patterns, as the trend of the time dictated at the moment. Many cafes and restaurants and the train station are also there.
Paris
Most popular places in Paris
On almost every bucket list, the capital of France is one of those places you simply must visit at any time of the year. Whether you decide to visit the city of love in summer, autumn, winter or spring, you will be able to discover some of the most beautiful and iconic places in the world. Featured in movies, books and magazines, Paris is a true mixture of different cultures living together in diverse communities. While exploring the streets of Paris you will find amazing:
architecture
important monuments
museums
libraries
historical buildings
The Eiffel Tower
The Eiffel Tower is an iconic, world famous monument located on the Champ de Mars in Paris, France. It is made of strong iron with many bright lights shining all around the city from it. Once upon a time the Eiffel was the tallest tower in the world. It was created by famous architect called Stephan Sauvestre and it has become one of the most recognisable symbols of Paris. Some may say that it can represent a true heart of that unique Parisian spirit we all sometimes crave for. Tourists can take a tour of the Eiffel Tower any time of the year and enjoy the magnificent view from the very top of the structure.
The Louvre Museum
The Louvre Museum tells many stories, from artwork to building itself. The Louvre was built as a fortress for French royal family. The museum is divided into eight sections and it contains art from many different cultures and nationalities. It is the largest museum in Europe and it would take you more than one day to explore it properly. Perhaps, it is the most famous for the statue of Venus and the Mona Lisa picture. Behind the magnificent buildings there is a hidden treasure. A walk through Tuileries Gardens is also one of the top spots for tourists to visit. The Tuileries is an historical place in itself. The garden is enormous, colorful and filled with sculptures and over 200 statues.
The Opera de Paris
Located in a very heart of Paris, in the city centre, The Opera de Paris, or just Paris Opera, is a breathtaking building that represents a true masterpiece of architecture. The main building was designed to show the different parts of Paris. Those four sections are completely different and they have distinct architectural styles:
the circulation part
the main stage area
the auditorium and the offices
The stage area is, arguably, the most impressive part and the Grandiose staircase, a trademark of Garnier opera, is famous for its traditional wooden structures and many artistic paintings from the 19th century.
Dublin
History of Dublin
Dublin is a warm and welcoming city, known for the friendliness. Apart from the port area and the docks, Dublin is a low-built, steepled city. The city's streets were broad and its garden squares spacious. The oldest and largest of the city's squares is St Stephan Green, recorded in 1224. Most of the imposing mansions now surrounding it were built in the 18th century. As many may say, every true Irish adventure must start in Dublin. It is located on the east coast of Ireland and it includes several historical buildings:
What to see in Dublin
Dublin is full of stunning places, that are very attractive for sightseeing. When you come to main Irish city you must not miss to visit these spots.
The Dublin Castle, St Patrick's Cathedral
The Dublin castle is an important Irish government complex, conference centre, and tourist attraction. It is located off Dame Street in Dublin. It is one of the most popular and famous landmarks of this city. The castle includes towers at two corners and it is open to public every day. The castle contains large library, museum and a café that is perfect for some relaxation and charging batteries.
The Custom House
The Custom House and many more. It is the largest city of Ireland, as well as a historical and contemporary center for Irish education and administration. Dublin also has a rich history and a diverse culture that includes a mixture of modern and traditional places to visit.
The Wardrobe Tower
The Wardrobe Tower, known as Dublin castle, was built by King John of England in the beginning of the 13th century. Primarily the British monarchs lived in the castle, but in the 1700s it was even used as a prison. It is not only a tourist attraction, but also an important government complex and conference centre. Conveniently, to enter this historical place, you don't need money at all. The castle had a horrific fire and went under several reconstructions over the last few years, but it still remains open for tourists seven days a week.
Some peculiarities of Dublin
When it comes to food and drinks, Dublin is also a very special place to go. The Temple bar is so famous that the entire street is named after it. It is famous for its red exterior and Irish Whiskey. The word whiskey means the water of life, so no wonder why Irish people, generally speaking, can not live without it. Drinking Irish whiskey is an unforgettable experience.
Another very specific Dublin thing is long tradition of education. Education is an integral part of Irish society, because of that Trinity College is one of the most important cultural and educational places in Dublin. This University also owns the Zoological Museum and science gallery.
Recently, very famous and talented Irish author, Sally Rooney, wrote a book about young people who fell in love during their time at Trinity College. The book Normal people has become one of the world's best selling novels and many locations in Dublin are featured in the book and tv show, so we recommend you to read it. You will not regret it!
Prague
Beauty and architecture of Prague
Prague is the capital of Czech Republic and it is best known for its Old Town Square, baroque buildings and Gothic architecture. Some may say that Prague is equal to Paris when it comes to the beauty of buildings, monuments and cathedrals. Prague became the capital of independent Czechoslovakia. The physical attractions and landmarks of this town are many. Prague has an important role in the economic life of what is now the Czech Republic. Prague is famous for its cultural life and is filled with:
historic buildings
museums
bridges
restaurants
monumnets
street art
Make sure to explore all the beauty of this wonderful city!
The main tourist attractions of Prague
While touring Prague, you will be presented with a variety of spaces that will tell you all about the history and tradition of the city.
Don't miss to stop and get to know the main city beauties.
Astronomical clock
While visiting Prague make sure to see a huge, astronomical clock located in a city centre. You simply can not pass it and it is one of the most famous attractions for tourists. The clock features the sun, moon and all signs of zodiac. It dates back from the 14th century. The astrological clock is located in the heart of Prague's Old Town Square which is also home to the famousChurch of Our Lady. The background represents the Earth and the local view of the sky. The blue circle directly in the centre represents the Earth, and the upper blue is the portion of the sky which is above
Charles Bridge
The next stop should definitely be the famous Charles Bridge, built over Vltava river. The bridge is filled with statues. Charles Bridge is an iconic landmark and an important part of the history of Prague's Old Town. It is also one of the few remaining medieval bridges in the world. Charles Bridge is 516 meters long, 9.5 meters wide, 13 meters high, and stands on 15 pillars. It's also the part of the so-called Royal Route. Charles Bridge is built of sandstone blocks and it's construction is surrounded by many interesting legends. You will find three tens of magnificent statues on the bridge.
Copenhagen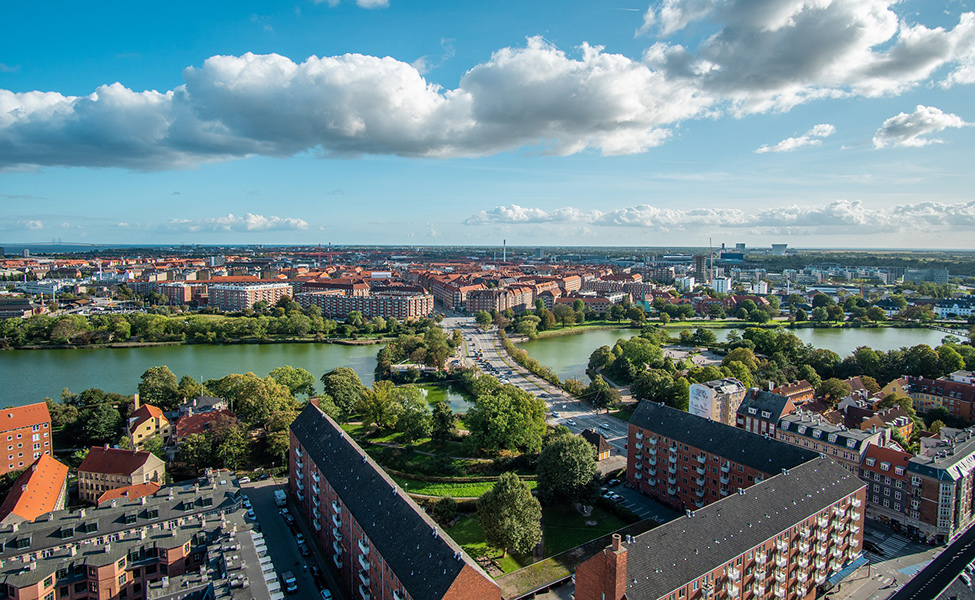 Best places to visit in Copenhagen
Copenhagen was founded in the years 1160 and 1167 by Bishop Absalon. Copenhagen grew rapidly in the 12th century due to its position near the sound with good harbour facilities. Denmark's capital is filled with many amazing locations for tourists to see, eat, drink and spend some quality time. Amazing locations you must visit are:
The National Museum of Denmark
The National Museum of Denmark is definitely the largest museum in the entire country and it contains a stunning display of Dutch cultural history. You will be able to see exhibits that date back to Stone and Viking age. Be prepared for long rows and some patience because many people all around the world come to see it daily. The museum is usually open for public during seven days a week, but row can be long, so be smart and book your ticket on time.
Rosenburg Castle
Rosenburg Castle dates back from 1606. It is a cultural and historical building served primarily as a summer residence for Scandinavian royal family. The Castle owns a private garden, filled with thousands roses in honor of the Royal family. While exploring Rosenburg Castle, be sure to look at amazing artwork inside the Castle, as well as the king's private cabinet, that was used for writing important royal documents. The cabinet is filled with the king's personal belongings.
Botanical garden
Botanical garden is stunning place to go while exploring this amazing city. It is filled with the most impressive and rare flowers and plants. Copenhagen's botanical gardens are green oasis in the center of Denmark's capital. It's got the largest Danish collection of living flora, including more than 13,000 plant species spread over ten hectares and housed in a complex of historic 19th-century greenhouses. The garden covers an area of 10 hectares. The garden has 27 glasshouses. The most notable is the old Palm House from 1874 that is 16 meters tall and has narrow, cast-iron spiral stairs leading to a passageway at the top.
In addition to the listed places do not miss to visit and:
Dutch gardens, floating hot tubes - something that can be ideal for couples and fun dates
Copen Hill - a large green space with lost of great activities to do, weather you like to run or hike or take long, exploring walks, be sure that this place is perfect for that
CopenHot - this wonderful place offers outdoor Hot Tubs and Panoramic Sauna provide a stunning view of the harbor
The Alchemist restaurant - one of the best and most popular restaurants in this gorgeous city. Worlds best chefs work there and are creating every single day a true masterpiece dishes. Food in this famous restaurants look like a true art served on a plate.
Copenhagen is always good place to visit during any time of the year. The beauty and importance of this city are enormous, so it is no wonder why so many tourist rush to see this place and spend some of the best vacations in it. Weather you decide to come with friends or family, you will have the most amazing and unforgettable time.
Saint Petersburg
St. Petersburg is a Russian port city, located on the Baltic sea. It was formerly known as Petrograd and Leningrad. Today St. Petersburg is a major cultural centre and an important port. This town is crucial when it comes to Russian tourism and economy. So it is no wonder that St. Petersburg is a historical and architectural masterpiece of Russian heritage and culture.
Amazing locations and places you need to visit
The city of Peter the Great is a magical Russian fairy tale, which will provide you with many perfect spaces you will fall in love with at first sight. We describe to you the most popular places in the city that must be a part of every tour.
The Church of the Saviour on Blood
The Church of the Saviour on Blood is a Russian orthodox church built in typical Russian traditional architecture style. Walls of the Church are covered with meters and meters of colorful mosaics. It was mainly constructed in honor of Napoleon and his many victories. The structure was constructed between 1883 and 1907. It is one of Saint Petersburg's major attractions. The church was erected on the site where political nihilists assassinated Emperor Alexander II in March 1881.
The Mariinsky Theatre
The Mariinsky Theatre in St. Petersburg is equally magnificent and important as the famous Bolshoi Theatre, but the prices are a bit lower. The home of St. Petersburg's - and arguably Russia's - finest opera and ballet companies, the Mariinsky Theatre is a monumental neoclassical building most impressive for its sheer bulk and the beautiful decoration of its auditorium.The Theatre is famous for many ballet and opera performances , as well as Russian philharmonic concerts. It is a very special heart of Russian art and music. Russia has been long famous for their amazingly talented ballet dancer all around the world , so visiting The Bolshoi and Masiinsky theatres is a must do thing on this list.
Neva
Neva is one of the most beautiful and famous rivers in the world. Cruising around this is an unforgettable experience and you can explore and truly feel all the beauty of Russia in a completely new and different way. Many important cultural buildings and monuments can be seen from the boat that sails around Neva.
Peterhof Palace
Once a formal garden built for Peter the Great, this popular park still has more than 80 of the original marble statues and sculptures and houses Peter's Summer Palace. It is a stunning and gorgeous building surrounded with large garden fill with flowers and statues. Unfortunately for many tourist photographs are not allowed to be taken inside the walls. The good thing is that you can reach this palace easy by train or a bus. Palace and gardens are just outside of town. Both of them are majestic and covered in gold. This Palace is often referred to as the "Russian Versailles".
What else to se in Saint Petersburg?
State Hermitage Museum - this is one of the world's largest and most prestigious museums, a very popular attraction for any tourist. It has over 3 million items in its collection.
Winter Palace - The Winter Palace was built between 1754 and 1762 for Empress Elizabeth. It is part of Hermitage Museum. The Hermitage Museum is the largest art gallery
Catherine Palace - is a historical and compositional center of Russian heritage and rich history. It is decorated in the Russian Baroque style, with richly decorated interiors including the world-famous Amber Room.
Peter and Paul Fortess - a very famous St. Petersburg landmark that captivates many tourist around the world. The Peter and Paul Fortress is also the centre of a number of St. Petersburg urban traditions
When it comes to summer holiday in St.Petersburg , you should definitely consider visiting the North West of Petersburg. There is a nice, long coast line where you can take walks with an amazing view. To visit one of the many beautiful beaches just take a train at Finland station. Many amazing restaurants, bars and music are available for everyone and they will bring you closer to this uniqe Russian spirit and of course vodka is something you must try and drink with real passion, like a true Russian. We highly recommend you to go and chek out this very famous, but unusual bar called Lichfield. Many customers claim that their vodka is the best in the entire world.
Thessaloniki
Writing about port cities, Greek port city Thessaloniki is a truly remarkable place to visit, especially during the summer vacations. It is not only filled with many sandy beaches and hundreds of swimming pools, but it is also an important cultural and economical city for the entire Greece. It is located on the Thermaic Gulf of the Aegean Sea and it is a cultural monument of many different cultures that came to this Greek city. It is the second largest city in the whole Greece. Many Ottoman monuments are constructed in the city centre.
What to see and explore in Thessaloniki?
While enjoying the Greek sun take a tour to the most famous places in the city. We have chosen the places that will best convey the real atmosphere and spirit of the city. These are the biggest symbols and the most famous attractions.
The White Tower
One of them is The White Tower. The White Tower is a monument and museum on the waterfront. It was built in the 12th century and primarily it was used as Ottoman prison. The Tower was reconstructed several times during the following years and today the Tower has become one of the most popular places for tourists to see.
The Old city
The Old city is a perfect mix of two very different cultures that, both, left an enormous impact on Greek culture and nationality. That is a place where Ottoman, Macedonian and Greek culture meet each other to create a very special and unique spirit.
The Archaeological Museum
The Archaeological Museum is also one of the places you must visit. It is a central museum of northern Greece filled with many different exhibitions . It holds rare and important monuments, statues, sculptures, books and painting from Hellenistic and Roman periods. The Archaeological Museum of Thessaloniki is one of the largest museums in Greece and the central museum of northern Greece. All visitors are welcome to experience its unique collections of ancient artefacts as well as its rich and extrovert cultural activities. The first part of the exhibition presents sarcophagi and altars from the city's cemeteries, funerary monuments placed along the streets or within privately-owned burial enclosures.
Some more places to visit:
Aristoteles Square - located in the city center, near the warm and breezy waters and surrounded with beautiful palm trees, there lies the famous Aristoteles Square. It is always busy, filled with traffic and tourist. Many famous restaurants and shops are also near.
Arch of Galerius - this is very distinctive and authentic roman statue that dates back from 298 A.D. The sculpted decoration still impressive and worth seeing. The arch was commissioned as a triumphal monument
Museum of Byzantine Culture - this popular museum offers its visitor a great look on Byzantine and Post Byzantine historical periods. The museum also owns conservation workshops, archeological store rooms, as well as museum shops and café restaurant.
Macedonian Struggle Museum - a national museum of North Macedonia located in the capital city. The exhibit covers the period from the beginning of the resistance movement against Ottoman empire. A lot of things from rich Macedonian history can be discovered here.
Florence
What to see in Florence?
Florence is a capital of Italy's Tuscany region. It is also a very special cultural place for Italian Renaissance art and architecture. Visiting this impressive, historical place you will be amazed with the number of museums, statues and monuments. Many people that came to Florence say that the entire city is a true piece of art in itself. You must visit:
The Cathedral of Santa Maria del Fiore
The Cathedral of Santa Maria del Fiore is a Gothic style cathedral located in the heart of Florence. It was constructed by Filippo Brunelleschi in classic Renaissance design. It took almost two centuries to finish with work inside the Cathedral. The exterior is very decorative and colorful and the pavements are made of pink and green marble.
The statue of David Micheangelo
The statue of David Micheangelo is a truly remarkable masterpiece of Renaissance sculptural art made by , none other than famous artist Micheangelo. So if you find yourself in Florence be sure to check it out. It was made from clear, white marble somewhere between 1501 and 1504. The statue symbolises the defence of civil liberties and the pose of David is very different from most Renaissance sculptures. David looks slightly tense and worried, but in that lies all his beauty. The statue of David has become one of the most recognizable statues in the world.
You should also visit:
Accademia Gallery - this famous museum contains works by great Italian artists such as Sandro Botticelli, Domenico Ghirlandaio, Pontormo, Andrea del Sarto, Allessando Allori
Pitti Palace - This massive, gorgeous and absolutely majestic stone palace was once home to the ruling Medici family. This palace was definitely worth the royalty.
The Boboli Gardens - the Boboli Gardens are one of the greatest open-air museums in Florence, filled with statues and sculptures and many green landscapes that are breathtaking
There is so much to see and discover while being in Florence that this list may go endlessly, but we highly advise you to visit this wonderful city and also enjoy delicious Italian dishes. Some of the most popular bars and restaurants in Florence that serve classic Italian pasta and pizza (of course) are Il Paiolo, La Schiaccia della Signoria, Degusteria Italiana and many ,many more. Have fun and enjoy yourself.
That was our list of top ten best cities and we hope you will go and see it for yourself. The real question is what do you want to discover while exploring Europe? Well, you are at the right place, because this list will take you through 10 different cities, places and cultures all around Europe. This is a great example of how Europe is a true mixture of different ethnicities, cultures and races. Having all of that in mind, today is a perfect day to read this list and start planning your next European vacation.