There's something dreamy about a vacation on a remote island, especially if it's considered to be one of the most amazing islands in the world. Be prepared to feel the biggest FOMO of your life as we uncover the details of the beloved tourist spots in the Indian Ocean, Aegean Sea, or the Pacific. Whether you enjoy the sea life that comes with the location, or you're looking for an attractive honeymoon destination, we are pretty confident you'll enjoy our little list. Some of the most intriguing islands we'll go through are:
Indian Ocean islands
While researching the islands in the Indian Ocean, we've discovered that heaven truly is a place on Earth. There are lovely spacious beaches, turquoise waters, stunning islands, and abundant activities in this heavily diverse region. It is no wonder that Indian Ocean islands are considered one of Earth's most appealing marine destinations. From luxurious resorts to open water adventures in Mauritius, indulge in unique experiences that only this part of the world can offer.
Mauritius - Home of the Dodo
Did you know that Mauritius has the highest population density in Africa? This island may be small, but its heart is big. Officially named the Republic of Mauritius, the island is in a pretty remote location, over 2.000 kilometers (1.2 miles) of the African land, with Madagascar, its closest neighbor. History remembers the island as the only habitat of now instinct bird Dodo, which allegedly also served as an inspiration for Lewis Caroll that nudged him to write Alice in Wonderland. If your top traveling priority is to immerse yourself in the new cultures, there isn't a better place than Mauritius's diverse land. You'll be greeted by locals of various descents, more than six religions that the people practice, and you'll get to hear the unique legends and songs in 5 or more languages.
Fun things to do in Mauritius
It is known that Mauritius caters its tourist offer, especially accommodations, to wealthy travelers. You don't have to be in the top 1% to visit it, but the more you are willing to spend, the more bragging rights you'll have. The island is big on underwater excursions and activities that take you on a wild ride through the rainforest. Before you get your scuba diving gear on, get yourself a glass of world-famous Mauritian rum and pay a visit to the stunning Seven Coloured Earths; colored dunes surrounded by a forest are like the best possible acid trip. Get the most of the Indian ocean by going on these adventures:
Submarine underwater trip: You read this right; childhood dreams come true. You'll be perfectly safe in an air-conditioned submarine's transparent glass cabinet, on your merry way to the Star Hope cruiser shipwreck, 17th-century anchor in the bottom of the Indian ocean, intriguing coral reefs, and some weird looking fish.
Swimming with dolphins and whale watching: The best place for whale watching, recording to locals, is the southwestern open sea part of the island. Once a speed boat takes you to your spotting location, you'll have your up-close contact with humpback and sperm whales. People describe this as a serene experience, and we hope you feel it too. To find dolphins, go to Tamarin Bay, and they will be overexcited to see you and swim beside you. This bay is home to sharks as well, be sure to ask around about the shark diving options. Also, there is a popular snorkeling spot called "The Aquarium", known for its colorful fish collection. The fun is neverending.
Seychelles
This archipelago consists of 115 islands and is considered a high-income economy, only the second African country with this status besides the previously mentioned Mauritius. Most of Seychelles' islands are now uninhabited, and because many of them are home to remarkable nature, they were declared nature reserves. A great witness to Seychelles' stunning nature is that Ian Fleming came to it looking for inspiration for one of his James Bond book installments. And found it! You could explore the whole capital of Seychelles on foot; if you're fast, that's going to take you less than a day. What makes these islands so beautiful and exciting? Let's find out together:
The animals: On Seychelles, more specifically Mahe and Bird island, you'll find some peculiar animals. Just as we thought the bare-legged Scops Owl was extinct, it was rediscovered here in the late 50s and is still inhabiting the same land. The Albadra giant tortoise can only be found on Seychelles, alongside freshwater crab Seychellum.
The fauna: There are around 75 species endemic for the Seychelles, which resulted in many international recognitions in the past. The most recognizable are unique orchids, sea coconut known as coco de mar, and an ancient plant called the jellyfish tree.
Treasure island: Can this be true? We'll probably never know, as nobody dares to touch the land in question. In the St. Anne Marine National Park, there's an island named Moyenne. The legend goes - treasure once buried on its grounds, today is still protected by a spirit that haunts it.
Maldives
This island nation is the smallest Asian country, but that doesn't stop it from being one of the most popular tourists looking for an unforgettable vacation filled with water sports. One of the most impressive facts about the Maldives is the 6 Maldivian coral mosques that UNESCO recognizes as tentative sites. Its tropical climate, clean turquoise water, islands with wide beaches, and easy water access, paired with heavenlike views and an abundance of sea life, made it a perfect spot for luxurious resorts. In these 5-star resorts, you get to wake up every day to the sounds of waves, even just inches away from the water, eat breakfast from the basket that floats on your private pool, and indulge in carefully catered activities.
We can call the Maldives romantic, exciting, and exceptional, but we wouldn't exaggerate. If you're looking for a luxury getaway in the Maldives, check out our blog about luxury destinations where we talk about top-class resorts. Who knows, maybe you'll get an idea or two besides this glorious island. Recognizing and using the potential of the islands to the fullest get's the Maldives A+ and allows you to try out and see:
Feeding the stingrays: Stingrays are not shy, as they come close to the shores to be fed. You'll see just how on time they are as well! Like clockwork, staff in the resort prepares ahead of time and creates a barricade to make the experience as safe as possible. You and your companions will line up and, from a safe distance, watch as stingrays playfully swirl around the guys that feed them fishes. This 30-minute ritual usually happens twice a day, and no matter how many times you see it, it doesn't get any less fun.
Water sports: All you adrenalin junkies, be ready to test your limits. Resorts in the Maldives offer activities and instruction guides, so there's no need to worry if you feel rusty. Using catamarans or bigger private boats that are available for rent, you'll be taken to the best spots for kayaking, parasailing, flyboarding, jet-skiing, and all the other essential activities. You can also go swimming with sharks, after which a Maldivian spa therapy does miracles.
Sea of the stars: A glorious phenomenon in which phytoplankton that can be founding the water, especially around Vaadhoo island, creates a glistening effect. The name is appropriate, as the water looks like it's filled with tiny blue stars that dance around you as you touch it or swim in it; a sight worth organizing your entire trip to the Maldives around.
European Islands
Europe is a continent of many wonders and hidden gems, where islands are no exception. If you're looking for your next exciting summer adventure, this is where you'll find it. With criminally underrated destinations, Europe offers you places to recharge and rejuvenate, but also to party like it's your birthday every day, as you deserve. A splash of art here and there, dinner overlooking a historical landmark, memorable beach parties, there's something for everyone. Let's go to the coast of Croatia and Mamma mia land in search of the most beautiful islands in the world.
Greek Islands
The poetic nature of their history makes them intriguing, the colorful and clean water will leave you wanting more, and once you've spent a reasonable amount of time on their shores, you'll understand why Donna loves Greece so much. Henry Miller once said:
It takes a lifetime for someone to discover Greece,
but it only takes an instance to fall in love with her
And he pretty much nailed it. To get a bigger picture of what Greece offers, take a look at our blog that covers 5 reasons to visit Greece. Have a glass of Ouzo, sit back, and enjoy our virtual stroll down the iconic Navagio beach.
Santorini - The white jewel of Grece
We can confidently say that Santorini is the most famous Greek island and a certified vacation destination by the former Mr. and Mrs. Smith. It is a volcanic island with a unique architectural style that gorgeously utilizes white stone. Sunsets from the town of Oia gather the largest crowds of tourists and influencers, and we get it. What makes Santorini so great are the little towns and villages situated on top of the cliffs, overlooking uniquely colored beaches and the Aegean Sea. Also known as the wine island and home to over 450 churches, Santorini deserves the spot on our world's most beautiful islands list because of:
Fira trail: This hike will take you on an adventure from the town Fira to the iconic Oia, and that will be the most scenic 3 hours of your life. You can start your tour at any part of the day, and we recommend you plan it with the sunset watching spectacle in mind.
Unique beaches: Some will be hard to reach, but don't give up easily. Santorini beaches are blessed with colorful sand and cliffs, making them perfect backdrops for your vacation photos. The most visited beach in all of Santorini is the Red beaches, followed by the Perissa black beach, Kamari or the White beach, and Perivolos beach.
Wine tour: You can't miss out on the wine, duh! There are more than 18 wineries on the island, which you can visit all via an organized tour. Our favorite ones are the sunset tours, which take you on a cruise while tasting 12 wines. A great way to experience the wine culture of Santorini is to go on a vineyard tour as well.
Zakynthos - Visit the Famous Shipwreck beach
The third-largest island in the Ionian Sea, and its most southern point, easily rank high on the most amazing islands in the world list. If you've never been to Greece, Zakynthos is the place to start. It is filled with attractions to incorporate in your excursions; the beaches are located in the eastern part of the island and have the most unique, warm, and clear water, lots of cliffs hug the short and are perfect for cliff jumping. The island is known as a green oasis for its rich vegetation. Could it be any more perfect? We don't think so. Still, we didn't even mention the star of the island yet.
Trip to Navagio beach
The former world's best beach for sure is a bucket list item. Italians that ruled these lands are to blame for the name, and we like it. Although, you probably know it as the Shipwreck beach for obvious reasons. It is one of the most recognizable destinations, especially the aerial view from the enormous cliffs overlooking the shore. You will find an alleged smuggler's ship that lost its way due to bad weather and got washed ashore on this beach. That is why some locals call it "Smugglers Cove". Navagio adorns the northwest part of Zakynthos Island, and the easiest way to reach it is to go from Porto Vromi.
Zakynthos tour - Take a virtual walk
Do you plan on visiting as many beaches as possible on your next trip to Greece? Check out this virtual tour of Navagio, and some other beaches of this marvelous island. Fun for days awaits you! It is great for organisation, as you can scout the terrain in search for the one that best suits you.
Ibiza - Party capital of the world
UNESCO world heritage site is the jewel in the crown of Spanish islands. It's located in the Balearic Sea, and it covers an area of around 572 kilometers (221 square miles). Besides it being the former residence of the one and only Orson Welles, Ibiza is where EDM rules and breaks all the rules. World-famous DJs couldn't have chosen a better place to be their party temple, as the island is blessed with 300 days of sunshine every year! Ibiza has many 5 star hotels and almost 60 beaches where you can chill after a party binge, and trust us, you'll need it.
Australian Islands
How can one choose the most beautiful islands out of more than 8.000 of them? It was a struggle, but some shine with beauty more than others. Experience has shown that people go where the most animals are, which is no shocker. Australian islands have charming beaches that overlook great reefs, fancy locations that attract A-listers on their secluded vacays away from the spotlight, and unspoiled nature as old as time almost. Keep reading to find out all about the prettiest island that Australia for sure is proud of.
Kangaroo Island - A wildlife sanctuary
Australia's third-biggest island is still huuuge, covering 4.400 kilometers; Kangaroo Island is every animal lover's dream. Did you know that on Kangaroo island, there are around 100 sheep for every single one of its residents? Pretty wild! It is also blessed with a bee sanctuary that produces 300 tonnes of honey each year, smaller and darker bread of kangaroos scattered around the islands, and a Seal Bay that brings you close to the endangered Australian sea lion. Another great thing about this island is its prominent wine industry and culture, which shouldn't be overlooked. You can try out local wines and ciders in any of the 13 wineries on the island or visit a beach caravan bar for an even more immersive experience. So, if you decide to visit this glorious island south of Adelaide, you'll also get to see:
White sand beaches with waves ready for surfing, Vivonne and Emu Bay being the most famous ones. Australia is rich with beaches that work for everybody. Find out more about them, and check out some others in a blog that lists the best beaches in the world.
Interestingly looking boulders called the Remarkable Rocks
Little Sahara dune system that calls you to slide down its slopes
Whitsunday Islands
North of Brisbane, you'll find a group of 74 continental islands, each one different from the former. The Whitsunday Ngaro Sea Trail connects them, a scenic route that takes you on a sailing, powerboating, kayaking adventure to as many islands as your heart desires. Whitsunday Islands are on the Queensland territory, making them a perfect stopping point on the way to the Great Barrier Reef. Around 70% of the territory has a national park status, and that tells us all we need to know about the splendid nature that awaits. Toping it all off, these waters are also known as the most yachting destination of the Southern Hemisphere. It's obvious why these islands deserve a spot in the top 10, right? Some of the quintessential experiences and sites that showcase the beauty of the Whitsunday Islands are:
Hamilton Island: Frequently visited by A-list celebrities, this is the largest and arguably the most famous one. It's filled with luxury resorts where you can spot anyone from The Hot 100, pristine golfing clubs, active marine life, and an airport as well.
Whitehaven Beach: This iconic Aussie beach can be explored via helicopter rides, sailing tours, skydiving, or speedboat exploring. Its white powdery sand continues to baffle the scientist to this very day, as it cannot be found anywhere else in the world.
Pacific Islands
This is where you'll find all the best coral reefs that perfectly reflect the diversity of this part of the world. The islands are grouped into Melanesia, Micronesia, and Polynesia, but there are also some smaller floaters. A trip to these islands will enrich your life with unique activities and exposure to new cultures and probably max out your phone's memory, as you are for sure going to take postcard-worthy shots. From volcano tops to underwater expeditions, let's have a look at some of the most beautiful islands that call the Pacific their home.
Hawaii
Hawaii is the 50th US state, but they are not geographically connected. It is considered to be the most isolated population center on Earth. It even has its time zone. An abundance of flora and fauna is what makes the islands so great, and we cannot recommend you enough to spend most of your time hiking through its diverse landscape. That way, you can find yourself bathing in the ocean and gazing at the stars on top of a snow-covered volcano on the same trip. When visiting the islands, be mindful of the culture you encounter and grateful to the locals who enjoy sharing it with you; don't disrespect the sacred sites and elders. As there are 137 islands of all shapes and sizes, we recommend just a few. Don't stop there tho, they all deserve the love.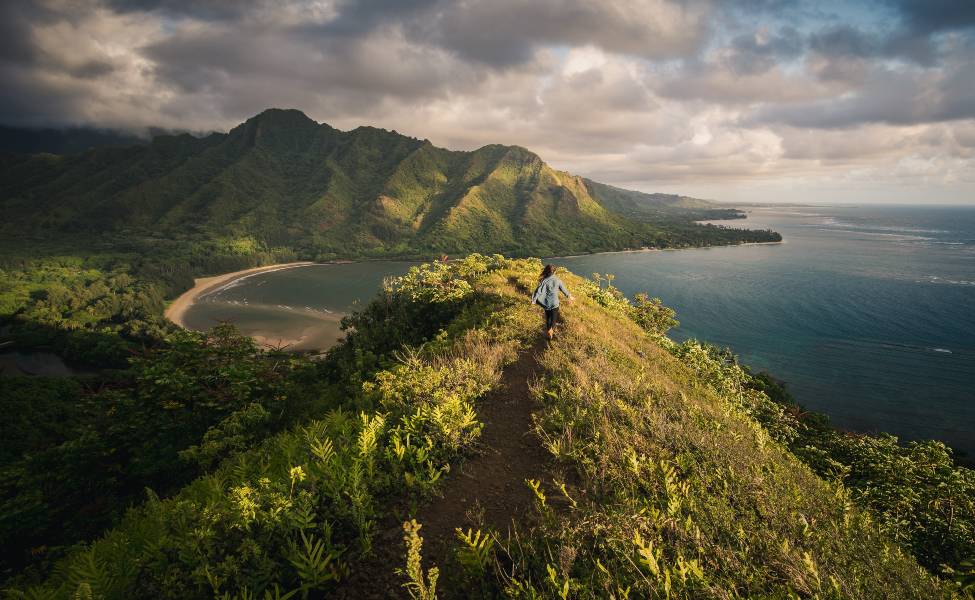 Hawaii islands
Formerly known as the Sandwich Islands, this archipelago in the South Pacific has been charming tourists and Hollywood reps for quite a while now. Once we've realized how fascinating the Hawaii islands are, we kind of felt bad for not expanding our list to make it the 30 most beautiful islands in the world. Maybe next time. Nature is stunning, but the tourist offer on the islands keeps getting better and attracts millions each year. Here are just some of the islands worth checking out:
Oahu: This is where you'll find Honolulu, Hawaii's getaway to the world, the sour site of Pearl Harbor, tropical rainforest, white sand beaches of Waikiki, and vibrant nightlife. It's no wonder Oahu is the most visited Hawaiian island, as you can be sipping on expensive wines one moment and a few hours later taking pictures of volcanic craters. FYI movie buffs, Jurassic Park, and The Hunger Games were filmed here.
Maui: The Valley Isle is the second-largest Hawaii island. The Haleakala volcano is the answer if you've ever wondered where you can find the best sunsets. The beaches of Maui have lock screen wallpaper potential. Taking a helicopter tour to Honokohau waterfall is an excellent opportunity for an adventure, and open waters are home to humpback whales that you can watch during their winter migrations. Maui also gets praise from honeymooners.
Molokai: This island is only gorgeous but also private enough and small enough that you can explore its natural wonders in peace. On Molokai, you'll find the highest sea cliff in the world that'll make you feel like you're on top of the world, secluded beaches perfect for picnic dates, and many hiking trails ideal for bringing your Walkmeter stats to a new record.
Bora Bora
In the middle South Pacific, midway to USA and Australia, awaits you an island known for its luxurious tendencies. With no public transport to bother you and no need to bring your bug repellents, you get to enjoy a secluded island made up of 3 villages and the world-famous Matira Beach. If you're a fan of starfishes and manta rays but also can't wait to swim with sharks, you should consider booking a trip to Bora Bora shores and staying in top-notch accommodation. It got its nickname the romantic island after many couples visited it as newlyweds, but we think that a heart-shaped coral reef named Tupai had something to do with that as well.
If you're browsing the island in search of your honeymoon spot, look no further than any of the honeymoon destinations mentioned in our blog. You may be wondering what makes Bora Bora one of the most beautiful islands, and just some of the reasons:
Mount Otemanu: The 2.400 feet high mountain rules the landscape of Bora Bora. Helicopter rides operate regularly and take you closer to this natural marvel. It is steep, and the terrain is rough, but if you consider yourself an adventure-seeking tourist, we recommend hiking to the top. Cautiously, of course! You'll be rewarded with the breathtaking view of the lagoon, trust us.
Pearl diving: There's a pearl boutique and a farm hosted by the most adorable family. This is like a cooler version of the lottery, as you may potentially find a $2.000 pearl in one of the oyster shells. The experience starts with a short introduction to the farm, then you get your diving equipment, go on a boat ride to where the shells are, and look for the one you like. After coming back to the land, you'll learn how to extract the pearl, which then gets evaluated and given back to you on a string. Not many pearls are of the highest quality, but that's okay. You still get the most of Bora Bora's nature while having the time of your life.
Vaitape: Bora Bora's main town also deserves some love. This is where you'll find restaurants to try local foods, such as Poisson cru; this dish is made of fresh fish marinated in lime juice and later used in all sorts of salads. Visit the town to find vendors that sell handmade crafts and souvenirs, perfectly representing the culture. Meeting the locals and enjoying their enthusiasm is one of the highlights of Bora Bora.
Map of the most beautiful islands
Here's something extra helpful - a map of the islands that've found their spot on our list. It's great for orientation, trip planning or just gazing. Feel free to share it or use it to your own liking.
What did you think about our list? Did we miss anything? As we look back at the shores of the Maldives and the mecca of partying that is Ibiza, the excitement about visiting them soon gets to an all-time high. With ABBA in the background and the map of Australia before us, we sure hope to hit the waves ASAP. If you plan on going on a vacation any time soon, choosing any island that we mentioned is a winning ticket.