China, the land of rich culture and tradition, the land of fairy tales, myths, legends, the land of dragons and history. China is a really special place and a lot can be written and learned about this interesting and gorgeous country. China is an infinitely interesting country that offers you countless opportunities and activities. This is a great place to relax, have fun and explore the rich history and culture of this country. China summer vacation might be just what you need, but China is always a good idea. China travel packages are great and you will find the best offer that will suit you perfectly. Without further ado, let us explore together all the beauties of this gorgeous land.
China history
The history of China is so incredibly long that it goes back to 1250 BC. The earliest known written records mention the famous and iconic Shang dynasty. Yellow River valley was the place where the Shang dynasty ruled and that was the cradle of Chinese civilization. From there everything started and China began to develop and grow more and more. China is one of the oldest civilizations in the whole world, which makes their culture and history even more important and impressive. Since then several powerful dynasties ruled over China and fought for their country. After that China entered into the Imperial period that can be divided into three sections:early, middle and late.
China dynasties
The famous Qin dynasty ruled over China between 221 – 206 BC. That was the time when many great and important things happened for China. The culture and written language, currency and government developed in that period of time. After Emperor Qin Shi Huang's sudden death, the dynasty was destroyed and the capital was captured by rebels and destroyed. All that led, naturally, to creation of another dynasty, but the Qin dynasty really did set an example for all the other Chinese dynasties that followed. The Han dynasty came and that is when the golden age of China started. That was the time when China was growing and expanding. The culture and science all advanced as well as medicine, which made China one of the most developed countries in the world. Tang dynasty continued to develop and nurture China. It was prosperous, stable, and creative period for the country until the entire empire until the empire wasnt worn out by recurring revolts of regional warlords.
China today
China was declared as the Republic of China in 1912. Yuan Shikai commanded the New Army so all the power went to him. He even went that far as declaring himself the emperor of the Empire of China in late 1915. Very important year for the entire China was 1949 when the Chinese civil war happened. Today China has become one of the biggest and most successful countries in the whole world. Chinese work ethic and power are an important part of today's society and industry. China is incredibly valuable for the world's economy and prosperity.in modernChina architecture looks like something that is out of this world. It's very new and very modern, but at the same time China still nurtures its long and traditional history.
Most visited cities in China
You must have heard that China is the most populous country. Consequently, cities in China are often huge and overcrowded, but even that gives them a special charm. All the great cities of this country are just full of people and interesting events. In these cities you will find everything you need for an exciting and colorful dream vacation. In addition, the cities in China will best acquaint you with the rich tradition and all the important symbols of China. The spirit of the whole nation can be felt the best in the cities, as well as their authentic way of life and cultural behavior.
Hong Kong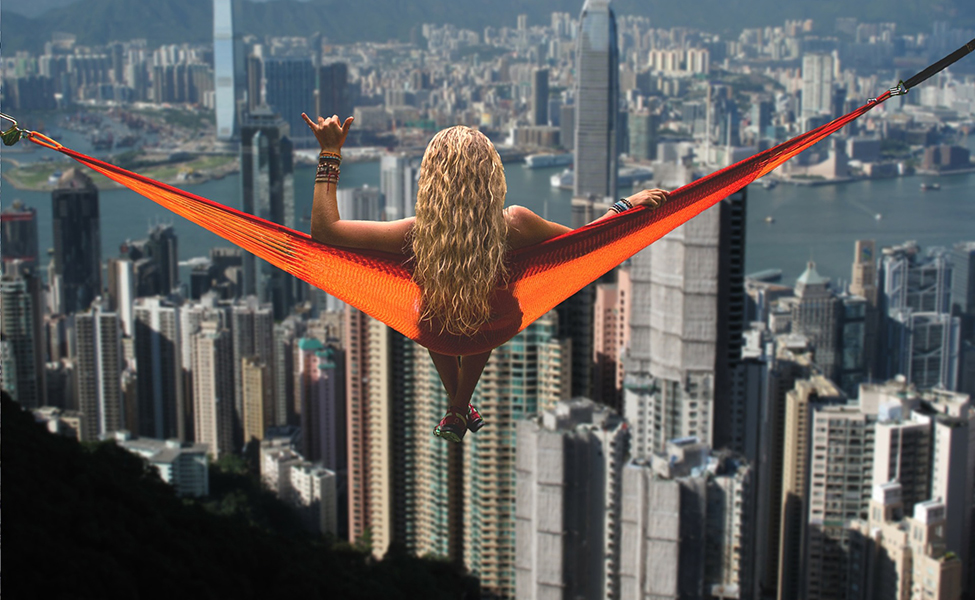 Your best China vacation can start in the stunningly beautiful and mesmerizing Hong Kong. This amazing city is one of the best choices and it can be found quite often in many great china travel deals.You have probably heard many times that Hong Kong is one of the most populous cities in all of China. Overcrowding has been one of the main problems of this city for many years, but even that did not diminish the enormous significance and beauty.
What to do in Hong Kong
There are many attractions and special places to see in this city. One thing is for sure in Hong Kong you will never be bored. Hong Kong is the right place for you if you want to get to know the rich history and culture of a nation. We have selected for you some of the most recognizable symbols of this city, as well as some of the most beautiful places that you must experience first hand:
Go to Victoria Peak - It is one of the main and biggest symbols of Hong Kong, which is represented in a large number of films and commercials. Victoria Peak in Hong Kong is the highest point and poshest neighborhood where many rich and famous people live. Also, the view from the buildings is absolutely mesmerizing.
Visit Chi Lin Nunnery - Buddhism is one of the dominant religions in China. Buddhism is especially recognized and distinguished in China, so it is no wonder that this place in Hong Kong is dedicated to the Buddha and his followers. This place is entirely magical and while being there you will see monks and iconic bonsai trees. The entire garden looks like something that came straight from the fairytale.
Hike to Dragon's Back - This is one of the favorite hiking and walking destinations in Hong Kong and it regularly gathers many tourists. Nature and the whole path seem absolutely magical. The road is long and straight, slightly winding and surrounded by dense, green vegetation. If you want to get to know the nature of Hong Kong this is the right choice for you.
Beijing
Beijing is another incredibly popular city in China that is especially famous for its stunning temples, beautiful gardens, important tombs and majestic gates. You will find everything that makes China special, recognizable and different in this city. Chinese culture and tradition, as well as a special, authentic spirit are felt in all the streets of Beijing. This city is also quite an important historical and architectural centre of China, so let's discover all its wonders together.
Forbidden city Beijing
Forbidden city Beijing is an important imperial palace, located in the heart of the city. You must have heard about the famous and iconic Ming dynasty that successfully ruled China. Well, this incredibly stunning palace complex was commissioned by the great emperor Yongle. Today, this place is one of the most famous symbols and attractions of Beijing. All the buildings and ceremonial spaces are designed to reflect the enormous power of the Ming dynasty. Every detail looks perfect and the entire architectural concept looks pretty majestic and incredible, so we recommend you to visit as soon as possible. This is definitely one of the famous places in Beijing you simply must visit.
Price tickets for the adults between 19 and 59 is $9.99- Main Entrance
Price tickets for the teenagers is $7.99- Main Entrance
Children until they reach age 7 can enter for free
Shanghai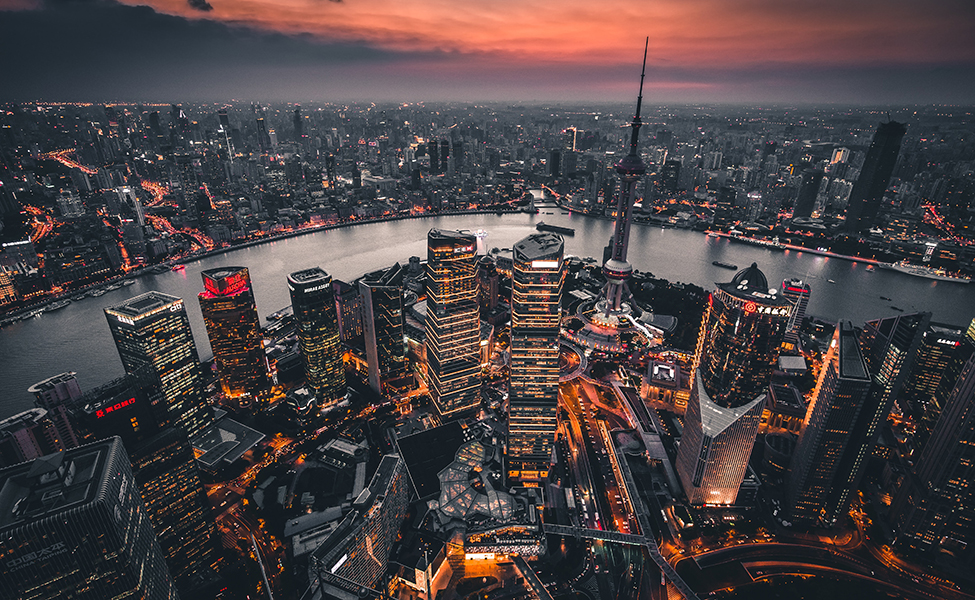 Shanghai, or what others like to call this gorgeous city, the Oriental Paris, is one of the top places to visit in China and, at the same time, one of the most visited places in China.Shanghai is a very special holiday destination where you will get to know all the most important symbols of China and a place that will delight you with its culture, architecture and important institutions. If you are wondering what are the other important countries that have great cities full of attractions for all tourists, then read the our blog: 10 Reasons to Visit Italy.
Shanghai Disneyland
If you are wondering what are the best places for tourists in China, Disneyland in Shanghai is definitely at the very top of our list. If you are planning a vacation with children, then this is the place where you must go. It is ideal for all families and ages, and a good time is guaranteed. Shanghai Disneyland has a lot of fun and thrill rides as well as spectacular shows and many great interactive attractions. This place is also stunningly beautiful and will probably leave you speechless. This is the place where you can find the largest castle in the Disney realm. Here are some suggestions of what to do in Shanghai Disneyland:
Go to Camp Discovery - explore the adventure isle
Visit Alice in Wonderland Maze - be careful not to get lost
Enjoy the dinner in the famous Aurora restaurant
Book a seat for the Disney Suprise Show- and have a lot of fun
Go shopping in Avenue M Arcade
Also, if you are planning a trip to Shanghai Disneyland this informations might be useful to you:
One-day adult tickets are $56 and $76 during season
Single-day admission ranges from $95 to $119
Hotel rooms will cost you $175 and $220
Famous places in China
China is a very unique country that represents a remarkable combination of opposites. China connects even the impossible things. This is a country that nurtures its tradition and cultural heritage, but at the same time advances with great speed and follows all new, contemporary and modern trends. Such an unusual place is full of interesting destinations and important locations. It is up to you to choose what you like the best, and it is up to us to select some of the most popular destinations for you.
The Great Wall of China
Of course, this blog couldn't be complete without mentioning the iconic Great Wall of China. This is something you simply must see in China and it's one of the cool places in China to visit and experience. The cultural and historical significance of the wall is enormous. This was an integral part of rich and vibrant Chinese culture and tradition. At the same time, the Great Wall of China is one of the most visited places in China.
Facts about the Great Wall of China
This is one of the frequently asked questions and the answer will certainly be very surprising. The magnificent wall is more than 6000 km long. It stretches from the fortresses of Shanhaiguan in the east all the way to Jiayuguan in the west. The walls are incredibly strong and high ( up to 16 meters). This will probably be one of the best experiences in your life. The wall even has several watchtowers and battlements and it's pretty wide.
Pictures can't really show how enormous and majestic this wall is, so you will have to see it in person. The most visited section is very close to Badaling Pass and that spot can be reached by public transport or tour buses. Visiting the Great Wall of China will definitely be one unforgettable experience.
Famous monuments in China
A country that has a rich culture, tradition and history as China is also a country that has many important monuments. These monuments are an integral part of Chinese culture. They are part of their national identity and they also represent perfect places for all tourists. All visitors will enjoy seeing the significant monuments and, at the same time, learning about their origins. The most famous monuments in China are silent witnesses of the great Chinese conquests and important events that shaped the whole country.
The monument of Leshan Giant Buddha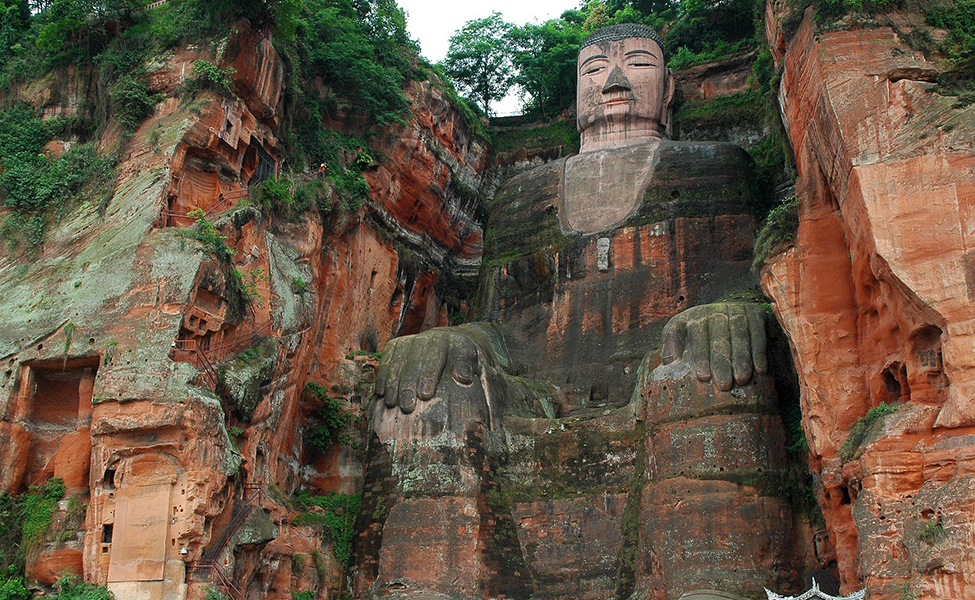 This is one of the most interesting and one of the biggest monuments in the whole country. The Leshan Giant Buddha is something quite spectacular to see, especially in person. The statue is gigantic and we are not even exaggerating at all. Many tourists claim that this is one of the top places to visit in China. It's a perfect tourist attraction that will amaze millions of people.
The grandiose monument is located in Sichuan, at the Lingyun Mountain's Qifeng Peak and its 71-metre tall, made out of stone. It's carved out of stunning red sandstone. Once you get there you will truly understand why this place has some of the best scenery in China. This is the largest and the tallest statue of Buddha in the whole world. Once you come near the statue you will feel incredibly tiny and small.
Terracotta Warriors of China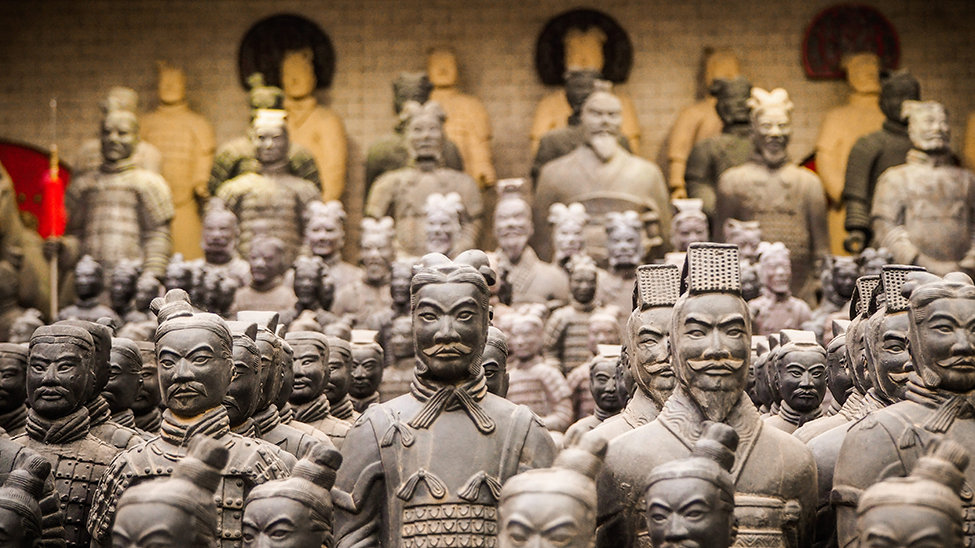 The Terracotta Army is definitely one of the most famous places in China and something that you, as a tourist visiting this stunning country, simply must visit. We are talking about a breathtaking collection of incredible and authentic terracotta sculptures that represent the great army of the first Emperor.
Collection like that you will probably get to see only once in your life and there is nothing quite like it. These amazing figures were buried with the emperor and a lot of time has passed until they finally got discovered. This spectacular statue collection has more than 8,000 soldiers and 520 horses. Other figures were made for the tomb as well. Some that were found represented palace officials, musicians and even acrobats.
How to get to Terracotta Warriors Collection
Terracotta Warriors of China are located in the Lintong District, Xi'an, Shaanxi, in the northwest of China. These incredible statues are one of the must-see attractions for all travelers to China. Something you can't miss. The best way to get to the warriors is to book a private tour and let your tourist guide pick you up with a driver. You can also take Tourist Bus Line 5 from Xi'an Railway Station. Here are some useful information that you might need if you want to visit them in person:
Opening hours are from 8:30am until 5:30pm
The parking is about 1 km from the entrance
The place is divided in 3 sections, the 1st one is the most impressive one, that is where more than 2,000 terracotta warriors is displayed
You will need 3 hours to explore everything properly
To avoid big crowds start your day quite early
You can book tickets on the official website
The Summer Palace
When it comes to the best royal parks in China, the Summer Palace is the best one. Your China experience can't be fully completed without visiting this place. You've probably heard that Chinese people know how to create truly gorgeous and breathtakingly beautiful gardens. Their style is quite special and unique. Every detail is important and everything looks incredible when it's put together. Precisely that kind of garden you will get to see in the Summer Palace.
Why visit the Summer Palace
The Summer Palace is located in the northwest of Beijing. It's one of the prettiest Chinese landmarks. The entire construction and design of the palace was created for the Chinese royal family. The Summer Palace was their very special place to rest and host many important guests. The Summer Palace was, unfortunately, destroyed but then rebuilt and opened to the public so today this is one of those amazing places full of beauty and history that every tourist will love to see. The Chinese call this royal garden Garden of Restful Peace, and we think that says it all. You should visit it because of:
The gorgeous plants and trees inside the garden
The stunning, turquoise lake
The longest covered promenade
It's one of the seven UNESCO World Heritage sites
Best China food
Finally, we have come to the best and most delicious part of this blog. Food lovers, where are you know? Hope we didn't bore you so far, but this part of our China journey will definitely be quite interesting. So forget about your viber, instagram, facebook, twitter and other social media accounts and indulge in the following lines that will describe the best Chinese food. It is widely known that Chinese food is one of the most delicious in the world.
An authentic and unique blend of various oriental scents and flavors is what it makes Chinese cousine so special and famous world wide. Chinese people use a lot of rice, different animal meat, various sea food, strong flavours, hot sauce and exotic ingredients when preparing their food. Mix it all tigether and you will get an amazing results.
Street food in China
How many times have you just heard the following: Hey are you hungry? Let's order Chinese?
One of the reasons for the popularity of the Chinese food is that it tastes very universal and unique. Chinese food is rich and colorful, ful of different flavors and special ingredients. For many people food in China is a true work of art. The street food in China is no exeption. The whole Chinese culture is connected with food and that is what it makes this food so unique. Chinese are famous for eating out, on there streets and many market stalls possess excellent food. We have selected for you the most delicious food from the Chinese streets:
Sichuan Pork
Shrimp with Vermicelli and Garlic
Dumplings
Fried Shrimp with Cashew Nuts
Sweet and Sour Pork
Ma Po Tofu
Yangchow Fried Rice
As you can se Street food is an important part of Chinese eating culture. This food is usually hidden in narrow streets that are full of tourists and Chinese people looking to taste the best traditional dishes. Street food connects people together and tasting the best street food in China will alow many tourists to understand their rich culture and tradition. Also, street food in China is not just delicious and tasty, it also quite affordable and cheap.
Chinese restaurants
From cheap street food to luxurious Chinese fine dining, China has it all! Chinese people sure know how to properly enjoy in their delicious food. Chenese restaurants are pretty spectacular and nice places where you can taste the most incredible Chinese dishes. Even the most demanding gourmets will enjoy the charms and tastes of Chinese cuisine. In addition, most of the restaurants are very nicely decorated, in a recognizable and authentic Chinese style, which creates a special atmosphere for everyone. Dinner in restaurants can be the right choice for the whole family during your stay in China. Here is our list of the best Chinese restaurants:
Summer Palace Restaurant - Hong Kong
Celestial Court - Beijing
Lost Heaven - Shanghai
Dragon Phoenix - Shanghai
Din Tai Fung - Shanghai
Tin Lung Heen - Hong Kong
Some of the best and most popular meals are Roasted Duck and Kung Pao Chicken. Roasted Duck is an incredibly delicious meal that comes from Beijing. This meal has very think and crispy skin that simply melts in your mouth.This meal tastes and smells quite divine and extraordinary, so it is no wonder that it's among the most popular ones. The taste is even better with a glass of nice and chilled red wine. The slices of the duck are usually eaten with soy sauce and mashed garlic.
China beaches
Did you know that China has some of the best and most beautiful beaches in the world? Plus beaches in China can be quite extraordinary and very unique. Another fascinating thing about China is that it's continental coastline extends for about 11,000 miles. Chinese beaches are very beautiful and paradice like places, although you need to be preparied for big crowds during peak season. Also, be careful because some beaches in China have a very strong currents. Having that in mind these beaches are fantastic spots for many great and fun water sports and activities, you just need to be careful.
Best family beaches
We have selected for you some of the most popular beaches. These beaches are popular among the locals and many tourists. If you want to organize a perfect summer vacation with children, then one of these beautifully landscaped and safe beaches is the ideal choice for you.
Vacationing on these beaches will give you peace, relaxation and truly beautiful landscapes.If you are wondering what other beaches around the world are ideal for your summer vacation, then click on our blog: 20 Best Beaches in Croatia. Most of these beaches have great cafes and bars nearby, so you can enjoy great cocktails and summer cuisine while spending entire day on the beach. Here is our list of best beaches in China:
Yalong Bay - The Oriental Hawaii is the other name for this stunning beach and many claim that this is the best beach in China. The sea is deep and incredibly blue, the sand is very warm and soft. You can choose between private hotel beach and public one ( hint: chose the private one)
Tianya Haijiao - Another great and clean beach with warm, almost crystal clear water. This is one of the most picturesque beaches in China because of its mesmerizing scenery. The sunset are something you must experience on this beach. The are utterly incredible.
Shanghai Weekend Beach - This beaches has slightly fewer crowds and it wil reward you with warm water and nice sand. The most interesting and unique thing about this beach are its caves and rock formations. The kids will certainly like to explore it.
Red beaches in China
Although it is not the real beach, this place is absolutely amazing and fascinating for all interested tourists. We are sure that you have never seen something like this before in your life. The name itself is very symbolic because it describes the incredible red landscapes that stretch along the winding river. When you first come to this quite fascinating place, we are sure that it will seem unreal to you, as if it is not possible for it to exist on our planet, in real space and time. If you are wondering why this magical place is full of red shores and red colors, the answer lies within the very unique and rare red plant of Suaeda salsa.
The Culture in China
This blog could not be complete without dedicating a special part to the unbelievably rich, colorful and vibrant culture of China. Many books have been written and films made about Chinese culture. However, none of that can be compared to the real experience of China and all its beauties. In order to really get to know and feel Chinese culture and all its aspects, you need to visit this country as soon as possible. Tradition and history, as well as strong family values ​​are especially cherished here. Chinese culture is one of the world's oldest cultures and it goes back to thousands of years so it is no wonder that this country is multi-religious. All this clearly tells you how rich and important China is.
Ancient China civilization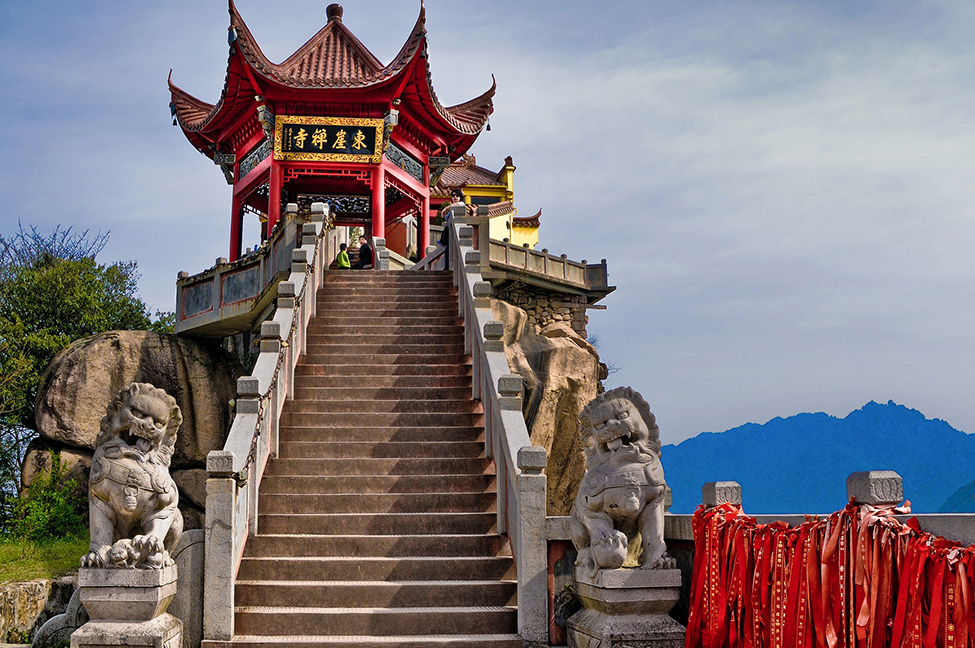 Like we pointed out before, China truly has a very rich culture and the Ancient China civilization plays a key role in that. Important parts of that civilization can be seen and felt even in modern times, in a modern China of today. Therefore, the Ancient China civilization is an integral part of the whole country and one of the reasons why China is such a popular tourist destination. This place is full of amazing things to see and to explore.
Why is the Ancient China civilization special?
There are many reasons why this civilization is special, and one of them is powerful and glorious dynasties. Ancient China's civilization refers to that period of Chinese history which began in the early 2nd millennium BCE. Ancient China is famous for:
Papermaking
Printing
Gunpowder
Sculptures
Martial arts
Chinese philosophies
As you can see Ancient China is very famous for their fantastic inventions and technology. Many of those inventions had a long impact on the entire world and for many people. Also, the Great Wall of China and the Grand Canal are other important inventions that made China one of the greatest civilizations at the time. As one of the world's four ancient civilizations, China has a lot to offer to all its tourists and peoples. The history of ancient China dates back to the famous and glorious Shang Dynasty. Since then China continued to develop its culture and tradition and because of that they managed to leave a huge impact on every area of life. The Han dynasty lasted until 220 CE and that was the end of ancient China.
Chinese tradition
Like we said, the history of China lasted more than 5,000 years. During those years China created many great and amazing traditional festivals. Some of them are:
Lantern Festival
Spring Festival
Tomb Sweeping Festival
Dragon Festival
Dragon is one of the most famous symbols of China. It's the spirit animal of the entire country and many great stories and festivals are being held in its name. There are many amazing stories about dragons and their unbreakable bond with China. Confucianism, Taoism, and Buddhism are also considered to be an integral part of rich China tradition and culture. An official Chinese government statement recognizes five major religions, but many Tibetans practice a distinct form of Buddhism. This religion as we as Chinese traditional values nurture:
Harmony
Righteousness
Loyalty
Filial piety
Those are the main traits that Chinese people go by and they are an integral part of Chinese tradition. Chinese cultural history and tradition has enormous diversity and variety. That is why its tradition is so important and unique.
China culture facts
To end this blog about China properly, we have selected some quite fun and interesting China facts for you:
Did you know that there are 56 minorities in China
The Chinese Zodiac has great importance
The Chinese tea is an incredibly important part of culture
Chinese calligraphy is a true art
Chinese festivals are one of the greatest events for entire families
The Chinese language has a lot of different dialects
We hope that with this blog we have managed to bring you closer to at least a part of all the beauties of China. This country offers you countless possibilities and wonderful places where all generations can really enjoy. Its rich culture and tradition leave you much room to explore China and all its significant monuments. When you come to China you will certainly not be bored because wherever you turn, you will have something significant to see.
The places we wrote about are some of the top places to visit in China. China vacation tours are full of interested tourist that come all around the world. Everything in China is worth your visit, from food to significant buildings and monuments that have shaped Chinese culture and tradition. Staying in one such culture will definitely affect you and change your experience of many things. One thing is sure: after returning from China you will not be the same person. If you are wondering which other countries are worth your attention and research, read our blog: Top 20 World Heritage Sites