Barcelona is the capital of the Spanish autonomous community of Catalonia. It is located on the coast, making it a magnet for tourists from all around the world. In this blog, you'll read about the things you need to know about this spectacular city, what you need to see, where you have to go, what food to try, where to stay, and most importantly, how to make the best out of your trip. So sit back, relax, and let us take you on a virtual trip to Barcelona. We'll be covering these topics:
Why travel to Barcelona?
So you probably know Barcelona because of its football club and Lionel Messi (all the Barcelona fans are devastated right now, but it is what it is). Still, this city has a lot more to offer than great football. Barcelona is home to some fantastic Antoni Gaudi's work, many museums where you can absorb some fantastic art, and of course, mouth-watering food and incredible culture and tradition. If you're still not convinced, keep reading, and you'll find out other reasons why you need to travel to Barcelona.
Barcelona trip - things you need to know
Like every trip you go on, you need to know some things before getting to Barcelona. And with the information you'll read here, you are sure to be well prepared and less likely to have some unwanted things happen to you. So, let's get on with the things you need to know for your Barcelona trip.
When to visit Barcelona?
Barcelona has a maritime Mediterranean climate, which means that the winters are mild, and summers are warm. The peak of the tourist season is in July and August, so if you don't like crowds, these months are really not for you. The high season is from June to August and during public holidays. The low season is from November to February, making those months best for budget travelers. If you like festivals and events, the high season is the best time for you. However, if you prefer mild weather and fewer tourists, you should travel to Barcelona from March to May or September to October. So, decide what kind of vacation you want to have, and choose the time accordingly.
How to get to Barcelona?
There are several ways to get to Barcelona, and that depends on where you're coming from and what kind of transport you prefer. You can choose between these solutions
Probably the best way to get to Barcelona is by plane. Barcelona's main international airport is called Josep Tarradellas Barcelona - El Prat, and it is the second busiest airport in Spain. With that being said, many well-known airlines land there, so you shouldn't have any problems traveling there.
If you prefer the train, Barcelona is connected with the rest of Spain and France by high-speed rail routes, so you can get to it by trains like Renfe and AVE.
The Barcelona Nord Bus Station has the most national and international connections in Barcelona, and the cruise ship harbor has nine passenger terminals, seven for cruise liners and four for ferries.
If you prefer to manage your trip to your liking, getting to Barcelona by car is easy because it is well connected and the motorway and road network will take you anywhere in the city.
Money tips for Barcelona
First things first, the currency that is used in Barcelona is Euro. Most people like to stay on the budget, even during vacations. Even though Barcelona is a tourist city, making it expensive, you can always find a way to save money. The best way to do that is by choosing wisely when you travel. Everything is cheaper outside of the tourist season. Apart from that, you can eat where the locals have their meals, visit the attractions on their free days, find a free city tour, and get around the city by bike and save money by using bicycles and going for a walk.
Getting around Barcelona - Public transport
Barcelona is the second most populated city in Spain, so you need to know how to get around it. Thankfully, the city has an excellent public transportation network. You can get anywhere by bus, metro or tram. If you prefer to have someone take you directly where you want, taxis are the way to go. They have a standardized charging system based on a taximeter - pretty simple! But the best way to get around Barcelona is by bike. Did you know that Barcelona is the most bike-friendly city in the Mediterranean? Well, now you do! So get that bike ready and cruise the city at your own pace.
Things to do in Barcelona
Now that you know the basic information about Barcelona, it is time to explore it. In Barcelona, you'll have plenty to do - to visit some of the most iconic attractions, go on some memorable tours, and spend your free time sunbathing on some of the sandy beaches. Keep on reading to find out about what to do in Barcelona!
Barcelona attractions
Barcelona is well-known for its architecture and distinguished districts. Some of the best attractions in Barcelona are famous for their peculiar looks. Still, you can also learn a lot about Catalan art and culture in the museums. If we've tickled your interest, continue reading about the things you cannot miss on your Barcelona trip.
Antoni Gaudí's work
The buildings that the architect Antoni Gaudí designed are definitely the symbol of Barcelona. Here are some of his most well-known works.
Sagrada Familia - His most famous work is the Sagrada Familia, an unfinished minor basilica that is a part of a UNESCO World Heritage Site. This basilica has been under construction since 1882, while the estimated completion date is 2026. That means it will have taken longer to build the Sagrada Familia than the Egyptian Pyramids - pretty crazy to imagine! The design of the building is greatly influenced by nature, and the details are unique. It's definitely something you have to see in person; the words cannot even begin to describe it.
Casa Milà - The second most famous work of Antoni Gaudí is Casa Milà, or La Pedrera. This building is interesting because of its stone facade and its design as a constant curve. When it was made, it was the object of ridicule, but now it is admired as it should be.
Casa Batlló - Another memorable Gaudí's work is Casa Batlló or the House of Bones. It got its nickname because it has a skeletal organic quality. It is actually a redesign of the previously built house and, like in the case of Casa Milà, it has no straight lines. As you can see, Barcelona is worth visiting even just for Antoni Gaudí's work.
Park Güell - And finally, there is the Park Güell, an unfinished public park. It has sculptures, mosaics, and various structures that Gaudí himself made. You shouldn't miss the Serpentine Bench, El Drac, the Austria Gardens and the Gaudí House Museum, the Sala Hipostila, and the Laundry Room Portico.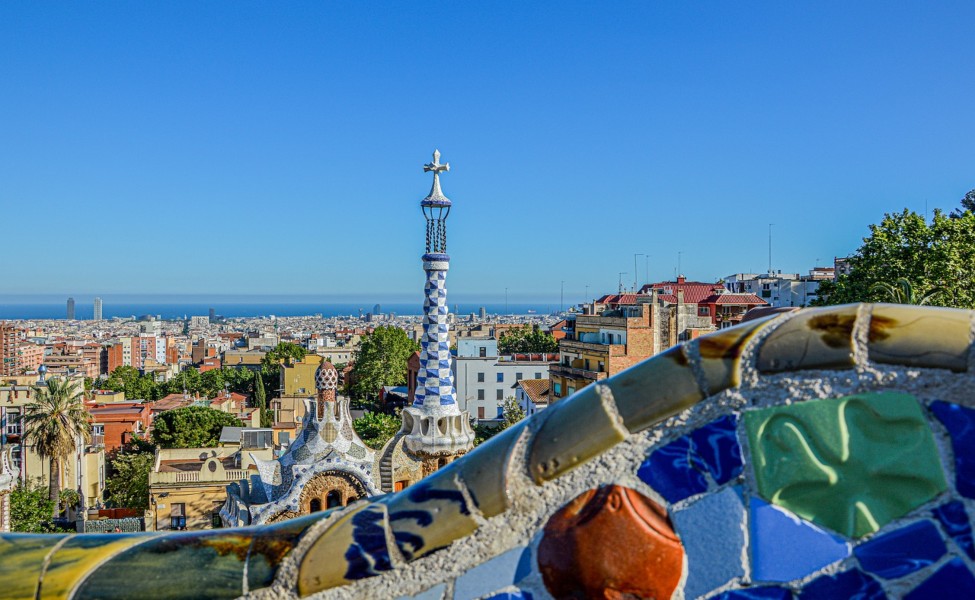 Las Ramblas
La Rambla is a 1.2 km tree-lined pedestrian street in central Barcelona that connects Plaça de Catalunya with the city's old port. It is truly iconic and popular amongst tourists with museums, monuments, human statues, shops, cafes, bars, and restaurants. During the Dia de Sant Jordi festival, Las Ramblas turns into the most colorful street with the beautiful smell of flowers coming from every side. It also becomes a place where you can find all sorts of books to give to someone. The best time to visit Las Ramblas is during the day when you can enjoy the architecture and all of the perks that this boulevard offers. It is a popular place to go to during the night since it has many bars and music.
Camp Nou
Camp Nou is every football fan's favorite place to visit in Barcelona. It is the home stadium of FC Barcelona, and it has a museum where you can learn all about the club's history and see all of the trophies. You can either have a self-guided tour of the stadium - the Camp Nou Experience, with access to the museum, or a tour with a private guide with additional payment. You can visit the commentators' space and hear the club's official anthem in multiple languages. Top all of that with a souvenir that you can get from the store at the stadium. And don't forget that Barcelona is més que un club!
Barcelona tours
You had the opportunity to read about some of Barcelona's most famous tourist attractions, but that is obviously not everything. There are so many things to see and try in Barcelona that you probably need some help to get around most, if not all, of them. Read about some of the tours you should consider getting on.
Winery tours
Catalonia is famous for its production of sparkling wine - Cava. What better way to enjoy it than in the capital of this region? Barcelona has various tourist agencies that offer a wine tour of the city and also outside of it. Some of them are Castlexperience, Wine Tours Barcelona, and Tapas & Wine Tour Experience. They offer wine tastings and cellar tours, among other things. You can also make your own Cava or have a wine tasting while sailing. Choose the one that you think is best for you. You can expect to spend around 75 Euros per person for this type of tour.
Guided tours
Guided tours are the best way to really get to know Barcelona. You can learn all about the city's history, monuments, culture, and architecture from a guide. They often have a unique story that you can only hear from them, making the tour more enjoyable. You can also find a free tour of Barcelona if you're tight on a budget. The tour agencies often offer different kinds of tours other than the regular walking or sightseeing ones. We've already mentioned wine and winery tours, but there are also food and tapas tours, cooking experience tours, flamenco show tours, and many more. So, strap on, and let the guide take you on a magical tour of Barcelona. You can find either a free guided tour or spend up to 100 Euros, depending on the type of the tour.
Hop-on-hop-off tours
Other popular tours are the hop-on-hop-off tours. They offer you the option of seeing all the sights at your own pace. You can ride one of the open buses and have either an audio-guided tour or a tour with an actual guide. This tour allows you to get on and off the bus as many times as you want, and the buses usually have free wifi. Some agencies that provide this type of service are Barcelona BusTurístic and Barcelona City Tour. Prices for this type of tours are around 28 Euros for one calendar day, or 38 Euros for two consecutive days.
Barcelona beaches
Barcelona has a lot of beaches, it is on the coast of the Mediterranean sea after all. Barcelona is a popular summer destination, so it is bound to have well-preserved beaches that draw the swimmers and sunbathers in. Some of the best beaches in Barcelona are Bogatell Beach, Sant Sebastià Beach, Mar Bella Beach, with a nudist area, and Nova Mar Bella Beach. Most of them have a volleyball court, a basketball court, a playground, a beach umbrella and lounge chair rental, and more. You can also find beaches with a separate area for dogs, so you can bring your furry friend with you to enjoy the sand.
Bogatell Beach
This is one of the most popular beaches in Barcelona. It is approximately 702 meters long and it has various recreational facilities llike ping-pong tables, a football pitch and a volleyball court. The beach streaches out from the Bogatell breakwater to the Mar Bella breakwater and it has adapted parking and parking for bicycles. It is located in the Sant Marti district, so head over there for some fun in the sun!
Sant Sebastià Beach
This beach, along with the Barceloneta Beach, is Barcelona's oldest and most traditional beach. It has sports facilities, adapted showers, sun loungers, beach umbrellas, and more. If you get hot, you can have an ice cream from one of the kiosks, or just sit and have a meal at one of the restaurants.
Mar Bella Beach
This is a 512 metres long urban beach near the Poble Nou area that has a designated nudist area. This beach streaches out from the Mar Bella breakwater to the Bac de Roda breakwater. It has a children's playground, a volleyball court, a basketball hoop, and a skateboard rink, among other things.
Things to do from Barcelona
Barcelona is not the only place you should visit in that part of Catalonia. It is so well located that you can plan a trip from Barcelona without any hassle. We've singled out the trips you should go on while visiting Barcelona.
Day and weekend trips from Barcelona
There are plenty of day and weekend trips you can go on from Barcelona. You can organize your own or go with a travel agency that offers tours and experiences. Read on to find out what trips you should go on to make your vacation even better.
Montserrat
A trip to Montserrat is one of the most popular that you can take from Barcelona. Montserrat is an unusual rock formation that is home to a Benedictine monastery, the Santa Maria de Montserrat Abbey, which has the statue of the Virgin of Montserrat, and a museum. In the museum, you can see the works of significant artists, like Dalí, El Greco, Monet, and Giordano. If you get to the summit station of Montserrat by one of the hiking trails, you can get a spectacular view of Catalonia. However, you will not be able to see Barcelona since it's hidden behind the Conserolla Mountains. You can get to Montserrat by car or train or a tourist agency.
Costa Brava
Many travel agencies in Barcelona offer a tour of Costa Brava and its charming villages. This tour often includes a visit to Girona, a city between Barcelona and Costa Brava. It has medieval walls, narrow streets, and the Jewish Quarter, one of the best-preserved in the world. Costa Brava is popular amongst tourists because of its beaches, nature, and beautiful villages. Those villages are now turned into resorts - Lloret de Mar, San Felíu de Guixols, Palamós, and Port-Bou. If you're visiting Lloret de Mar, here's one tip - watch your head when you're going past the hotels. It is not unusual for glasses to fall off the balconies because many drunk tourists are in them.
Ibiza
Since you're in Barcelona, you might as well go to the capital of parties. Ibiza is only a flight or a ferry ride away. Of course, it would be best to spend the whole weekend in Ibiza. Other than parties, Ibiza is known for its nature and beaches. You can relax and swim in its blue water while you get mentally ready for a night out watching the sunset. If you're not into parties, you can explore Ibiza. It has walled Old Town Dalt Vila, a hippy market in Es Canar, fantastic beaches, and food. You can also sail to Es Vedra, a rock known for its extreme magnetic power.
Boat trips
Being on the shore, Barcelona has excellent offers for boat trips and tours. Going on a boat tour is the best way to enjoy Barcelona's skyline, explore Costa Brava, and just relax on the water. Some of the agencies that do these tours are Barcelona Boat Tours from Barcelona.com and Boat Trip Barcelona. They have different versions of trips, so you are sure to find the perfect one for you and your company. We recommend the Wooden Goleta Sunset Cruise in Barcelona where you can watch the sunset over the Mediterranean Sea with music and fresh drink for only 18 Euros. If you're traveling with your friends, you should try the Catamaran Sensation in Barcelona where you can cruise along the coast of Barcelona on a party boat for 46 Euros.
Food and restaurants in Barcelona
After exploring the city, you are definitely going to be hungry. But don't worry, we're here for you. We've compiled a list of food and restaurants you have to try while on your trip to Barcelona. So when you're in Barcelona, just whip out this blog and remind yourself of the things you want to have.
What food to try in Barcelona?
We're sure you all have heard of tapas, jamón, and churros, and they are delicious. But while in Barcelona, you have to try traditional Catalan food like paella and crema Catalana. Hopefully, we will make your mouth water, and you will not be able to wait for your trip to Barcelona. In this section, you can also find restaurant recommendations with other traditional Spanish cuisine dishes.
Paella - Paella is a traditional Spanish dish that is made with rice, saffron, vegetables, chicken, and seafood. This dish is originally from Valencia, and it has a lot of variants, the most common ones being chicken paella, seafood paella, or mixed paella. It is cooked and served in one pan with onion, bell pepper, garlic, tomatoes, parsley, and peas. Some of the restaurants that serve the best authentic paella in Barcelona are Can Ramonet, Xiringuito Escribà, La Perla, and El Racó de L'Agüir.
Pa amb tomàquet - This dish is really a custom in Catalonia, and it is part of Catalan identity. It is a simple recipe, but the locals love it. It is made with bread, salt, tomato, and olive oil. It is either made for breakfast, or as an appetizer at lunch or dinner. You should try it in Paco Meralgo, El Xampanyet, Cal Pep, or Tapas 24.
Crema Catalana - This dessert is the oldest custard one in Europe. It represents Catalan history and culture. The difference between crema Catalana and crème brûlée is that the Catalan version uses milk instead of cream. Other than that, crema Catalana is older, and every family has an understanding of their own. That being said, some of the restaurants that serve the best crema catalana are Bar del Pla, Bodega La Puntual, Bodega La Palma, and L'Olive.
Escalivada - This dish is a type of grilled salad, traditional to Catalonia. It is made with peppers, aubergines, onions, and peeled tomatoes. Escalivada is another simple dish that is best to enjoy al fresco on hot summer nights. It is often eaten as an appetizer or as a side dish. Some of the places where you can have delicious escalivadas are Sesamo, Taverna El Glop, and Can Martí.
Best restaurants in Barcelona
Apart from the restaurants that we've mentioned where you can try the best traditional dishes, here are some of the best restaurants in Barcelona where you can enjoy more tasty food. Most of these restaurants offer a daily menu where you can have a three-course meal with coffee for around 12 Euros.
Nou Celler - this restaurant serves traditional cuisine and tapas in a 18th century palace. You can have Spanish, Mediterranean and European food. It is located in the city center, in the Born district.
Botafumeiro - one of the top seafood restaurants in Barcelona. They serve fish from markets of Catalonia and Galicia that they get early in the morning on the same day they prepare the meals. It is located in the Gràcia district.
Vrutal - a vegan restaurant that serves delicious bar and healthy cuisines. People that eat there say that you won't believe that the food is vegan since it tastes so good. It is located close to the beach, in the Sant Martí district.
Where to stay in Barcelona?
Barcelona has a lot of places where you can stay, from hotels to apartment rentals. The prices also vary, you can find really cheap accommodation and extremely expensive. To make your choice easier, we found some of the best districts to stay in Barcelona. So depending on what kind of vacation you want to have, choose the neighborhood and then the accommodation.
Best districts to stay in Barcelona
As promised, here is the list of districts that are the best for tourists:
Barri Gòtic - This part of the city is best for sightseeing. The Gothic Quarter has streets that date back to the Middle Ages, so that gives this district an exceptional vibe. It has excellent transport, good nightlife, and fantastic shopping.
Plaça de Catalunya - It is said that this is the best area to stay in Barcelona. Plaça de Catalunya is a city center with large shopping malls, shops, restaurants, and museums. That's why this part of Barcelona is recommended for first-time visitors. This district is close to the Passeig de Gracia, Gothic Quarter, Las Ramblas, and nearby port, so it's perfect for those who prefer to walk or ride a bike.
El Raval - El Raval is a multicultural neighborhood with some amazing bars, clubs, and live music venues. It is the best place to experience Catalan culture with museums, theaters and markets. This district is also close to everything so you can make it the center of your exploring of Barcelona.
El Born - This district is one of the most charming neighborhoods in Barcelona. It is part of the Old Town, which means it has the same beauty as the Barri Gotic, but it is calmer. It is home to the Picasso Museum, Palau de la Musica Catalana, Ciutadella Park, Santa Maria del Mar, and El Mercat del Born.
Accommodation in Barcelona
Now that you've chosen the right district for you, it's time to select the place to stay. Barcelona offers different types of accommodation, so it's suitable for single travelers, families, couples, and friends
Hotels - You can find all types of hotels in Barcelona, from 1 to 5 stars. There are luxury hotels, boutique hotels, and of course, cheap ones. Prices for them vary from 40 Euros to 1390 Euros per night. One of the best luxury hotels in Barcelona is Mandarin Oriental that is located in the city center. It has a spa, an indoor pool, and a rooftop pool. One of the best rated boutique hotels is Hotel Casa Camper in central Barcelona that has a free 24-hour buffet. Each room in this hotel has a separate lounge. Some of the best cheaper hotels are Hotel Ginebra and Hotel Lloret Ramblas.
Hostels - If you're really tight on the budget, you can stay at one of Barcelona's hostels. They offer accommodation from 12 to 87 Euros in rooms with 12 beds. Some of them have private bathrooms, while others have shared ones. Some of the best hostels are Hostal Benidorm near Las Ramblas, Residencia Erasmus Gracia, and Safestay Barcelona Passeig de Gracia.
Apartments - If you're traveling with your family or with a few friends, you might want to consider renting out an apartment. Prices for this type of accommodation go from 50 to 1550 Euros, depending on the type and location of the apartment. You can find the perfect apartment for you on sites like Booking and Airbnb.
Andrew Barger said that Even the moon was embarrassed by the beauty of Barcelona. And he wasn't wrong. Barcelona is truly a beautiful city with a lot of history and rich culture. Being the capital of Catalonia and the tourist center, it has something for everyone - sights, tours, food, beaches, and more. We hope that we inspired you to visit Barcelona and experience it for yourself and that the information was helpful. Safe travels!