If travel to Montenegro isn't on your bucket list, you're doing it all wrong! There is something magical about a country with the oldest olive trees in the world, deep canyons, and clean beaches. Montenegro is for every type of traveler, from the luxury-seeking people who'll find Sveti Stefan island to be heaven to backpackers exploring the tall mountains. Let us show you the way around Montenegro before your next trip. Some of the things we'll go over are:
Two sides of Montenegro - Use the slider to see the full beauty of this country!
Things to know before Montenegro vacation
We'll go through some basics, from explaining where's Montenegro located in the world or what is Montenegro known for. Here's what you should know:
Capital of Montenegro: Starting strong, did you know that Montenegro actually considers two cities as its capital? Podgorica is the official capital of Montenegro and its biggest city. However, the town of Cetinje is a cultural hotspot and other capital of this country.
Where is Montenegro located: Montenegro is a Balkan country which borders Albania, Serbia, and Bosnia & Herzegovina. Montenegro is a relatively small country, covering less than 14k km and having a little over 620k residents.
Best month to visit Montenegro: All through summer, Montenegro makes for a great European trip. The summer season starts in June, with a big ceremony in Budva. The sea in some parts of the country is warm enough for swimming in April, but don't come for us if it turns out the water isn't as warm as you thought. The best time to visit Montenegro if you want to avoid crowds is during spring or winter when you can explore the many natural wonders this country holds.
Why visit Montenegro: This country will give you a nice blend of luxurious and rural spots; it has over 100 beaches; just one walk through its many old towns will show you the rich and exciting history, and the food is brilliant. Did we mention it won't cost you a fortune?
Is Montenegro expensive: Spending less than 90 euros a day in this paradise? You better believe it. Even though Montenegro has many luxurious options, like Sveti Stefan Island or Porto Montenegro, known for their 5-star resorts, it is a reasonably affordable destination throughout the year.
What currency is used in Montenegro: Montenegro uses euros as its official currency. You won't have any problems finding exchange offices and ATMs.
Best cities in Montenegro - Spend your summer vacation in Montenegro
The land of 5 national parks, as many as 117 beaches, potentially the oldest vine tree in the world, and where Brad Pitt began his acting career, year after year breaks the records of visits during the summer season. Whether you are looking for quiet family destinations or like to dance the nights away in Budva's best clubs, the seaside cities of Montenegro are the place to be. Besides the already mentioned capitals, these cities are considered some of the best places to visit in Montenegro.
Ulcinj - Top Montenegro destination for adrenalin lovers
Did you know Ulcinj is home to the longest beach on the Adriatic? The large beach in Ulcinj covers more than 13 km of space. The oldest city of the Adriatic and the southernmost city of Montenegro, Ulcinj traces its roots back to the time of the Illyrians, and today the majority of its population is Albanians. As much as 50% of all beaches in Montenegro are located in Ulcinj, perhaps the most famous Ada Bojana. It competes with Hvar for the title of the sunniest city in this part of the Balkans, which is why the summer season can last till the end of September.
Ulcinj is the ultimate adrenaline destination, and we don't just mean sports that take you to the depths of the sea. The beaches' layout, length, and the influence of the wind, which is sometimes present throughout the day, make Ulcinj an ideal destination for surfers and fans of jet-skiing and parasailing. We'll tell you more about it in this blog section - Things to do in Montenegro.
Before visiting this fun city check out our page dedicated to it, which you can use as a travel guide - Ulcinj.
Tivat - Travel to the sunniest city of the Bay of Kotor
Tivat is located in the central part of the famous Bay of Kotor and is the youngest city on the coast. On one side, it is open to the sea, while on the other side, it is protected by the slopes of the Lovćen mountain. What makes this city great is the international airport just outside the center, making it easy to reach. If you're looking for luxurious spots to visit in Montenegro, you may want to book your stay at Tivat's Porto Montenegro. It's no wonder celebrities frequently spend their summer in Tivat. The harbor is usually filled with yachts, which you can overlook from your luxurious hotel rooms. Visit incredible natural beauties, Renaissance summer houses, sandy beaches, and islands, and take a walk along the expensive promenade next to the marina. You will forget what the word boredom means on your trip to Tivat, as there are attractions, sights, and activities besides the luxury this city offers.
Find answers to all your tourist questions on our Tivat page before your next (or first) trip.
Herceg Novi - Wellness destination of Montenegro
Herceg Novi is a coastal Montenegrin city in the Bay of Kotor, located at the foot of the mountain Orjen. Cobbled streets and intriguing architecture will make you love this city from the moment you step into it. You will be enchanted by the Old Town adorned with the Clock Tower and Kanli Tower, as well as the unforgettable fortresses from the 16th and 17th centuries. The staple of Herceg Novi is many stairs and mimosas, which is why it is often referred to as the city of a thousand steps.
Health tourism in Igalo is one of the things to do in Herceg Novi. In this small town, the rehabilitation center of the Simo Milošević Institute awaits you, which takes care of patients of all ages and helps them with rheumatological, pulmonological, neurological, and similar health problems. However, the star of this part of Montenegro is the so-called Mud Beach. The sea mud from this beach is priceless, as it is considered highly medicinal due to its radioactive properties. During the eighties, numerous medicinal tests proved the significant effect of mud, silt, and sand from Blatna beach, especially in rheumatic patients. If you do not plan to treat yourself to the Institute's treatments, only swimming in these waters will be healthy.
Visit our Herceg Novi page to learn everything you need to know before visiting this fun Montenegro destination.
Bar - Best places to visit in Montenegro for history buffs
Potentially the most significant archaeological site in the Balkans and home to an olive tree over 2,000 years old, Bar offers you the opportunity to spend your vacation actively. During the year, the sea gate of Montenegro counts about 270 sunny days. Over 40 km of the sea coast will be at your disposal, which makes it one of the best spots in Montenegro for sunbathing. This seaside town is a popular tourist destination located in the south of the Montenegrin coast and is the main port in Montenegro that has a strong connection with Italy. The famous attractions of Bar, the center of which is the Old Town, built in a position different from other coastal towns, take you through centuries of history, which they have managed to preserve to this day.
All the necessary tourist information you will need on your trip to this city awaits on our page - Bar.
Kotor - Cat paradise in the Balkans
This city in Boka bay may just give Istanbul a run for its money. Kotor was pronounced the best tourist city in 2016, and we can clearly see why. It carefully preserves and presents its history, which goes back to the 3rd century BC, culture, and beaches. Since ancient times, this city has been known as a city of merchants, sailors, and world travelers who were exhausted and sought refuge on land. It is believed that all those sailors brought cats to the island, which helped keep it clean of overbearing pests. All those cats found their home in the city, and today you can find them on every corner of the city.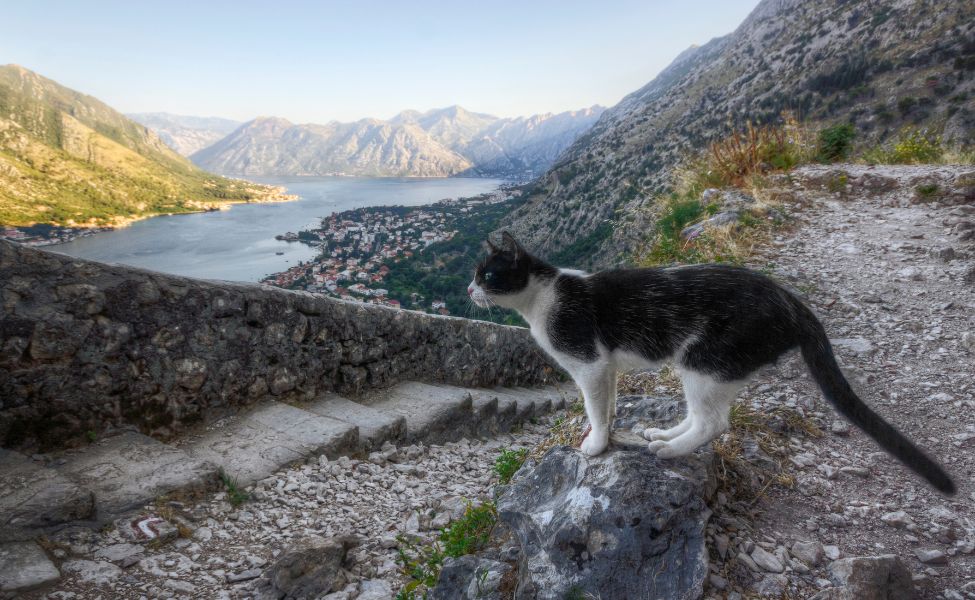 Well-preserved palaces, the Old Town of Kotor and the 16th-century fortress, clean seawater, and authentic architecture that dates back to ancient times are just some of the reasons why it is on the UNESCO list of world and cultural heritage. Kotor is one of the most attractive vacation destinations in Montenegro, especially if you want to enrich your vacation with local events. To witness its glory, try to conquer the top of the old Kotor fort trail, where amazing views await.
Before visiting Kotor give our page a read and gather all the tourist info you need.
Budva - Sightseeing the best nightlife destination in Montenegro
Sightseeing Budva may not be your first stop when visiting this city in Montenegro. A destination that exudes youthful energy, Budva has proven itself as one of the best places to visit in Montenegro. In addition to being known as Montenegrin Miami, Budva is also one of the oldest cities on the Adriatic. So far, it has hosted dozens of world stars and is also home to a beach declared the most beautiful in Europe. Did you know that a club in Budva was declared the best in the world? This city in Montenegro rivals the cities with the best nightlife with its offer, which won't disappoint any clubber. Clubs in Budva can be found right next to the beach, some are located under the walls of the Old Town, and a large number of them are lined up along the entire length of the main promenade.
However, Budva is not only a city of parties and numerous discotheques. Budva is a city of exceptional natural beauty, such as coves, islands, and beaches, and significant cultural and historical monuments, such as the Old Town Budva, which lies on the peninsula. There are as many as 17 beaches on an incredible 21 km, among the most beautiful coasts in the world.
Learn everything that awaits in this city on our page - Budva, and feel free to use it as a personal travel guide.
Explore Montenegro nature
Once you've finished exploring the urban parts of Montenegro, it is time to conquer the natural beauties this country hides. Your Montenegro vacation will be filled with world-famous mountains, clean beaches, and impressive views. Get ready for all the hiking and practice your best camera angles as we tour Montenegro's must-see natural destinations.
Beaches in Montenegro - Must-see spots on your summer holidays in Montenegro
You can say you've visited Montenegro until you go beach hopping! The best way to explore as many beaches and hidden spots as possible is to rent a car and organize your spontaneous excursions. You can find car rental services in Montenegro for as little as 10-12 euros per day. Tourist boats will take you to remote beaches and lonely islands, and we suggest you ask around at your accommodation about their services.
Some of the beaches you shouldn't miss are:
The best beaches of Ulcinj: Under the walls of the Old Town is the Little Beach, pebbly and ready to host 2,500 people. It is equipped with sunbeds and umbrellas, you can use the changing rooms or the toilet for changing, and if you go there by car, you will easily find a place in the parking lot. If you go to private areas, the beach within Hotel Albatros will provide you with everything you need to enjoy the stone beach. When you need peace and escape from the tourist noise, look for it in the Kruče settlement. The pebble beach of the same name is characterized as wild, surrounded by nature, and you will have to shelter yourself from the sun.
Herceg Novi beaches: Among the most attractive beaches is Raffaello, a 3km long sandy beach in the Topla settlement, closely followed by the smaller Yachting club beach. If you want to stay in the center of the action and don't mind the crowds, there is the beach Žalo na Škveru.
Beaches in Bar: Find peace and privacy at Belgrade Beach, located between Šušanj and Sutomore. Although it is only 100 meters long, you will find enough places to sunbathe on small pebbles, sunbeds, and umbrellas, as well as a parking lot and a cafe. Even smaller, the Red Beach attracts tourists with its sand and stones, which give the coast a striking red color. If you stay closer to Čanj, Kraljeva beach is a must. Fully equipped, from parking to sunbeds and showers, this beach is hidden between high rocks and is characterized by clean sand and water.
Stunning beaches of Kotor: Dobrota beach stretches for 7 km, where concrete and gravel are mixed. It is full of cafes and bars, and you will easily find a free sunbed for rent. If you want to stay as close as possible to the center, the Park-URC beach is located at the very beginning of the pedestrian zone. It offers a concrete coast, a great view, and many cafes. If swimming is not your forte, beaches with gradual depth, such as Mark's Cape, are the place for you.
The best beaches in Budva: Although Mogren looks like a postcard, surrounded by greenery and rocks, the title of the best European beach went to Jaz. This 1,2000-meter-long beach is the host of the Sea Star festival, it was the stage for Madonna and the Rolling Stones, and even foreign campers and nudists couldn't resist it. In search of the perfect combination of enjoying the coast and parties, you will find it at the well-known Ploče beach.
National parks in Montenegro - Top destinations for hiking in Montenegro
If you plan on visiting as many national parks in Montenegro as possible in one go, we suggest you head to the eastern parts of the country. There's a total of 5 parks, and they cover around 10% of the Montenegro territory. One of them has found its place on the World Heritage Sites list, which makes this small country even more impressive! Backpacking Montenegro through its national parks is the way to go.
Durmitor - Montenegro's most famous national park
Your travel to Montenegro itinerary must include this wonder of nature. This mountain in northwest Montenegro is also considered a national park. Its highest peak, Bobotov Kuk, is over 2.5k meters high. It is home to 18 dazzling lakes, 12 mountain valleys, the deepest canyon in Europe, and many trails perfect for hiking. Here are some of the things that await in Durmitor, Montenegro.
Activities in the Tara River Canyon: Adrenaline central, this is one of the most important Montenegro attractions, which we wrote more about in our blog. Tara river canyon is around 1,300 meters deep (4,300ft), making it great for ziplining and rafting. Just so you know, this zipline is one of the fastest in the world and the rafting path is over 60km (42 miles) long! Not for the faint of heart, indeed.
Explore the lakes and waterfalls of Durmitor: Bless your insta feed with the most gorgeous views of the Kravice waterfall. It consists of many smaller streams that are 30m (92ft) high. The Cijevna waterfall, nicknamed the Niagara Falls of Montenegro, is not far from them. No, it is not as tall, but it's still beautiful. You cannot miss the glacier lakes, Black lake being the most famous.
Take a jeep safari tour: There are many ways to go about exploring this Montenegro national park. Jeep safari tours take you to the Hallmark-looking mountain town of Zabljak, from where your tour around the rim of Durmitor begins. This route also takes you to the nearby Piva nature park, a small village called Little Montenegro, and close and personal with the local cows and sheep.
Hiking in Durmitor: This national park is blessed with over 200km (125 miles) of hiking trails, all marked and safe to follow. On your way to the Bobotov Kuk Tara, Susica and Draga canyons await. We suggest you take a full day for this hiking trip to have enough time to explore some local sights. These include an ice cave, a graveyard covered with medieval headstones, and Dobrilovina Monastery.
Things to do in Montenegro - Experience the best Montenegro tours
Now that we've gone over the best places to visit in Montenegro let's look at some of the best ways to experience this exciting country. Being the jewel of the Adriatic has made Montenegro tourism very versatile, which is great for both active tourists and people looking for a calm Montenegro holiday. Whether you'd like to ride the waves of the coast of Ulcinj or spend your days tasting the best Montenegro wines, we've got you covered.
Montenegro food and wine tours
If you're a fan of great wine, and why wouldn't you be, visiting Montenegro will be a fun vacation. Montenegro is where you'll find some of the best wines in the Balkans, besides the locally famous beer from Nikšić. Podgorica is the most fruitful region of Montenegro regarding wine production. When it comes to food, Montenegro is known for its delicate meat goods, like the most delicious Njegos prosciutto, fresh and aged cheeses, and organically grown veggies. Do we even have to mention the most fantastic seafood?
This is how the best food tours of Montenegro usually go:
Tasting homemade cheeses in a katun: This tour takes you to an authentic village home near the town of Kolasin. You'll be introduced to local farmers that make the best soft and hard cheese, a famous Balkan spread called kajmak, and top-notch meat products. This 4-hour tour usually costs around 260 euros for a group of 5, but we believe it is worth it.
Local ham and beverages in Cetinje: A 25-minute scenic drive after a day of sightseeing and tasting Montenegrian charcuterie board of best cheeses, Njegus ham, olives and organic salads? Yes, please! You will have the chance to see the meat-drying process done by true professionals, taste many traditional dishes of Montenegro, and finish it all with wine and brandy. This tour will also take you to Lovcen National park, The Monastery of Saint Peter, and Bay of Kotor for around 470 euros for a group of 4.
Visit the oyster farm of Boka Kotor bay: Gather around seafood lovers; this one is for you. You'll get luxurious transportation straight from your accommodation, which takes you to the private boat. After a scenic ride comes lunch at the mussels and oyster farm, where you get to try freshly caught produce prepared by local recipes and wash it all down it wine. There are a few stops along the way, like a visit to Our Lady of the Rocks island. Find 3 more friends and split the price of around 600 euros for this epic tour.
Fish picnic: Get ready for 7 hours of enjoying the charms of the sea. Fish Picnic is an all-inclusive excursion, which takes you by boat to the islands of Mali and Veliki Krs, continues along the western shores of Ulcinj, and disembarks on a wild beach ideal for barbecuing. For only 25 euros, you can enjoy a tasting of fresh seafood, wine, and specialties typical of Montenegro, a unique tour of the Adriatic, and the opportunity to swim in the open sea.
Montenegro diving tours
The wrecks, bays, tunnels, and underwater caves of the Montenegrin coast are ideal for diving. The waters of Ulcinj are considered some of the best spots for scuba diving in Montenegro. The most exciting diving locations are the final resting places of once-great ships. You will find wrecks in Ulcinj in two places, but visibility can be tricky. The steamer Goritia is located not far from the island of Ada Bojana, and you need to dive about 16 meters to reach it, and the steamer Carola is waiting for you at Velika plaža at a depth of 17m. The Association Pro diving Montenegro will teach you the techniques of proper diving, take you on a tour to the six best locations, and you can also rent equipment from them.
Go kite surfing in Ulcinj
If you're an adrenalin junkie, you cannot sit this one out. Learn the art of kite surfing on the Big Beach, which relies entirely on wind power. Maintaining balance is the goal here, and experienced instructors will guide you through your first steps. In the last 20 years, Ulcinj has built a reputation as one of the best-surfing destinations in Europe, and for a price of 100 to 350 euros, you can pick up tips and moves from the best in the sport in no time.
Sailing and yachting in Montenegro
You plan on touring Montenegro's waters but don't know where to start? We are here to set some records straight. You don't have to be filthy rich to sail in Montenegro, as some tours can cost less than 50 euros! Montenegro's size is an advantage in this case. Did you know that you can tour the whole coast of Montenegro in less than a week and still be able to experience the most of it? You will have to conquer less than 300km of coastline, which means you can spend as little or as much time as you want to visit the coastal cities of Montenegro. Here are some of the popular sailing and yachting tours in Montenegro:
Bay of Kotor cruises are a big hit: A cruise in the Bay of Kotor is one of the most stunning tours you can embark on. These often full-day cruises cost an average of 45 euros as part of a group visit, while you will have to negotiate a price for private trips. Witness the important coastal cities of Montenegro from the Boka waters and learn about its history with the most stunning backdrop.
Full-day or weekly yachting trips: This one is on the pricier side but hear us out. Whether you're an experienced sailor or want to relax and leave all the sailing duties to a skipper, YachtingAdria has some sweet deals. They offer two types of yachts, ranging from 2,000 to 6,400 euros for seven days. Maria Lazure is the check-in and out point; all boats must be returned no later than 6 pm on a Friday. Yachting season lasts from early Aprile to December 31st, and we suggest you be quick with your booking. If you want to test the waters with just a full-day sail, bring up to 7 other friends and explore Kotor, Tivat, Lustice, and their surroundings. Be ready to spend anywhere between 600 and 800 euros with your group.
Do you feel ready to travel to Montenegro? We can already smell the water, and our stomach aches for all that seafood! Whether you are an avid backpacker or can't wait for the summer holidays, Montenegro will quickly become one of your favorite destinations on the Adriatic. Pack that sunscreen, learn a few Montenegrin phrases, and prepare to take many photos. Bon voyage!