The first associations to Greece, for the majority of people are beautiful, sandy beaches, clear, turquoise water, as well as sunsets that take everyone's breath away. Also, in Greece you will be utterly mesmerized by its glorious tropical nature. Summer is knocking on our door and it's right around the corner, we can hardly think of a better choice for a vacation than Greece. If you want to discover and learn more about this gorgeous country and where to find the best place for holiday, then just continue reading.
Best beaches in Greece
Crystal waters, picturesque villages, warm sand, pleasant climate and beautiful sights, those are just some of the wonderful things that vacation in Greece will bring you. Also, lovers of nudism and without bathing suits will be delighted by nudist beaches in Greece. So, as you can see, there is something for everyone's taste and pocket. There are many great facts about Greek beaches and the whole Greece is full of wonderful beach resorts.
Paradise beach
We can say with almost certainty that this popular, Greek beach is very much worthy of its name. A true paradise on the earth, that is what you will find when exploring this beautiful beach, so it is no wonder that it is one of the most popular ones out there. We would especially recommend this beach to young people who want to have some good fun and experience great parties. Having a great time here is guaranteed.
Here is couple a suggestions what to do while on Paradise beach:
Swim in gorgeous, clear and warm sea water
Go partying at night
Try out amazing fruit cocktails
Party really, really hard
Read a good summer book
Try the best greek beach drinks
Go scuba diving
Explore the sea world
Paradise beach is full of life, especially during the summer season. On this beach party life is like no other. Loud music, great dj, amazing drinks, wonderful and welcoming atmosphere, well what more could you possibly ask for? Go there, forget about the rest of the world and have a lot of fun!
How to get to Paradise beach
Paradise beach is easily the most famous one on the entire Mykonos, so it is really not that difficult to get there. It is located only 7 km south of Mykonos Town and we recommend you to catch a bus from the old port station named Chora. You will be on Paradise beach in no time. Another option is to reach the Chunnambar boat house and from there you can take a ferry and reach the beach from the sea side.
Valtos beach
Welcome to Parga! Parga looks like something painted on a postcard. The stunning seaside town, located in the west of Greece, is a home to many beautiful and popular beaches. One of those beaches is the gorgeous Valtos, a place so beautiful and unique that will leave you speechless.
What makes Parga different from other beaches? The answer is a 3km long coastline with beautiful sand and soft pebbles. It is a magnificent view and once you get there, you will truly understand why this is one of the most stunning beaches in the whole world. While being here, be sure to taste delicious Greeek seafood in the restaurant nearby.
This glorious beach is located really close to the town centre of Parga. You can even walk from there, because it is that close. Parga airport is called Corfu and is really well organised, so you won't have any problems navigating there. Also, you can get there using the bus. The bus journey time between Préveza and Valtos Beach is around 1h.
Kamari beach
The iconic Santorini, the place of immense beauty like no other. Many of us think about Santorini when somebody mentions Greece. There is a really good reason why Santorini is that famous. Many celebrities frequently go there to enjoy luxurious vacations surrounded by recognizable and authentic white houses with blue roofs. One of the most popular beaches there is definitely the marvellous and exquisite Kamari beach. This alluring place is the top spot for your perfect summer vacation and here are our recommendations what to do there:
Swim and relax in deep blee, warm water
Go to summer outdoor movie theater
Explore the vibrant and colorful sea world
Go scuba diving and snorkeling
Book a wine tour
Book a day trip and explore the entire island
How to get to Kamari beach
The best way to reach this popular beach is from Fira and then you can take another bus or taxi to get to Kamari. The distance between Kamari and Santorini Island is 4 km.The bust station is located on the port of Santorini. Also, you can use the ferry to reach this island from the seaside. Definitely, the best and quickest way to get from Fira to Kamari is to taxi which costs 25€ - 31€ and it takes less than 10 min.
Orange beach
Located on the wonderful Sithonia, this famous beach with an interesting name is the place to go and it's the most popular beach on the whole Sithonia. It is slightly difficult to approach, but it's also a true piece of paradise. The water is beautiful and warm and the color of it is pretty spectacular. Be aware that during the summer season, the crowds are quaranteed.
Sithonia is one of the most beautiful destinations you can choose for your vacation in Greece. Here, you will find not only this beautiful beach, but also several other, equally beautiful beaches. The water is an amazing blue color and our recommendation is to explore the sea world and the corals of Sithonia. In addition, the climate in Sithonia is extremely pleasant, and there are many places to stay. Hotels and apartments are mostly excellent and well equipped. Another advantage of the beautiful Sithonia is its beautiful, tropical nature that will leave you breathless.
St Paul's Bay
This small, but incredibly pretty beach is one of the sea gems and it's located on the equally stunning island of Rhodes. One of the most recognizable spots is the famous, white ortodox church with signature blue roof that can be found in the heart of St Paul's bay. This fantastic place is in the historic village of Lindos. That means that it is completely surrounded with rock and pebbles.
The only way to reach this tropical paradise is by boat. One of the most beautiful things is the clear, blue water that is always very pleasant and incredibly warm, and the air temperature can, sometimes, reach 39 °C during the hot summer days. We advise you to visit some of the fairytale looking cobbled streets that are lined with whitewashed houses. This sandy, rocky and coral place actually really looks like something that came straight out of your imagination.
Location of St Paul's Bay
This idyllic and tiny place is not that easy to reach. The best and quickest way is from Valletta. From there call a taxi and after approximately 17 min, you will reach St Paul's Bay. There is also a direct bus from Valletta and it is a cheaper option. The bus is departing from Pembroke. Nearest airports are Malta and Catania.
Little Banana nudist beach
Like we promised, Greece has it all and this glorious and iconic beach called Little Banana ( what afreat name) is the best nudist beach in Greece, and actually the only nudist beach located on the tropical and charming Skiathos. This beach is perfect for those who are free spirited, who are not afraid to get naked, and who do not want to have swimsuit lines. This beach is one of the loveliest beaches out there.
What is especially suitable for young boys is the large number of completely naked girls who walk relaxed on the beach and enjoy the perfect Greek sun. The beach is truly beautiful and the sunsets are something that will leave you mesmerized and stunned. That is how beautiful they are. What is more there to say, expect to get naked as fast as possible and enjoy!
How to get to Little Banana
This beach can be hard to reach, so privacy here is absolutely guaranteed. You can use bus stop 26 and from there just follow the steep road and turn right. You will see a barrier across the road, so just walk round it and go straight down. In a matter of a couple of minutes you will see a lot of naked people casually walking and swimming.
Elafonisi family beach
After the beaches that are ideal for fun, parties and nudist beaches, we finally came to the beach that is perfect for a real family vacation with children. Elafonisi beach is a perfect spot for the best family vacation. This gorgeous beach is perfect for unforgettable family vacations and it's located on the stunning island called Crete. Crete is a very popular tourist destination for a lot of good reasons.The nature is wild, green, tropical, the waters are incredibly blue and clean, almost clear so you can literally see right through them.
It's quite spacious and great for kids to play and run, and it's quite clean so you don't have to worry that your loved ones will catch some cold or bacteria in the water. This beach is a very safe and wonderful place for the entire family and here is everything that you should try out while being there:
Build a sandcastle with your kids
Send young ones into a treasure hunt
Play soccer or kickball
Take a long walk near the seaside
Have a wonderful family picnic
Best Greek islands
It is widely known that Greece is a country that has some of the most beautiful islands in the world. Authentic houses with blue roofs, winding streets, tropical plants, flowering trees, stunning sunsets, sandy beaches with beautiful and warm water and the best restaurants and cafes are just some of the rich and impressive tourist offers you will find on the Greek islands. Here is our list of the best and most popular Greek islands.
Santorini island
Santorini is arguably the most famous and popular Greek island. This gorgeous place is easily recognizable because of beautiful, small and very traditional and authentic white houses that are adorned with blue roofs and details. Santorini is full of colorful villages and breathtaking sunset, so it is no wonder that Santorini is on the top of our list. Here is what fun thing you can do while being there.
What to do in Santorini
Explore Fira city - Fira is not just the biggest city there, it's also the capital of this island. It is located on the west of Santorini, opposite the volcano and volcanic islands. There, social life is very exciting, people are very friendly and you will be able to enjoy not just the unbelievable sights, but also amazing restaurants, drinks and cafes.
Enjoy the mesmerizing sunsets - Sunsets in Santorini are like nowhere else, There is something quite special about those sunsets. Variety of warm and shiny colors falling from the sky. The sunsets are especially beautiful from a place called Oia.
Taste the wine - Greek people are also very famous for their incredible wine making skills. Greek wine is one of the best out there. So, while being in Santorini be sure to check out Santo's Winery.
See the ruins of Atlantis - Catastrophic volcanic eruption happened in Santorini and that caused one part of the island to completely disappear into the deep, blue ocean. That is how the iconic and famous legends of Atlantis were created and today you can see parts of this historical city.
Visit Santorini Volcano - For all those who love hiking, grab your best hiking shoes and go to Nea Kameni island. Volcano is currently asleep so you can be sure that eruption will not happen (or it might, but hope you are brave enough to take a shot)
Where to stay in Santorini
There are really a lot of great places to visit on this gorgeous island. Many luxurious and stunning hotels and villas with great service can be found here. Also, almost every accommodation comes with a swimming pool and restaurants with delicious and traditional food. So, basically whatever accommodation you choose, you probably won't have any regrets But, for the purposes of this text, here is our list of best hotels and accommodation places in Santorini:
Altemar Suites - If you choose Altemar Suites, then be sure to experience the best and most authentic spirit of Greece. Everything is decorated with blue and white colours. In the backyard you will even have a small jacuzzi tub with an amazing view. The price for this beauty is € 200.
Mythical Blue Luxury Suites - If you are looking for something luxurious you are in the right place, as the name of this apartment says, this gorgeous place offers a magnificent view of the panorama of Fire. Price € 418.
Milos Villas Hotel - We would especially recommend this accommodation for families with children because it is located in a very quiet and safe part of the island. Even the prices are affordable, so you can rent this apartment already for € 128.
Rhodes island
First let's write something about the rich and very long history of this glorious and incredibly fertile island. Rhodes island is quite famous for the Colossus of Rhodes, one of the seven magnificent wonders of our world. Medieval Old Town has been declared a World Heritage Site, for a very good and important reason. So, it is really no wonder that this island is one of the most popular ones and frequently visited ones as well. Sit, relax and let us take you through all the incredible things located on this stunning island. Hopefully, you will be able to see it in person soon enough.
Colossus of Rhodes
This one of the Seven Wonders of the Ancient World. We are talking about a massive statue of a man that was built around 280 B.C. This stunning statue is so magnificent that it is hard to imagine that it was created by man. It was designed by sculptor Chares of Lindos. There are many legends surrounding this historical statue. One of them is the story about Macedonian people taking money from Greek in order to bankroll the statue's creation.
Faliraki village
This beautiful Greek village is perfect for all those who love to party. Nightlife in this place is something to remember and never forget. Faliraki is the best party resort of the whole island with a long street full of amazing bars and popular clubs. Having a good time is guaranteed. So here are the most popular clubs in Faliraki village:
Bondi bar
Climax bar
Bliss Cocktail Bar
Cannon Bar
King Arthur Sports Bar
Mike's bar
Naxos Greece
If you're looking for an island with glorious, long sandy peaches with warm, clean and whitesand, then Naxos is the place for you. Our advice for you is to visit the capital Chora because that place is incredibly lively and full of amazing sights and locals. Long beaches, authentic villages, traditional Greek food and all those things can be easily found in Naxos and many tourists will love it.
What to do in Naxos
Go to the best beaches
Visit forest Alyko
Enjoy the Sunset from Portara
Explore the Chora
Go to Halki and Filoti village
Agia Anna Naxos
Many tourists who come to Naxos want to visit Agia Anna resorts. It is , also, one of the most frequantly visited places on this incredibly beautiful island. Agia Anna Resort is one of the most attractive resorts. Here you will find shallow waters, comfortable sun beds, small waves ideal for small kids to swim and be in the water, amazing bars with fruit cocktails and traditional Greek restaurants with tasty food. This resort is only 7 km away from Naxos town and you can access it by bus.
Cities in Greece
When it comes to Greece, many tourists think about the blue sea, sandy beaches and resorts, but let us not forget how Greece has some pretty incredible and historical cities that are full of wonderful museums, traditional restaurants and ancient Greek temples. Cities in Greece are vibrant and lively. They are fun places to visit and full of life, great music, fantastic food, luxurious shops, important sculptures and statues. So let's not go any further, these are the best and most popular Greece cities. If you are wondering what are other great cities for vacation, be sure to read blog about the best cities in Europe.
Capital of greece - Athens
Of course, we have to start with the capital of Greece, a glorious city named after the famous and iconic goddess of wisdom, the one and only Athena. History of Athens is something pretty incredible and spectacular. Actually, the capital of Greece is one of the oldest cities in the whole of Europe. Athens is 3000 years old and it is still fully inhabited. This makes the story of Athens very interesting.This magnificent city became the capital of Greece in 1834, following the Greek War of Independence.
What to visit in Athens
This is an enormous city full of life and many great places to see and explore. There is something for everyone's taste. If you are seeking to see some important monuments, ancient Greek sculptures, statues and historical buildings, temples and museums, all of that can be easily found in Athens. But, at the same time, this is an amazing place to experience great nightlife and party really hard, as well as enjoy shopping and beautiful, breathtaking sights. Here is our recommendation what to do in Greece:
Visit the Acropolis - One of the first things you simply must see when you come to Greece is definitely the iconic Acropolis, Athens' ancient citadel. Acropolis is located above the city and it has Classical landmarks that made Greece easily recognizable all over the world. It is one of the most important historical sights and a place many tourists rush to see.
Visit the Parthenon - Another huge symbol of the entire country is certainly gorgeous Parthenon, a place of Athenian democracy. Because of that this monumental place was dedicated to the goddess Athena and some of the Parthenon's famous sculptures were plundered.
National Archaeological Museum - This is one of the most visited places in Athens and one of the most important museums in the whole world. The permanent exhibition is one of the largest and richest in the whole world. From April 1st until October 31st the price of a ticket is 10€,from November until March it's only 5€.
Where to stay in Athens
Athens is a big and often crowded city with many different places to stay. Athens has pretty great accommodation, but it also has some affordable apartments where you can stay for small amounts of money. Plaka is arguably the place to stay in Athens. Basically, Athens has it all, and we are sure you will find what suits you the best. The price for a standard room is € 114.
Plaka Hotel - Hotel Plaka enjoys a prestigious location in the old town of Athens. The property is just a 5-minute walk from Syntagma Square and 2 blocks from Monastiraki Metro Station.
Central Athens Hotel - There are several amazing rooms in these luxurious and very popular hotels. Service is fast and pretty great too. We recommend this wonderful hotel to families with kids.
Grand Hyatt Athens - This luxurious hotel owns great contemporary art pieces, each room and suite have flat-screen TV, work desk and minibar. Each comprises a marble bathroom along with toiletries and hairdryer. A safe and a 24-hour room service are also included. The price is € 150 for a king room.
Athens location
Olympia Greece
This is an amazing place to visit so it's no wonder why Olympia is one of the most popular destinations for tourists in Greece. Olympia also has a rich history and many great sights and locations to visit. As a tourist here, you certainly won't be disappointed. Once upon a time Olympia was an ancient Greek sanctuary site that was dedicated to the most important Greek god, the famous and powerful Zeus. It's a four hour drive from Athens and it's amazing for modern tourists.
Olympia Greece history
Olympia was an old and incredibly valuable Greek sanctuary site dedicated to the worship of Zeus. Olympia is listed as a World Heritage Site. Olympia is a home of the ancient Olympic Games. Today Olympia has become one of the most important archaeological sites that has enormeus cultural significance.The Temple of Zeus was the biggest and most valuable building located there and one of the largest Doric temples in the whole Greece. It was built around 460 BCE by the famous architect Libon of Elis.
Where to stay in Olympia
Olympia is worth visiting because of the city's great historical and cultural importance. Olympia is the mecca of ancient Greek religion and it was one of the most important places where you could worship Greek gods. Because it's such a popular place for many tourists, accommodation there is quite good and affordable.
Mellia - For all those travel lovers who are also animal lovers, this place is amazing, not just because they are pet friendly, but also because the rooms are gorgeous. Everything is very clean, and you can feel the authentic greek atmosfere every step of the way.
Pension Poseidon - This fantastic pension is located in the heart of Ancient Olympia and it's very close to the famous Archeological Museum, so it's a really good place for tourists to stay.
Olympic Village Hotel & SPA - If you are looking for a luxurious vacation when in Olympia, our recommendation for you would be this beautiful four star hotel resort. While staying there be sure to check out the restaurant of this popularhotel, the food is delicihous and service great
Thessaloniki Greece
Thessaloniki is one of the most beautiful and popular cities in all of Greece. Over time, this place has become a true symbol of the whole country. If you want to feel the real Greek atmosphere and learn something about the Greek tradition, then Thessaloniki is definitely the right place for you. Thessaloniki is a city full of amazing and authentic architecture, a city that has a beautiful view of the endless blue sea and a city that is really full of attractions for tourists and a home to many important, historical sites.
White Tower of Thessaloniki
This is the most popular monument in this gorgeous and popular city. The trademark symbols of the whole Thessaloniki are connected deeply with the city's rich and long history. Today, the construction has become a very famous and unique museum. It has imennse influence on the cultural scene of Thessaloniki. We advise you to check it out as soon as possible, it is an ideal place for many tourists. Here some facts about this historical tower:
Today this place is an museum dedicated to the city and its people
It was built on top of the Byzantine fortification
It served as a fort
It was called the Lion Tower
The entrance ticket is around 3 Euros
It was destroyed and rebuilt again
Thessaloniki hotels
If you are looking for the perfect accommodation that will further complete your vacation, then you are in the right place, because Thessaloniki is the city that has the best hotels in the whole country. Greece has an incredibly well-developed tourism, so you can expect only the best service in Greek hotels. Most of them have a swimming pool and parking that come as part of the accommodation. The prices, of course, vary in relation to luxury and other benefits.
Electra Palace - We recommend this hotel because of its great location. It is located in the heart of Thessaloniki, on the famous and beautiful Aristotle Square. The price is around 180 euros for a classic double or twin room.
Hyatt Regency - If you are looking for a proven and safe luxury place to stay, then Hyatt is your right choice. The service is fast, efficient and great, and it's up to you to book and enjoy.
ZH Luxury Suites - if you do not want to stay in a hotel, then these apartments are something that would suit you. Apartments are often a bit more affordable option. They are located in a great location in Thessaloniki, close to many tourist sites.
Location of Thessaloniki
Greek Food
Is there anything more precious and tasteful than Mediterranean cuisines? Traditional Greek food is something to die for and when you are visiting Greece, you simply must taste their authentic and delicious specialties. This is a food worthy of Greek gods and we are not even exaggerating. So let's see what are the best Greek traditional meals.
Greek cuisine
Greek cuisine is created for all the true food lovers out there. Greeks traditionally use a lot of olive oil, vegetables, meats, herbs and grain. Their food is so amazing and delicious that it has become famous all around the world. In Greece, food is so important that it has become a huge and integral part of their culture. Here are some of the best Greek meals:
Traditional Greek Moussaka - layers and layers of lamb or beef meat intersected with warm and crispy potato and sliced eggplant, well it is even taster than it sounds
Greek Chicken Gyros - This traditional and arguably the most famous Greek meal is usually made from land or even chicken and it has many many great ingredients that you can choose
Greek souvlaki -Salt, herbs, paprika, garlic, sugar, olive oil and incredibly tasty, roasted meat that is cooked horizontally, it is one of the countries signature meals and the one you simply must try
Greeek cheese - The other name for delicious greek cheese is the iconic feta and it has been around for quite some time already. Feta is made from sheeps and goats milk and it is one of the finest cheeses out there.
Best Greek restaurants
With great food comes a lot of great restaurants. Going to restaurants on your vacation is something we all love and enjoy. Luckly, Greece really has a lot of wonderful restaurants to offer to their guests. Here are some that are the best and most popular ones:
Kostarelos Dairy - This is one of the best Greek restaurants in Athens. The reviews are excellent so you can expect only the best food and service here. Many claim that this is a great place for breakfast and the prices are quite good.
Scala Vinoteca - Another famous and pretty popular restaurant located in the capital of Greece. We recommend you to try their lamb meals, as well as their seafood, especially their shells.
Bandiera - This place has a good reputation, and many would say that here you can taste the best moussaka in the whole country. You can also choose many other great dishes. It's also a good meal for vegetarians and those who love their meals to be gluten free.
Kanoula - Food in this restaurant is excellent, as well as service. Mediterranean and Greek cuisune are both great, so you can pick many different dishes. It is located in Thessaloniki.
Greek culture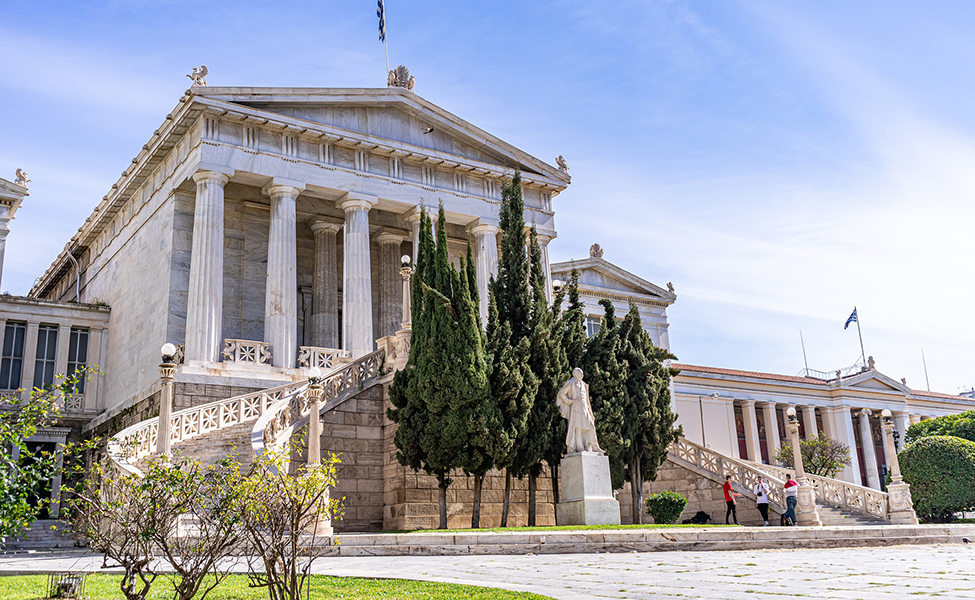 The culture of Greece has been constantly evolving for thousands of years, and it experienced its greatest revival in the famous Classical Greece. Many different cultures left their mark on rich and impressive Greel culture, but Byzantium and the Roman Empire left the most influence. Greece is a cradle of a once rich and advanced civilization. Democracy was born there and some of the greatest philosophers and teachers came from ancient Greece.
Hellenic culture
Ancient Greek and Hellenic culture are best known for its impressive temples that were constructed in honor of the Greek gods. In addition to the magnificent temples that were composed from a series of Doric and Ionic marble-white pillars, ancient Greece was also known for its theaters. In addition to the incredible temples that will certainly leave you breathless with their size and imposing appearance, ancient Greece was also full of incredible art pieces, especcialy paintings.
These are some of the most valuable and famous artworks from Hellenic culture:
Pergamon - this is a typical example of Hellenistic architecture. It is located on the Acropolis. Here you will be able to see a signature masterpiece of Greek sculpture known as of the twelve gods.
Roman and Greek sculptures - there are many statues throughout Greece that date from this period. They are recognizable by their amazing details. Usually they were made out of bronze and marble.
The Orator - a life-size glorious bronze statue of a man named Aule Metele
Head of a Roman Patrician - another monumental statue from the 1st century B.C.E.
Augustus from Prima Porta - this magnificent statue is one of the finest Greek sculptures and it's dedicated to Augustus, the first emperor of Rome. Statue is a real work of art created by the Greek sculptor Polykeitos.
Hellenistic Prince - this famous and iconic statue was constructed in the 2nd century BC and it is made entirely out of bronze. Nobody knows who the person pictured is, but that mystery just adds to the legend and value of the status.
Greek traditions
Once upon a time, the Greeks were true pagans who firmly believed in several powerful gods, headed by the supreme god Zeus. According to ancient tradition and many legends, the Greeks believed that their gods were on Olympus.From there, the gods ruthlessly ruled over mortals and influenced the lives of Greek people. Much depended only on the will of the gods, so that many works of Greek culture and tradition were created precisely in honor of the gods and in order for people to please them as much as possible.
Greek history and culture are so strong that many religious customs have been transferred to modern Greece, so that today many customs and traditions in Greece are of religious nature. Here are some of the funny and unusual Geek customs:
Name day - in Greece the names are very respected and celebrated
Greek spitting - many Greeks do this to ward off a spell
Plate smashing - they say that a party is not good if there is none plate smashing out there
Saints' Day Celebrations - Greek people simply love to celebrate their gods and saints. The celebrations include a lot of food, drinks, as well as traditonal Greek music.
We hope you enjoyed reading about the charms and wonderful places of Greece. This text should introduce you to at least a little bit of rich Greek culture and tradition, as well as provide you with some good suggestions and popular places for your ideal Greek vacation. If you are interested in other countries for travel, such as Italy, don't worry, we have a blog about that as well. It is called 10 reasons why to visit Italy, check it out.