Are you planning a trip to Italy? There are a lot of amazing travel blogs that can give some useful tips, but this blog will try to give you a real taste of true Italian spirit, culture and centuries long tradition. Continue reading and you will discover, not just some valuable information that every tourist needs to know, but also some hiddens gems about the best Italian places, beaches, food and accommodation. So, Italy is worth visiting because of:
Italian beaches
Italy is a must-visit country for many great reasons. One of them is definitely gorgeous and stunning Italian beaches. A true peace of paradise for every passionate travel lover. Warm, clear waters, sunny and sandy beaches and glorious tropical plants are part of a true beachy, Italian adventure.
Beaches in Rome
Of course, the capital city of Italy needs to come first. Rome truly has a lot to offer to anyone, no matter the age. When in Rome, it can be a bit difficult and tricky to decide what to do and where to go first, but visiting some of the most beautiful Rome beaches is always a good idea for any curious tourist.
Sperlonga-This mesmerizing beach town is located in the south of Rome and it can be easily reached by car or any public transport, which makes it accessible for almost any beach lover out there. Sperlonga is a really special little town with several stunning beaches to explore. Warm sand, crystal water, beautiful surroundings and whitewashed beach houses are some of the things you can expect if you decide to come to the gorgeous Sperlonga.
Lido di Ostia- One of the advantages of this beach is its closeness to Rome, although if we are being honest, this beach is probably not the most beautiful one out there. Nevertheless, Lido di Ostia is an ideal beach for anyone who is staying in Rome and is looking for some peace and quiet time near the seaside. It is only a 30 minutes drive, sometimes even less than that, from Rome train station to Lido di Ostia station.
Sabaudia- Another gorgeous coastline town, just an hour and a half from the Italian capital. Some of Rome's finest and most glorious beaches are located in Sabaudia, the famous town founded by none other than Mussolini himslef. This stunning beach town is famous for its sandy beaches and wonderful landscapes. Great parties and tasteful cocktails are just part of the generous offer as well. If you want to drive there, take the main road from Portoferraio to Enfola and after about 4,5 km you'll see the pedestrian path on your right and the sign for the beach.
Exotic beaches
taly is a simply gorgeous country with many unique and exotic places to explore. So here is our pick for the most exotic places:
Spiaggia Rosa - Spiaggia Rosa or better known as the Pink beach is a world wide famous exotic beach for a truly good and unique reason: it's blush pink sand. This incredibly special beach is something that everyone needs to see from first hand. We can not even begin to properly describe all the beauty you will find here. It looks like something magical, like something that can't really exist in a real world. The brilliant pink color comes from a concoction of crushed fossils, crystals and a lot of red corals.The only way to reach the secret pink beach is by boat and organized tour.
Sansone Beach, Tuscany - Located on the breathtakingly stunning Island of Elba this white pebble beach is on the top of our list when it comes to exotic beaches in Italy. If you are looking for some privacy and quiet, this bich is the place to go. Sea is usually very warm and calm, and the color can vary from deep blue to bright turquoise. Here, you will see a lot of rocks and grottos as well as beautiful landscapes and a view to die for.
Chia Baia, Sardinia - This is a marvelous place to enjoy a perfect, summer vacation in Italy. Gorgeous scenery and great weather make this beach an ideal place to go.The coast line is beautiful and sunrises are simply breathtaking. For tourists who love sport, there are several interesting golf courses to be found around this area. This beach looks almost the same as many great beaches in Maldives, but it's a more affordable one.
Capri beaches
The island of Capri in Italy is famous for its jaw-dropping beauty and paradise-like beaches, wild vegetation and a great deal of famous people who come there regularly. It is really hard to choose what are the most beautiful capri beaches, but at least we tried, so here we go:
Marina Grande - Arguably, this is the most famous and popular beach on the gorgeous Capri. This beach can be reached from the sea side and its located near Capri main harbor, but tourists may use a taxi or train station. Lacy waves, fresh oceanic air and sun-kissed branches are some of the wonderful things this beach has to offer.
Faraglioni beach - This beach is almost equally popular as the famous Marina Grande for several good reasons. Some of them are: clear turquoise water, the sea that sparkles like shiny diamonds, emerald green vegetation as well as colorful corals and flowers. If you are a member of The beach club you can expect expensive cocktails and best seafood served just for you.
The blue cave - When it comes to special and unique places our honest recommendation is to visit this interesting place where the sea pours its blue waters into an enormous cave. The access is possible only when tides are low and one of the best attractions is glorious green light inside the cave.
Italian food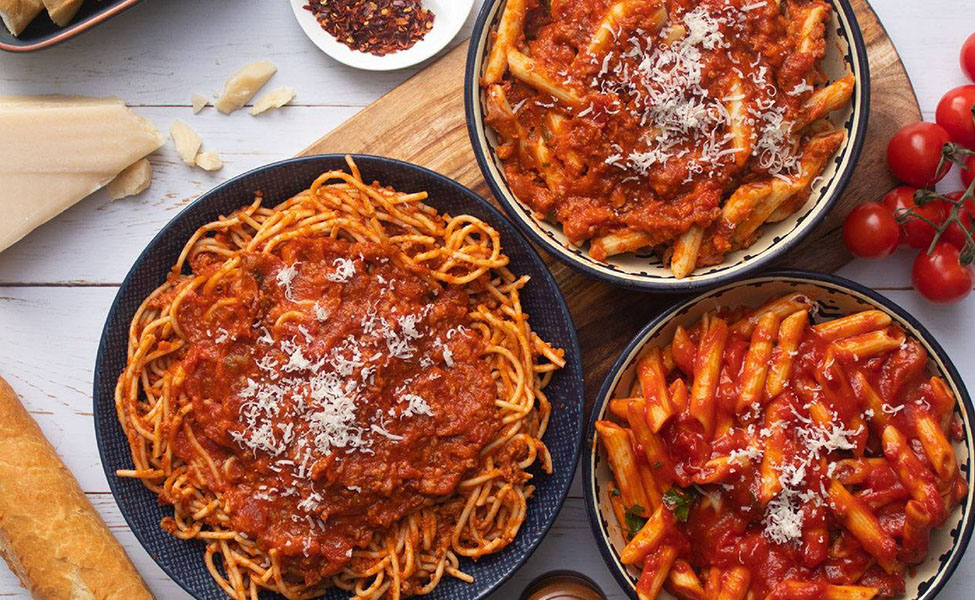 Italy is a country famous not only for its glorious landscapes, rich history and vibrant culture, but also for the Italian divine food that is a perfect fit for everyone. Italian food is one of the many reasons why such a huge number of tourists come to Italy every year.
Italian cuisine
Well, let's write about what many would clame to be the best and delicious cuisine in the whole world. It can be exceptionally hard to find someone who dislikes tasteful italian dishes. Italian cuisine truly has many yummy specialties that taste great and are perfect to consume with Italian red vine. We are describing the food that will have you smacking your lips and asking always for more. Italy was the first country in the world where you could enjoy eating slices of pizza and spaghetti bologneze.
Bono Bottega Nostrana - Located in Rome, in the Via di Porta Cavalleggeri street
Angelo's Italian Market - Located in Venice, in the 850 Pinebrook street
Culinaria Bistro - Located in Florence, in the Piazza di Cestello
Piazza di Cestello - Located in Verona, in the Cieco S. Pietro Incarnario
Napoli pizza
The most delicious pizza on the earth. This blog will bring you back in time, in the times where the first slice of pizza was created, in the iconic Naples. Neapolitan pizza is a very famous and traditional style of pizza that is made with fresh tomatoes and stretchy mozzarella cheese. Neapolitan pizza has a very thin crust at the base and a very crispy top crust at the same time. We singled out some of the best pizza restaurants in Naples, the true home of pizza:
Pizzeria Da Attilio - Here you will be able to taste the best slices of yummy Napoli pizza. The pizza is excellent, but the crowds are big. Located in Via Pignasecca.
Pizzeria Napoli In Bocca - Fast and friendly service and big portions are guaranteed here. Address: Via San Carlo street.
Antica Pizzeria Port'Alba - The food is good and quick, the service is great and the location is Via Port'Alba.
Italian pasta
Last, but certainly not the least, we have come to traditional Italian pasta. The true essence of Italian cooking is simplicity, fresh, seasonal ingredients and that is precisley how the first Italian pasta has been created. This pasta can come in several shapes and forms, but one thing is sure, it always tastes good. You can find many great recipes with a lot of different flavours and ingredients, so the creativity is something you need to have when it comes to preparing the perfect Italian pasta. We found some pretty interesting pasta recipes for you to try:
Italian sausage ragu with rag pasta - Ragu is a hot and savory meat-based tomato sauce with cheese and parsley. Combine that with traditional pasta and you won't be able to resist.
Italian tuna pasta - This pasta is easy to make and it tastes divine. It is made with the best olive oil, spicy garlic and fresh, flaky textured tuna.
Italian bolognese - Of course the most famous and still the most popular pasta is the original bolognese. If you come to Italy, this pasta is something you simply have to try.
Cities in Italy
It is safe to say that Italy has some of the most beautiful and special, fairytale looking cities in the world. No matter what Italian city you decide to visit, in every one of them you will find incredible street art as well as crooked and hidden alleys with stunning architecture in them. Italian cities simply absorb the emotions around them and are almost always filled with varaity of sounds, from bicycle wheels to classic, loud Italian chattering.
Venice Italy
Venice or also known as the City of Canals is, many would say, the most popular and visited city in the entire Italy. When you say Italy, it is safe to assume that Venice is one of the first things that come to your mind.
Venice bridges- Venice is well known for its many bridges. There are 417 bridges in total in this stunning city, and 72 of those are private. Rialto Bridge is the main one. This stone-arch bridge crosses over the Grand Canal, located in the heart of Venice. It is an incredible piece of classic italian architecture and one of the most beautiful bridges in the world. So, it is no wonder that this bridge has become one of the most beloved and famous symbols of Venice.
Venice carnival- Arguably,the most popular and known manifestation in Venice is, of course, the famous Venice carneval. Carnevale di Venezia is an annual festival held in Venice. Elaborate masks are a huge and important part of this colorful and cheerful occasion. This is a truly spectacular carnival and many events take place in the centre, on the iconic St. Mark's Square. Also, it is a very joeful occasion because the Venice Carnival began in 1162 in celebration of the Venice Republic's victory over its enemy.
Venice hotels- For anyone who comes to Venice, one of the things you first need to take care of is the accommodation. Luckily, Venice really has a lot of great hotels. The price can differ, so you will be able to find something that suits just you and your pocket. Here, we will give you the names of some best and luxurious Venecian hotels where the service is great and the accommodation is perfect for everyone: NH Venezia Rio Novo, Splendid Venice, Hotel Tre Archi and Palazzo Veneziano.
Rome Italy
The capital of Italy is always full of attractions and fun things to do or explore. Attractions in Rome gathers millions of people every year and this is a perfect city to go on romantic vacation with your loved one.
The Colosseum- This ancient amphitheatre is one of the most recognizable symbols of Rome that was built in the old Roman Empire. The Colosseum was the place where thousands of hand-to-hand combats between gladiators regularly happened. This iconic place was the emperor's gift to the Roman people. Back in the day it was a stunning piece of architecture that represented power and influence of the Roman Empire. The Colosseum Tickets for adults cost 12 euros, and be sure to wait in the line to get it.
The Trevi Fountain- If you go to Rome, you go to the Trevi fountain as well. It is simple as that. This gorgeous fountain is a breathtakingly beautiful and stunning architecture masterpiece. We can't find a proper word to describe its full beauty and glory. Rome is famous for its many great fountains, but this one definitely stands out from all the rest. Also the Trevi is very significant for Rome because it was one of the oldest water sources in Rome. The fountain is charitable, so when you are here be sure to make a wish and toss a coin.
The Roman Pantheon- When it comes to ancient Rome, another very important and very popular building for many tourists, is the iconic Roman Pantheon, the most influential building in the old Rome. The inscription on the Pantheon translates to: Marcus Agrippa, the son of Lucius, three times consul, built this. Great thing about this historical place is that you can go inside and visit it for fre and it requires no tickets to enter.
Naples Italy
Another very popular and frequently visited city in Italy is the beloved Naples, the hometown of best pizza in the world. But besides that Naples has a lot to offer to its guests. Stunning landscapes, incredible architecture and gorgeous architecture are all wonderful things to see in this historical and beautiful city.
Royal Palace of Naples- If you are wondering what to see in this city, our recommendation is to go and admire this modern, large and beautifully decorated royal palace. Naples' Royal Palace is a stellar reminder of this city's royal history. Visitors can enter inside the palace walls and the first thing you will see is the luxurious staircase that leads to royal apartments decorated by famous architect Gaetano Genovese.
Province of Naples- Naples is the regional capital of Campania and the third-largest city of Italy. Surroundings of this gorgeous city are equally special and beautiful as much as the town centre. We highly advise you to explore the gorgeous province of Naples. Here, you will be able to discover vibrant and rich Italian culture at its best. This province is a real natural treasure filled with important history and valuable art.
Naples Pompei- Famous and iconic old city Pompei with tragic outcome has become one of the greatest and most visited archaeological places in Italy. Although this once gorgeous and advanced city was enormously destroyed in a horrid volcanic eruption, some very significant pieces of old roman culture and architecture have been saved and restored.
Italian culture
Italy has a really rich history, tradition and vibrint culture. It is mainly associated with stunning art, great music and delicious food. The Roman Empire was a major center of valuable renaissance art. This country is largely famous for its huge contributions to art, fashion, opera, literature and architecture.
Italian Renaissance art
The term Renaissance, which means rebirth in French, was a literal rebirth of Classical values in art and literature.In order to restore these lost and noble ideas, it was more than necessary for art to develop and to make an important step toward much needed progress. That is how the true beauty of Renaissance art was born in its full glory. There are several key elements of this type of art: naturalism, humanism, perspective drawing are among them. Renaissance art has created one of the world most beautiful and significant pieces of art that will always be deeply cherished, here we mentioned some of the most valuable ones:
The Last Supper - This iconic painting, created by none other than the great Leonardo da Vinci, is definitely one of the most important renaissance art paintings ever.The Last Supper is the final meal that Jesus shared with his apostles in Jerusalem. Today, this picture hangs proudly in the Dominican convent in Milan, called Santa Maria delle Grazie.
David of Michelangelo- David is a masterpiece of Renaissance sculpture, created in marble between 1501 and 1504 by the Italian artist Michelangelo. I saw the angel in the marble and carved it until I set it free... those were the exact words of one and only Michelangelo when he tried to explain his glorious statue. You can see this one of a kind piece of art in Accademia Gallery in Florence.
The Birth of Venus- The story behind this stunning Renaissance picture is that the beautiful goddess Venus was born as a fully-grown woman. Venus represents the most perfect version of a woman that can exist in this world. This notable and deeply meaningful picture was created by the Italian artist Sandro Botticelli, and today you can see it in The Uffizi, located in the centre of Florence.
Italian museums
Italian museums are, many would agree, the most significant and valuable ones in the whole world. There, hidden behind stunning museums walls is a true art. We offer you some of the most important and famous museums with artistic, cultural, historical, or scientific importance.
The Uffizi- It is famous worldwide for its outstanding collections of ancient and incredibly valuable sculptures and paintings. The permanent exhibition is enormous and it conatins art from the Middle Age to the present. Most valuable pieces of art:The Birth of Venus, Medusa, Woman with a Veil. Address and price tickets: Piazzale degli Uffizi Florence, €10–16
Egyptian Museum- Old mummies, golden sarcophagus, ancient hieroglyphics and old mythological drawings are just part of the rich offer that the Museo Egizio offers its guests. Collections: Egyptian art and artifactsAddress and price tickets: Via Accademia delle Scienze, € 8,50
Accademia Gallery- This gorgeous museum is equally glorious inside and outside and is famous for various reasons, but the main one is the otherworldly Statue of David. Here you will be able to discover impressive works of art and another perk is that it's usually not crowded.Art and sculptures: Michelangelo's David. Address and price tickets: Via Ricasoli, 58/60, 50129 Florence, €2–8
Italian music
Italian music as well as Italian food, are also pieces of true art in its honest and most authentic form. Many of Italian musical terms can be found in English and in many other languages:adagio,allegro, adagioare just some of them. The unique melody and merging of beautiful sounds make Italian music famous and special all over the world. When it comes to music Italy has an incredibly important contribution to opera.Florence and Mantua was the first opera that was performed at the wedding of Henry IV of France in 1600.
Italian songs-Dynamic, exotic, with a strong message and high notes, Italian music, as well as the language itself are a strong expression of the culture and mentality of the whole country. We have found some wonderful Italian songs for you: Paolo Conte Via Con Me,Claudio Villa Ti voglio tanto bene, Eros Ramazzotti Cose della vita and many more.
Italian opera- Italian opera is both the art of opera in Italy and opera in the Italian language. Perhaps, it's one of the most famous symbols of Italy. Many great Italian operas are frequently performed all over the world, so it is safe to say that Italy is the cradle of opera. This art form has its origins in the wonderful Florence, a home to many mesmerising works of art. Opera comes in many shapes and forms, but dance, dramatic music, lights, spectacular costumes and stunning vocals are always part of any good opera scenario. Madama Butterfly, Tosca, The Marriage of Figaro are worldwide famous Italian operas. We highly recommend you to hear it and watch it.
Italian composers- Many great and talented composers have come from the heart of Italy. Italian composers and musicians have created some of the world's masterpieces and some of their greatest works can be found in renaissance, baroque and classical music as well as opera comic. Rossini, Vivaldi, Bellini, Puccini are best known composers in Italy and their significant influence and contribution for music is felt and appreciated even in today's modern world.
Shopping in Italy
The land of incredible art, delicious food, great music, rich culture and the land of most glamorous fashion brands. Italy has it all, and Italian fashion is a huge part of that. Wonderful clothes and high fashion have always been something to look forward to when coming to Italy, and seeing beautifully put together women, as well as men, in the crowded Italian street, dressed impeccably is definitely something that many of us have in mind when daydreaming about this gorgeous country.
Fashion week
Fashion week is a glamorous and pretty spectacular, annual fashion show that gathers thousands and thousands of famous designers, models and fashion gurus from all around the world.This fascinating manifestation is happening in the Italian heart of fashion, the one and only Milan city. Fashion week is an important part of Italian clothing industry and it is the most prestigious event. Milan fashion show always includes over 40 enchanting fashion shows for all four seasons:
Spring season - This season has incredibly fresh, colorful fashion with a great variety of different textiles and flower prints. Jewelry, bags and shoes are a huge part of that spectacular fashion picture. Many old, but iconic fashion trends made their comeback, and one of them is definitely the famous disco collar, bright green color of dresses in classic sixties cut and short, hot pants.
Summer season - Summer fashion show is tightly connected with spring one. Vibrant colors, striking prints , impeccable tailoring and ageless elegance are Italian signature styles when it comes to the hot, summer season. This summer season the runways ruled sleek leather jackets and gorgeous jumpsuits.
Winter/ autumn season - Events for colder days in the year are always scheduled to happen in February or March each year. From the biggest trends to the most covetable collections, this fashion show has a lot of different fashionable things and pieces to offer. Every important fashion brand tries to create something special and unique each year. Here fashion is something like art, it requires a lot of effort, creativity and diverse ideas.
Milan shopping
Millions of tourists come to Italy every year especially for long shopping trips. The city of fashion, Milan, is the first place to go when it comes to shopping frees and famous fashion brands. The prices are diverse, but you can still find something just for your taste and pocket. Also, many discounts can be found in a great deal of shops. The quadrilatero della moda is formed by Milan's most elegant shopping streets, so here is out list of best shopping malls in Milan:
CityLife Shopping District - Milan is too good for shopping, so that is certainly something you can't miss out and coming to this shopping centre will give you the best shopping experience ever. It is located in the most fashionable part of the city that is packed with boutiques and brands. Piazza Tre Torri is the exact address.
Galleria Vittorio Emanuele II - This shopping mall is not just great and the oldest shopping centre with the best brand and boutiques, but it's also a major landmark of Italy and it proudly wears the name of the first king of the Kingdom of Italy. This building is enormous and spectacular both inside and outside. Some of the best Italian brands can be found here.
Quadrilatero d'Oro - It is located in a very stylish street with beautiful shops across the entire street. Address of this glamorous shopping centre is in the very heart of Milan, in calm and high end surroundings. Many beautiful, historical buildings are near and they create a fantastic atmosphere for all the shopping tourist outhere.-
Italian clothing
Finally, we have come to high end and most luxurious Italian brands that have an important place in the world of fashion. Italian clothing is often impeccable, colorful, diverse and vibrant. Just as the Italian mentality is passionate and lively, so is the Italian clothing. There is strong and intertwined harmony with their character, mentality and their way of dressing up. Armani, Attico, Dolce & Gabbana, Marta Ferri, Missoni, Moschino, Prada, Versace and many others are some of the most popular and famous fashion brands that come from Italy. However, these 3 are the most popular ones:
Armani - Finest Italian clothing, shoes and many fashion and lifestyle items are synonyms for the Armani. It is founded by the famous Giorgio Armani and today is still the most popular Italian fashion brand in the world. Not just the clothing, Armani is famous for its shoes, watches, jewelry, accessories, eyewear, cosmetics and home interiors.
Dolce & Gabbana - This iconic fashion brand is considered to be the inventor of Mediterranean style that is famous for their leopard and animal prints, as well as sensual and very elegant, feminine woman clothing. This is one of the fashion industry's most prominent labels with a very unique design and powerful aesthetic. They have a contemporary, yet classic take pm man and woman fashion which make them pretty amazing and special.
Prada - It can be a bit tricky to properly explain this gorgeous and memorable clothing brand. Prada fashion can be, at the same time, classic and pretty eccentric. It is a very unique style that made them famous in the entire world. There is a lot of traditional Italian infulence when it comes to Prada designs, but still those clothing lines always have a contemporary touch as well. Of course, as all Italian clothing brands, Pradas clothes and accessories are from high quality material that are timeless.
Italy, that gorgeous and stunning country located in south-central Europe, is a truly remarkable place to visit. So many mesmerizing locations, and so much beauty to take in...It is incredibly hard to decide what to do and where to go first. This is a land of opera music, authentic hand gestures, designer clothes, pasta and pizza, so if it sounds too good to be true we can completely understand, but please go and explore all her beauty from first hand.