After the stress of wedding planning is finally behind you, a big sigh of relief can be heard from all you newlyweds. This new chapter of your lives should be as sweet as honey, and there isn't a better way to test the marriage waters than traveling together. Whether you're a thrill-seeker and want to incorporate that into your honeymoon, or cooking classes are more your speed, we got you. From glistening beaches to luxurious villas, here's a little sneak peek of our favorite honeymoon spots:
Honeymoon in Europe
The charm of the old lady Europe is undeniable, and its countries are like a unique catalog of romance to choose your destination from. You like the urban jungles, skyscrapers, fancy restaurants, and a beach here and there? Visit the western European countries for your honeymoon. Vacation in the countryside, or maybe winter adventures to test your limits as a couple? Scandinavia and the UK await you! From luxurious accommodations to budget-friendly activities, let's have a look at some of the best honeymoon destinations in Europe.
Santorini honeymoon
Living out your Mamma mia fantasy is just around the corner if you choose Greece as your honeymoon destination. The whole country is filled with spots that look like a postcard, but a white jewel nicknamed the wine island should be your priority. Located on the southern side of the Aegean sea, Santorini is home to more than 450 churches of all shapes and sizes, and it welcomes around 2 million tourists every year. You may have to fight for your sunset-watching spot (you can do it!). Besides being known as one of Brangelina's former favorite holiday spots, it stands out for its Cycladic architecture. Whitestone houses standing on contrasting red hills, the smell of wine and saganaki, and charming accommodations are oozing with romance. However, one thing that only Santorini can offer you is the unique colored beaches.
Honeymoon on Santorini beaches
To visit all of them or most of them at least, consider renting a car, moped, or go on fun ferry rides. Thanks to the volcanic nature of the Santorini grounds, beaches are blessed with a wide array of colors that stand out. Keep in mind that Santorini is a trendy honeymoon destination, and it also attracts influencers and big families. That means meeting new friends is a possibility, but having privacy in the most iconic spots may not be in the cards for you. The beaches we stan and recommend you visit are:
Black Sand Beach: Perissa is one of the longest beaches in Santorini, located at the bottom of Mesa Vuono mountain. A combination of deep black sand and clear blue water is something you need in your life, like asap. Enjoy the beauty on the lounging chairs, hide from the sun with big umbrellas, take a sip of Uzo in the beachfront bars or hire a masseuse to relax your muscles after all the swimming. This beach is perfect for a budget-friendly honeymoon experience, and the pictures you're going to take there will be divine.
Red Beach: Santorini Red Beach in the town of Akrotiri is a Greece staple. Because of its unique location where massive red cliffs hide the beach, it stays unvisited by many after the realization of having to go through a sketchy terrain to reach the bottom sets. Please don't give up, you two; we believe in you! You have to be careful and aware of possible rocks falling on the beach, so choose your sunbathing spot wisely. The redness and almost copper tones are noticeable in the sand and on the cliffs around the whole coast.
White beach: These two are neighbors; you can get to it by walking from the Red Beach or boat. If private beach moments are a priority to you, there isn't a better choice. Reaching the coast can be a great adventure on its own, as you can go on a catamaran ride in search of Greece's sea life. You'll get to enjoy the black pebbles scattered around the beach and bathe in the clear, warm, and clean sea.
Venice for honeymoon
Truman Capote thought Venice was "like eating an entire box of chocolate liqueurs in one go", and we couldn't agree more. You'll have the rest of your life to spend time with your partner, but Venice may sink in our lifetime. Venice gets high honeymoon points with that in mind and the undeniable charm that it radiates. It may seem small, but it is packed with romantic activities and instagramable spots. Following the steps of Casanova himself, Venice is the spot to be for couples looking to indulge in the hedonistic Italian wonders. Whether you decide to spend your time exploring the local architecture, art, and cuisine, or you plan to visit as many local islands as possible, your romantic dates will be *chef's kiss*.
Romantic things to do in Venice
Picture this - Canalside dinner, the best possible seafood pasta you've always wanted to try together, it's getting dark, and you plan on dancing in the middle of the St. Mark's square on your way to the cutest little villa that you're renting. We are a little jealous, not gonna lie. You'll know best what type of romance suits you, but here are some of our picks to spice up your trip:
Gondola ride: The most romantic water transportation method can't be missed; just note that it can be a bit expensive. Venetian canals tell Venice's story of old, where beautifully decorated wooden gondolas take you on a 30-60 minute ride throughout the places you won't believe are real. Be ready to pay $80 if you wish to go on a ride during the day or $100 for a sunset ride. Pretty much all around Venice, you'll be able to find "stazi", or gondola stations, but your best chances will be around St. Mark's square. We recommend you find a songful gondolier, a mellow voice that serenades you with That's Amore is a must!
Crafts in Venice - Island Murano is known worldwide for its glass, as it has some of the best glassblowing artists and factories. You can go on a tour of the facilities, witness the process and glassblowing demonstrations and even pick or make a unique souvenir. If carnivals are more your thing, enroll in a mask-making class. You can either learn the old technique of making masks in a production class, release your creativity in decoration class or combine the two. And, a nice cherry on top of a romantic day can be a pasta-making class with the masters of cooking. Learn the secrets of Italian nonnas to take home and relive your Venetian dream honeymoon in a bite.
A romantic visit to Burano and Torcello - A colorful Venetian island has flown under the radar for many years, and slowly but surely, it is now becoming a regular of every visit to Venice. Burano is situated in the northern end of the Venetian lagoon; it is home to about 2.400 people that live in brightly colored homes. Most of those people are fishermen, and they paint their houses regularly to keep the colors vibrant. Early morning walk through the narrow streets and over 4 Burano bridges will be your most peaceful time, trust us. For the taste of history, head out to Torcello, where you'll find 11th-century churches decorated with the most incredible mosaics.
Honeymoon in Madrid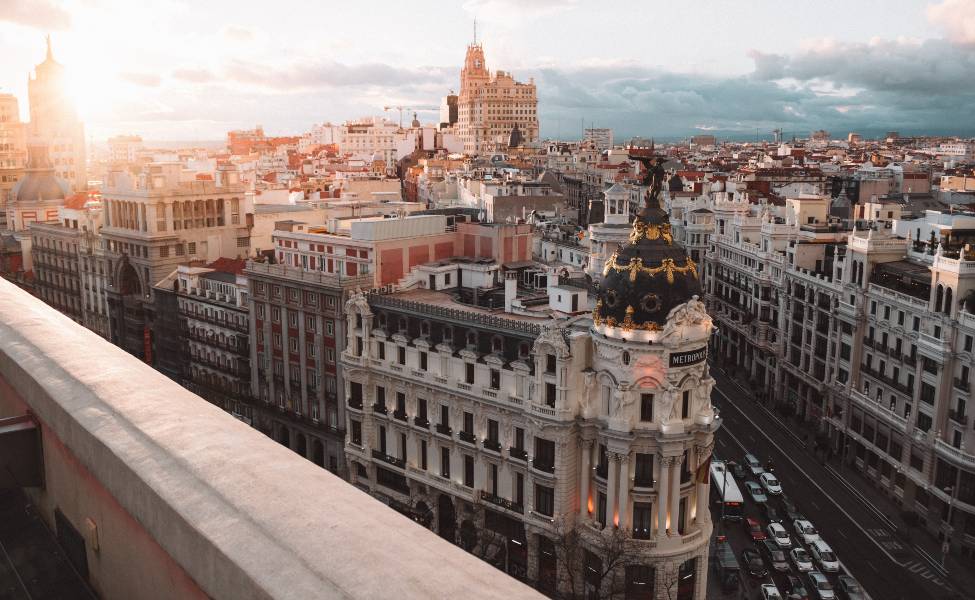 There's a big chance you'll catch some Sun in Madrid whenever you go, as Spain's capital is blessed with around 300 days of sunshine every year! When you decide to spend your honeymoon in a city that has a statue of a bear and a strawberry tree as its coat of arms, the cuteness just continues. You two will especially enjoy Madrid if you're football fans, where Real Madrid's temple Santiago Bernabeu eagerly awaits you. A more, or less, depending on how you view things, romantic touch to your trip can be a visit to Retiro Park. Strolling the gardens, sightseeing the impressive 19th-century palace, or rowing a boat at the Estanque del Retiro lake is unique. But, if you want to experience the culture, feel like a local, and spice up your love life, immerse yourself in Spanish food. Here's what we have in mind:
Cooking classes in Madrid: How are your cooking skills? Be ready to test them out and bond over a stove as you learn to make Spanish classics, like paellas. You can go to a private and more intimate cooking class or take one in a larger group, and they usually last around 3 hours.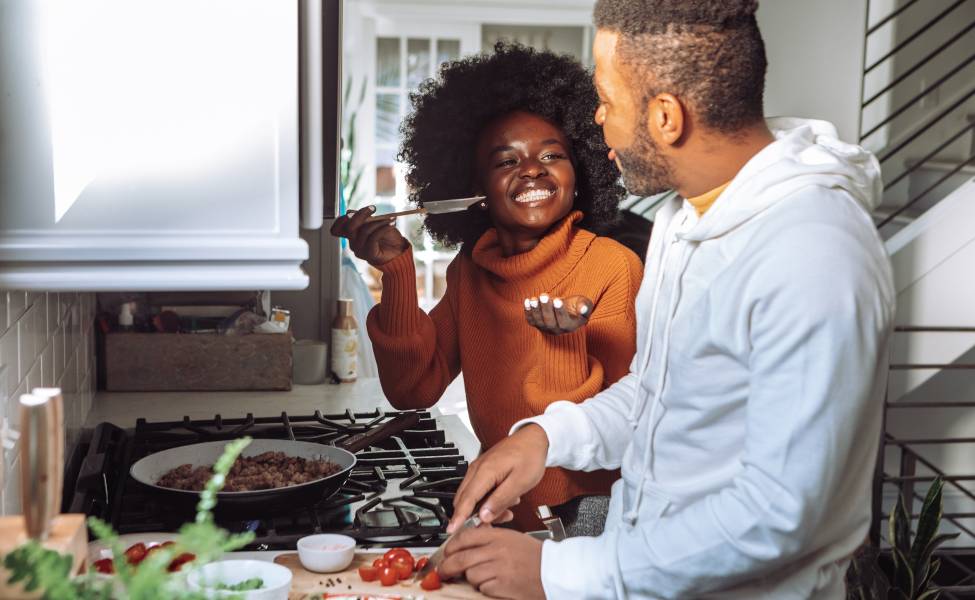 Wine and tapas tasting tours: Walking around the historical parts of Madrid and tasting the best ham and wine that Spain has to offer? Yes, please! For 80 euros, you'll get to visit a couple of well-established restaurants and taverns, try the most expensive ham in the world, taste world-famous Spanish wines and experience the authentic atmosphere of Madrid. Don't worry about big crowds; these types of tours usually consist of no more than 12 people, putting your sense of privacy and enjoyment first. A little tip, don't go ham on the very first tavern, there are three more to go.
Istanbul honeymoon
There isn't a better place in the world to go on a tea date, sorry London. A town that stands on two continents represents the harmony we should all strive to have in our marriages, so take notes. It may feel overcrowded, but you'll still feel relaxed while visiting its many romantic corners. There's something special about Turkish baths which we highly recommend you check out together. The bliss of hammam rituals that finish with full-body massages will leave you feeling like new people. But, the best way to incorporate Bosphorus in your honeymoon experience and make it that much special is to go on a Bosphorus Cruise Tour; these cruises are the best during early Summer. There are many to choose from, and we've found the most romantic ones.
Private Bosphorus tour: Renting a yacht and enjoying each other's company while having Istanbul as a backdrop? That ranks high on our honeymoon chart! Another great thing about them is choosing the time of the day you're going to sail. That means that romantic candlelit dinner in the sunset on a boat in Turkey can be checked off your bucket list. Be ready to spend at least 300 euros tho, we promise it's worth it. For years now, the company Zoe Yacht has remained the most reliable.
Short or full Bosphorus cruise: If you want to spend more time exploring the land, a 2-hour tour takes you from Eminönü to Istinye for less than a euro. It's a great tourist activity, especially if you love big crowds. There's also a more extended moonlight cruise that starts at 10:30 pm and is truly magical. But, for this one, you'll have to schedule your honeymoon during summer, more specifically July and August. We say why not!
Cruise, dinner, and a show: Go on a cruise date to get the whole Turkish experience. You'll get picked up from your hotel, taken to a boat where live music, belly dancers, entertainers, and fresh food await you. It doesn't get better than that, honestly.
Honeymoon in Paris
Arguably the most romantic city in the world first comes to mind when we talk about the best honeymoon destinations in Europe. Home to the Musée de la Vie Romantique sure knows how to make you feel special on your visit. Celebrating your love on the tree-lined streets covered in historic landmarks and at the little cafes with tables on cobblestone pavements is the peak of romance. Besides the passion and art that exudes from this lovely town, Paris is also blessed with ten restaurants that hold 3 Michelin stars! Impressive and inspiring, especially for all of you who love to dine with style. Once you've finished exploring the touristy spots worth checking, such as going to the top of the Eiffel tower to witness the magical views of Paris or spending a couple of hours at the Louvre, you should check out these experiences only the city of light can offer:
Visit the Wall of Love: Located in the Jehan Rictus gardens in Montmartre is a 40 square meters wall dedicated to love. It contains the statement I love you written in over 250 languages on black tiles and is a sight you can't miss. Besides being gorgeous, you can also use it as a romantic guessing game, trying to name as many languages as possible.
Make a unique perfume: Taking a perfume-making class together isn't only a great bonding experience but also a perfect chance to commemorate your honeymoon with a smell you get to take home. Candora perfume shop is the first in Paris to offer this type of workshop, where it will take you around 2 hours to create your masterpiece. They envisioned it as a three-part activity that takes you on a journey through the history of perfumes, smelling the aromas and perfume selection they have in store for you, and finally mixing, bottling, and customizing it. Whole workshop experience that includes the engraving of the bottle will set you back 100 euros.
Explore Parisian bookshops: Yes, it's true, you can exchange your time working in the Shakespeare and Company for a one-night place to stay. Since that information reached its mainstream moment, this workshop doesn't lack extra helping hands. If you and your partner are bookworms, Paris is the place to be. Shakespeare and Company bookstore was designed with you in mind, to feel like you're walking through a novel and experiencing it IRL. It's close to the Seine and just a short walk from the iconic Notre Dame, which makes it a perfect location for you to envision how your Parisian life would look. Le Used Book Cafe Merci combines the joys of reading and coffee drinking, and what else could you ask for? For a more sophisticated taste, head out to the bookshop that even Karl Lagerfeld loved to visit, Librairie Galignani.
Père Lachaise Cemetery visit: Now, hear us out. At first glance, this may seem morbid to you, but once you visit it, you'll realize that it's a place of calm and beauty. Many magnificent statues tell stories of past lovers and soulmates, but it is also the final resting home to some world-famous romantics. On your walk, you can visit the graves of Jim Morrison, Oscar Wilde, Maria Callas, Georges Rodenbach, just to name a few. Buy a couple of roses, and be ready to google the names you encounter, and you'll see just how many heartbreaking but inspiring stories you'll discover.
Honeymoon on an island
We have to admit that the romantic appeal of the mornings on the beach, lunches in the hot sand, and late-night swimming sessions in the ocean is unbeatable. If you're one of those couples that like to have some privacy and spend hours sunbathing and water exploring, there isn't a better place for you two than a small, maybe even rented and private, island in the middle of nowhere. No worries, you won't have to learn how to start a fire or socialize with a volleyball. If you choose to celebrate your new marriage surrounded by water, palm trees, coconut, cocktails, dancing till dawn on beach parties, look no further than these tropical honeymoon destinations.
Bora Bora - Pearl diving paradise
One of the most visited groups of islands in French Polynesia is adorned with the most memorable beaches in the world. It has served as a filming location for a few famous Hollywood productions, and couples have named it "the romantic island". Not only that you'll get to enjoy the clear blue water, white sand, and a nearby heart-shaped island, but your honeymoon will be 100% insect-free. However, visiting a pearl farm makes this honeymoon destination stand out among others. After originating in the late 60s, pearl diving became popular in this part of the world, and in the next decade, it was made into a tourist attraction. One family saw its potential and opened a pearl boutique that is still well and thriving to this day. Their passion is contagious, which makes for an unforgettable experience.
At this particular farm, you can find oysters with Tahitian black pearls that come in blue, green, gold, peacock, and eggplant colors. Unfortunately, not many of them have high value, but if you get lucky and find an "A-rated" pearl, you get to take it home. Pretty neat! You'll get complete diving equipment, instructions on how to dive and where to look, a ride to the lagoon where farming lines with oysters are, and instructions on how to extract the pearl itself. Once you've acquired an oyster, it is considered to be yours. Back on the land, the farm owners will drill a hole in your pearl so you can wear it as jewelry. You could also engrave something into it, which is an excellent opportunity to immortalize your honeymoon. This experience will cost you around $300, but hey, you can potentially earn $2.000.
Honeymoon trip to the Maldives
The Maldives, situated in the gorgeous Indian ocean, is like a warm hug and a neverending weekend. There isn't a better place to start your scuba diving practice, try out windsurfing or paddleboarding, or go on a helicopter ride to get a better view of heaven on Earth. The Maldives are big on luxury resorts, many of them being on the water and giving you a close encounter experience with sea life. If you want to learn more about the lavish resorts, where you'll be greeted with 5-star service and many activities at your disposal, check out our blog about top destinations for luxury vacation. But today, we want to direct your attention to an interesting phenomenon that mainly occurs on the Vaadhoo islands.
Visit the Sea of Stars
Water in some parts of the Maldives is blessed with phytoplankton that we can thank for the spectacle it bestows upon us. The plankton in question is bioluminescent, and as it waves with water, it creates a shimmering effect. If you go on your honeymoon in late summer, be sure to visit Vaadhoo island and its surroundings in search of glistening beaches. Can you imagine yourself swimming in a sparkling sea? Night-time swimming, or skinny dipping if that's your thing, just became that much exciting. One of the most popular activities at the Vadhoo island is dining under the stars and Stars, so you'll always have the coolest date story to tell for the rest of your lives. A quick disclaimer, as nature is an unpredictable lady. It has happened in the past, and sure will happen again, that this phenomenon fails to appear. The Maldives is one of the best honeymoon destinations nonetheless, and we have our fingers crossed for you lovebirds.
Honeymoon in Fiji
Fiji is known in the honeymoon community as one of the most luxurious travel destinations. You get to enjoy the South Pacific, divine food and booze, and glam accommodations that make you one with nature. Summer in Fiji starts in December and lasts till April, but experience has shown that couples prefer less humid months, such as Jun or October. The people are friendly, and the communal living is incorporated in everyday life; the climate is summery but won't leave you sweating buckets, the happiness of the locals is lovely, just a perfect honeymoon place to be. No wonder the tourism in this place is blooming! If you're looking for an island to rent and enjoy your honeymoon, Fiji is the place to go, my friends. Let's have a look at the popular ones.
Renting an island in Fiji
Five-star resorts mixed with secluded locations that guarantee you privacy and a heavenlike atmosphere are worth every penny, and we can't think of a better way to spend the first days of married life. With 332 islands in total and more than a few at your disposal, you should start writing your island wishlists. Some of the most popular honeymoon islands for rent are:
Lomani Island: In Fijian, Lomani is the word for love, making this island extra special. This private resort is located in the middle of the Mamanuca island group, it will cost you $380 for a minimum of a two-night stay, and a big breakfast is included. Delux suits will put you close to the water, where you'll get to bask in luxury and watch the waves from the king-sized beds. Wining and dining in the beach bar and restaurant is the perfect opportunity to try exquisite seafood specialties. You'll fill your days with reef snorkeling, cooking lessons, paddleboarding, and other exciting activities.
Royal Davui: This island located in the Beqa lagoon was named the Most romantic island hideaway not once but twice. It is known for private villas, a modern spin on accommodations combined with the untouched nature of the Pacific islands, and a spa perfect for a romantic and intimate honeymoon date. For around 900 euros a day, you'll get to enjoy the heated private pools, indoor garden, restaurant lunches or big beach picnics, moonlight cinema screenings, catamaran adventures, and dreamy rooms.
Castaway Island: Going back to the Mamanuca Islands, this 4-star private resort is surrounded by white beaches and is home to an extensive tropical rainforest. It is on the pricey side, with rates being around $1.000 even in the low season. You'll be staying in Fiji's iconic bures, with ocean or beach views that just scream luxury and coziness. Beaches on this island are great for sports, you can go on snorkeling or reef exploring excursions, and catamaran sailing will also be at your disposal.
Honeymoon for adventurers
Your dating profile said that you're an adrenaline junkie, and that's how you and your partner met, so you want to continue the tradition on your honeymoon. Or maybe, you've decided to be bold together and try out some exciting activities as newlyweds. Whatever the case is, you should go for it! Honeymoons filled with activities that pump adrenalin through your veins are a perfect bonding opportunity, and it's also fun to see how your loved ones react to danger. Would you be brave enough to try some of our picks? Let's have a look, but before that, check out our blog about the best adrenalin activities in Europe to get even more ideas.
Honeymoon in Peru
Peruvian nature is a playground for adventurous couples, from water sports to Indiana Jones meets Lara Croft type of explorations. A mix of terrane makes this South American country stand out, as one day you'll be in the middle of a desert and the next you'll find yourself on a boat to Galapagos island where penguins are eager to meet you. Peru's capital Lima is South America's culinary hotspot, which means that you can have a hot local meal after a day filled with adrenalin activities. Some of the most exciting activities that you can incorporate in your honeymoon are:
Surfing at Waikiki beach: Even if you have 0 surfing experience, Peru is where to try it. But, if you're a certified surf pro, head out north to catch the 4 meter high waves or indulge in kite surfing. Beaches in Peru are loved among the water sports enthusiast, as they're great for paddle boarding and jet skiing as well.
Activities on sand: Take advantage of the desert and don't forget to bring a sandboard. Dunes are great for buggy rides or boarding, and the fun never stops. Don't forget to visit the Huachacina oasis, a small residential village surrounded by dunes that will sure charm you.
Skylodge suits: Home of the ziplining spots, the Sacred Valley is ideal for these suits. First, getting to your cabin is an adventure on its own. There's a 400m climb or a hiking trail, and you have to use ziplines and climbing gear to get on the top of the transparent lodge. Yes, it does just hang on the side of the mountains, giving you spectacular views and a stay filled with adrenalin, but we assure you that it's safe. Dinner with wine and breakfast is included in the visit, and you have to zip line back to reach the ground again. One night at Skylodge will cost you at least $400.
Machu Picchu jungle trekking: You start your journey at Cusco, from where you bike, hike, and raft to Inca's sacred town. Reaching the Machu Picchu Pueblo after many exhausting hours is like a reward. Many hiking trails lead through the Colca Canyon, romantic Laguna 69, and the Cordillera Huayhuash mountain range reserved for the toughest ones among you.
Antarctica Honeymoon
Are you one of those couples that prefer winter over summer and have many cute pics in their coats? If so, have you thought about going to Antarctica for your honeymoon? You've probably heard influencers and travel bloggers rave about Antarctica cruises, and for a good reason. From the comfort of your luxury boats and rooms with huge watching decks, you'll see just how magnificent ice caps and frozen land can be. It is an expensive trip tho, don't say we didn't warn you. Maybe a big dream wedding will have to be downsized if you also dream of Antarctica.
Besides the popular Antarctica cruises, the more immersive experience that takes you even further and lets you feel the nature and temper of this frozen continent is the luxury Antarctica camp tours. Tours usually start from Cape town, they can last up to 11 days, and you get to meet the Emperor Penguins. These journeys are well-prepped and personalized, your accommodations will be superb, science experts will follow you every step of the way, and you will be cold, for sure. Some of the activities that await you are ice cave exploring, kite skiing, and learning the skills of a polar explorer. Don't miss out on a chance to visit the North pole with your significant other, and all of that will cost you just $100.
Honeymoon in Johannesburg - Go on a romantic spa and safari getaway
You can't go wrong with a safari tour, especially the one Kruger National Park has prepared for couples. You should first start with a tour of Johannesburg, which is just a short drive from the national park. From picnics at the Botanical Gardens to hot air balloon rides, and exciting nightlife, Johannesburg is a vibrant city that offers plenty of romantic activities for couples. Embark on a 3-day romantic experience in the Kruger National park, which includes:
Spa day to take the worries away: You'll get to spend a day in a luxurious tented suite on the Sabi River - a stunning place made for honeymooners. You two will definitely feel the spark during an intimate spa treatment called luxury rasul. From exfoliating to salt and clay rubbing, you get to do it yourself, to each other on your terms. How romantic is that! The next thing awaits - a lavish candlelight dinner prepared with organic local produce.
Meet the Big 5: Private drive around the national park will leave you speechless. For the next couple of hours, you'll have an experienced driver and tour guide at your disposal, taking you to the spots known for animal sightings. Kruger National Park is home to the so-called big 5 - lions, leopards, rhinos, elephants, and African buffalos, so there's gonna be a lot to explore! Bring comfortable clothing, cameras and SPF. To learn more on how to prepare for a safari trip and where to go once you get hooked, give our blog - the 6 best places for a safari holiday a read.
Unique honeymoon destinations
Hunting for pearls in South Pacific isn't unique enough for you? Okay, we have a couple more offers you won't be able to refuse. How does sharing your glam accommodation with a giraffe sound? Animals are a reoccurring theme here; you're welcome. Whether you're a weird destinations veteran, you and your partner share the same nerdy interests, or you've decided to zhoosh it up for a honeymoon, we've had you in mind. Keep reading to find out which unique worldwide spots we've found.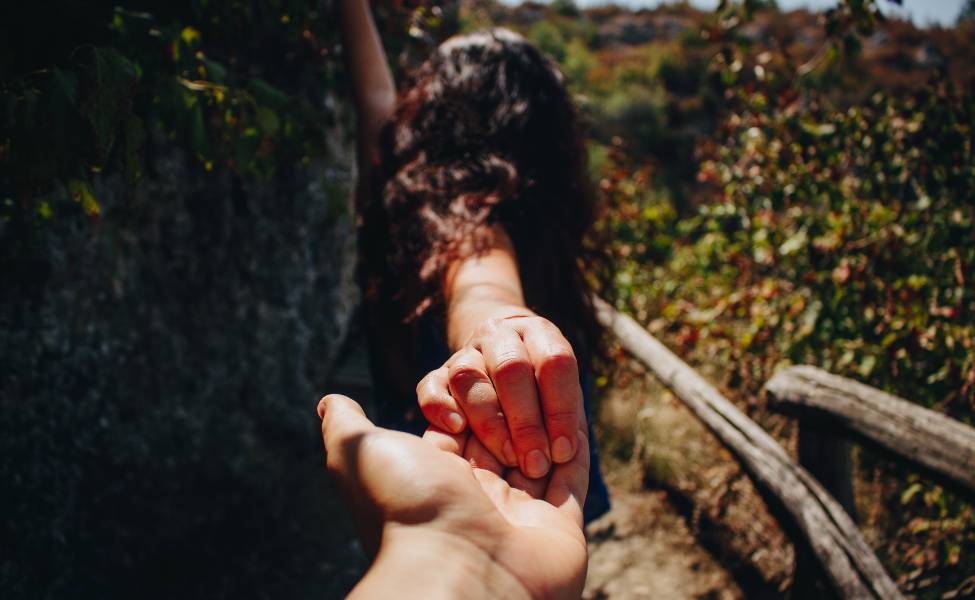 Honeymoon in Hobbiton
Where once in a hole in the ground lived a hobbit, a film set turned into a real place turned into a heaven for nerds. If you're a fan of Tolkien, as you should, a honeymoon in New Zealand is a must. Hobbiton is located in the farming area Hinuera, just outside of the town Matamata, and it has been attracting visitors since 2004. The feeling of nostalgia, attention to detail, and outstanding tour guides make for a perfect nerdy honeymoon. There are many types of tours you can choose from, but we recommend the evening banquet tour. It takes you on a well-deserved feast at the Green Dragon after a day filled with exploring the site. There is also a private tour with four more companions for a more intimate feel. Take the Arwen to your Aragorn on an adventure they will remember for the rest of their lives.
Kenya Honeymoon - Visit the Giraffe Manor
Since 2009, when Tanya and Mikey Carr-Hartley started their business in Kenya, they've been managing luxury camps all around Kenya's remarkable nature. Their connection to the land and wildlife, as fourth-generation Kenyans, makes them perfect for this noble job. You can choose between 5 lodges, depending on which part of the Kenyan landscape you wish to get close to. A combination of unique accommodations and exciting experiences is a match made in heaven. Here's a little preview of what you can expect at The Safari Collection, but (spoiler alert) everything that has to do with giraffes is our favorite:
Fossil hunting in Kenya: A visit to Cradle of Humankind is a breathtaking and immersive experience, and witnessing it together will impact you in the best way possible. This is a fully guided tour that takes you on a fossil exploration quest through the UNESCO heritage region, Turkana. You'll be transported by helicopter, which is a great opportunity to spot flamingos and the desert. History buffs, you'll love this one.
Giraffe Manor: Located in the Nairobi suburbs, the manor is a so-called boutique hotel that you've probably seen on your Instagram feed. Originally it was a hunting lodge in the 1930s, but today it houses 12 rooms and gives a luxurious treatment with a twist. Your nosy neighbors will be a herd of Rothschild's giraffes that love to poke their necks through the windows to say hi. You'll get to feed them during breakfast, have a stroll with them through the 140 acres of forest and sip your afternoon tea while they keep you company. When you want some privacy, head out to one of the relaxing spa treatments or on a private dinner in the gorgeous orchid house.
Feel like royalty on a Toronto honeymoon - Visit Casa Loma
This stunning castle was built in the early 20th century and still has intricate details inside and out to testify to its beauty. And what better way to spend your honeymoon that to spend it roaming around a castle? From live shows to guided tours, here's a little sneak peek of what you and your boo can do to experience it:
Dine at BlueBlood Steakhouse: How would you like to wine and dine in the presence of Salvador Dali or Warhol? BlueBlood Steakhouse is a luxurious restaurant located inside the castle that perfectly mixes romantic and intimate to create the most fun dining experience. We suggest the la carte appetizers, followed by a homemade special cocktail.
Attend an event in Casa Loma: How does symphony under the stars sound? Or maybe a murder mystery game? Casa Loma is known for hosting exciting exhibits and events, covering everything from movie memorabilia, antique cars, Easter brunches, or illusionists, there's something for everyone.
Explore the Casa Loma gardens: You cannot miss the gardens surrounding the castle - for as little as $15! This 4-acre fairytale yard overlooks downtown Toronto. It's filled with flowers that bloom all year round, so if you visit it more than once, you'll always have a unique experience. Hidden in these colorful bushes, you'll find unique statues and many fountains. Even if you're not a big flower fan, you'll love this one, trust us.
Map of honeymoon destinations
As a parting gift, we've made you a cool map of all the spots mentioned in the blog. You can even use it to plan your trip, as there are plenty of options for customization. Have fun!
John Davey cleverly noticed that "short honeymoons are better than no honeymoons, but long honeymoons are best of all". Follow this wise advice when you start planning and packing, and have in mind that the most important thing is that you both enjoy the trip and spend the first days of marriage blissfully together. That being said, a trip to Venice or a luxury private island does sound nice.