The feeling when adrenaline pumps our veins and currents through our body is really something very powerful and special. It is this feeling that leads us to constantly look for ways to provoke new and even stronger bursts of adrenaline. That is why there are various adrenaline activities for us and all of them have become very popular lately. Maybe you want to reach the world's highest point, or you want to explore the depth of the ocean, or jump straight from a helicopter. Whatever that you choose, we hope that this blog will give you some valuable information.
You will read, not just about activities that make you feel a true adrenaline rush, but also about some very interesting adventure vacation deals. All fans of extreme sports are well aware of the irresistible feeling of adrenaline flowing through the veins. We have all heard the term adrenaline junkie many times.
Extreme sports make us addicted in a way, and that is just one of the reasons why this type of sports and activities has become incredibly popular lately. Once you experience them, you always want more and more. Such activities lead us to step out of our comfort zone, to push our own boundaries and to test how brave we really are. Therefore, it is no wonder that many claim that adrenaline activities can teach us a lot about ourselves. Who knows, maybe even you will discover something new about yourself that you did not know before.
Paragliding in Italy
Italy is an incredibly stunning country where many beauties are hidden. It is a country of rich culture and tradition, a country that is the cradle of the Renaissance and the most beautiful art. Imagine now that you could see such an impressive and unique country from the perspective of a bird. This is exactly what a paraglider will give you. You will be able to get to know all the beauties of Italy and experience this country from a completely different angle. If you want to learn more about Italy, go and read our blog: 10 Reasons to Visit Italy. Paragliding can always be a challenge, but at the same time, if you do it right, it will offer you an unforgettable experience. You can try this adrenaline activity in many places in Italy, here are some of them:
Norma, Rome
near Amalfi Coast
In Taormina
Over gorgeous lake Garda
Tandem Paragliding in Rome
The good thing about tandem paragliding and what makes it very popular is the fact that you don't need experience for this type of paragliding because you will be attached to your professional instructor. However, as always when it comes to an extreme sport, our advice is to be sure to contact professional and experienced instructors who have many years of experience behind them. Norma is close to Rome and first you will be able to walk in the most beautiful nature. The real adventure in Rome starts when you take off. Don't forget to check out the weather conditions in Norma before starting the paragliding adventure. The panorama below you will be breathtaking
If you really want to do this sport you need to take a proper paragliding course and get a certificate, as well as buy new and modern equipment that is proven to be the safest. When it comes to tandem flying safety is always the most important thing.That is why a professional pilot will explain to you what to do and what you can expect from your tandem flight. One thing is sure, you will feel an incredibly powerful adrenaline rush. The instructor will also tell you how to behave during take off, flight and landing.
Paragliding is one of the most extreme sports, but everyone who engages in this type of sports activity, always points out that it is worth every risk and that it brings great pleasure. If you want to feel like you are at the very top of the world and enjoy the vast expanses below you, turn to paragliding and treat yourself to a very unusual and unusual experience. Prepare yourself for some breathtaking views and for some pretty magical moments. You can even choose how long you want your flight to last, as well as do you want to have transport from Rome. In Norma you will get a fantastic paragliding experience.The paragliding flight at Norma does not require any special preparation. You can book morning or afternoon experience and allow yourself to enjoy around 45 minutes of airborne time to admire the views. Here are some options:
15- 20 minutes- you should chose this if it's your first time flying
40- 45 minutes- this flight is for all adventure lovers, expect to feel a lot of adrenaline rush
2- 3 hour- we would recommend this to some more experienced and more skilful paragliders
Everything you need to know about paragliding
It is no secret that this is one of the more expensive sports. However, those who can set aside a lot of money for him say that he is worth every euro. Paragliding will provide you with an unusual and very special experience. When you fly you will feel truly free, and freedom must never come at a price.
However, let's answer precisely the question of how much it costs to do this sport. Let's say this pleasure will cost you between 4000 and 5000 euros. This price includes the price of the paraglider course, as well as the price of new equipment that today must meet much higher standards. When it comes to tandem flying the prices go between 100 e and 125 e per person. Also, this is the equipment you will need to get:
Trekking shoes
Backpack
Sportswear
Headgear
Wing
Harness
Variometer
Radio
GPS
Snorkeling in Greece
We move from the heavens to the unexplored, blue depths of the sea and ocean. From paragliding to snorkeling. Ocean is a mystery to be discovered. If you love summer and deep blue waters, if you also like exploring and learning new things, then snorkeling is the right fit for you. If you want to experience a proper adventure vacation, this fun and exciting activity needs to be in your calendar. Great thing about snorkeling is that even non-swimmers can swim. We all know how breathtakingly gorgeous the Greek sea is. That is why our recommendation is to snorkel in stunning Greece. This country is full of tropical islands and rocky caves that are perfect for this type of activity. Greece is full of beautiful, sandy beaches. If you want to know more about them, read our blog: 5 Reasons to Visit Greece.
When to go snorkeling in Greece
As well as most water related sports, the best time to try them is during summer. Especially during the months of June, July and August. In Greece the climate is warm and pleasant from May to October, but July and August have the highest peak of tourism. Because your back can be exposed to sun while snorkeling, our advice is to wear a rashguard. Also, you should know that The Aegean and Ionian Seas are colder than the Mediterranean.
Whatever you choose, the waters in Greece are tranquil and crystal-clear. That makes them perfect for snorkeling. Summer is always the right time for many fun water activities, including this one. The good thing is that even children can enjoy this activity, of course with the obligatory supervision of adults. But if you are wondering what to do on a family vacation, we believe that this is a very good proposal for the whole family and all generations. These are the average snorkle tour prices:
Average Half-Day Snorkel Tour Cost- around 100 e
Average Full-Day Snorkel Tour Cost - around 140 e
Average Full-Day Snorkel Tour Cost- aroun 200 e
Where to go snorkeling in Greece
Many great places can be found in Greece that are ideal for this type of activity. However, some places are among the most popular ones and we will write more about them for you. The Greek coastline is enormous and it stretches an impressive 8,550 miles.That leaves you with many great places for snorkeling.
Crete - This part of Greece is described by many like an ideal place for snorkeling. We are talking about the largest Greek island of immense beauty. You should visit the famous Skinaria Beach where you can enjoy snorkeling properly.
Corfu - Another mesmerizing place that will leave you absolutely speachless. You can find several beaches there that are perfect spots for snorkeling.
Paros - Kolymbithres Beach is a wonderful beach for this activity. Even though Paros is not that famous, believe us, it's an incredibly gorgeous place,a true gem that needs to be discovered.
Skiing in Alps
If you want to experience a real winter adventure then skiing in the iconic Alps is something you simply have to do. Skiing is an incredibly sophisticated and fun sport, and when you add to that the magnificent peaks of the Alps and the snow-white mountain curves, the whole experience becomes even more special and different. We are talking about a stunning place of immense beauty that has extraordinary views. Skiing in such a place is a fairytale-like experience.
The largest ski resorts in the Alps will offer you up to 600 kilometres of slopes. The Alps are always a good idea and their immense beauty will keep you coming back for more. We advise you to visit it during winter holiday time. That's the time when it's the most magical. Discover more about this wonderful place, read our blog: Top 10 Places to Visit in the French Alps.


French Alps ski resorts
The French Alps are mostly known for their popular ski spots. Ski resorts are amazing places where you can enjoy different slopes, stunning views, warm cafes and bars, as well as great and comfortable accommodation. These ski resorts are wonderful places for entire families. French Alps are located in the sought east of France and many claim that the best and most luxurious ski resorts are in this part of Alps. Almost every ski resort has several types of ski trails available.
It doesn't matter if you are a beginner or more experienced, you will find something that will suit you just right. These places offer not just the best skiing spots, but also many great and fun activities. Here are some of the most popular ski resorts in this part of Alps:
Morzine ski resort
Méribel ski resort
Val d'Isère ski resort
French Alps skiing
For many years, Alps have been proud of its modern and beautifully landscaped ski trails, of which there are many. The choice is great and we believe that you will be able to find something just for you, and for all questions, uncertainties or doubts, you can always turn to professional and experienced ski instructors.Going skiing in the French Alps can be a good choice for the entire family, as well as romantic getaway with your loved one.
We would recommend you to wait for winter holidays, because that is when this experience will become even more special and magical. December is also the time when the slopes are the best. Also, the scenery will be breathtaking. Geneva is a good starting point for all the new tourists. In Geneva ski lifts will take you to over 3,000 metres. If that doesn't get your adrenaline pumping, then not many things will. Skiing in Geneva can be a real adventure vacation that your entire family needs.
Hot air balloon ride in Turkey
When you think about one of the most beautiful and romantic places on Earth, a picture of colorful, hot air balloons and bright blue sky is, probably, something that will eventually come up in your mind. That picture looks like something that came straight out of a postcard and we can't think of anything more special and adventurous than flying in a hot air balloon where you can even touch the soft and puffy clouds. Central Turkey is, probably, the most famous for the fantastic, panoramic views of hundreds of vibrant hot air balloons flying above volcanic chimneys. This is one of the most incredible activities that will give a sense of real adventure and unforgettable experience.
How to fly in hot air balloon
You're probably wondering how it is possible to actually fly in this kind of unusual aircraft. Well, flying in the hot air balloon will always require a pilot's license, because safety comes first. Hot air balloons are more floating in the air than really flying. The warm air is lighter and the cool ones, so to actually get the air inside, it must be heated to 200 degrees. That is why pilots need to wear gloves and proper equipment. Once all the conditions are fulfilled and the air is hot enough, the balloon will rise and your adrenaline adventure can begin.
Hot Air Balloon Cappadocia
Cappadocia is the most famous place on our planet when it comes to iconic hot air balloons flying above fantastic scenery. It looks like something that came straight out of a movie. If you really decide to experience this type of flying, be prepared to have one unforgettable and utterly magical experience that will bring you some of the most special memories. This experience is something truly spectacular.
Cappadocia is not a city, it's a region in the center of Turkey and our advice is to book accommodations in time because it's always full of tourists during the peak season. You need to reserve your balloon fights months in advance because it's one incredibly popular adventure activity. Hot air ballon ride in sunrise will cost you around 77€ per person if you are lucky to get a discount. Hot air balloonng in Cappadicia is not that cheap, but we think its totally worth it. You can choose between many companies and the prices go between 120 euros and 200 euros. The cost dependes on the type of fabrics, design and basket complexity. So plan ahead and reserve on time!
Swimming with dolphins in Portugal
Is there anything greater than swimming with adorable dolphins? We think that this activity truly screams adventure. Who doesn't like these unique, intelligent and lovely creatures? Swimming with dolphins can be a dream coming true and in Portugal you can make that dream reality. Algarve Zoomarine in Portugal is the right choice for you. Dolphins are incredibly cute and smart creatures and we are really lucky that they love humans as much as we love them. If you want to have a real and special adventure vacation then coming to Portugal and booking swimming with dolphins is something you simply must do.
Boat tour to watch dolphins
You can organize and book a wonderful boat tour that will lead you straight to professionally trained dolphins. Of course the entire time right next you will be a trained instructor that knows these amazing animals and their behaviour. Your dolphin experience will begin with an informative conversation about dolphins and then you can properly meet the dolphins and even interact with them, if you are lucky enough. Of course, during that time you need to be under supervision of an experienced trainer. This incredible experience will last about 90 min.
Algarve Zoomarine in Portugal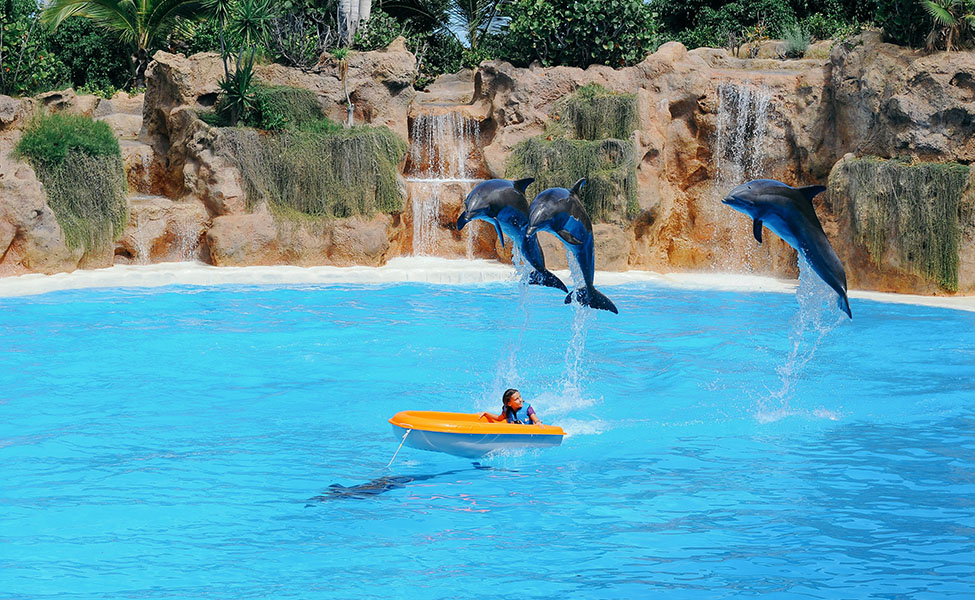 Zoomarine is one of the most popular and unique attractions for all tourists. We are talking about the magnificent theme park that is filled with dolphins, seals and interesting pirate and water shows. This is the only place in the entire Europe where you can interact with dolphins and even swim with them.
Conversation and education are really important in Zoomarine and that is why you can see a lot of rescued animals here. Dolphins are, of course, the main and one of the most important attractions. These dolphins have strong and unbreakable bonds with their trainers and all the participants will be able to see that. We recommend you to see all the animal shows and an outdoor diving show.
Zip line in National parks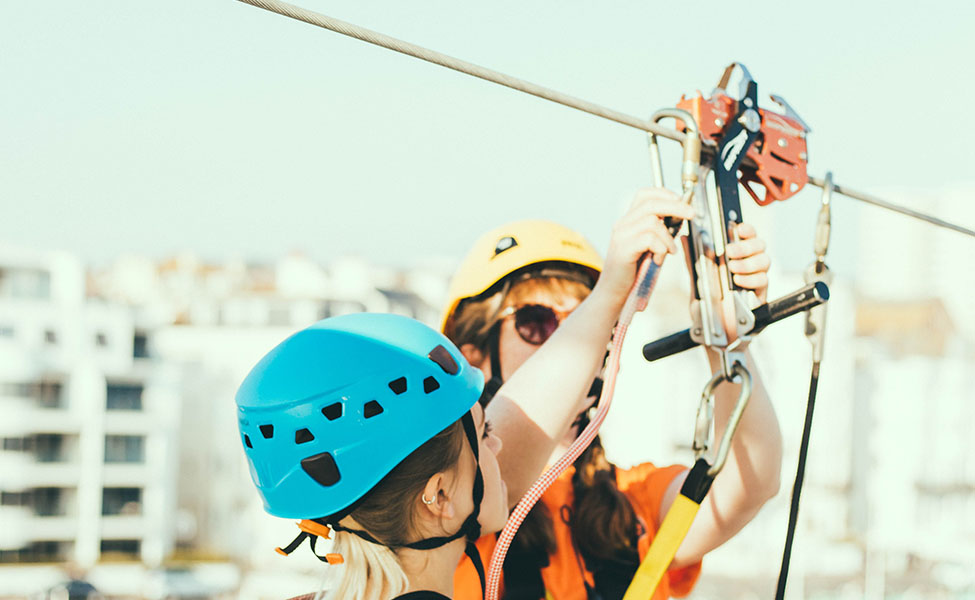 Talking about really fun and adventurous activities, Zip line is something that you can't avoid. If you are a ture nature lover, you will definitely enjoy this fun activity. It takes a bit of courage, especially if you are afraid of heights. Zip line involves crossing the cable from one side of the hill to the other. Once upon a time, the Zip line was created in inaccessible places where bridges could not be built, and in today's modern world, the Zipline is one of the favorite and very popular adrenaline activities that provide stunning views of the most beautiful nature. National parks are paradise like places and, naturally, they will give you stunning landscapes and untouched nature.
Zip line in Triglav
Do you want to lose ground under your feet? Do you want to experience a proper adrenaline rush? If the answer to those questions is yes, then we recommend you to try out the iconic Zip line in Slovenia. National park Triglav is famous worldwide and it's a home to some of the most unique and rare plants and animals in Slovenia. Needless to say, Triglav has exceptionally ruch and gorgeous nature. If you truly are an adrenaline enthusiast then Zipline is the ideal fit for you.
Soča Valley will give you the ultimate Zipline experience. Be prepared to feel the wind in your face and trembling in your feet, but don't forget to admire the nature surrounding you. You will be attached to a steel cable that is almost 700 metres long, about 200 metres above the ground. This national park is just one among many other great beauties of Slovenia, if you want to know more about all of them, just click on our blog: 8 Reasons to Travel to Slovenia.
Zip line in Plitvice
Another great spot with terrifying nature that will make your veins pumping blood a bit faster. Zipline is 300 m long and you will have an incredibly fun experience. The zipline speed is over 70km /h. This place works on work days from Monday to Friday 11h until 19 h. Here, wonderful, lush, green and dreamy nature will await you, the descent will be strong and the adrenaline will flow strongly through your veins. When the first rush passes and you are the first to get excited, you will enjoy the truly beautiful and unique nature that will surround you from all sides. That view is perfect for the mind and for the body. This national park is located only 3 km from the entrance of the Plitvice National park. You need to be properly dressed and trust your instructor, because your safety needs to be primarily.
Trekking in Scotland
Rich culture and stunning scenery is what makes Scotland so special and beautiful. This place seems to have it all, rich culture, tradition, gorgeous landscapes, wild and untamed nature. The medieval architecture is also one of the main symbols. The Scottish countryside looks like something that came straight from the fairytale. That is why trekking is so popular in this area. This country is an excellent choice for those who love to stay active and enjoy nature while being on vacation. Picturesque mountains and green forests with majestic coastline fragmented into many islands, that and so much more is what awaits you in Scotland.
Alpaca trekking centre
Is there anything more adorable than spending some time with lovely alpacas, surrounded with glorious nature? Alpaca trekking means that you will be able to take several alpacas and walk with them. Hanging out with animals in nature is proven to have extremely good effects on your well being, both emotionally and physically.
You can choose between morning trek and afternoon trek, whatever suits you the best. You will get a chance to walk with your adorable alpaca through amazing woodlands. You need to be over 14 in order to properly operate the alpaca lead rope, but kids can share this wonderful adventure with their parents. After the walk you can treat your alpaca with their favourite treats. The prices can differ depending on many things, but on average it will cost you around 35 euros. Of course, you will have professional help from experienced guides. Also, please wear suitable clothing and wellies for wetter days.
Scotland trekking routes
Like we said the Scottish scenery is utterly amazing so walking and hiking in Scotland's trails can be a very special experience. Spending time in nature can have a lot of health benefits. If you seek adventure, then exploring wild and untamed nature can be the right choice for you. Depending on your strength and age, you can choose what route suits you the best. We have selected some of the best trekking routes for you:
The Lost Valley - the iconic three mountains called the Three sister and incredibly beautiful green valley is what you get if you decide to take this road -. It will take you 2 to 3 hours and 4 kilometres.
Trossachs National Park - is there anything more exciting and adventurous then trekking in National parks? This is a unique opportunity to enjoy the fantastic scenery. It will take you 4 hours to explore it properly and almost 4 kilometres to cross.
Sandwood Bay - many claim that this beach is one of the most beautiful ones in the entire United Kingdom, so trekking there will be something quite extraordinary. It's 13 kilometers long and your walk can last for 5 hours, but it's totally worth it.
Skydiving in Swiss
Central Europe is home to many beautiful places, but the most beautiful one is green and majestic Switzerland. Picturesque villages, majestic Alps, modern and clean cities, all that and so much more can be seen in this small, but incredibly powerful and well organized country. There are many interesting and significant attractions in this country, as well as countless activities for tourists of all generations. However, we have decided to dedicate your Swiss adventure to parachuting. We believe that you will only be able to see all the beauties and charms of this country from the plane. You will experience Switzerland from a completely different perspective, and only then will you be able to see the full magnificence of this country.
Helicopter skydive
Very few activities will provoke such a strong and powerful rush of adrenaline as jumping from a helicopter with a parachute. We are talking about a very popular tandem flight that is performed together with a professional instructor that is attached to you. That means that everyone can try it, even beginners. Safety always comes first, and you will get a short and precise course before the start of the flight. This activity will surely be the craziest thing you've ever done in your life. Skydiving is a real adrenaline experience that can never be forgotten.
Your adventures start from the moment you board a helicopter and see the impressive and majestic peaks of the Alps. Fantastic breathtaking panoramas are completely guaranteed, and after enjoying the magical scenes, you can jump out of the plane. Next thing that you will experience is a fast and strong free fall that will cause your bowels to turn and your heart to beat with incredible speed. Then the instructor will open the parachute and you will hover with it somewhere between earth and sky. Like we said, a true magical experience that will never be forgotten.
Duration- 2 to 3 hours
Capacity- 12 people the most
Jump height- 4000m
Minimum Age- under 16 years
Airplane skydiving
This is a bucket list adventure, so don't be afraid to go and try it. We can't explain or properly describe the amazing feeling that you get once you realize you are next to exit the airplane. No matter if you choose to go skydiving in a helicopter or airplane, the feeling is equally strong and special. Skydive Switzerland offers you three fun and adventurous activities in one. Meaning that your adventure starts with scenic flight to Swiss Alps and stunning lakes.
Then you will experience a 45-second adrenaline-pumping freefall. Once the parachute is open you will enjoy 7 minutes of skydiving that will safely take you back to the ground. Honestly, we simply can not find words to describe the sensation of falling at 200 km/h, you simply have to try it. Of course, make sure to have a professional, reliable and experienced instructor with you the whole time.
The price with your own gear and insurance is around 35 euros to 41 euros
The price with rig rental and insurance is between 55 and 63 euros
Scuba diving in Croatia
We can safely say that stunning Croatia is the ultimate dive destination. With so many great beaches and coastlines all over Europe, it's hard to find the best one, but Croatia certainly has some of the most breathtaking beaches out there. First of all, this country has crystal clear sea water and a lot of wrecks that are perfect places for diving. Wrecks are something that many people who dive love to see. That is something that can be really interesting and adventurous. Exploring shipwrecks is something that many adventure lovers look forward to. Aparat from that, flora and fauna are quite diverse in Croatia and that's something important when it comes to scuba diving. You can see adorable dolphins, rare sponges, enormous and colorful fish, turtles and many more things that make this activity so adventurous and special. Croatia is full of magnificent beaches, learn all about them 20 Best Beaches in Croatia.
Scuba diving in Dubrovnik
Rich culture, stunning architecture and picturesque landscapes, those are the things that make Dubrovnik so popular and majestic. This place is one of the most popular travel vacations in the whole Europe, and we are pretty sure that it will take your breath aways as soon as you arrive in Dubrovnik. After exploring the city and all its beauties ( and we have to say there are many of them) we would recommend you to go scuba diving.
Dubrovnik is the best choice if you are looking for the most special scuba diving experience.The Dubrovnik sea is very warm, pleasant and clear. It's also full of life and marine animals. You can contact the professional diving center called Blue Planet that is located in Dubrovnik. We think that the professional help and opinion is always to have, plus you will get some useful tips on how to organize the ultimate scuba diving experience.In this lovely town you can easily find many excellent diving sites. If you are a beginner, no worries. Blue Planet has a special diving course and you will be able to get all the information you need. The courses are divided into three groups:
Entry level
Advanced level
Specialities courses
Diving center in Krk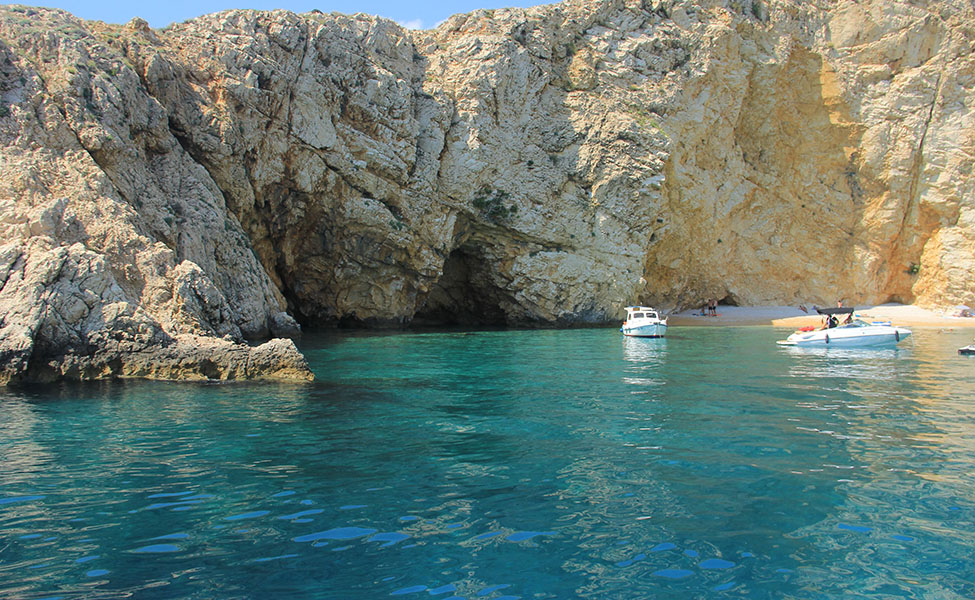 Diving centar in Krk is one of the best and most popular ones. Here you will get professional opinion and you will learn all you need to know about diving. Because diving can be fun, but if not done properly, even dangerous activities, we always advise to get professional help and opinion. This dive center is open from 9 am to 7 pm. There you can enter the equipment room where you can hang your diving suits and store all other equipment safely. Diving center even offers to drive you to some great diving spots and it can even pick you up from the hotel. Also if you are having an adventurous vacation with your family, this diving center also encourages kids to learn about diving. They offer specially trained Kids Instructors that will help your kids to explore the underwater world safely. Amsterdam is one of the best cities to visit in Europe.
Cycling in Amsterdam
What is the first thing you think of when it comes to Amsterdam? Okay, maybe we'd better ask what is the second thing you think of? And that is probably the fanatical architecture that a lot of tourists explore and get to know while riding a bicycle. Cycling has become a real tradition in Amsterdam. This is the only way to move through the city and get to know all its sights and beauties, and at the same time it has been scientifically proven that this activity is extremely good for health and muscle activation.
Explore Amsterdam on a bike
Did you know that bike rental is something extremely popular in Amsterdam? Having a vacation in Amsterdam is an adventure itself, but if you add this fun activity it will be an even greater adventure. Many claim that Amsterdam is by far the best city for this kind of activity. You can park your bike anywhere in the city and explore all its alleys and corridors. Many rental teams in Amsterdam will give you an excellent guide on what to see and where to go in Amsterdam and prices are mostly pretty affordable. Cycling in Amsterdam is one of the most authentic ways to explore the immense beauty of this mesmerizing city. You can see more bikes than people. So it is safe to say that riding a bike is an essential part of the real and authentic Amsterdam experience. Here are some of the bikerental shops:
Green Budget Bikes
Mike's Bike Tours
AmsterBike
King Bikes
Bike 4U
Bike Tours in Amsterdam
There are a lot of different bike tours in Amsterdam. Once you arrive there you will easily decide which one is the best for you. Cycling is so popular because the whole country is so flat and every part of it can be easily accessed with the help of a bike. If you want to bike in Amsterdam you should know that locals are professionals when it comes to this activity so you will really have to up your game. Even though that can be challenging, at the same time it's also quite an adventure. New bikes are expensive, but previously used ones will cost you between €100 to €250. Once you get your bike, your Amsterdam tour can finally begin. Renting a bike will cost you around €10 for a day. You will need to leave your Id and deposit or a credit card.
Adrenaline causes an extremely powerful feeling in us. When we are in danger, thanks to adrenaline, our body fights and resists pain. Adrenaline is incredibly important for us and that is why it is no surprise that we are constantly looking for new ways to strengthen and feel it. There is something magical and irresistible in the feeling of adrenaline rushing through our veins. Maybe that's why the term adrenaline junkie has become so established among the people. We hope that these thrill seeking activities will give you that special feeling that you search for.