Hemingway once said I never knew of a morning in Africa when I woke up that I was not happy, which you'll surely agree with if you decide to go on a safari holiday. Whether you're just looking for inspiration for your next stop or preparing for your first ever safari, we've gathered a thing or two to make it easier. From what to wear to where to go, let us show you the way through 6 magnificent countries we think are perfect for a safari in Africa. Some of the things that await are:
African Safaries - Know before you go
Now, what does a safari even entail, and do you have to sell your kidney for travel expenses? Do you have to go on an extensive shopping spree for clothes, or will your regular beach hat be enough? We got you! We've looked at some tours and what they offer to give you the basics. Treat the next portion of our blog as safari 101 before your trip.
What is a safari?
In a broad sense of the word, safari is a trip, a journey, but more precisely, an expedition into the wilderness of Africa to observe and learn about African wildlife. This is usually done in a Land Rover or Land Cruises, as this type of vehicle is durable and resistant to the sometimes harsh terrain of the wilderness. There are other types of safari as well if you're more of an on-foot explorer. Even though you can go on a safari in other countries of the world, Safari in Africa is what we refer to when we talk about this kind of experience. The word Safari is a Swahili word of Arabic origin, meaning travel or an expedition.
How much does an African safari cost?
The price of an African safari depends on a number of things. Time of the year, location, is it a group trip or a more private, this will all add on to the price. The price per person can vary from $200 to $1000. For example, a budget mid-range accommodation Private Safari in Kenya can cost you $550, while in Botswana, it will be $250 more.
How to save money on Safari in Africa?
To make your Safari experience less costly, we've got some tips for you that might help you:
Seek accommodation outside the park: Hotels and accommodation inside the national park can be quite expensive, try and find accommodation outside of it. Also, some parks allow camping inside the national park, so if you are adventurous, you can go for that option.
Go on a safari before the high season: There is a reason why high season prices are costly, but we do not recommend going on safari during the low season, as the chances of spotting some wildlife are, well, low. So, to save money, you should go just before the low season finishes, at the very beginning of the high season.
Opt for a less famous African safari: Do we need to say more? The more popular the park, the more expensive it is. Before you decide to go on a Safari in Africa, do your research on what are the less famous parks. In our honorable mentions section of the blog, we'll tell you more about some of the best places for a safari in Africa, but for a lower price.
What to wear on a safari in Africa?
Your choice of clothing will depend on the weather and what type of safari you're going to. Instagram-worthy outfits are not something you should really think of when you're going on this type of trip, but comfort and protection. Here are some of our suggestions:
Neutral and earthy colors: Brown, grey, and khaki are always in fashion in African safari. The reason for that is blending in with the surroundings. You are entering wild animals' territory, so preventing unnecessary attention is crucial, especially for walking and cycling safaris. Avoid camouflage clothing though, as that is reserved for the military, and blue-colored clothes, which attract notorious tsetse flies.
Long sleeves, pants, and closed shoes: Yes, Africa is generally considered a warm country, but in some countries like Tanzania and South Africa, temperatures can drop significantly in the evening. Long-sleeved clothing also protects you from mosquito bites (beware - most countries with safari tours are in malaria zones). If the temperatures are too high, choose loose-fitted clothing so your skin can breathe. Closed shoes protect you from snakes and thorns luring on the ground.
Protect your head with a sunhat: The sun is harsh in Africa, so to avoid serious sunburns, you should wear a proper hat. Those with a wide brim will protect both your face and your neck. Do not wear a visor or crown-less hats, as you risk getting the top of your head burnt.
Types of African safaris
When people talk about safari, the first thing that comes to mind is traditional vehicle safaris, but there is more to that. Even though their name tells you what they are, we'll try to explain in even better to make it easier for you to choose.
Walking Safari: This type is commonly not allowed in reserves and parks because of many dangers lurking in the bushes. But, when given a chance, we recommend you go for it. Hop off the vehicle and go around with a guide to experience the wildlife up close. Go on a full-day walking tour, or take a walk on a hiking trail. In some national parks, it is allowed to walk without a guide as there are no dangerous animals around. Deltas and national parks of Botswana, Rwanda, and Madagascar are great places for your first walking tours.
Photo Safari: Africa is a haven for wildlife photographers, of photographers in general. Explore picturesque landscapes and beautiful animals through the lenses of your camera in specially designed hides. Chobe region in Botswana takes on water and lets you photographs some of the gems of African wildlife, like hyenas and puku antelopes.
Cycling Safari: Bring your love of biking to the African wilderness and enjoy the full package - colorful landscapes that make you feel like you're driving through a postcard, terrain that will test your limits, and animals to keep you company. Most of the cycling African safari tours are designed for smaller groups and you'll be followed by bigger and safer vehicles at all times. If you go cycling in Zambia, you can immerse yourself in the local culture with a visit to Mkasanga Village.
Horseback Safari: These types of safari explorations are best if your camp is mobile, as it gives you more freedom and space to explore. If you're an experienced rider you can go horseback riding even in places where bigger and faster animals spend their time, but we must note that these tours are usually organized in areas where the danger of animal encounters is lowest. If you want to experience the best of the best, book yourself a trip to Botswana. Horse riding in Okavango Delta is a certified rider's spot and it will bring you closer to lechwes, crocodiles, hyenas, and so many more of their friends and enemies.
Water Safari: If hippos are your favorite animals, this safari is for you. Depending on the country, region, and your budget, your water-based safari will include sailing in a boat, canoe, mokoro, cabin cruiser, or a similar vehicle and witnessing nature and wildlife from the water. In some cases, you won't even have to go on a watercraft, as just being close to bodies of water will give you a great insight into the area's animal life. Namibia is a great spot for your first water safari, as it will also give you a sneak peek of Botswana's Chobe National Park. Don't forget that hippos are as dangerous as they are cute, so no funny business!
How close do you like your animals? - Use the slider to see both options
South African safari - Lodges for every explorer
It's no surprise that many explorers choose South Africa as their first safari destination. This country's landscapes are so versatile - from savannahs to capes to endless vineyards to being face to face with an elephant. If you're looking for the best places to visit in South Africa, hop on our blog filled with exciting suggestions and useful info. Besides Kruger National park, which the big five plus some more call home, safaris in South Africa are known for their top-notch accommodation. Sabi Sabi Private Game Reserve, which sits on the southwestern border of the park, houses versatile camps and lodges that are members of the National Geographic Unique Lodges of the World program.
Choosing a lodge is a task and a half, as you have to find a perfect match for your style, abilities, wishes, and budget. We have a couple of suggestions, differing in price and uniqueness:
Lion Sands Ivory Lodge: This one gets bonus points for its location. It is situated on the Sabi River riverfront, which means you get to enjoy both Sand Game Reserve and Kruger National Park! They offer six different lodges, ranging from Narina Lodge, which offers you first-class views of the river on its open deck seating, to Hinkwenu Residence, with two en-suite bedrooms in the heart of Lion Sands Game Reserve. Modern furnishing, wifi and amazing service combined with elephant sighting straight from your bed or jacuzzi make these luxury camps our top choice. A 7-night stay can cost you over $20,000 which does say a lot about its status.
Black Rhyno Game Reserve: Heading out to Pilanesberg National Park, this accommodation heaven is Pinterest-worthy. With prices of around $250-300 a night, we can put it in a more affordable yet glorious category. It offers a hide with a view of the waterhole popular amongst local elephants and buffalos. Besides modern amenities combined with local style and products, it is known for its amazing guide that will take you on walking or open vehicle tours around the reserve.
Kwabufesi Tented Safari Camp: How would you feel about waking up on your private deck in the middle of the Great Mabula Private Game Reserve? Cause this camp gives you just that and more! African decor, comfy beds, pools, bars, and local foods all come with the rooms, and sightings of animals from your bedroom are not rare. Besides guided bush walks, horseback safaris, and quad bike rides, you can experience African plains from the hot air balloon. All of this can cost you even less than $200 a day. It's a steal if you ask us!
Gorilla trekking safaris - Uganda and Rwanda safari tours
Did you know that there are only around 1,000 gorillas left in the whole of Africa? This devastating truth makes this type of safari pricey, difficult at times, and one of the only ones which imply a permit. Searching for gorillas in their natural habitats deep into tropical jungles can take a toll on your body and wallet, so extensive research before the trip is necessary. Uganda and Rwanda are mostly known for this type of safari, but they differ in so many ways. We'll go through the basics together:
Getting a permit: Permit for gorilla trekking is your personal ticket for an hour of time spent looking for and with the mountain gorillas in Uganda and Rwanda. This means you'll be safe and sound walking close to a family, in a small group. Money from your fees will pay for the organization of the tour itself, and the rest goes towards conservation efforts. You won't have to do much else except paying the amount necessary, and your tour operators will get it from the country's wildlife authority. The price is $700 for an hour trek or $1,500 for a 4-hour trek. There are $1,200 deals that include a 3-day trekking experience with all the travel perks included.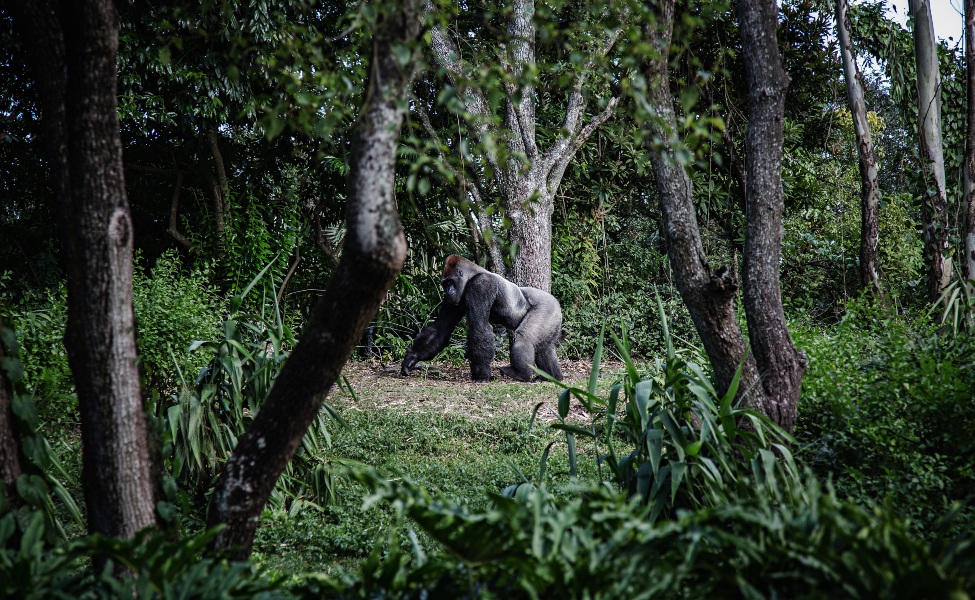 Gorilla trekking in Uganda: As the infrastructure in Uganda hasn't reached its full potential, the terrain that leads you to gorillas can be quite rough. Mountain gorillas in Uganda made their home in the Mgahinga and Bwindi Impenetrable National Parks, and both are great starting points for additional safari tours. We wouldn't recommend this country as your first contact with gorilla trekking, as it can be difficult on many fronts. Rain is common even in the off-season, which makes the terrain difficult to navigate. Trails are usually not marked, and you may get lost if your guide isn't well versed. Combine all of that with the fact that it may take you anywhere from a couple of minutes to many hours to find even one gorilla, Uganda may not be our top suggestion. The country is gorgeous either way, don't let this discourage you from going on some other safari holidays in Uganda!
Gorilla trekking in Rwanda: Even though gorilla permits in Rwanda are easier to get than in Uganda since it has double the population of mountain gorillas, it is also twice as expensive. Lovely gorilla families live in the Volcanoes National Park, which isn't so overgrown with tropical vegetation. This national park is on a higher altitude than terrain in Uganda, with peaks reaching over 4,000 meters in height. It isn't as hard to trek as Uganda is, but you should be in decent shape. If you decide to go, you will have the time of your life exploring the interesting lives of gorillas in Rwanda. We wouldn't recommend going without a tour operator, even if you're an experienced trekker.
Tanzania safari tours - Experience the great wildebeest migration
Even if you're not an avid animal lover, not many things in life will manage to top this moment, trust us. For a good reason, Serengeti National Park in northern Tanzania is a World Heritage site - it is home to more than 35 different species of animals, including over two million ungulates! Now, what exactly is the great wildebeest migration? Throughout the year, more than 1,2 million wildebeest and their zebra and gazelle friends circulate over Masai Mara natural reserve in Kenya and Serengeti in their everlasting search for drinkable water and nourishing grass. If you get the best guides and catch them in motion at the right time, you will experience the greatest show on Earth.
As this happens all year round, you can choose the part of the migration process you're most interested in seeing. The most important stages you can be a witness to are:
Birthing season: At the end of January and all through the next two months, you should situate yourself in the south of Serengeti park. This is where large herds will station themselves for the birthing season, but also some of the older members of the herd may die alongside them. During this time, one of the biggest threats will be the local predators, as younglings are their easiest catch. We suggest booking a stay at the Kimondo migration camp and from there go on expeditions to the birthing, dying, and hunting portion of the move.
Mating and more hunting: Now come April and May, the mating season is upon us. This is when the crowd starts getting more diverse, as antelopes and zebras decide to join them. This is also the time when the first river crossing occurs, as we're approaching the Grumeti River. If this interests you, reserve a place at Ubuntu Migration Camp, which practices fast relocation to follow the process.
Challenging river crossings: The summer months are when anxiety peaks - that's when Crossing the Mara River brimming with crocodiles starts. This is when the animals are the fastest, there's water splashing and dust clouds everywhere. Many bloody encounters are happening, making it hard to watch at times. This is especially true when water levels are high, making the animals panic as they rush towards the nearest shore. This part of the migration is the most popular among safari goers, so you'll have to book your trips months in advance. If you're interested in watching this wildlife tense documentary in front of you, camps in Kenya will have a better view than those around the Tanzania border.
Ending the year in Kenya: Before the circle starts moving again, making the already traumatized animals go through Mara River crossings again, they will be situated around the Ngare Nanyuki River banks. This is a great time to see them all in one place, plus check out the local cheetahs. Namiri Plains Camp is the best place to be during this time of the year.
We've recognized Tanzania as a unique luxurious destination, so be sure to check out our blog - Luxury vacation spots.
Safari spots in Africa that deserve an honorable mention
Even though they may seem similar, all the best places for a safari in Africa have something unique about them. Whether it's their nature, exciting wildlife or impressive accommodation, there's something for everyone. We cannot mention them all, so we'll give a spotlight to some more:
Kenya Safari: If animal migrations, water crossing safari tours, and views of Kilimanjaro sound appealing to you, Kenya is the way to go. There's a big chance you'll end up somewhere on Kenya's territory either way, as it shares some essential national parks with Tanzania and Uganda. BBC filmed some of its best TV documentaries in Kenya's Maasai Mara National Reserve, so get ready to be close and personal with the big cats. This glorious country also allows you to combine many types of safari explorations, from on-foot trekking to quad and boat rides. You could start small and book a 3-day Kenya safari for around $300, or go all in with a 10-day long adventure and great accommodation for just under $2,000.
Safari in Zambia: How can we skip the home of Victoria falls? Besides the stunning nature you'll be surrounded by at all times, there's a big chance you'll spot the magnificent African fish eagle. South Luangwa National Park is fun for even the most experienced safari goers, as Zambia is well-known for its adrenalin-inducing tours. We recommend you book yourself a walking safari tour and prepare for an action-packed adventure. Be prepared to spend at least $300-400 a day, or even over $1,200 if you're fancy (we won't judge).
Safari tours in Zimbabwe: This country is open for safari enthusiasts all year round. Zimbabwe's accommodation is top-notch, from pools that overlook the elephants passing by to jacuzzis with a waterfall view. Catching the Big 5 won't be a tough task here, as Hwange and Matobo national parks are home to over 100 species of mammals, 400 types of birds, and thousands of herds of elephants. Don't skip Matusadona National Park as well, especially if you don't want to miss the sadly endangered black rhinos. Considering all the costs that will go into it, you're looking at $200-300 per day and even over $4,000 for luxurious options.
If you've read this blog in preparation for your upcoming safari, we so envy you! And we hope it helped alleviate some doubts and expanded your itinerary. Best safari tours in Africa are even better if you have enthusiastic guides alongside you and great accommodations at the end of the day. Get your best pith helmet on, go exploring open-mindedly, and don't forget to be respectful to cultures and animals. Bon Voyage!