There is almost no more beautiful and perfect place in the world for vacation than the French Alps. It is almost certain that at least once in your life you have thought of visiting the famous and iconic French Alps. This is a stunning place of immense beauty that has extraordinary views. The French Alps are always a good idea, no matter the season. During the summer months you can explore the wild, gorgeous and untamed nature of the entire region and during the cold winter season, this majestic place is perfect for skiing and other outdoor activities. We would highly recommend you to gather your entire family and take them to the French Alps as soon as possible.
History of the French Alps
Like the name itself says, the French Alps are the portions of the Alps mountains that are within the French borders. Some of the ranges of Aalps are completely in France, others are in Italy and Switzerland. You only imagine how large and big these mountains are, but almost every part of them creates fantastic scenery and picturesque landscapes. The highest mountain in the Alps, the famous and incredible Mont Blanc is shared with Switzerland and Italy. At 4, 808 metres, Mont Blanc is a real adventure and challenge for every experienced hiker. These amazing mountains are full of popular ski areas.
What are the French Alps known for
The French Alps are mostly known for their popular ski spots. They are incredibly popular holiday destinations for many friends and families. All kinds of winter sports and fun snow activities are something that make the French Alps very famous worldwide and quite popular among many generations. The French Alps are also famous for excellent and thrilling mountain biking and paragliding. Water rafting is another great sport that makes the French Alps even more popular.
Where are the French Alps
Like we previously saied, the French Alps are located in the sought east of France. They are located in the Provence-Alpes-Côte d'Azur. If you are wondering how to get to the French Alps, our recommendation is to fly. No matter where you are in the world, there are many great flights and affordable ticket prices that will get you to your destination. The nearest airport to the French Alps is Geneva. It will cost you between 140 € and 293 €. It depends on the company and from what part of the world you are coming from. Of course, this is not the only option available. You can also use the good old fashioned train and enjoy the charming and pleasant scenery from the train window. You can travel by train from London and from Paris. You decide.
Top French Alps ski resorts
The best ski resorts in Europe are located on the French Alps. This is the place that has the highest concentration of ski resorts. This magical place offers hundreds of kilometres of ski slopes. Every ski resort has its own very special architecture and great atmosphere. Each is quite unique and has something good to offer. It's up to you to decide what ski resorts suits you more.
Val d'Isère ski resort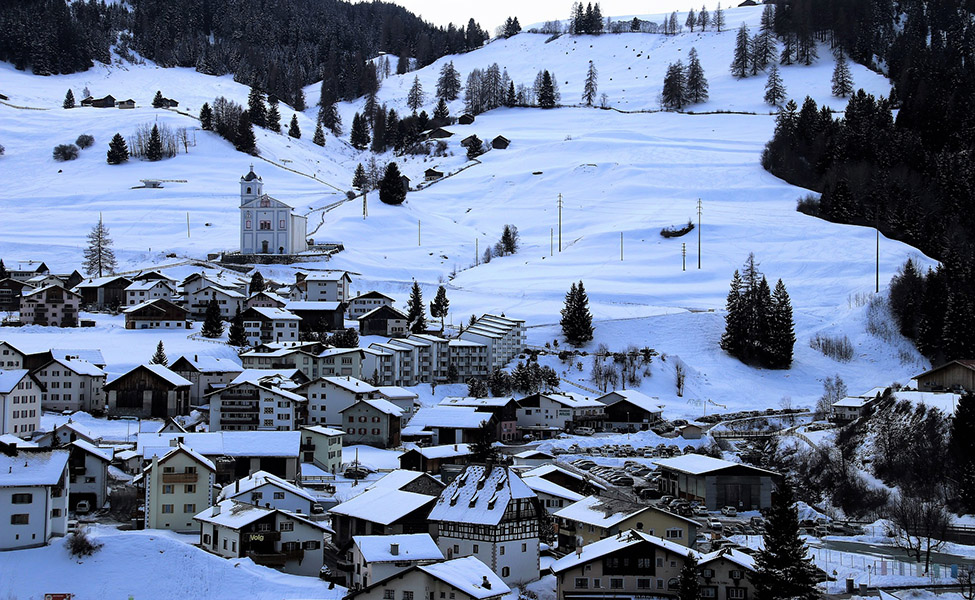 This is one of the most famous and luxurious ski resorts that will delight you with a number of charming and authentic cottages and luxurious hotels and apartments. Here, the guest is always in the first place. The service is fast and professional, while all ski slopes are nicely arranged. There are several types of ski trails available. They are divided according to their difficulty. Whether you are already an experienced skier or a beginner, this place is a good choice for your ski adventure. This beautiful places offers not just the best skiing spots, but is also offer many great and fun activities, such as:
Golf
Film festivals
Aqua sports
Winter sports
Ice skating
Méribel ski resort
Architecture of the Meribel ski resort is incredibly fascinating and special. It looks like something that came straight from the fairytale. When you think of a mesmerizing skiing place, you probably think of wooden chalet-style apartments, clean, white snow, rows of deep green trees and bright blue sky above all of it. Well, Meribel ski resort has exactly that. It is even more beautiful than in pictures. This resort has everything you need for a perfect ski vacation:
Great ski spots
Night clubs
Nice restaurants and bars
Luxurious shopping venues
Swimming pools
Indoor ice rink
Fitness centre and gym
Morzine ski resort
If you choose this ski resort you will be able to travel to Switzerland and back in just one day. Morzine ski resort is a truly picturesque place, perfect for all those who love nature during the winter and winter sports. Another advantage is the fact that Morzine ski resort is located quite near the Geneva airport. It's only an hour drive from there. Morzine looks like a real French village and it has a very special charm. Many great and fun festivals happen in this resort every year. Here is our list of best winter activities you can enjoy while being in this ski resort:
Visit the Fitness trail
Go to Ice Rink
Try out Nordic walking
Visit the swimming complex
Try snowmobiling and snowshoeing
Go to fitness and yoga studio
How much does it cost to go to French ski resorts
Skiing, shopping, playing fun winter sports and relaxing in the best luxury hotels can be incredibly fun experiences, but you are probably wondering how much does it all cost?
Well, we are not gonna lie, ski resorts in France can be pricey and quite expensive sometimes. Good thing is that you can find many great discounts, if you are lucky enough and know where to look. On average, skiing in France will cost you €369.34 per person or even €642.10 per person. Ski pass prices are between €283.00 and €156.50. Usually the average ski trip will cost you around €90-180 per day.
The best French Alps cities

If you are thinking of visiting the French Alps, then you are probably wondering what are the best cities to visit in that region. The cities are located between the glorious mountains and beautiful lakes. The nature that surrounds them can seem completely surreal. Another fascinating thing is the architecture of those cities. The houses and buildings have a very special and unique style. They look incredibly charming and you will probably be surprised how celan, spacious and stunning they are in person.
Chambéry city
This city will delight you with its authentic, French charm. The whole place resembles a fairy tale, so it is really a real paradise for all tourists. All fans of skiing and winter sports here will especially enjoy it. In this city you will find, not only real winter magic, but also a number of great restaurants, as well as a range of diverse stores full of interesting souvenirs and very chic French clothes. The city is located in the Rhône-Alpes region of France. Chambéry is a very peaceful place that has stunning architecture, great food and excellent wine. It's also famous for having a lot of vineyards.
Annecy town
Annecy is a perfect place for all those who want to truly experience all the magic of the French Alps. We can't even properly describe to you how amazing and wonderful this town is. It's full of fantastic scenery and vidi colors. It's definitely a place worth visiting. Annecy town is located in Haute-Savoie. One of the town's trademarks is the beautiful c Lake Annecy. Also, the entire town is surrounded by mountains, so you can expect breathtaking views from it. The whole town looks like something that is printed on a postcard.
What to do in Annecy city
Well there are really a lot of great things to do in the lake town. No matter where you go, you will be able to see something nice and interesting. The Annecy offers a lot of fun possibilities and stunning places to visit. It is hard to pick just some of them, but we did our best:
Visit the Lake Annecy
Try out water sports on the lake
Go to the beach
Eat traditional raclette
Explore the Annecy's old town
Visit the Pont des Amours
Go to The Gardens of Europe
Look at the historic churches
Grenoble city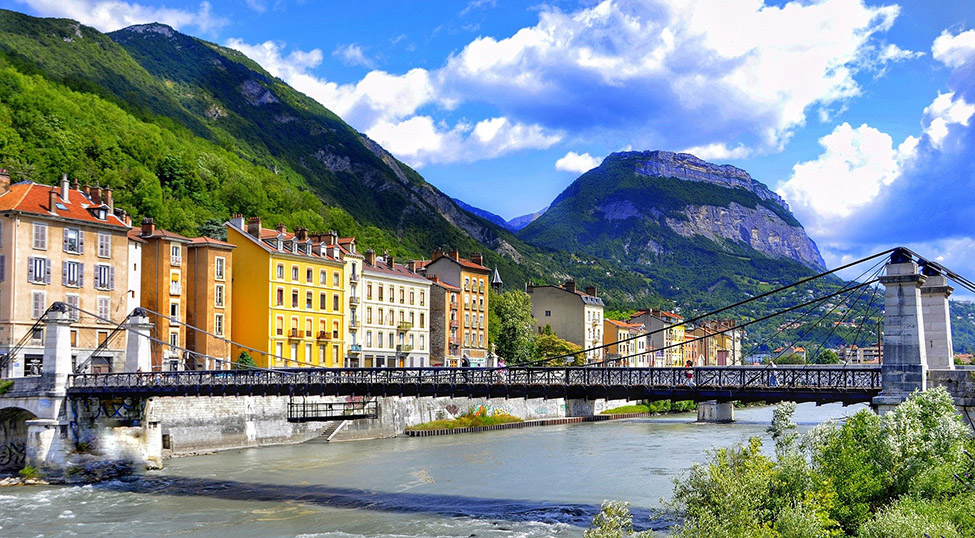 Grenoble city is located in southeastern France, very close to the majestic French Alps. The city has a great and long history and today Grenoble city is the city of sport. The city is divided in two very different parts. The oldest part is located between the river and snow capped mountains. Today this city is full of life and definitely one of the places worth visiting. Its cultural life is also very rich and vibrant, so we can safely say that Grenoble is not only the city of sport, but also the city of art and culture. You should check out some of Grenoble's most famous museums. Here is the list of all fun thing you can do in this city:
Explore the Old Town
Visit Musée de Grenoble
Take a walk in Jardin des Dauphins
Have a picnic at Jardin de Ville
Hiking routes in the French Alps
For all lovers of active holidays and for all true adventurers, hiking in the Alps is a special and unforgettable experience that requires a lot of time, work, strength and experience. Still, you will be rewarded with fantastic landscapes and breathtaking panoramas. Given the strong climatic conditions that prevail in these mountains, you need to have good equipment for hiking and mountaineering. We are sure that the nature you find there will mesmerize you. This can also be an ideal opportunity to gather your dearest friends and start your alpine adventure with them.
Hiking the Haute Route
This is one of the classic long distance hiking and one that will require a lot of hard work and determination. Nevertheless, this route should be on everyone's bucket list. Interesting thing about this hiking route is the fact that you will be crossing glaciers and cols. Also, be prepared for the mountain terrain and know that it will not be that easy. Although this is not the most difficult hiking trek, you do need to be physically fit and in good condition to finish it properly.
French Alps trekking
You will be able to walk some of France's most beautiful Alpine trails. These are the places that are a real treat for the soul and body. We recommend hiking during the summer months when nature is so stunning and growing. Plus, it's slightly easier than during the winter months. This whole area is full of National parks that you will get to explore and discover during those hiking tours. You can choose from several hiking treks. The prices go between £1395 per person and £995 per person, depending on the route you intend to take. No matter what you choose, one thing is sure, beautiful and varied mountain landscapes are waiting for you.
Summer in French Alps
Although many people usually travel to the French Alps during the winter, summer is also a great time to go there. If you are a nature lover and you like to enjoy wide-open spaces filled with natural beauties then the French Alps can be the best option for you, even during the summer. Beautiful lakes surrounded with untamed nature, rivers and waterfalls, all that and so much more is waiting for you during the summer. So, without further ado, let's explore that together and tickle your imagination a bit.
Visit the National parks
Did you know that in the Alps there are 14 national parks? All of them are extraordinarily beautiful and simply breathtaking. In the French parts you can visit three National parks:
Écrins National Park
Vanoise National Park
Mercantour National Park
Écrins National Park covers a large area of central mountains. All the real nurture lovers simply fall in love in this National park. The flora and fauna are incredibly rich and diverse. Many rare and unique plants can be found in this national park. Be prepared to hike so bring your best shoes and all the necessary equipment. During your hike you will probably econuter foxes, squirrels and marmots and also many wild and extraordinary plants.
Vanoise National Park is another great destination to explore during the summer time. In the summer time there is seasonal Park information that is not available in winter, so you should use those warm summer days to visit this gorgeous national park. You can even book great tours online with a professional guide who knows the entire area well.
Mercantour National Park is a special place where you can find stunning alpine violets and a very rare vulture with a beard. We Are talking about a real nature paradise. This park also has a rich history with over 20 00 rare inhabitants living in a protected zone.
Explore the the French Alps villages
It is safe to say that the French Alps are home to some of the most picturesque villages in the world. We would say that the French Alps have fairytale-like characteristics and it is a real joy to visit them in person. These traditional villages are tucked away from the usual touristic sights, so there you will find peace, quiet and immense beauty. We have selected a few of them for you:
Megève- this is one of the oldest and most authentic villages in the French Alps it will give you a view to die for. It looks like a typical mountain village with cobblestone streets and a main square with a historic , french church.
Route du Galibier- if you are looking for a perfect panoramic spot then this place is a good fit for you because it will give you the most breathtaking views ever. There the most beautiful during the summer season.
Thonon-les-Bains- this is a possible the best spa spot especially during the summer time and its biggest attraction is the 17-th century chateau that offer majestic panoramic views
Best French Alps hotels
If you want your vacation to be truly complete and perfect, you also need excellent accommodation that will provide you with comfort and rest. Imagine the following scene: you are in a beautiful, mountain hut built out of the best wood, you are looking out the window at the snow covered mountains, while next to you, in a beautiful, stone fireplace, a warm fire crackles pleasantly, heating and illuminating the room with its golden glow. Sounds wonderful doesn't it? You can get just that if you find the perfect accommodation in the French Alps. here is our pick of the best hotels in the French Alps.
Western Plus Excelsior Chamonix Hôtel
When it comes to the most luxurious hotels, this one is at the very top. It is in this hotel that you will experience the vacation of your dreams. The service is very fast, efficient and the guest always comes first. In addition to beautifully decorated rooms and comfortable furniture, this hotel also has an excellent restaurant, as well as other amenities that all hotel guests can enjoy. Another advantage is that this hotel offers you the panoramic view of the Mont Blanc mountain range. Also, during the summer you can use the hotel's swimming pool. The property is 10 km from Chamonix Train Station, so you can travel via the train as well. Classic Double Room will cost you between € 80 and € 107.
Les Airelles
La Clusaz ski resort is a wonderful place that will give you the best experience of the French Alps and this popular hotel is located right there. All guests of this hotel have direct access to the ski lifts and ski slopes, so this hotel is perfect for all those who love skiing and winter sports. Hotel is fully equipped and the service is excellent. The rooms are all clean, comfortable and the wood dominates the interior. Another great thing is that many great Shops for tourists, a theatre and a ski school can all be found very near this hotel, you can even walk to reach it. Here are the prices:
Standard Double Room - € 71 for 1 night
Superior Double Room - € 90 for 1 night
Superior Triple Room - € 102 for 1 night
Superior Family Room - € 116 for 1 night
Hôtel Vauban Briançon Serre Chevalier
In this hotel you will find a unique blend of the new modern with what is rustic and traditional. This combination is unusual, but it gives a special charm to this hotel. It is ideal for family gatherings and young couples. Vauban is located in the centre of Briançon, very near the ski slopes. You will find an excellent restaurant that will prepare you the best traditional and international food. Couples really liked this hotel and they rated it quite well. The price is great for all the service and luxury you get. Double Room with Mountain View will cost you€ 85 for 1 night.
We hope that this text has managed to introduce you to all the incredible magic of these beautiful mountains. No place in the world is as beautiful and magical as the French Alps. Here you will be able to experience a real winter fairytale. You will always be very happy to return. Each place on the French Alps has a special atmosphere. However, one thing is for sure, and that is that tourists and guests always come first. In addition to the suggestions we have made for you, these mountains offer you countless other wonderful places that are just waiting for you to explore them.
The fantastic view of snow-capped mountains will leave you speechless. So pack your bags, book a vacation and bring the best ski equipment, the French Alps are waiting for you. If you are wondering what are the other popular and great destination for vacation, especially with families, then read our blog: Best family vacation.