The famous Prague, a place of rich culture and tradition, a place where modern and traditional, new and old, constantly meet. Prague is the capital where you will find everything you need for a perfect vacation and, believe us, it has a lot to offer to everyone. If you are wondering why to visit Prague, well it is safe to say that there are many wonderful reasons for that. Whether you love history, art, high fashion, stunning architecture or just love to enjoy the beautiful scenery, Prague is a city that can offer you all of that and so much more.
History of Prague
Prague has a very rich and quite turbulent history. But the story of Prague is one of the reasons why so many people come to Prague every year. The city bloomed in the 14th century and that is when its stunning and unique architecture came to life. Many great buildings were created and constructed in that time. Gothic cathedrals become a signature style and something that will make Prague recognizable all over the world.
Medieval Prague
Legend of the founding of Prague was born in the 8th century. The famous Přemyslid dynasty successfully ruled the Czech until 1306. Almost 40 years later Prague's golden age came and the gorgeous architecture began to adorn the streets of Prague.The whole of Prague was in rapid development. From schooling to health, Prague has progressed, as has life in it. Another turning point for Prague occurred in the 18th century. Prague's four towns of Staré Město, Malá Strana, Hradčany and Nové Město were formed into one big unit. Stunning Baroque and later Classicism entered the city. Palaces, churches, sculptures and glorious monuments were created almost everyday and so the beauty of Prague grew with each of them.
Tourism in Prague
Today Prague is one of the most popular cities in the entire Europe. Prague is a place that will delight you again and again with its beauty, with its tourist offer and stunning architecture. Tourism in Prague is constantly growing and flourishing, so it is no surprise that almost 8 million tourists visit this beautiful city every year. If you are interested in what are the most popular places for tourists in Prague, what are the prices and important information you should, just keep reading.
Prague tourist attractions
Prague is a beautiful city where you will see a handful of beauties and attractions. Whether it's museums or beautiful panoramas, Prague is ideal for tourists and full of tourist spots. These are the most popular ones:
Prague Old Town - we will dedicate a whole section to it, because there is really a lot to see and learn about the Old Town in Prague
Plezen - the famous home of Pilsner Urquell
Prague Castle - this medieval castle will leave you stunned and mesmerized by its beauty
Sedlec Ossuary - a small, Roman chapel that it quite unique because it has enormous chandelier made out of human bones
Charles Bridge - this iconic bridge is the symbol of Prague and all its beauty, because of that we will write more about it a bit later
Vltava River - this river will offer you some of the best sights and breathtaking views of the historic and stunning Prague, is also a great spot to have a picnic
Also, while in Prague, be sure to chek these important and historical places. These are buildings that gave great historical importance for the whole country. These institutions are part of the rich culture of the Czech Republic and have preserved the language, wealth and culture of one nation for decades:
Strahov Monastery - this monastery is one of the best examples of baroque interior decoration and it dates back to the 12th century.
St Nicholas Church - another great example of Prague's baroque architecture, also this church is famous hosting a concerts of classical music
The National museum - the National Museum offers a unique insight into the history of the Czech Republic. The museum's permanent exhibit is large and impressive, so we're sure you'll be thrilled to see it in person.
Prague price tickets and information
Of course these are just some of the most popular tourist attractions in Prague, there are many more, although then you will need to stay in this wonderful bastard for at least seven days, and maybe more. The price for visiting Prague Castle is around 10 euros, for the National Museum around 5 euros and for the Old Town Hall with an Astronomical Clock around 10 euros. To buy a ticket online is almost always cheaper than on the spot.
You can also avoid the queue at the cashier, because the queue can be quite long. You can also get a special Prague tourist card that includes tickets to many attractions and famous museums in this gorgeous city. It also includes bus tours and river excursions.
2 days -71 eur
3 days - 81 eur
4 days - 88 eur
Charles Bridge
Once upon a time Charles Bridge was an incredibly important and strong connection between Prague Castle and the city's Old Town. Even today, the significance of this beautiful and glorious bridge has not diminished at all. The iconic Charles Bridge is today one of the main and most beautiful symbols of the entire Prague. Not one visit to this city can pass without going to this famous bridge.
The view from the Charles Bridge is absolutely stunning. This famous and iconic bridge is filled with amazing statues. The avenue of 30 mostly Baroque statues can be seen on this Gothic bridge. Great number of those sculptures were erected in 1683, but they are still standing the test of time. Charles bridge is a medieval, Gothic bridge over the river Vltava.
Charles Bridge facts
Here are some fun and interesting facts about this gorgeous, medieval bridge:
Charles Bridge was constructed in 15th century
King Charles IV ordered its construction
This bridge was incredibly valuable connection between Eastern and Western Europe
Today it's the most popular spot for all the tourist that come to Prague
The bridge is incredibly beautiful and well decorated by alley of 30 statues
Most of them are baroque-style, originally erected around 1700
Many of those iconic statues is replaced by replicas today
Location of the Charles Bridge
Old Town square
Across the beautiful river Vltava and the iconic Charles Bridge the Old town square awaits you. Certainly, this place today is especially popular among all tourists who come to Prague, it's a real treat for all the art and history lovers out there. This is the most important and valuable square of the historical Prague and its beauty is immense. Old town square dates back to the 12th century. Many great historical events have plates on its ground, so once you are there beware that you are standing in an incredibly special place, a place that is full of history and significant events.
Prague astronomical clock
The famous and stunning astronomical clock in Prague, known also as The Orloj is another very popular and important touristic and historical spot in this beautiful city. This watch is very famous and unique, and not only for its incredible architecture and ornamentation. The astronomical clock shows not only date and time, but also astronomical and zodiacal information. We can say that it's a real piece of incredible art.
Many legends can be heard about this gorgeous clock, and one of them came straight from the famous and legendary Grimm brothers. The legend claims that the watch might be cursed. This clock is attached to the Old Town Hall, go there and chek it out, you won't be disappointed.
Old Town architecture
Romanesque architecture has created some of the oldest buildings that are still standing in the Old Town of Prague. Baroque, Renaissance, Gothic, 19th-Century Neoclassical are styles that created something truly beautiful and different in Prague. Architecture in Prague is like nowhere else in Europe.
It's simply stunning and mesmerizing in so many ways. Its rich and quite unique so it is no wonder that so many tourists come to this city especially to see its vibrant and rich architecture and various architectural styles. Many great and important, architectural gems come from the Gothic, Renaissance and Baroque era. Even today they managed to remain intact because the city was not rebuilt like most European cities during the 18th century.
Best restaurants in Prague
The Czechs are widely known for their hospitality, rich cultural heritage, beautiful architecture and of course, for their great cuisine and delicious national specialties. So it is no wonder that Prague has some of the best traditional restaurants in the whole of Europe. We would warmly recommend to all tourists that, after a long day spent exploring all the beauties and sights of Prague, be sure to sit in one of the most popular Czech restaurants. While in Prague be sure to taste a lot of roasted meat and root vegetables. We have selected the best places for you:
Coda Restaurant - For true gourmets who love good and quality wine, as well as a pleasant, intimate atmosphere, this popular and luxurious restaurant is the right place. V and impeccable service, this gorgeous restaurant is decorated with paintings and sculptures. Coda restaurant is located inside the Aria Hotel Prague
Krcma - This was the very first restaurant in the whole city. That is why it still has a very special place and its part of the rich cultural heritage of Prague.Even today, Krcma is a very traditional restaurant. It is located in the basement of one old building in the Old Town.
U Kunstatu restaurant - When it comes to traditional and national cuisine of the Czech Republic, then this is a restaurant that all tourists must visit. The Czechs are especially known for their love of good beer and sausages, and this restaurant offers you just that
Prague food
The Czechs are widely known for the fact that they really like to eat well, but also to drink a lot. When it comes to drinks, in Prague beer is a sacred drink that you must try. Czech beer is of a special quality. It is also known that a great beer goes well with a large meat meal and homemade bread. Typical Czech meal usually consists of butter, homemade honey, cheese and of course, meat, esspecialy salami and ham. Czech food is very delicious, very filling and addictive. Make sure to leave enough space in your stomach for all the meat you will get there. The most famous dessert inPrague is of course Medovnik, or chimney cake.This dessert must be tried by every tourist who comes to Prague, you will be delighted to taste it.
Best hotels in Prague
In order for your vacation to be successful, good and comfortable accommodation is a matter of course. Fortunately, a city like Prague has the best accommodation facilities that will satisfy all your needs. Service is excellent as well as food and also the majority of these hotels are quite close to popular tourist attractions.
Fusion Hotel - this is one of the best and most popular hotels in Prague and all the guests in it pointed out that they are extremely satisfied with the ambience of the food and the overall service
Four Seasons Hotel Prague - great service and great location, this luxurious hotel will delight you with its offer and beauty. Every guest is always given special attention
Alchymist Grand Hotel and Spa - if you want to have a real royal atmosphere, then this hotel is the right choice for you, and another advantage is that it is located very close to the magnificent castle in Prague.
Aria Hotel Prague - this famous and luxurious hotel, has it all, from the best rooms and suites, facilities to the best dining in the city.
Fun facts about Prague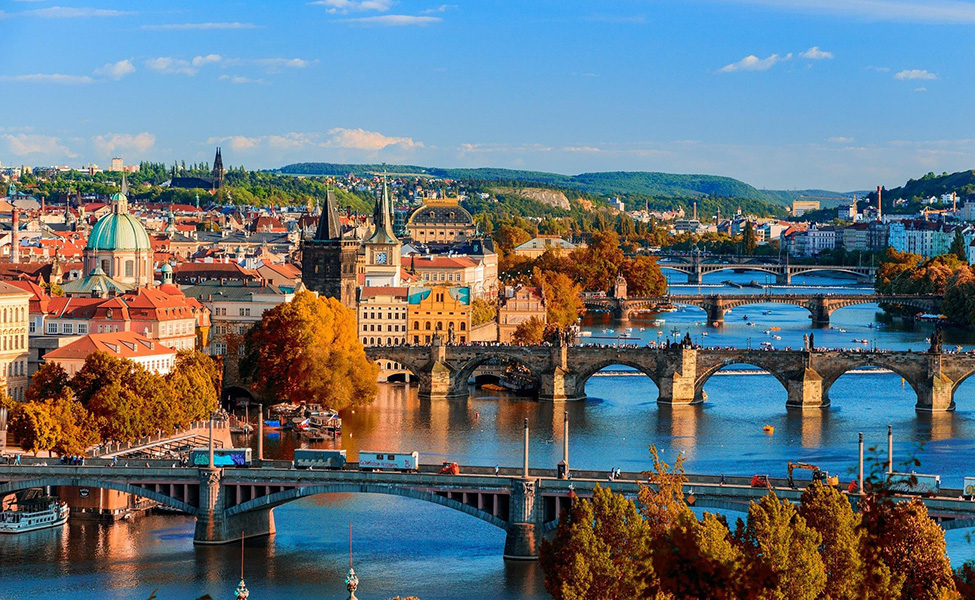 Here is some interesting trivia about Prague and everything you can expect from this beautiful city and its rich tourist offer:
Prague has a beer spa - the beer is sacred drink, so it is no wonder that you can go to beer spa and drink unlimited amounts beer straight from the barrel, so be sure to dive in beer bathtub
Prague has the largest castle in the world
Best view is from the Petrin tower
The city is home to the longest river in the Czech Republic
Locals drink more beer per capita than any other nation in the world
Charles Square is one of the most beautiful town squerenin the world, but once upon a time it ws also the largest
We hope that this text managed to conjure up at least a little for you and bring you closer to the special magic of Prague. Of course, the unique beauty of Prague can be written about inexhaustibly, but our recommendation is to see all its charms live and as soon as possible. Prague is always a good holiday idea and you can often find great arrangements and discounts that will allow you to have your dream vacation. Of course, if you are interested in some other vacation spots, our recommendation is to spend your summer on the sea of ​​beautiful Greece, and in the blog 5 reasons to visit Greece, you can read how to get the most beautiful Greek vacation.