The capital of Serbia, also its largest city, is an inexhaustible source of entertainment and leisure. Belgrade is a lively city, widely known for its nightlife and the numerous attractions that make it one of the most visited in the country. One weekend will be just enough for you to see the most prominent places and get to know its spirit. This is true for tourists and those who live in Belgrade and have never used the opportunity to explore this concrete jungle they call home. Here's a sneak peek of what's to come:
Source: © Slobodan Vladisavljević from Getty Images via Canva.com
About Belgrade
These famous words by a loved Serbian writer and journalist Dusko Radovic best describe the love we have for this glorious city.
He who was lucky enough to wake up this morning in Belgrade
shouldn't ask for anything more in life.
More than that would be immodest.
Belgrade location and how to reach it: Belgrade is the capital of Serbia, situated where the rivers Sava and Danube collide. It's been blessed with a great position in the world, both weather, and travel-wise. The intersection of European roads E-70 and E-75 makes it easy to reach by bus or car. Belgrade has an airport, named after Nikola Tesla, to which most major airplane companies fly. If you want to keep it cheap, consider Wizzair.
Currency in Belgrade: The currency used in Serbia is dinars, which you can get at an exchange office. Paper money in Serbia goes from 10, 20, and 50 dinars to 100, 200, 500, 1.000, 2.000, and 5.000. The value of $1US is around 111 dinars. Exchange offices in Serbia will accept most of the world currencies.
Is Belgrade expensive: In 2018 Belgrade was named the cheapest destination to visit, and we guess that tells you all you need to know. Even if you decide to go all out, there's a big chance you won't be spending more than $600-700 for a full week. Admissions to most attractions usually don't go over $5-10, you can get street food for the same amount and a nice meal for less than $15, and accommodation can cost you as little as $30 a day.
Demography of Belgrade: By the last census, Belgrade is home to around 1.4 million people, most of them being Serbs. People from all the former Yugoslavian countries live in Belgrade, alongside Roma, Albanians, Slovakians, Germans, Russians, and many others. This array of people and cultures you can see and hear on the street every day is one of the best things about Belgrade.
Languages spoken in Belgrade: Serbian is the official language of Serbia and Belgrade. Since English is a language taught in schools, Serbians are really good with it. This means you won't have much trouble ordering in a restaurants, visiting grocery stores and shopping centers, museums and attractions offer audio guides in English and sometimes French as well.
Belgrade landmarks
Belgrade is a place where modern and traditional intertwine. Sometimes it feels like a walk through a sci-fi movie, as in the city center, you'll be met with a building obliterated by war and a one-year-old building a few steps after it. That's what makes it charming! Belgrade natives use many landmarks we'll tell you all about as meeting spots. It is difficult to single out only the most important attractions of Belgrade and ignore the others, trust us. So we will do our best to mention the best places to visit in Belgrade and make your weekend richer for one pleasant experience.
Knez Mihailova
This city was perhaps best described by Momo Kapor, a famous writer and painter who dedicated numerous works to Belgrade and the Danube. His books are almost a guide through the city. They mention some long-forgotten places, cafes that many enjoyed until wee small hours of the morning, restaurants that served the city's most delicious food, and Knez Mihailova, the eternal place of meetings and farewells. Therefore, this is a perfect start for your Belgrade endeavors - the central city pedestrian zone and the heart of the whole of Belgrade. A lesser-known fact is that it became a pedestrian street only in 1987. However, even during the Austrian, Turkish, and Roman rule, it was of great importance. It has changed over the centuries, mosques, neighborhoods, and even a part of Aleksandar Karadjordevic's garden have been built in it.
Attractions of Knez Mihailova
For its appearance today, we can thank the urbanist Emilian Josimovic, in whose part a monument was erected at the very entrance. It houses, next to each other, buildings of great historical importance and some of the most visited boutiques and shops. Among the Belgrade famous places you can visit here are:
The establishment of the Serbian Academy of Sciences and Arts
Zepter Museum (working hours 10 am - 9 pm)
Gallery of the Culture Center of Belgrade (working hours 12h - 20h, closed on Sundays)
Palace of Albania
Knez Mihailova is intersected by smaller streets, which offer equally interesting and colorful sights. You will meet street book and record sellers, musicians, singers, clowns, and other street performers. Once you're done exploring it, you can decide to visit Republic Square on one or Kalemegdan on the opposite side. Whichever way you choose, you won't go wrong.
Belgrade center - The Republic Square
At the exit from Knez Mihailova Street, the main town square awaits. Today's Republic Square site used to be the Istanbul Gate, a symbol of Serbian life under Turkish rule. The demolition of the gate symbolically destroyed the Ottoman power over the Serbian population. Today, Republic Square is a place to meet and socialize; from here, you can explore the city, its restaurants, and bars. In addition to the famous monument to Prince Mihailo Obrenovic, there are many cultural buildings for which Belgrade has become widely known. Across the Square is the shopping center Staklenac, Press Center Building, and Palace Reunion, as well as numerous cafes, restaurants, and narrow alleys. The buildings of the National Theater and the National Museum stand out for their beauty as well.
National Theatre in Belgrade
You will easily recognize the National Theatre by its exquisite architecture. It was built to resemble Milano's Teatro Alla Scala and quickly became the most famous theater in Belgrade. It cultivates a long tradition, which is still preserved today. You can witness opera, ballet, and drama performances while admiring the interior's beauty. The repertoire is displayed on the board at the entrance and on the theater's website. The working hours of the box office are from 11 am to 3 pm on weekdays and Saturdays. Ticket prices depend on the program you want to attend. Visit our page dedicated to the National Theatre to learn more about its rich history, but also how to reach it.
Skadarlija
Lovers of good food and booze, historical hotspots, live music, and traditional Serbian charm, you've come to the right place. Not far from Republic Square is Skadarska Street, which managed to preserve most of its appearance from the 19th and the beginning of the 20th century. Although it is only 500 meters long, it houses some of Belgrade's legendary taverns, such as Dva Jelena and Tri Sesira. Visits to these taverns will simply transport you. This is where bohemian men and women spent their late nights, and the owners give their best to preserve them today. Skadarlija is an ideal place for dinner and relaxation after a day spent touring the city. Remember that the street is cobbled, so high heels and slippery shoes won't be your allies.
Jevremovac Botanical Garden
To put it simply, Jevremovac Botanical Garden represents the lungs of the center of Belgrade. Many rare plant species are preserved in the oldest botanical garden in Serbia, built around 1874. Although it is located almost in the center of the city, between busy streets, such as Takovska and Despot Stefan Boulevard, this area, filled with the most intricate fauna, is almost soundproof. You will not even notice the city's noise and bustle as you walk among nature that stretches over 5 hectares. Within the garden, there is also a Japanese garden, the Institute of Botany, and a greenhouse garden. Jevremovac is open from May 1 to November 1, and the ticket costs a symbolic 300 dinars ($2.6). Don't miss out on the opportunity to buy one of the plant seedlings and thus get one of the most beautiful souvenirs from Belgrade.
Temple of Saint Sava
This magnificent Temple was built in the place believed to be the burning grounds of Saint Sava's remains. In 1935, the construction of the Temple began. Today, it is known as one of the largest Orthodox churches in Europe and the largest in the Balkans. The interior of the Temple is richly painted, and the crypt is perhaps the most magnificent part of the church. Given that it is one of the most famous Belgrade sights, it is unthinkable not to visit it. Temple of Saint Sava is open daily from 7 am to 8 pm. Remember that clothes for this visit need to cover your shoulders and knees.
Autor: ©Brusonja from Getty Images via Canva.com
Gardos
Zemun is a part of Belgrade you mustn't miss. Even more precisely, Gardos. The Danube river is perhaps the most beautiful on this side of the city; the area is quiet and suitable for walks with children. A visit to the Millennium Tower, better known as the Gardos Tower, is worth the effort of reaching. Narrow, cobbled streets surrounded by tiny colorful houses will take you to this historic building. Although the tower was built in 1896, the history of this place dates back to the Neolithic period. You can climb the tower and enjoy the view of the Danube and Belgrade from a completely different angle. Once you conquer Gardos, take a walk along the Zemun quay and sit in one of the restaurants on the river bank that offer the best fish specialties. This is the perfect time to try a famous dish called riblja corba, which is basically a fish stew, sometimes made a bit spicy.
Museums in Belgrade
From the ones that preserve the history and tradition of Serbia and the world, that celebrate the beauties of contemporary life, Belgrade has it all. Some newer museums Belgrade has to offer are dedicated to the visual experience, like the Museum of Illusions or the Selfie Museum. For those who want to get to know the spirit and past of Belgrade better, don't miss these:
The National Museum: From prehistoric archeological finds, the art of ancient Greek and Roman culture, all the way to works of contemporary art, you can go through the history of humanity in one place. The entrance to the National Museum is free on Sundays, so you can split your visit into two days for the price of one. You will have the opportunity to see some of the works of our most notable Serbian artists, such as Paja Jovanovic, Nadezda Petrovic, Sava Sumanovic. The museum also houses the works of Claude Monet, Paul Gauguin Picasso. The ticket price for adults is only 300 dinars ($2.6), while children, students, and pensioners pay just 150 dinars.
Museum of Contemporary Art: The modern building of this museum can be seen clearly from Kalemegdan. Typical post-war Yugoslav architecture gives it a special touch, and the interior of the museum is no less stunning. The Museum of Contemporary art was built for this very purpose, to keep the most valuable collections of contemporary art that Serbia possesses. Graphics, drawings, paintings, and sculptures are exhibited on about 5,000 square meters. In addition to the permanent exhibition consisting of works from the XX and XXI, there are frequent guest exhibitions of world-famous artists, such as Marina Abramovic. It is open for visitors every day, except on Tuesdays, from 12 to 8 pm, and at a price of 600 dinars for adults and 300 for children.
Nikola Tesla Museum: the building from the beginning of the 20th century at 51 Krunska Street keeps the legacy of the world's most outstanding scientist on its premises. Personal items, records, letters, drawings, and some of the inventions and working models Nikola Tesla has made are kept safe in this museum. Nikola Tesla Museum is unique because it also houses the urn of Tesla himself. Visit it all for just 400 dinars ($3.5). Admission is free for children up to 7 years old, and the museum's working hours on weekends are from 10 am to 6 pm.
Ada Ciganlija
If you want you and your children to run freely, play in the grass or ride a bike, Ada Ciganlija is the place to be. If you visit Belgrade in the summer, this so-called sea of Belgrade is where you'll find many activities available, from rollerblading and renting boats to playing in the water. Just some of the things on Ada's rich repertoire are:
Adrenalin activities: Are you ready to go bungee jumping from a 55-meter-high platform, or maybe try water skiing? That's exactly what you'll find on Ada, alongside an adventure park with obstacle courses, paintball and laser tag, climbing rock walls and even skiing and snowboarding simulations.
Sports on Ada: On it's 7km wide shores and 8km of water space you'll find fields for soccer, basketball, volleyball on sand, tennis, baseball, golf, badminton, rugby, as well as kayaking and paddling equipment, tracks for cycling and rollerskating, and an area for fishing. Everything you could possibly need equipment-wise can be rented.
Belgrade tourist places - Parks in Belgrade
Belgrade has green areas and landscaped parks scattered all over. After visiting all those attractions, we advise you to take a break in one of them, enjoying nature. In addition to protecting you from the sun and crowds, Belgrade parks also have children's playgrounds and numerous monuments and Belgrade sights you ought to see, from famous churches to even more famous Serbian castles (which technically are fortresses but equally fun)
Kalemegdan
It is almost impossible to come to Belgrade without walking through the Kalemegdan Fortress and witnessing the most beautiful view of the confluence of the Sava and the Danube. The space is divided into Great and Little Park, with buildings of great historical significance at every step. Spacious green areas with lots of trees, benches, and sculptures are the perfect place to relax and take an easy walk during the weekend. The Belgrade symbol is also located here - the monument The Victor or Pobednik, erected in 1928. You can continue your tour by visiting some of the following buildings:
Military Museum: This museum has both indoor and outdoor spaces. Displayed in the open are tanks from various countries, torpedoes, and grenades. Inside, however, you can see smaller weapons, ammunition, war equipment, and uniforms used in different periods of the past. Military Museum is open from Tuesday to Sunday, 10 am to 5 pm, and the price of a regular ticket is 350 dinars (around $3).
The Church of the Rosary and the Church of St. Petka: The environment in which they are located exudes peace, complete with a beautiful view. Weddings often happen here, so don't be surprised if you suddenly get into a crowd and find yourself among the guests. After visiting them, you can descend to the lower part of the tower, located at the foot of Kalemegdan.
Pioneers Park
This park is surrounded by some of the most beautiful state institutions - the National Assembly of the Republic of Serbia, the Assembly of the City of Belgrade, and Andricev venac estate. Next to them is also the building of the Main Post Office, which many will agree is the most beautiful academic-style building in Belgrade. Pioneers park itself is of exceptional beauty and is under the protection of the state as an environment of immovable cultural property. It has benches all over, a playground for kids, it's rich with vegetation, and is a great starting point for city center exploration.
Tasmajdan
Also located in the city center, this park is a favorite place for Belgrade residents and their pets. Tasmajdan is a family park where old and young, families with children, and proud owners of pets gather. Located right next to King Alexander Boulevard, not far from the Assembly building and the Main Post Office, this park is a real small natural oasis. There is a large fountain and a couple of monuments among the street lights and numerous benches. However, the most essential feature of the park is the Church of St. Marko, made to look like the monastery of Gracanica. You will have the most beautiful view of it if you come from the direction of Resavska Street.
Karadjordjev Park
After visiting the Temple of Saint Sava, have a stroll through Karadjordjev Park. Although it is located in such a busy spot, this park has periods without big crowds. We know how difficult it is to find a free bench in the park, but here you will usually be able to find a place with a nice view. The park played an important role during the rise of the First Serbian Uprising, and the features of that period are still visible. In addition to many busts, the graves of fallen insurgents are located in this area. This park is excellent if you want to get out of the city crowds or away from other tourists visiting the Temple.
Famous neighborhoods in Belgrade you cannot miss
The true spirit of Belgrade, modern or old, can best be seen in its diverse borough and neighborhoods. From stunning architecture to exciting attractions, these are the must-see spots in Belgrade:
To experience the Belgrade of old take a stroll around Dorcol, one of the central neighborhoods that has kept its charm till this very day. This is where you'll find authentic architecture, Skadarlija, and the first-ever kafana in the Balkans.
Dedinje and Belgrade Waterfront are the regions where the cost of living in Belgrade is the highest. Most luxurious apartments and villas are located there.
A visit to neighboring boroughs Vracar and Vozdovac is a must if you enjoy rooftop views and can't wait to explore the biggest orthodox temple in the Balkans.
Follow the rivers Danube and Sava to Zemun and New Belgrade, which have long quays perfect for a sunset walk. New Belgrade is also steadily becoming the business center of Belgrade, while Zemun has kept the rural charms.
Belgrade tourist map - Places to visit in Belgrade
Your exploration of Belgrade will be even easier with the map we have prepared for you - it marks the attractions we recommend you visit. The map allows you to plot your routes, see the distance between all the attractions you want to visit, plan which public transport lines you will use, you name it. Use it to find inspiration and see even the locations we didn't mention!
Things to do in Belgrade
After only a couple of hours spent in Belgrade, you'll realize how lively it is, from morning to night. Whether you are traveling alone, with a loved one, children, or friends, you can choose activities that are precise to your liking. From exciting tours and shopping to the best nightlife (and we mean it), let us take you on a walk through Belgrade activities worth your time.
Belgrade tours
Since we went through the most famous attractions of Belgrade, you had the opportunity to make sure that this city hides many beauties. There are different ways to visit Belgrade, see it from different angles, and get to know its rivers or underground passages. Many things can be visited, perhaps by combining the means of transport and tours that are on offer. We will introduce you to some of them, and it is up to you to choose the one that suits you best.
Belgrade walking tour
If you feel brave enough and want to explore the city on your own, let us give you an idea. You can make a tour yourself that will include everything you want to see, walking, or using public transport. We suggest you follow the route of the blog, visiting Kalemegdan, Knez Mihailova, and The republic square first. Then the National Assembly, the Church of St. Marko, Tasmajdan Park, and the Nikola Tesla Museum. If you go down to Slavija after that, you can continue along Nemanjina to Savski Trg and visit the newly erected Monument of Stefan Nemanja. Branko's Bridge is not far from there, and the promenade underneath it. This promenade is rich with restaurants and bars, plus the views are immaculate. From there, you will quickly return to Kalemegdan and Knez Mihailova, which will complete your tour.
Another way to get to know the city and hear more about it is through organized walking tours. You can schedule a private tour through the center of Belgrade. The tourist guide will take you through the places that are included in the famous boroughs called krug dvojke, named by the tram line that connects them. The tour lasts 4 hours, starting from the meeting spot you choose. The tourist organization of Belgrade also offers walking tours, so be sure to check out the TO Belgrade website.
Boat tour in Belgrade
No matter the question, boat tours are always the answer. Boats depart from the Sava port, and it is possible to go on tours in group visits or rent boats for private cruises and celebrations. You will have the opportunity to experience Kalemegdan from another angle, the confluence of two rivers below Avala, Zemun, Staro Sajmiste, all the bridges of Belgrade and Belgrade Waterfront, as well as important religious buildings. If you decide on a trip organized by SerbianAdventure, at the price of 1,800 dinars/15€ you will enjoy an hour and a half of sailing with an audio guide.
Night cruises, events, and cruises completed with a lunch or dinner are organized by the River Skipper cruise agency. The Turtle boat tour is exciting. It was named after its appearance, which resembles a turtle shell. The ship is fully glazed, so prepare for stunning views. The boat also organizes parties on the water you cannot miss. Rivers in Serbia is the theme of our blog, so be sure to check it out before going on a Belgrade boat tour.
Belgrade below Belgrade
This is perhaps one of the most exciting tours you will come across in Belgrade. Belgrade hides many tunnels, underground corridors, and passages from different past periods, worth getting acquainted with. On Saturdays and Sundays, from 3.30 pm, tours are organized for 990 dinars/10€. You will visit the Roman Well, the Military Bunker, and the Great Gunpowder Warehouse. After the two-and-a-half-hour tour, you can enjoy wine tasting and socialize with other visitors. The tour starts from Kalemegdan.
Activities with kids in Belgrade
Children in Belgrade won't feel left out. There are many activities for children, and we do not doubt that adults will also enjoy them. Some of the already mentioned places will be ideal for your little ones to play, take a walk and discover something new. Some of the following locations will encourage children to play and explore.
Dino Park: Within the Kalemegdan Fortress, there is also Dino Park, known as Jurassic Adventure. This is the perfect opportunity to see 35 dinosaur replicas in one place. They are up to 15 meters high, and it is possible to climb some of them. The park is located near the Partizan Basketball Club; it is open from 10 am to 10 am, and the ticket price for children is 250 dinars, while for adults, it is 350 dinars. Take the opportunity from April to December and show your little ones what the biggest animals that once walked the Earth looked like.
Belgrade Zoo: The zoo is located on the edge of Kalemegdan. The kids will love it! From tigers and lions to penguins and seals, you can see more than 200 animal species from five continents in one place. Belgrade Zoo is home to the oldest alligator currently in the world, and a couple of statues dedicated to its most famous animal residents. The ticket price is 550 dinars for adults and 350 dinars for kids under 15.
Museum of Science and Technology:This museum is adapted for children of all ages. Toddlers can have fun in the toy gallery, try some of the exhibits in the science playroom and get to know the way of life in the past. Together, you will learn interesting facts about the most exciting developments in science and technology. The museum is open from 10 am to 6 pm; the price of a regular ticket is 200 dinars for adults, admission is free for children under 7, and a family ticket is 500 dinars.
Shopping in Belgrade
Here's the deal - people of Belgrade love to shop. That's why you won't have any problems finding anything from a needle to a locomotive, as Serb would say. Belgrade is blooming in shopping spots, such as malls and smaller boutiques. Shopping centers carry domestic brands alongside world-famous brands such as Massimo Dutti and Ecco. It is superfluous to mention that Knez Mihailova Street is unavoidable for tourists, as well as for many residents of Belgrade, who want to treat themselves to a beautiful piece of clothing, jewelry, or skincare products. Here is what you need to know:
Shopping in Knez Mihailova: The highlight of the shopping experience in Knez Mihailova, however, is the Rajiceva Shopping Center, which offers its visitors the opportunity to visit numerous luxury stores and buy elegant shoes. After touring stores like Levi's, Galileo, and Calvin Klein, you can take a break at Starbucks. There is also a large underground parking lot in the shopping center, so you don't have to worry about your car.
Belgrade shopping centers: The most visited shopping centers can be found in New Belgrade - Delta City and Usce shopping center. Next to Ada Ciganlija is Ada mall, which has a nice view from the roof bars. BEO shopping Center and Big shopping center are also great, as you will leave the city center to reach them. All of these malls have stores such as Mona, Pull & Bear, Tom Taylor, Zara and Bershka. You can also enjoy an afternoon lunch or coffee in one of the restaurants, or catch a movie in Cineplexx theaters.
Belgrade nightlife
Is Belgrade the party capital of the world? We like to think so. You will love Belgrade at night if you don't mind starting late. On weekends, most bars and pubs are still going at 1 am, while clubs are open almost until dawn; parties that last until 4 or 5 in the morning are something you need to witness. If good nightlife is what you seek, give our blog about cities with the best nightlife a read. From nightclubs in the heart of the city to party rafts on the Sava and a bohemian borough, we'll tell you all about the best party spots in Belgrade.
Pubs: If you are a fan of quality kraft beer, you will be happy to read that many pubs in Belgrade offer world-famous but also domestic kraft beers. Most pubs are equipped as traditional English pubs, making the whole experience even better. It's hard to make a selection, but by personal choice, pubs like Just Beer, Zero Five - 0.5, Gunners Pub, and Green Mill serve great kraft beers. Best of all, each is located in the center of Belgrade, so you won't have to go far from Republic Square to visit them.
Bars: If you are looking for a place that serves delicious and quality cocktails, stick to Dorcol and Vracar. Here you can find a handful of bars that will satisfy your every wish and serve unforgettable cocktails. Some of them are D Bar, Endorphin, and Culture Bar. The offer is colorful, and the staff is professional, smiling, and very helpful. Music in these bars is also great, following the theme of the bar and the top hits. Bars and cafes with a slightly more relaxed atmosphere are located in Cetinjska Street, a popular place among the youth. You can sit down for a beer in Zaokret, Sprat, Polet, Zgezen Golub, or many other bars in that circle.
Rafts: The best night parties and matinee parties are organized on the rafts, clubs on the water are active during the summer months. More alternative options are Šlep and Zappa Barka. Popular among locals are Port by Community, Freestyler and Port stand out. However, keep in mind that the prices of drinks on party rafts are higher than in other places, so have extra money with you.
Places to eat in Belgrade
By now, you have already acquainted with Belgrade's sights and its most-visited parts. Now it's time to move on to the gourmet part of the trip. The best restaurants in Belgrade are on this list; it's up to you to choose the type of food you want to eat.
Local cuisine restaurants in Belgrade
Cooked dishes, meat, barbecue, homemade pies, and sweets, is there anything better than tasting the tradition at the very center of Belgrade. If that is what you seek, check out:
Dva Jelena: This place of stunning appearance combines the tradition of old times and elegance. Sitting in a pleasant ambiance, at a table with checkered tablecloths, you can enjoy the best specialties of local cuisine. And all that, of course, with a glass of good wine while tambourines play next to you. Dva Jelena is a restaurant with a 100-year-old tradition, still preserving the tastes and smells of the past.
Klub knjizevnika (Writer's Club): Another restaurant that has been a meeting place for many artists and eminent personalities of Belgrade is the Writer's Club. It still gathers locals who have remained faithful to this iconic Belgrade landmark. It is an elegant restaurant with a wide range of dishes chosen by the head chef and owner of the restaurant, Branko Kisic. In addition to a tasty menu, you can also enjoy a glass of quality wine.
Grmec: Another pearl of Serbian cuisine in the center of Belgrade. Like many cafes and restaurants in this part of the city, Grmec was the central place of local bohemians. Their photos are hung on the restaurant's walls, so together with the red-checkered tablecloths, they evoke the spirit of bohemian life. You can eat the best sarma or beans in this restaurant, just like our mothers prepared it. If you are a fan of brandy, you should not miss the opportunity to try it right here. And for dessert, our recommendation is to order baklava, you will not regret it.
Italian restaurants in Belgrade
Since it is one of the most famous cuisines in the world, it is not surprising that many Italian restaurants have opened in Belgrade. Authentic Italian dishes with the inevitable parmesan are waiting for you in several places in the city center.
Eatalian: A restaurant with an enticing name and an even more enticing menu. This restaurant was opened by an Italian living in Belgrade with his family for many years. He brought the authentic tastes of his country from Italy to Belgrade so that you can try some of the most beautiful pasta, risotto, and even a traditional Italian breakfast. You will also have the opportunity to buy some Italian products in the on-site restaurant. The restaurant is located in Gospodar Jevremova Street, in Dorcol.
Ottimo: Another great Italian restaurant awaits you in Dorcol. You can try Italian dishes from antipasti to an excellent dessert in this restaurant. Ottimo is also located in a great spot, on Student Square, across from the Student Park. Don't miss out on the great wine as well.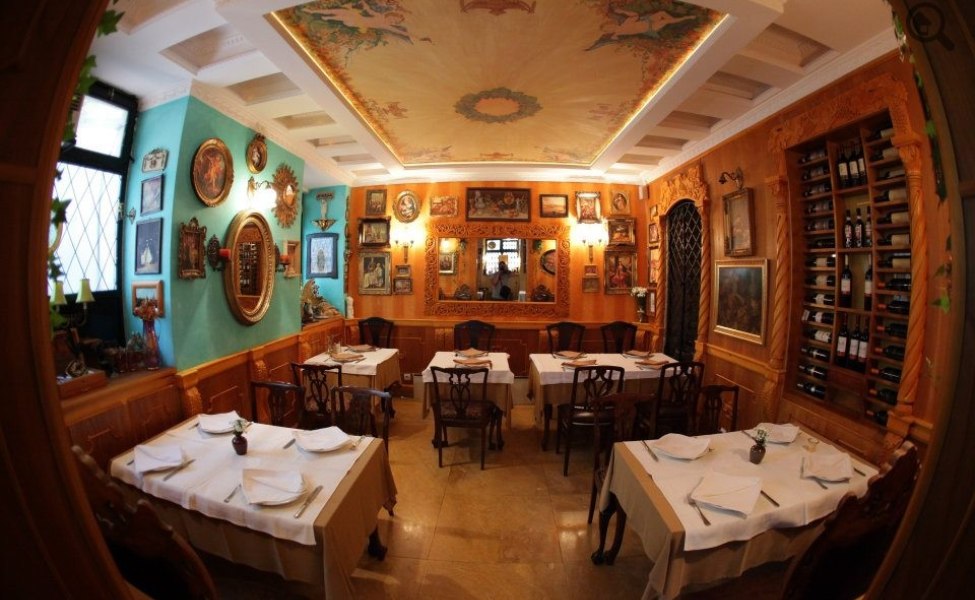 Unique restaurants in Belgrade
This section of the blog is dedicated to restaurants with the most pleasant ambiance. If you are looking for a beautiful and elegant restaurant in Belgrade where you will spend a romantic evening with a loved one, follow our recommendation.
Kalemegdan Terrace: Located in the most beautiful place in the city, the restaurant Kalemegdan Terrace will provide you with an unforgettable dining experience and a view from the fortress. It serves specialties of local and foreign cuisines, and the experience is completed by friendly staff and a panorama of Belgrade. Kalemegdan Terrace is among the more luxurious restaurants, so be prepared for prices that follow the top-notch service.
Little Bay: This Dorcol restaurant is dedicated to classical music. There are portraits of classical music composers on the walls, and the whole place exudes style and elegance. Along with a delicious dinner, you will also enjoy the music coming from the piano. The baroque interior will make you breathless, and the food on the menu will satisfy your senses.
Frans Restaurant: This legendary restaurant is located in the part of Belgrade called Autokomanda, so you can easily reach it from the city center. It was opened 38 years ago and still captivates with its beauty and elegance. The restaurant is known primarily for its large garden, which looks like a green oasis. The restaurant's interior is equally stunning, and the entire Frans leaves the impression of that elegant Belgrade you have heard stories about.
Accommodation in Belgrade
As expected, the most visited city in Serbia offers the widest selection of accommodation. Whether you are just looking for a place to stay overnight or a comfortable hotel room, a huge array of hotels, hostels, private accommodation units, and apartments awaits you.
Apartments in Belgrade
Belgrade is big on day-to-day accommodations, so you can rent a place for only one night if that is what you please. This is a great weekend choice no matter how you travel, alone, with family, friends, or a partner. Apartments in Belgrade are equipped with the necessary appliances, extra towels, and tools that will make your stay as comfortable as possible. Although they depend on size, appearance, and location, the rental prices of the apartments are primarily affordable. You can find accommodation for only $20-30 a day.
Hotels in Belgrade
If you are looking for something more formal accommodation, where you will be able to order room service or have breakfast, hotels are the way to go. What is also important when choosing a hotel is the location. You must be well connected to the city center and the most famous attractions, as well as public transport that can take you sightseeing. If you want to experience old Belgrade and its tradition, we suggest Hotel Moskva or Hotel Majestic. The service is immaculate, and you can expect to find rooms for around $100 a night.
Cheaper options would be Hotel Belgrade and Central Park Residence, which are still located in the city center, but offer accommodation for less than $50 a night. Don't miss out on all the discounts that come with booking online.
As you could see, Belgrade has something for everyone. Spring, autumn, and even winter will be the perfect period to visit our capital. This city is hospitable and especially attentive to visitors, so you can expect excellent service and openness of citizens to help you at all times. Who knows, maybe on your way through Belgrade you will meet people with whom you will be friends for the rest of your life. But also don't stop there! Explore Serbia with our blog which tells you all you need to know before visiting.