Blossom by blossom, the spring begins, and so does the most exciting travel season. Yeah, summer is great, but does it have the perfect, not too hot, not too cold weather you need just a light jacket? Whether you'll enjoy the freedom that comes with spring break or intend on frolicking down Amsterdam canal streets, we've got a destination for you. Keep reading to find out more about:
Spring vacation in America - Spring break destinations
If you plan on spending the best days of March and April in the States, big chances are you'll be heading out to one of the beloved spring break destinations. Fun days and nights on the shores, vast groups of people on every step, lovely views of the coasts and even more excellent accommodations, every extrovert's dream, basically. Even if you're not one, how can you say no to Miami?! We've gathered the best of the best in one spot.
Spring break in Florida
The Sunshine state truly is the peak of spring break locations. It comes first to mind, at least to us. Beach parties for days, endless sunshine, activities that take you waaay out of your comfort zone, what else is there more to ask?! And we cannot forget all the Disney, Epcot, and Universal Studios fun. You'll enjoy it whether you're a nerd or not, don't lie. Just some of the locations on the longest coastline in the USA that brings you closer to the Atlantic and exciting resorts are:
Spring break in Daytona Beach: The mother of all spring break beach destinations is the place to be. Whether you like rock climbing, surfing, or dancing the night away at the biggest daytime beach party in the USA, the Beach Bash music festival, Daytona Beach is for you. It's also fairly close to the all Disney magic, as Orlando is just a short trip away. When you get fed up with all the partying, try exploring Daytona International Speedway to get a taste of NASCAR history. Of course, the nightlife is a dream, as this beach is home to some of the most iconic nightclubs, 509 being just one of them.
Miami spring break: Party hotspot in the south of Florida is as iconic as it gets, especially if you dream of finding yourself partying spontaneously in the street till the AM. A touch of Latino charm is what makes this place so memorable, from art deco architecture to restaurants that serve the best birria tacos you'll ever try. Greater Miami and Miami Beach are amongst favorites when it comes to choosing the spring break locations that never sleeps. This is where you'll find essentials, such as Little Havana with salsa nights perfect for practicing your moves. LGBTQAI+ partying never stops in Mid Beach, and if rooftops are more your speed, Downtown Miami is the way to go. Don't forget to check out the gators; the Everglades tour takes you on a wild ride through Florida's critters.
Panama city beach for spring break: The Gulf of Mexico's clear and warm waters combined with white sand beaches is a winning combination if you ask us, especially if you like some tame time between your responsible drinking and party benders. Adrenaline activities are the core of Panama city beach, from vertigo-inducing fun at Shipwreck Island Water Park to parasailing and gorgeous diving spots. Panama City Beach Sports Complex and Frank Brown Park are where you'll find top-notch fields alongside affordable accommodations with pristine views. Continue your day at one of many golf courses and freshen up at a top-rated spa with a facial or a foot massage before hitting up a coastline club.
Texas spring break - South Padre Island
Going to the second-largest state for some spring fun is a great idea, especially if you enjoy real hot weather and live shows. Spring break in Texas has been blooming since the 80s, especially on South Padre Island, where we hear parties are the best. The only tropical island in Texas has sights and activities for days designed to make you one with nature. Who knew a sandcastle-building class can be fun. Some sweet deals await you at local resorts, such as Isla Grand Beach Resort or Hilton Garden Inn, which include all-inclusive stays with great views and access to the most fabulous parties there are. Besides that type of fun, we suggest you check out:
Fauna of South Padre Island: From adventure parks to nature centers, this Texas destination is heaven for animal lovers. You can go bird watching, get to know the dolphins, and learn about their habits, or go on a ride where the reptiles live. The gators in Texas don't mess around! All of this is possible thanks to the South Padre Island Birding, Nature Center & Alligator Sanctuary which has guided tours for all ages. If you wish to explore on your own, take a walk on the Laguna Madre Nature Trail and you'll meet like-minded people and animals along the way.
Gravity and Adventure park: Partying and close encounters with one of the world's scariest animals isn't enough adrenalin for you? The reverse bungee at the Gravity Park that throws you high in the sky might do the trick. This amusement center will show you all the Gs in its Ferris wheel and on a go-kart field, but also let you chill for a while as you try to beat the best scores at the arcade. For ultimate relaxation visit the petting zoo at the Adventure park or go horseback riding on the beach. We can already smell the air! Also, driving in some beach areas is allowed, you just need a convertible to feel like the main character.
Fireworks or a SpaceX launch: Both, both is good. On the same day, you can witness a Starship launch from South Padre Island's Starbase and later go and enjoy a much less loud spectacle that is fireworks over the Laguna Madre.
Warm spring break destinations - Spring break in Mexico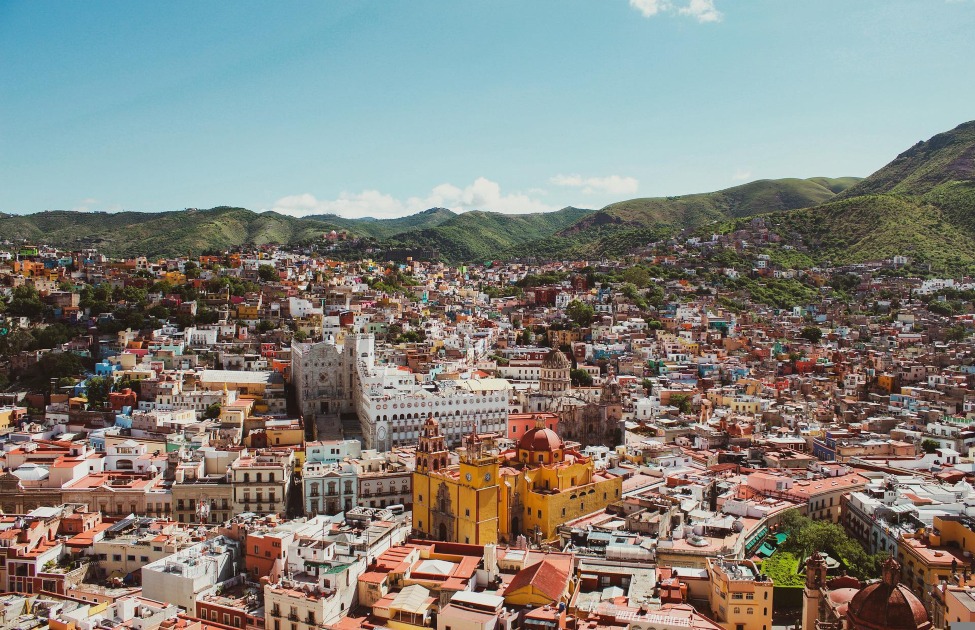 Are you more of a tequila or a mezcal kind of person? In Mexico, you can have it all, and with a magnificent view as well. The land of pyramids, cenotes, mole, and festivities will welcome you to its many beaches and colorful towns and villages. If you plan to visit Mexico for the first time on your next spring break trip, we suggest you book an additional day or two to explore further than the public beaches and central locations typical for spring break.
Spring break in Cancun
Is this the ultimate spring break destination? We leave it up to you to decide, but once you see how popular and filled with activities it is, we assume the dilemma will be solved. Cancun is primarily known for its good weather and great clean beaches, which you'll easily visit all thanks to great transportation systems. Don't limit yourself to just beach fun; there's a lot to be seen and experienced once you go further in the city. Some of the things you ought to experience are:
Beach parties at the Oasis resort: Yes, we are becoming a bit redundant, but hear us out. Once you go to your first ever party at The Cancun Oasis resort, you'll see why we had to mention it. In this resort celebrities will be your vacation buddies, you'll get to dance, drink and laugh at beloved beach bars such as Vegas on the Beac or Spice disco, get entertained at a theme dinner or a restaurant, or simply enjoy the perks of an all-inclusive vacation.
Fun on the water: You cannot leave Mexico before jumping into at least one cenote. These natural pits of water are scattered all over Cancun, you can even organize a little road trip trying to visit them all as the Yucatán jungle is a short drive away. If you don't want to go far, just take a dive into the hot waters of Cancun and you'll find shipwrecks, giant sea turtles, vivid coral reefs, and a fish or two. We suggest you go on an organized snorkeling tour that also includes paddleboarding to the best locations. These usually cost around $80.
Go on a food tour: One of the key experiences Cancun can offer is a food tour that makes you feel like a local. Street food is the best starting point, as you'll get to have the most remarkable architecture as your meal backdrop. Those tours usually cost around $65 (61€), and for just a couple of bucks more, go on a taco tour or try the most famous local dishes. Spice it up even more with a cooking class for less than $100. You cannot say you've been to Cancun if you haven't tasted tamales, lime soup, and a sweet treat called Marquesita and Esquites that'll make your corn-loving dreams come true.
Spring vacation in Europe
If you're looking for some Emily in Paris vibes or maybe your own Linklateresque adventure, we suggest you get your passport ready for a vacation in Europe. Spring in Europe is a sight straight out of a postcard if you know when and where to go. Besides hotspots known for their glorious nightlife, like Belgrade or Berlin, or the unique sandy beaches of Greece, we have a couple more suggestions that'll leave you wanting more. Before we virtually visit them together, give our cities with the best nightlife blog a read. You know, to get inspired.
Lively spring in Amsterdam
Can you imagine yourself waking up in a windmill surrounded by a massive field of tulips? That can quickly become a reality in the Venice of North. Springtime in Amsterdam is a dream come true for everyone looking for an active vacation - a bike-friendly city with a bustling nightlife and art scene, lots of museums, and parks to explore. With temperatures that won't go over 20° C, you'll have the perfect weather for strolling through the narrow streets adorned with Dutch architecture. Your adventures through the Neo-gothic, history-rich and flowery Amsterdam can start with:
King's day celebration: Bring your best orange clothes and get ready to party on Amsterdam's streets, parks, and canals. This city lively celebrates this national holiday on the 27th of April each year. A sea of orange people gathers and takes the party to every corner of the town - loud singing, laughter, sightseeing from the water, enjoying new travel friends. We love it, and so will you.
Visit the street markets: Treat yourself with a homemade freshly baked pastry or a bulky bouquet that smells divine, as these markets are home to many vendors that sell just that. Most of them are by the water, so you'll be getting the best of both worlds. This is also where you'll find the cutest souvenirs to take home, no matter how many you've already bought. The most iconic of them all has to be the floating Bloemenmarkt, a flower market that looks like something straight out of a postcard.
See the bulb and tulip fields: It is estimated that around a million people each spring visit the country with the sole purpose of visiting as many tulip fields as possible. Plus, you don't even have to go far, just take a stroll through the city's Vondelpark to enjoy Amsterdam in bloom. One of the most visited tourist spots outside the city are the Lisse tulip fields and Bollenstreek, also known as the Flower Strip.
Celebrate spring in London
Referred to as modern Babylon by Benjamin Disraeli, London is a perfect place to visit during spring if you're into festivals and outdoor events. When the cold is over, and Christmas and winter markets are done in Germany, the capital of the UK, takes the cake. Sunday markets and festivities for the bank holidays scattered across London are fun for all ages, with never-ending food options, immersive and diverse performances, and arts and crafts. And, when you get tired from all that walking and eating, you can always turn to the good old attractions that make London that much iconic. The London eye is especially fun in Spring, and we recommend the ride that involves booze.
If you're not sure where to start exploring or even when exactly to book your spring visit to London, here are just a couple of suggestions that'll help you make up your mind:
London's spring festivities: March and April are so filled with many festivals and celebrations worth your time. If you consider yourself a pancake connoisseur, you cannot miss the Pancake day on the 1st of March, as it is a perfect chance to feast on the best flavor combinations with London as your backdrop. For a full cardio workout involving whiskey, street dancing and parades, Irish music, and the color green, head out to London's celebration of St Patrick's day.
Visit rooftop and beer gardens: Bingo and a tall glass of beer may sound a bit dull, but in London it never is. You'll be getting the best views alongside your beer on tap and sometimes even live music. Beer Gardens we can vouch for are the retro-looking Night Tales in Hackney, a fancy haven in the Eat End called The Crown, The Faber fox perfect for football watching and Vauxhall Food & Beer Garden if you like your drinks with a show.
Spring vacation in Athens
Just when we thought it can't get better than a summer visit to Athens, the birthplace of democracy keeps surprising us. History and architecture buffs will have their hands full with sightseeing and exploring, as some of the most gorgeous ancient ruins and monuments can be seen in the capital of Greece. But, there are also spring-specific activities to make it all more interesting. Start your spring investigation of the City of Sunlit Splendour with:
Carnival in Athens: To celebrate the start of Lent, the people of Athens gather to enjoy a feast in their version of a carnival called apokries. The last day of meat consumption before the big Easter fast is celebrated with a variety of meat dishes you can buy from street vendors or highly-praised restaurants. This is the perfect time to try Souzoukaklia skewers and lamb kleftiko. At the star of the two-week celebration, the kids will roam around the streets dressed in their favorite costumes, the locals meet to fly kites together and there's even a flour battle every Clean Monday.
Spring vacation in Asia
Looking for a nice blend of stunning nature and high-tech experiences? Asia is the way to go. If it already isn't on your bucket list, seeing the cherry blossom in Tokyo should find its place there for sure. Opportunities for outdoor activities are endless, and even just staying in the big cities and exploring the eastern or Islamic architecture will be a fun workout on its own. We've decided to explore two corners of the continent with you virtually, but you shouldn't stop there! Start with our blog about top attractions in Asia to get more ideas of what to expect.
Istanbul spring vacation - Explore the Bosphorus
The transcontinental marvel of Turkey ticks all the boxes of a good spring destination - it's affordable and lively, there are loads of attractions to explore on foot, and the streets smell of Turkish delight and balık ekmek. Istanbul packs the beauty of an architecturally exciting city, with mosques and colorful neighborhoods on both sides, with great party opportunities and water-based fun. If you decide not to splurge on many activities and just enjoy a lovely spring stroll, you'll still have fun. The best place to start is the hippest borough there is, Moda on the Asia side. Before we give you a couple more suggestions that'll enrich your spring vacation in Istanbul, you should check out our reasons to visit Istanbul blog for a sweet and short overview of the city.
Your visit to Istanbul shouldn't end without a:
Bosphorus Cruise: There's something about the wind in your hair, chai in your hands, and a view of lush yali houses with Hagia Sophia in the background that leaves us wanting more. Even though the peak season for a cruise in Istanbul is in late May, you'll still get to enjoy the sights of Bosphorus on a daytime, midnight, or romantic sail. Care for dinner and a show alongside your cruise? It's possible! Get the full Turkish experience that lasts three and a half hours for 60€ ($63).
Festivals in Istanbul: Istanbul has it all, from festivities dedicated to tulips and cheese to an international festival with a 40-year-long tradition. Spend the sunniest days of May and April exploring the Spring Market in the Beyoğlu, where you can buy handmade goods; get familiar with Indian culture in late April at the Holifest, which celebrates this heritage, food, and music. This is also a perfect opportunity to broaden your dancing horizons at the International dance festival.
Witness the spring in Tokyo
Listen, Tokyo will be beautiful whenever you decide to visit it, but spring in Tokyo is something else. Seeing the cherry blossom in the Rikugien Gardens up close will quickly become one of your favorite travel experiences. Spring festivals in Tokyo are a huge deal, with enormous crowds pouring in from all the sides of the world each year. Another great thing about Tokyo is the blend of pure nature and urban environments that make you feel like a Blade Runner character. Here's what you shouldn't miss:
Cruises in Tokyo: Experience Tokyo from the water to get the full scope of this glorious city. Besides the standard water bus that will easily take you from Odaiba to Osaka, there are masterpieces that work as watercraft. Himiko and Hotaluna, passion projects of a famous anime and manga artist Leiji Matsumoto, will take you on a ride down the Sumida River in futuristic-looking crafts that were made to look like spaceships. Also, don't miss out on a ride in a traditional Japanese party riverboat called yakatabune.
Go on a Mount Fiji hike: This is a must whether you're an outdoorsy person or not.
Map of the spring destinations
Here, we've even made a map to make it easier for you to decide where to go. Besides it being perfect for orientation, feel free to use our map as a starting point for your trip planning. It's great for driving routes and tracking the location of essential attractions.
Well, we should finally let you go on your own spring adventure, whether we've mentioned it here or not. Keep in mind that the spring weather is an indecisive lady, so pack for chilly mornings and sunny days, and muggy afternoons. Happy traveling!