For many people known as part of former Yugoslavia, Serbia is a country where numerous cultures interwind. From Roman and Ottoman heritage to modern Western influence, it is a wonderful blend of different styles that you can notice on almost every step. Today, we'll take you on a trip to its most beautiful landscapes, lively cities and memorable landmarks. Just some of the information you'll discover are:
Serbia travel guide
Before diving into Serbia's most alluring places and fun activities, we should mention some pieces of information that are useful to know before visiting the country. If you want to learn more about history, culture, currency or what will happen if you stay long in the breeze in Serbia, head out to our blog - Things to know before visiting Serbia.
Is Serbia safe?
Serbia is overall a safe place to travel to. This goes both for group and solo travelers of all genders. However, you should pay attention when in crowded places in the city centers, where you may come across pickpocketers. Other than that, there is a very small probability that you'll get in any bigger trouble than that. Serbia is a friendly country and a welcoming host to all visitors. Whether you decide to go on a self-organised trip or get yourself one of the Serbia tour packages, your travels will go smoothly.
Entering Serbia - Visa for Serbia
When it comes to visas, you may need one, depending on the country you are from and the duration of your stay. As it is stated on the official website of the Ministry of Foreign Affairs, the visa is not required for holders of foreign national passports having a valid Schengen, the UK and other Member States' visa, or visa of the United States of America, and for holders of foreign national passports having residence permit in the countries of the Schengen area, EU or the United States of America. This means you can stay in Serbia for up to 90 days during a six-month period. If you are still not sure if you can enter the country visa-free, you can always check your country's status on this question by visiting the visa regime page. If you're not a paperwork kind of person, check with your guides, as some Serbia holiday packages will will handle the most tedious parts of getting a visa.
Flights to Serbia
It may come as a surprise, but there are only three operating airports at your disposal when traveling to Serbia. However, having in mind that the country is not big and that the main destination for most tourists is Belgrade, this is expected. The biggest airport in Serbia is Belgrade Nikola Tesla Airport, which has non-stop passenger flights scheduled to 89 destinations in 36 countries. In total, there are 28 airlines flying from and to Belgrade. The majority of flights within Europe are operated by the Serbian airline, Air Serbia. However, Wizz Air, Lufthansa, and many other airlines are also present.
Serbia tour packages - What can you expect
If this is your first time traveling to Serbia, we recommend you check out what your local or Serbian travel agencies have to offer. These packages usually include transportation with taxes, accommodation, and guides to take you on exciting adventures. They can last anywhere from 2 to 15 days, you just have to check your schedule. If privacy is what you cherish most, look for Serbia private tours. These will be either individual tours or small groups. And if holidays are your favorite part of the year, Serbia celebrates loads! In that case, your search should start with Serbia holiday packages. Prices depend on your starting location, length of the trip, and time of the year, so expect anything from $50 to a couple hundred.
Traveling to Serbia - When to visit Serbia?
Same as for many other European inland states, the best time to visit Serbia is during spring and fall. The climate is overall continental in the north and Mediterranean in the south of the country. Still, there are some festive reasons for you to visit the country in the first half of the year as well.
Get to know Serbia during the most famous Serbian holidays
Serbian people love holidays and any kind of celebration. Sticking to tradition, festivities include a lot of tasty food and fun activities. Let's see how it all looks in Serbia, from Easter to Orthodox New Year. Try to get invited to any of these celebrations to get the full package - the food, the fun, hospitality, and music. There are a lot of Serbia tours organized during these festivities we recommend you check out.
New Year - The calendar New Year's Eve, celebrated on the 31st of December, is, as in many other countries, celebrated with lots of music, drinks, and indispensable fireworks. In many city squares across the country, concerts of Serbian music are organized. But, there's a little bonus if you come to Serbia during this period of the year. Because Serbian people also mark and celebrate Orthodox New Year's Eve (known as Serbian New Year) on the 13th of January. And why not take the chance to enjoy this magnificent event twice in just two weeks?
Christmas in Serbia - Being mostly Eastern Orthodox Christian country, Christmas in Serbia is celebrated on the 7th of January. After all the partying on New Year's Eve, this holiday is reserved for the family and close ones. It is a cheerful holiday, but traditional oriented, so many people spend it at home with their loved ones. There are many customs that are respected, and if you want to experience them, just visit a traditional Serbian family.
Orthodox Easter Holidays - Similarly to Christmas, Easter as well is known as a family holiday. Even though Easter Bunny may not be known in Serbian tradition, there are many other features of this day. Of course, having eggs dyed in red is a must, and comparing their strength by smashing them one against the other is something you should do when in Serbia on Easter.
Labour day - Also known as Workers' Day, is an international holiday that marks the struggles of the labor movement and workers. In Serbia, this is one of the favorite holidays. It's the day when people don't work, so it is mostly spent in nature, with friends and family. You could see groups of people in parks and meadows making barbeque and enjoying a day off that celebrates working people.
Serbia during summer and winter
Because of the Mediterranean environment, every season is perfect as it should be. Summers and winters express themselves with quite high and low temperatures, while springs and falls are pleasant with the moderate sun.
Summers in Serbia: Which last from June to August, can be very hot, and temperatures go up to 40°C. Still, it all depends from place to place. If you are staying in a crowded and busy city, expect it to be scalding hot. And if you want to cool off a bit, just go to the nearest forest or river, it will be of great help. If you are visiting some of the Serbian mountains, you can stay calm because the temperatures there are around ten degrees lower.
Wintertime in Serbia: The good news for all skiing and snowboarding fans is that winters can get really snowy on the mountains. From December until February, you can experience temperatures that will fall below 0°C in the mornings and nights. You may not experience Russian winters here, but be ready to put on an extra layer of warm clothes.
Don't forget to use the slider
Places to visit in Serbia - Where to travel in Serbia?
There is just soo many places in this country that will take your breath away - from cities with rich cultural and historical heritage to nature that is well preserved despite human influence. Plan ahead a trip to as many tourist spots as possible to make your travel to Serbia a memorable experience. If you want to immerse yourself, find local guides to get the best possible Serbia private tours.
Landmarks in Serbia you cannot miss
It is difficult to find just one category for all the unique places you should see in Serbia. Here, we collected some of the most famous natural and historical landmarks that should be added to your itinerary right away.
Belgrade Fortress - Most visited spot in Belgrade
Belgrade Fortress is a well-known landmark of the city. It is a favorite place of many people who come here to enjoy the magnificent view. Within the fortress, there is a park known as Kalemegdan. The fortress and park area is 66 hectares big, and visitors can come and see it any time of the day since the entrance is free and it is open 24/7. It stands on the confluence of the Sava and Danube rivers, so coming to its highest point, expect beautiful scenery. But that's not the only feature that makes this place so special. Going through it, you will find a church, roman well, Military and Museum of Natural History, and many more attractions.
Devil's Town in Kursumlija is a unique sight
Devil's Town, or Đavolja Varoš in Serbian, is a natural phenomenon located in the south part of the country, near the city of Kuršumlija. The legend says this place was cursed in the past because the devil made a brother and sister marry. This being a sin, God petrified all the wedding guests and the newlyweds for the wrong they did. They all stand still to this day, paying for the mistake they made. It is an intriguing story, we agree. But, what is Devil's Town actually? This natural attraction consists of two phenomena, which are stone formations created by erosion (that may resemble people if you are imaginative enough) and two springs of acid water with a high mineral range. If you decide to visit Devil's Town, drinking water from one of the two springs will make you return again to this place. At least that?t what the legend says. But you can try it anyway.
Skull Tower - Nis's tower of terror
Continuing with intriguing attractions, now we are going to Nis, the birth city of Constantine the Great. Here are preserved the remains of a small tower with a big story. Already by the name of the tower, you can imagine what material was used for its construction. We will tell you briefly how this place was founded. But if you decide to visit it, there will be a very friendly guide who will walk you through the whole sad history of it. So, the tower was initially built of 952 skulls of Serbian rebels who rose against the tyranny of the Ottoman Empire in the country. They failed in their attempt to free themselves of the occupation, and this was the outcome. Turkish soldiers killed them and made this tower to scare off anyone else who dared to raise their voice. Today, less than 100 skulls remain built-in in this skull tower, but the whole attraction is still more than worth visiting. Everything you need to know about the tower can be found on our page - Cele kula.
Resava cave in Despotovac is Serbia's biggest cave
Moving from sad and scary stories, we come to Resava cave, the largest cave system in the country. Its corridors are 4.5 kilometers long, and the depth goes down to 80 meters. This beautiful place hidden under the ground is home to 45 million years old decorations. Even though only 800 meters of the system is open for tourists, this is more than enough to admire this mesmerizing work of nature. Chambers, canals, and galleries are just some of the phenomena you'll see if decide to enter this underground gem of Serbia.
Drina river house - Bajina Basta's world-famous attraction
You may have already been familiar with this place without knowing it. There are numerous pictures on the internet of this house that show the construction skills of the people that built it. They went viral, and now many people go to Bajina Basta just to take photos themselves. It is a wooden cabin-like house, like any other. Still, you will recognize it by its location, in the middle of the Drina river, sitting on the rock. The original house dates to 1986, when a group of swimmers built it as a shelter. Since then, it's been destroyed multiple times by the water but rebuilt every time. Unfortunately, it is impossible to enter the house, but you can still enjoy the view and the nature around it. Drina is one of five rivers we've mentioned in our blog - Most beautiful rivers in Serbia, which you should definitely check out.
Drvengrad - Serbian village on the Best tourism villages list
Drvengrad, also known as Küstendorf or Mećavnik, is a traditional village constructed by the Serbian film director Emir Kusturica. This place was primarily built for the purposes of making Life is a Miracle film, but today, this village has its own life. The whole village is made out of wood. Wooden houses brought from nearby villages, a wooden church, and numerous cultural and accommodating buildings. You can take a unique chance to sleep in one of those houses and feel the spirit of life in old Serbia. The nature here is remarkable since Drvengrad is located near Gruska Gora Mountain. One of the main events that take place here, in Drvengrad, is the Küstendorf international film festival. It is the time when even big Hollywood stars come to attend, such as Johnny Depp and Monica Belucci. And why not visit and be a part of such a memorable manifestation?
Gamzigrad - Archaelogical site that put Zajecar on the map
If you want to step deep into history, then Gamzigrad is the place for you. Alongside Felix Romuliana, it represents one of the most important historical sites in Serbia. This archaeological site marks traces of Roman Empire colonies in the area. Felix Romuliana is located in Eastern Serbia, near Zaječar, and represents the imperial palace of Roman Emperor Gaius Galerius Valerius Maximianus. The site is quite well preserved, and even though many walls don't exist anymore, you can still get the idea of how big and monumental this palace was. Galerius constructed a massive imperial complex that was surrounded by walls and 20 defense towers. After the mother of the Emperor, Romula, the complex was given the name Romuliana. Interestingly enough, both Galerius and his mother are buried near the site, at the place called Magura. The Roman influence was big in this part of the country, and people are proud that can still be seen.
Cities in Serbia - Cultural and historic hotspots of Serbia
If you want to get to know Serbia and its people well, you should spend some time in its cities in different parts of the country. Every bigger city has its own distinctive features and landmarks you'll fall in love with, so believe us when we tell you that traveling to Serbia never gets boring.
Belgrade - The capital of fun
You probably already know it, Belgrade is the capital and also the biggest city in Serbia. If you are visiting the country, this city should definitely be on your to-see list. There is something for everyone. It's a city that never sleeps, often called the Berlin of Eastern Europe. It is a capital of fun, rich nightlife and numerous themed cafes. Just by strolling down its main pedestrian street, Knez Mihailova, you will catch the vibe. Being the most iconic city in the country, Belgrade needs a whole blog to describe all of its particularities. That's why we have created it for you. If you want to find out more about the capital of Serbia, jump to our blog, where we share with you Tips for sightseeing Belgrade.
Novi Sad - The Serbian Athens
The second city that you should not miss is surely Novi Sad. It is the second largest city in the country but equally beautiful. You may hear that the people of Novi Sad are much more relaxed and slower than the ones living in Belgrade. And it may be true. Still, this doesn't mean that the city is not fun and exciting. On the contrary. Novi Sad is a remarkable place, filled with natural and historical beauties. For the full experience, some of the things you must do and try are visiting Petrovaradin Fortress, going to Strand beach, and, of course, eating Index Sandwich. If we have sparked your curiosity, feel free to go further and Explore Novi Sad.
Explore Subotica - Secession and Art Nouveau heaven
After seeing Novi Sad, the road will take you to Subotica as it passes through the northern region of the country known as Vojvodina. It is actually the northernmost city in the country. The recognizable style of Art Noveau graces this city, and its distinctive landmarks make it unforgettable. Being on the border with Hungary, the Hungarian influence is more than present in Subotica. Besides historical attractions such as cathedrals and synagogues, natural beauties outbreak in the surroundings of the city. But the only thing not to forget when visiting Subotica is to try some of its authentic dishes.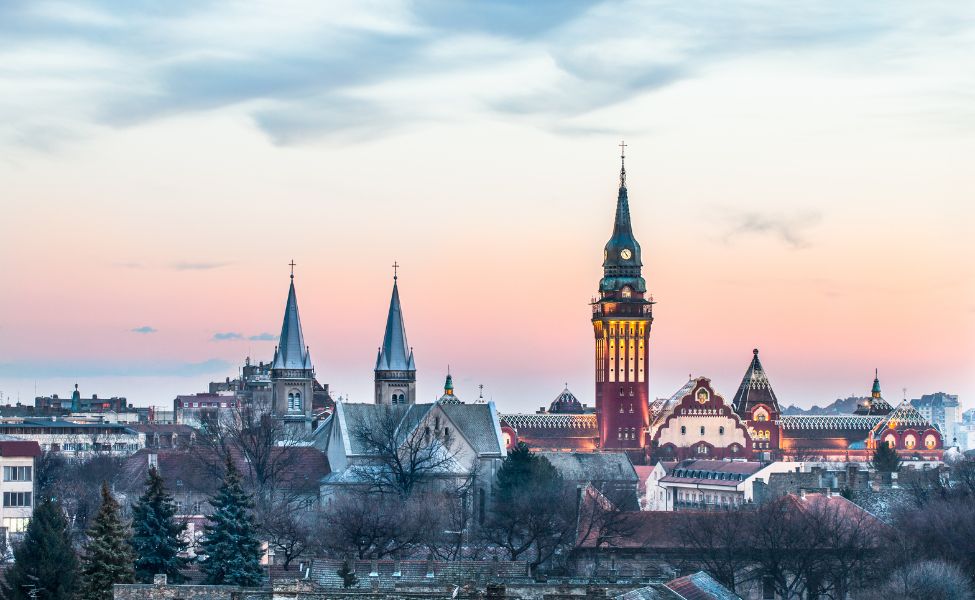 Enjoy the cultural life of Sombor
Known as the pretties city in Serbia, Sombor really has its own special charm. It is a multicultural city with less than 50.000 inhabitants, rich in culture and tradition. Again, Hungarian and Serbian traditions together created a city where you can eat good, sightsee and enjoy cultural events. If in Sombor in April, you should take a chance to visit SOMUS, a festival of classical music that has a tradition long more than 60 years. There are also books, comics, and film festivals that prove Sombor may be a small but still a very cultural-oriented city.
Niš - The city Constantine the Great loved
Niš is a well-known Serbian city that was founded during the rule of the Roman Empire. The emperor Constantine was born here, and traces of his existence are still present in the city. After the Romans, Ottoman Empire settled their control over Niš, which also had a big impact on the city's development. Today, you can testify to all the great forces that left their mark in the past. From Niš Fortress, one of the most beautiful castles in Serbia, to Skull Tower, there is much to explore and experience in the ancient town of Naissus.
Lakes in Serbia - Witness the nature in Serbia
Serbia is rich in water, and as a result, there are many lakes, both natural and artificial, that are worth seeing. These are our top three, but there are still plenty of beautiful lakes ready to be discovered by adventurous tourists.
Palić lake is perfect for a weekend getaway
On your way to Subotica, you should also visit the most famous lake in Serbia - Palić lake. The legend says the lake was made of tears, but we like to believe they were tears of joy because Palić lake is such a happy and beautiful place. It is the largest natural lake in the country, and it is a part of the Palić nature park. This area is also known for bird-watching since more than 200 bird species live here. Besides enjoying nature around the lake, you can take your journey a bit farther and visit the Palić Zoo and Pačir spa.
Đerdap lake - The biggest lake in Serbia
Đerdap lake lies within the Đerdap National Park in southeast Serbia. It is an artificial lake on the river Danube, located near the border with Romania. At the time it was created, Serbia was still a part of Yugoslavia, so together with Romania, the hydroelectric power plant Đerdap I was made. Today, this is one of the main attractions of the area, and the rich natural features make it even more beautiful. Visiting the lake you can also make a great tour that will lead you through historical and natural heritage which has a great value to the country. It will surely be a beautiful experience.
Zlatar lake - Camping with a view
Another artificial lake, this time among the mountains of Zlatibor and Zlatar, is a great place to spend some time. The lake was created in the 1960s, and for the purpose of a big project it was involved in, several villages had to be flooded. Because of that, this 23 kilometers long lake is known as the Atlantis of west Serbia. Still, it is a very nice place to spend a day or two. You can bring your own tent and enjoy the view of the sea-like lake of Zlatar.
Zaovine lake - Tara's most iconic spot
Zaovine lake is a true jewel of Tara mountain. Here you can swim, fish and enjoy a picnic with your friends and family. Even though there is no landscaped beach, you can still find a perfect place to sunbathe on the shore of the lake. This is a great chance to visit the whole National Park of Tara and take adventures in hiking and engaging in extreme sports. The air here is fresh and the water is clean, so it would be a shame to miss it.
Thermal towns in Serbia - Places of wellness and health tourism in Serbia
There are over 40 spas in Serbia, all with different kinds of thermal and mineral water, mud, and air. Despite the established opinion that people go to spas and thermal towns only when feeling ill, you can enjoy the benefits of nature whenever you feel like it.
Banja Koviljača - The most beautiful thermal town in Serbia?
Banja Koviljača (banja meaning spa) is the oldest spa in Serbia. Known by its nickname, the Royal Spa, this thermal town really takes care of its guests. The water in this banja is famous for its healing and mineral features. Banja Koviljača is situated between the river Drina and Gučevo Mountain. This means that besides springs of healing water, there are many other natural beauties to dive into. Stay at this spa will sure be a good decision for your body and soul, so don't skip it.
Vrnjačka Banja - The most visited spa town in Serbia
You don't have to go to Paris to lock your love on the bridge, just head out to Vrnjacka Banja. Besides its famous Bridge of love that guards the love of numerous couples, this spa town in central Serbia can help you overcome diseases of the body and mind. It has a big rehabilitation center that offers treatments, longer stays with 24/7 observations, mud baths, and pools of water with healing properties. It is also home to LoveFest, a music festival that gathers mostly youth, a colorful park, and a garden that transports you to Japan.
Sokobanja - Perfect spot for a wellness retreat
We talked about the oldest spa in Serbia. Now we are going to the noblest one. Sokobanja was known in the past to be the elite's favorite spa place. They would come here and enjoy the full treatment of Sokobanja's healing features. The guests may have changed over time, but the quality of the water isn't. Now, this spa is available for everyone to visit. But, this doesn't mean you can't feel like a member of an aristocratic family while in Sokobanja. Make your stay in the spa worthy of a king.
Mountains in Serbia - Magnets for skiers and hikers
Many ancient mountains and hills emerge in the southeast of the country. They all represent the real wealth of Serbia and the Balkans. From skiing to skydiving, you can emerge yourself in plenty of activities that will satisfy all your cravings for adventure. Let's check out together some of the most visited mountains in Serbia, which you can read even more about in a blog dedicated all to them.
Kopaonik - Skiing capital of Serbia
The most famous mountain in Serbia is surely Kopaonik. It is the place where almost every family goes on winter and weekend vacations. Being well connected to Belgrade, this mountain has gained a lot of popularity amongst tourists. Its ski slopes are well-known in this part of Europe, and every year more international visitors come here to enjoy winter sports. Besides being the biggest winter center, Kopaonik is also a national park with a wide range of native species. As already mentioned, Kopaonik is a popular mountain, so expect a lot of people at the peak of the seasons.
Zlatibor - A perfect mix of modern and rural
The next mountain that has gained a great reputation is Zlatibor. This heaven on earth is the best possible place to take your kids to. The city center of Zlatibor was recently reconstructed and has become a real touristic center of the area. But if you go deeper into the mountain, you will discover all of its hidden beauties. The nature here is lavishing, and small villages look like they came out of a fairytale. Take your kids to see cows, sheep, birds and many other animals that live their best life in this mountain filled with fresh air.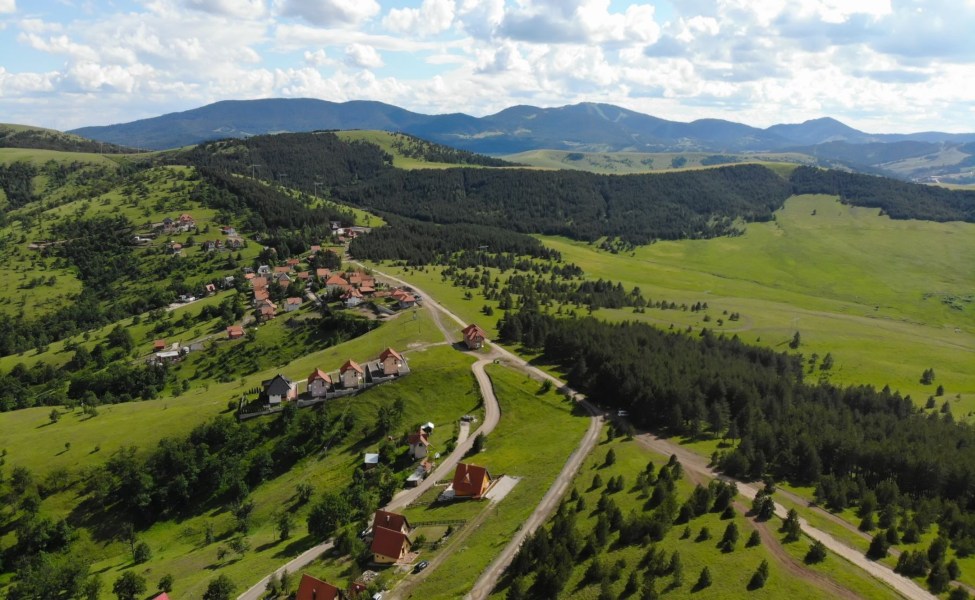 If you're traveling to Serbia for hiking, Stara Planina is the place to go
Stara Planina (Old Mountain) is a precious gem of Serbia that habitants try to keep unchanged by human influence. This mountain is reserved for all wild nature lovers because here, all the laws of nature are respected. Stara Planina is known, in the first place, for the numerous waterfalls, more than 40, to be more exact. And the best thing is, there are probably more of them that aren't yet discovered by people. The mountain is also great for extreme sports, such as biking, quad rides, paragliding, parachuting, and much more.
What to do in Serbia - Activities in Serbia for every traveler
Now let's get to all those great activities we've been bragging about. For all late birds and adrenaline junkies, Serbia is like heaven on Earth. So what's so special this country has to offer? For instance, Serbia takes its festivals pretty seriously, so you can expect a great time all year round.
Nightlife in Serbia is the reason why so many people travel to Serbia
For a reason, so many foreigners come to Serbia to have late-night fun. To Belgrade, to be more specific. It is a city that never sleeps, and even on weekdays, there is always something happening. The most famous nightclubs are located on the bank of the Sava river. It's the place where many party rafts are open until late in the night. You can choose the one according to your music taste. It doesn't matter if you want to explore Serbian musing or wish to dance to funky beats, there will always be a raft to your taste. If you are more of a hip kind of person who enjoys modern sounds and modern arts, we recommend you go to Cetinjska street. It is a whole district dedicated to good music and art in general. Check it out, you won't regret it, we promise you. The whole guide through the nightlife experience awaits you in the blog about the Cities with the best nightlife.
Skiing in Serbia's fairy tail mountains
As we already mentioned, the most famous mountains in Serbia are perfect ground for all winter sports lovers. Being a total beginner or an experienced adrenaline addict, you will be able to find a good track with lots of snow. Serbian people love spending winter vacations in ski resorts, but many foreigners as well. The main advantage of Serbian resorts is that they are less expensive than the others in Europe. But for less money, you'll still get good service, powder snow slopes and much more. Serbia's largest center, Kopaonik, also has the best-equipped slopes. You can choose between Nordic and Alpine ski slopes or enjoy night skiing. The other well-known ski resort is located at Zlatibor Mountain. The most important one is Tornik, which can fit 5.400 skiers per hour. And a ski school will teach your children all they need to know for their first descent on the snow.
Go hiking in Serbia to test your limits
Heaven for ski lovers in the winter, Serbian mountains turn into wonderful places for hiking. The nature and landscapes are just breathtaking, and hiking trails are long and clearly marked. Our number one recommendation is undoubtedly Stara Planina (Old Mountain). This magical place is located in the east of the country, and it is known for its numerous waterfalls. The good thing is, the mountain still hasn't reached its full touristic potential, so it is great for all the adventurers who like hiking in less crowded places. The other one is known as the alien base. This rumor the mountain Rtanj owes to its distinguished pyramid shape. Even though this may sound intimidating, there so no reason to be afraid. The Rtanj Mount is not much demanding, so it is perfect for the ones who are looking for a smaller physical challenge but still want a great view at the top.
Danube cruise - Scenic ride through Serbia
The Danube is a fascinating and unstoppable river that flows through 10 countries, one of them being Serbia. Cruising on it is a wonderful experience that will reveal to you many hidden gems of the past. The best place for that is in the Đerdap Gorge. There are tours organized every day that take visitors through the deepest and the narrowest part of the river. We won't reveal everything, but on this tour, you will get a chance to see some fascinating historical monuments from the period of the Roman Empire. The view is spectacular and surely unique.
Monastery tours - Learn more about Serbia's religious tourism
Being officially an Orthodox Christian country, Serbia has monasteries built on almost every step through the country. And visiting them is such a spiritual journey. The calm of the places where modest monks live is a major draw for many tourists. Monasteries are mostly constructed in nature, away from the city noises and big roads, so it is an adventure reaching them. You can make a map of the biggest monasteries in the country and visit them by passing through Serbia, or you can visit the so-called Serbian Mount Athos. It is actually Ovčar and Kablar Gorge, a place where 12 monasteries are hidden between the trees. The surrounding natural beauty will add to your sense of peace, and the friendly monks will do their best to welcome you and make you feel at home. We've created a guide for the most famous of them all, so just visit our blog 10 most famous Serbian churches.
Festivals in Serbia
From events dedicated to wild berries and barbequing to film festivals that once welcomed names such as Hitchcock and De Niro, the Serbia festival scene is rich like that. Music in Serbia is well cherished, which is why there are many different music festivals that celebrate all kinds of music genres. These are just the most visited festivals in Serbia, you will have to dig a bit more on your own to find some others:
Exit Festival - (Europe's) best Serbia Music Festival: If you search on Google, you will find wild answers on how famous and good Exit Festival is. Not only in the Balkans, but Exit has reached the reputation of being one of the best music festivals in the whole of Europe. Crazy, right? So, what to expect when in Novi Sad, the city where this festival takes place? A lot of fun, for sure. This huge event gathers together some of the biggest names in today's music world, such as The Prodigy, Nick Cave, Calvin Haris, Robin Shulz and many others. The festival has more than 40 stages where you can find and enjoy your type of music.
Beer Fest - A taste of local booze and music: Its name says it all. It is a festival dedicated to good beer. But also to good music. This festival has a 19-year-long tradition of hosting famous regional rock and pop bands. The entrance is free and the beer is cheap. Is there a better way to spend hot July evenings than dancing and drinking craft beers in the best location in Belgrade?
International Trumpet Festival - The biggest party in Serbia: It is hard to explain what exactly attracts so many foreign visitors to Guča every August. Is it the sound of trumpets? Strong rakia or crazy atmosphere? We think it's all of that. This unique Serbian music festival celebrates the trumpet as an instrument through the competition of the orchestras that bring traditional Serbian sounds to the world. Coming here, expect a lot of music, delicious dishes, and the famous brandy of the region - rakia. This festival is for the brave ones since everything, from music to food and drinks, hits so hard that you'll need at least a day of sobering up after it.
In Serbia, you get it all in one place. This country is the epicenter of fun and partying but also the place of great natural and historical heritage. From Belgrade and Novi Sad to Kopaonik and Stara Planina, we are sure you will find your piece of paradise. So check all the mentioned places on your Google map and start your Serbian adventure ASAP.