Hunter Thompson once said, and who better to trust when talking about Vegas than the legend himself, that "a little bit of this town goes a long way". Even while researching it, we felt dizzy and almost drunk on the promise of a good time. A desert oasis, Las Vegas is a jewel of a town and a unique experience we all must have at least once in our lives. We compiled a list of important landmarks, adventures, hotels, places to eat and gamble in Vegas to make it easier for you, our dear readers, to prepare for such an overwhelming trip. So, play some Elvis, sit back, and enjoy our virtual guide through the city that, genuinely, never sleeps. Here's what you'll learn:
Planning a trip to Vegas - Tips and Tricks
Enthusiasm may be the first step when preparing for a vacation, but we have to burst your bubble. To have a well-rounded trip, you need to put in the work, and that's when research is your best friend. Las Vegas can be tricky to navigate if you are a first-time goer, primarily due to its size and abundance of attractions and things to do. Let's go through some Vegas 101 that we wish we knew before going to the gambling capital of the world.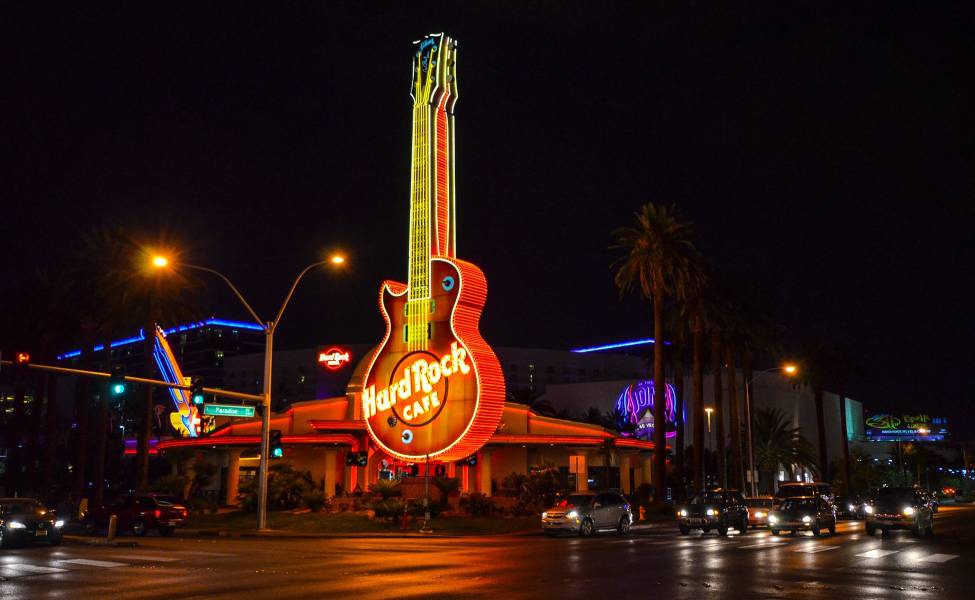 When to visit Las Vegas?
There isn't a wrong time to experience Vegas, but preferences vary. When it comes to the time of visiting, be aware of these facts:
We should never forget that Las Vegas is still a desert, with temperatures that go well over 40 degrees C (104F) in the summer months. If you want to walk the Strip and not sweat the whole time, you should probably go to Vegas during spring and fall. August may be one of the cheapest times to visit Vegas, but it is unbearable if you can't stand the heat.
Winter in Vegas is kind weather-wise, but the downside is that some pools and entertainment centers will be closed or a bit poor with action.
Vegas is primarily famous as a weekend destination, but those trips are also the most expensive ones. Monday to Wednesday, the middle of the week is the least busy period, and many accommodation options will be more affordable. The good idea is to check the schedule of conventions in Las Vegas, which you can quickly just Google, to know when the hotels will be the most crowded.
Vegas is open throughout the year, even on big holidays. It is not the Hallmark winter wonderland we seek during Christmas time, so if you're not a typical holiday spirit you can have yourself a merry little Christmas while blowing on some dice. You will even be paying less while still being able to enjoy the most of it.
How to get to Las Vegas?
McCarran International Airport (L.A.S.) is one of the busiest airports in the world. Flights come from all over the globe, some are direct, and some require layovers. Many popular airline companies, such as British Airways, Korean Air, Frontier Airlines, collaborate with this airport. If you are coming from the U.S.A. or Canada, you can organize a road trip that will take you through the natural beauties of Nevada. Las Vegas is tucked between Red Rock Canyon and the well-known Hoover Dam, and the Grand Canyon is not far away, so you can see it all in one trip.
Besides your passport, you will need a Visa if you come from a country that isn't a part of the Visa Waiver program. Application forms are available online, they are very straightforward and the waiting process usually doesn't take more than a few days. Be mindful when packing. Follow the guidelines when it comes to what cannot be brought into the U.S.A.
Las Vegas vacation packages
Organizing a trip can be really tricky, especially when visiting a destination for the first time. One of the easiest ways to incorporate all of the essential parts of safe and sound travel is to get yourself a Las Vegas vacation package, and we encourage you to take a look at:
Websites like Expedia, Travelocity, and Kayak do all the work for you, gathering some great deals. They primarily include accommodations in some of the best hotels in Vegas, alongside roundtrip flight tickets.
Wizz air is great for finding cheap flights. Be careful, check everything twice, and if a deal sounds too good to be true, then it probably isn't.
Las Vegas tips
Las Vegas is A LOT to take in, in every sense. For you to find your way around that big of a town, it's wise to learn a few tricks.
Before even starting your adventure around Vegas, write down everything you would like to visit. Book tickets in advance, research waiting times, locations, parking situations. Most of the hotels on the Strip will have a parking area that isn't free, so be extra careful with where you park.
Taxis in Vegas are pricey, it will cost around $30 just to get from the Strip to the Downtown area, and you can't just raise your hand anywhere to catch one. Your best chances of getting one will be if you stand close to hotels.
Las Vegas has a monorail line that can be useful and tram lines that connect big hotels. If you rent a car, avoid driving anywhere during the 6 pm rush hour and also don't drive along the Strip around midnight if you hate traffic.
Comfortable clothing is a must when you are out exploring. Hot summer weather won't be your friend.
Drink a lot of water that you should buy exclusively from the markets to get the best prices. You can drink alcohol on the streets, just make sure that it is in a plastic cup.
If you're a smoker, be prepared to spend vast amounts of money on cigarettes.
Get familiar with the tipping practices, as almost everyone who provides you with any service will expect one. The good idea is to exchange your big bills for $1 ones and have them on hand at all times. Bring cash with you, A.T.M.s in Vegas are a drag.
Don't forget to have fun; you are in Vegas, baby!
Las Vegas Attractions
Now that you're familiar with dos and don'ts in Vegas let's start exploring. Las Vegas is famous for its extravagance, and it most definitely served as an inspiration to many. Playground for adults will leave you breathless, not just with its beauty and craziness, but also from walking to different parts of the town. There isn't one or even the right way to start your adventure through Sin city, so we decided to tell you all about the must-see places in town. Buckle up, there is a lot to be seen in the "boiling pot of entertainment", as Don Rickles calls it.
Las Vegas Strip
The Strip is synonymous with a sinfully good time. We know it may sound cheesy, but there isn't a place like it anywhere in the world. At the same time you'll be confronted with the Eiffel tower, Egyptian culture and architecture, dancing fountains, jungles and volcanoes, cosplayers and impersonators, music, lights, and glam. It is about 6.8 kilometers long, which may not seem like a lot but it is packed with action. Be sure to wear the most comfortable shoes if you decide to see it all in one trip. Don't forget the iconic Las Vegas sign, which could be a great starting point for your tour. We'll tell you more about the wonders that exist along this street, so keep reading.
Downtown Las Vegas
Want to experience the old Las Vegas, bad ventilation, historic landmarks, and all that jazz? You are in luck, my friends, as Downtown Vegas has kept its charm until this very day. Originally designed as a central city area, today it is a business district that knows how to party. It is a neighborhood surrounded by highway I-15 on the west, Maryland Parkway on the east, Washington Ave on the north, and Sahara Av on the south. There are iconic landmarks on every corner, as Downtown Vegas is home to many famous museums and some of the oldest hotels in Vegas. Let's look at the attractions you ought to see.
Fremont street
Street of many firsts, such as being the home to the first traffic light in Las Vegas and the first hotel in Vegas, is one of the most active parts of the town. Famously named after the explorer John Charles Frémont, it houses many well-known hotels and casinos, like Golden Nugget. In the late 90s, The Fremont street experience was born. It consists of a huge pedestrian mall covered with a barrel wall canopy with over 12.5 million L.E.D. lights. This five-block entertainment galore district is a place where you can see:
Slotzilla: Did you expect to just walk through the mall? This is Vegas; you'll be able to see it all from the air, duh. This extensive zip line takes you through the whole Fremont street experience, where you'll be able to get a closer look at the L.E.D. light show, Viva Visions biggest video screen in the world and so many interesting entertainers along the way.
Neonopolis shopping mall
Binion's Million Dollar Display: Can you think of a better place to display a million dollars in a pyramid-shaped box?
Neon museum
Vegas wouldn't be the lovable place if it wasn't for its many neon signs. They've changed throughout history, lost its purpose or got redesigned. Neon Museum in Las Vegas is where all the neon signs go to die. It truly is a unique spectacle to see these preserved moments in time that speak of Nevada's interesting history. A non-profit organization that is at its core takes care of every single one of the signs, preserves, studies, and exhibits them in all their glory. It is located at the former La Concha Motel Lobby, but also has an outdoor gallery called Neon Boneyard, alongside a gift shop.
Guided tours are held during the evenings and you need to be quick to get a good spot. They will cost you $28 and they last about 45 minutes. There is also a tour held at night, for $23, that is a 25-minute long show in the North Gallery that uses light projection, music and archived footage to paint a picture of old Las Vegas. All photography is allowed, some of the best Vegas photos can be taken here.
Mob museum
This one is an experience and a half. Even the building itself has been a part of many sneaky government deals. Would you like to witness the works of a crime lab, learn about Prohibition while tasting a variety of house-made distilled spirits, or go through a firearm training simulator? All of this and more is possible at this unique museum. Established to further the public's understanding of organized crime, it allows you to learn about and explore the pivotal crime moments that shaped society in America.
The admission fees can be costly, but if you're going to visit any cultural institution, this one should be high on your list. You'll have to pay $44.95 for a Deluxe pass that allows you to see all the exhibits, but only one of the before mentioned interactive experiences. Premier pass, for only four more dollars, takes you to 2 experiences. If forensics is not your cup of tea, just pay $29.95 to see the exhibits.
Area 15
Is Area 15 the future of shopping? The freshest place to be in Vegas opened in 2020 and very quickly became an obsession for many. It is a nice blend of shopping options, art installations, performances, events, and interactive exhibitions. Already at the entrance you'll know that what awaits you is an experience only Vegas can give you. Art nerds will love this place. It is open Monday to Sunday, the earliest opening hours are 10 am on a Saturday and the latest closings are at 2 am. A cover charge on Friday and Saturday will cost you $15, $10 if you pay in advance. Take your time to take in all the bits of fun that Area 15 has created for you, and don't forget to check out:
Wink World: Psychedelic art house
Van Gogh immersive experience: A 30-minute art show that brings Van Gogh's artworks to life.
Murals on the outside of the building
Meow Wolf's Omega Mart: There is not a chance that we can describe this, but if you're a fan of weird and unexpected interactive art displays be sure to give it a go. Trippy mind-bending stuff will take you through corridors, doors, big and small spaces that will leave you speechless.
Emporium: Arcade bar
Particle quest: A walk through space
Ax throwing at Dueling Axes
Las Vegas New York New York
Combination of 2 cities that never sleep? We are sure Sinatra would approve of it. M.G.M. Resorts International have really outdone themselves with this hotel and casino that resembles New York. It is located in a part of Vegas called Paradise, which is quite fitting. The iconic 45 meters high Statue of Liberty stands in front of the Empire State, Chrysler building, Seagram and C.B.S. buildings. Alongside them are replicas of the Brooklyn Bridge, Grand Central Terminal, The Whitney. Besides it being stunning, New York, New York can offer some exciting attractions as well. Be sure the take a look at:
The Big Apple coaster: Tickets go up to $30, but be sure to come on time to get the best seat in the house.
The Big Apple arcade
Pools, salons, and spas
Bars, clubs, and restaurants
Art district Las Vegas
You can walk to the Art district from Fremont street and further enjoy the Downtime of Vegas. It's an excellent place for everybody who wants to take a break from the loud and excessive Vegas attractions and just enjoy the Nevada art scene. You'll see diverse exhibits from indie and mainstream artists from vintage to modern, mixed media, floral arrangements. The art district is home to many interesting activities and food places, such as:
Preview Thursday / First Friday: Block parties for artists and musicians who display and sell their work.
Blue sky yoga
Ninja Karaoke
Burlesque Hall of Fame
Antique shops
Mural walls
Madame Tussauds Las Vegas
Las Vegas is most certainly a place where your chances of seeing a celebrity are high. One place where they will always be waiting for you, excited to meet you and take a picture, is the Madame Tussauds. Known for their extremely, almost unnervingly accurate statues of famous people, Madame Tussauds comes with some different experiences in Las Vegas.
Tickets sell from $37 to $85, depending on the package you want to incorporate. Some tickets give you a pass to a 4D Marvel movie experience, some allow the perks of The Hangover bar and the most expensive ones offer a meal at Buddy V's Restaurant and a gondola ride at the Venetian (we'll explain later). You can come in a group, as a part of a corporate event or organize a birthday party in the museum. Beyonce, Tupac, Drake, Dean Martin and so many more await you!
Bellagio fountains
Even the water is over the top in Vegas, let Bellagio take care of it. The mechanics of this choreographed water fountain are insane, with water shooters that send water over 140 meters high up in the air and lights that illuminate them. Even though fountains in Dubai and the Philippines are bigger, this one still holds the number 1 spot in our hearts. The fountains nicely compliment the romantic atmosphere of the Bellagio resort and their shows are a daily occurrence.
Dancing to the sounds of Viva Las Vegas, Luck be a lady, The star-spangled banner, Your song and some other big hits, they sway, whirl and caress the sky every 30 minutes from 3 am to 8 am, and then every 15 minutes until midnight. On the weekends they start at noon. Watching the magic of dancing water from the busy street, surrounded by tourists equally excited while the lights and neon signs do their thing may be the most Las Vegas thing ever.
Things to do in Las Vegas
There isn't a chance you'll get bored for a single minute when visiting Vegas. You can fill your days with many sightseeing tours, thrill rides, pool parties, conventions, PG and family-friendly fun. But, what to do in Vegas besides gamble? The possibilities are endless, we cannot all be sinners of the highest rank. Newest statistics show that around half of Vegas visitors don't actually come to gamble. Join us on a ride through the most essential experiences that Vegas has to offer.
Gamble in Las Vegas
Listen, we risk sounding like a broken record, but some essentials have to be mentioned. Even though it may seem like an easy way to get money, that isn't always the case. You really do need to know your games well and have some experience if you want a decent chance at the table that sometimes may consist of the best players in the world. There are many free courses to get your basics that casinos organize, so be sure to ask around about them. You'll get the best odds if you head out to Downtown casinos, especially if you are interested in the slot machines. Player clubs are a great way to get discounts on stuff like parking or rooms and we recommend you become a member of one. Play smart and try not to lose all your money on just one table.
Best casinos in Vegas
Casinos are usually a part of a resort or a hotel. We already mentioned the advantages of Downtown Vegas casinos, but it is entirely up to you to decide what suits you the most. Not all of them are amazing, even the ones that sound the coolest can have some problems. Trends have changed, casinos have become bigger and better, but some names don't leave the list of the best ones. Do not try to pull a Rain Man, it's not worth it. Be attentive to their sneaky techniques to trick you into staying longer or spending more money. Casinos are usually built without windows or clocks to make you lose track of time. Also, they are noticeably cold. Today, amongst the most reputable casinos in Vegas are:
The Venetian casino
Golden Nugget
The Mirage Casino
Wynn Las Vegas Casino
Bellagio casino
Caesars Palace casino
Getting married in Las Vegas
Pop-culture has romanticized the idea of a Vegas wedding, with Elvis himself by your side officiating your ceremony and strangers gladly participating. It really is that easy to say "I do!" in Las Vegas. Usually, you would have to wait to get a marriage license before tying the knot, but in Vegas, that waiting period is much different. Make sure you and your partner are of legal age, are not cousins and do not have previous marriages that are still legally binding. After that, you could walk into the Marriage Licence Bureau on your way to the grocery store and start the process of getting one. There is some minor paperwork and fees to pay, but after that, it's smooth sailing to the wedding bells.
We do recommend you research and prepare in advance. Booking a chapel or a venue isn't a necessity everywhere, but if you want to make sure you'll get the date and time slot you want it's a good idea to do so. Even though it is cheaper than a traditional big wedding, it still can cost you a lot of money if you go for some more luxurious options.
Las Vegas wedding chapels
Wedding chapels in Vegas can be found in almost every corner of the town. You can decide which one you like best depending on what type of wedding you have in mind, your budget, preferences, or needs. Besides the chapels themselves, many scenic locations throughout Vegas can be a beautiful background for your special day, as the open spaces of the Neon Museum. Some of the most beautiful and unique chapels in Vegas are:
Graceland wedding chapel: If reincarnation is a thing, the owner of the Graceland chapel takes the cake. Not only does he run the most photographed chapel in Vegas, but Brendan Paul also does one hell of an Elvis impression. It is located at 619 S Las Vegas Blvd, and it offers many wedding packages for different prices. From traditional weddings for around $200, to V.I.P. weddings with complimentary limousine rides down the Strip, and adventure ceremonies at Grand Canyon or Valley of Fires.
The little Vegas chapel: Located at 1330 S 3rd St, it offers many wedding packages, including the LGBTQAI+ ceremonies. It is a bit pricier than the Graceland chapel.
Chapel of the flowers: Has been voted best wedding chapel in Vegas and it really does deliver. When choosing the venue and the wedding package, you'll have options from $299 intimate ones to the elegant ones or weddings at the Grand Canyon.
Las Vegas nightclubs
If nighttime is when you feel the most alive, you've come to the right place. The nightlife scene in Vegas goes crazy and it caters to its many different visitors. Plethora of clubs on the Strip alone makes it hard to choose which one to visit, so the best course of action is to divide and conquer. Music and drinks are always great, but the atmosphere and interior vary. There are clubs, sometimes even more than one, in every big hotel in Vegas. Strip clubs are always an option, so are the bars and lounges. It is really tough to narrow them down so here are some of the most visited and diverse nightclubs in Vegas:
Zouk nightclub at the Resorts World: Over 2.160 people can fit in this state-of-the-art club that threatens to become the most technologically advanced place to be in Las Vegas. Be prepared for the most intense parties of your life.
Omnia Las Vegas at Caesars Palace: Luxurious clubbing at its best, it is a playground for the world's top D.J.s. The best parties are held on Saturday evenings and the cover charges are around $20-50. Besides E.D.M., you can party to hip-hop and the Top40 sounds.
Light nightclub at Mandalay Bay: Heavenly spot for pool party lovers, the main stage at this club houses the biggest names of E.D.M. and hip hop scene of today.
Apex social club: The 55th floor of the Palms Casino and Resort is a modern and upscale nightclub with the best views. D.J.s love it, and so will you.
Going to Las Vegas shows
It really is not surprising that big stars of the music, performance acts and magic industry come to Vegas to have year-long shows. Music shows are big in Vegas, where stars like Jennifer Lopez and Celine Dion can dazzle you every night for months. The comedy scene in Las Vegas is great, from open mics to well-established comedies, you can't go wrong. Magic shows are a world of their own, with acts that get booked months in advance and sold-out spots every single night. If you see us more than once in the front row at David Copperfield, mind your business. And don't try to think about how they do it, you'll ruin the fun. The top acts we recommend:
Cirque du Soleil shows: From Michael Jackson to the Beatles tribute shows, their acts are a spectacle each time.
An Evening With Whitney: The Whitney Houston Hologram Concert
Shin Lim's show at the Mirage
The Mentalist at Planet Hollywood
Blue Man Group at the Luxor hotel and Casino
Tournament of kings at the Excalibur Las Vegas
Magic Mike live at the Sahara
Adrenalin activities in Las Vegas
The thrill is something that Vegas doesn't lack. Amusement rides are scattered all over the town, waiting for you to test them all. Not only are they fun, somewhat dangerous, and will face you with your biggest fears, they are also a great way to experience Vegas from all angles. And you really should, especially during the night when every little corner comes to life. From rides high up in the air, to zip-lining in the desert, we gathered a list of the most fun-looking ones. Are you brave enough?
Helicopter tour Las Vegas
The best way to experience Vegas is a view from the top. You'll still see all the action, but just less noise. There are many possibilities for helicopter rides depending on what exactly you want to see. Although, they can be quite pricey, so we leave it up to you to decide if you should spend your money (do it!). The most popular ones take you over The Strip, and if you think it can't get any better, wait till you see it from a bird's perspective. You can even go to the Grand Canyon and back, but be prepared to pay even more. A popular aviation-based tourism company, Maverick, offers the largest selection of flights, so you can choose:
Vegas Strip Tour: $49-149
Wind dancer: Popular tour of the Grand Canyon, $469-549.
Nascar VIP transportation: $499
Land, air and see: Combine the thrills of helicopter and jeep rides in this attraction that costs $1.194.
Don't forget to check out their website to see many more options.
High Roller Las Vegas
The largest observation wheel in North America had to be built in Las Vegas. Being 164 meters above the Strip, with 360 views of the whole town, it is an experience that will stay with you for a long time. It is available throughout the week, from 4 pm to 12 am, and it is located on The LINQ Hotel & Casino grounds. Buy your tickets on time, which will cost you from $17 to $35.
Having a nice cocktail in the afternoon while overlooking one of the most exciting cities in the world? Yes, please! Happy half-hour cabins have an open bar and experienced bartender that will serve you the best cocktails for a 30-minute wheel rotation.A maximum of 25 guests will be your friends for the ride. You must be 21 and over, as always. The High Roller is also a popular spot for weddings, corporate events and family field trips on which you can learn about architecture, design, geography, math etc.
Las Vegas Zip Lines
If you were hesitant about zip lines, the best place to try them out is Vegas. We already mentioned the one at Fremont street, but you'll have more options to choose from. There are 4 zip lines in Vegas that cover different parts of the city, and if you dare try them all. The Vegas zip lines are:
Rio Zipline at Rio buildings: This one may be short, but it's still fun. Small seats and the height of a 52nd floor will get your heart racing. Tickets usually go for $32, but groups are sometimes available.
Fly Linq Zipline: You'll be going from the Linq promenade towards the High Roller from the 35 meters high tower. It will be quick, but hellishly fun. Be prepared to wait in line though.
Flightlinez Bootleg Canyon: 180 min course that takes you through the Nevada mountains and Mojave desert via multiple lines. It is on the expensive side, with prices going from $159.
Las Vegas Stratosphere
The Strat hotel and casino offers unique rides and views. It is home to the tallest observation tower in the United States and that gives you a pretty good idea of the views that await you. You'll need to get an elevator ride to get to the Skypod and observation deck, to get access to the most stunning view of Las Vegas at 350 meters above the Strip. Visits during the night are even more special. It is open from 10 am to 1 am, and this admission only costs $20. Other interesting experiences that Strat has in store are:
Sky jump: Jumping from the highest commercial decelerator descent facility in the world will make you feel like a superhero. You'll be facing 252 meters of height and many interested people will be waiting for you at the landing line. Tickets go from $129.99 for just one jump, you can add wrist cam or a photo for $15-30 more, or get an all-you-can jump pass for $350.
X-scream: A see-saw-like mechanism will dangle you 8 meters over the edge of the SkyPod. Your whole life may flash in front of your eyes once you find yourself weightlessly existing above the Strip, but in the end, it really is a good thrill.
Big shot: Prepare to be catapulted almost 50 meters in the air to reach the massive height of 330 meters above the ground. You'll feel all the Gs, going up and down.
Insanity: The name truly is fitting, as you will be extended around 20 meters from the edge of the SkyPod, spinned several times in the open air and at some point, you'll be facing straight down at 70 degrees. This really isn't for the faint of heart.
Family vacation in Las Vegas
Even though it seems like Vegas is adults-only, there are some interesting spots for family-friendly fun. Just have in mind that destinations like Las Vegas can be overwhelming for children, but also a big hit on your savings. Some of the attractions on our list have an entry fee and will give you lots of opportunities to spend your money on unnecessary stuff. But hey, when in Vegas? After all, if your idea of quality family time doesn't include what Vegas has to offer, check out our blog about the best places for a family vacation. Keep reading to find out about the entertainment places in Vegas that both you and your kids will definitely enjoy.
Stores in Las Vegas
These heavenly spots gather all the magic of sugar and chocolate. Located close to each other, in the same part of the town, you can organize a little trip that covers all of them. Be prepared for a lot of happy laughs, interesting facts, tastings, and gift shops. Parking is available for most of them, but if you plan on driving there be sure to check just in case. The famous stores are:
Coca-cola store Las Vegas: The mother of all sugary fizzy drinks has her own store on the Strip. You'll have a chance to taste coca-cola flavors from all over the world, design your own bottle of coke, buy a wide array of goods, from holiday ornaments to pet accessories, get someone a coca-cola themed gift or buy yourself a nice shirt.
M&M store Las Vegas: Our peanut friends are stored in many shapes and forms in this huge store that smells divine. Taste them, buy many different flavors that you can mix and match, or get yourself some M&M memorabilia.
Hershey's world Las Vegas: They claim they are the sweetest store on the Las Vegas Strip, but you be the judge of that. Witness the Statue of Liberty made out of almost 363 kg (800 lbs) of Hershey's milk chocolate, Hershey's kisses, and Jolly Rancher wall and taste all the famous sweets.
Avengers station Las Vegas
Dust of your Marvel knowledge and be ready to assemble. You'll be greeted by Iron Man, Captain America, Hulk and Thor alongside authentic Avengers equipment, such as Black Widow's uniform or the Captain America's shield. It truly is astounding how much stuff there is to explore or buy, so be prepared to make some hard choices. The best way to experience the Avangers S.T.A.T.I.O.N. is via V.I.P. tour. It will cost you $49, and $39 for your child, but we do think it's worth it.
You'll be guided through all the areas of the exhibit, get a unique gift per person and cool discounts on merch and photos, and overall find yourself in a group of Marvel enthusiasts for about 45 minutes. Interactively solving Avengers case files gives you a chance to become a certified member of the Avengers S.T.A.T.I.O.N. If you do decide to go we'll be so happy for you and not at all jealous.
Adventuredome
It is convenient that Adventuredome is located at Circus Circus hotel in Vegas. This 2 ha indoor amusement park is a lot to take in in just one visit. It consists of many thrill rides for all ages, a place for group parties, F.X. 4D theatre, games, V.R. rooms, and free clown shows. You need to have a ticket to get in that will set you back $20 for Junior pass (visitor under 121 cm of height) or $40 for a Regular pass (over 121 cm of height). Visit this exciting place, and maybe you'll discover that your child is a brave little adrenaline junkie. Amongst most popular rides are:
Canyon Blaster
El loco
NebulaZ
Chaos
Lazer Blast
Las Vegas Parks
After spending a lot of time indoors, a little (hopefully fresh) air is much needed. There are many interesting places of nature to visit besides the busy Las Vegas streets and corners. Go for a hike, get your pets and kids out of the light-polluted areas, have a picnic or sightsee some of the natural and historical monuments of Nevada. We recommend you check out:
Spring Preserve: This botanical garden with many hiking trails also has a museum and a butterfly habitat.
Sunset Park: Especially nice if you like fishing in a pond, but check the prices and rules for getting a fishing license.
Spring Mountain Ranch State Park: Array of buildings from the late 1800s, stunning nature, orchards, picnic spots, hiking trails... should we continue?
Best restaurants in Las Vegas
Extravagance follows every tourist category in Las Vegas, and food isn't an exception. No matter the diet or preferences, there is a plate for everybody's taste. Keep in mind that food in Vegas can be quite expensive, especially if you decide to eat it in one of the famous hotels or restaurants. Go to Downtown, Chinatown or Korean town to find more affordable restaurants. Street food may seem appealing, money and smell-wise, but do be careful and bless your stomach with a nice meal at least once. Many famous restaurant chains have their place in Vegas, which means you get to try food from all over America. Buffets are really popular eating spots in Vegas, and the one in Caesars Palaces is known as the best one. Waiting in line can take a while, especially if you come in the middle of serving time.
Plan ahead, your best chances of getting a decent and not so expensive meal will be if you decide to have an early or late dinner. Check the restaurants' websites to inform yourself about the reservation process, the most popular restaurants are booked months in advance. Experience has shown that the best places to eat in Las Vegas are:
Honey Sault at 1031 S Rampart Blvd
Tacos El Gordo at 1724 E Charleston Blvd
Bazaar meat at by José Andrés at 2535 S Las Vegas Blvd
Mizumi at 3131 S Las Vegas Blvd
Partage at 3839 Spring Mountain Rd
Chengdu Taste at 3950 Schiff Dr
Joël Robuchon at 3799 Las Vegas Blvd S MGM Grand
Gordon Ramsay's Restaurants Las Vegas
Dining at one of Gordon's restaurants, anywhere in the world, is an experience on it's own. You'll find two restaurants of his in Vegas, Hell's kitchen in the Caesars Palaces and Gordon Ramsay Steak at Paris Las Vegas. Both of these are filled with foodies and admirers all year round, so be quick to book your table. Dress codes must be followed, bring business casual attire for Hell's kitchen and smart casual for visiting the restaurant in Paris Las Vegas. These restaurants are a great place for dates, and if you get lucky you might see a celebrity or two. We promise you, no one's gonna call you an idiot sandwich. Things to look for in a menu are:
Gordon's famous Beef Wellington
Alaskan king crab legs
French-influenced side dishes
Béarnaise sauce
Sticky Toffee Pudding
Block 16
Cosmopolitan of Las Vegas became an IT spot shortly after opening. Block 16 is an urban food hall that adorns this establishment and attracts food enthusiasts from all over the world. Be prepared for an abundance of choices, from the chicest ones to the ones that feel like home. The food here is most affordable and even the pickiest of eaters will find something that appeals to their palate. You can dine-in or get a takeaway meal but on deliveries. Opening hours are from 7 am to 10 pm. Some of the restaurants to look forward to are:
Bāng Bar by Momofuku
Ghost Donkey
Eggslut
Hattie B's Hot Chicken
Tekka Bar: Handroll & Sake
Eataly Las Vegas
The name isn't the only great thing about this spot. This huge Italian market place with amazing restaurants sprinkled all around it is the biggest in the world. It's Vegas, what did you even expect? The smell of oregano, pomodoro and fresh produce just inspires you to eat it all. You'll be welcomed by the replica of the bull mosaic from a gallery in Milano, and later on you can enjoy wine poured "on tap", Nutella bar and even Eataly-themed poker chips, 24/7. After a long day of shopping for the best cheeses, bacon, pastries, wine, fresh veggies and fruits, chocolate or coffee, sit down for a big bite of pizza, pasta or a sandwich. Every restaurant is charming for a special reason, and some of them are:
La Pizza e La Pasta
Manzo
Cucina del Mercato
Las Vegas Hotels
Although we would love to be out and explore Vegas 24/7, a good place to rest is crucial. Choosing a part of town where your hotel will be situated is important and you should consider your preferences and capabilities. If your heart desires the Strip be prepared for loud and crowded spaces, hotels are not just hotels but places of entertainment of all sorts. Going Downtown is a good choice if you're okay with bad air conditioning and stuffy rooms. But they do not lack charm. An important thing to note are the resort fees. Some hotels in Vegas will charge you $20+ a night for fees, ask about them on the front desk or online while booking.
Las Vegas hotels on the Strip
Treat yourself to a nice hotel on the Strip to feel like a proper movie star. We won't lie to you, they can be over the top expensive, especially when the town is hosting huge conferences. Some of them are so big and full of entertainment spots that you could easily spend your whole vacation just exploring them. We do not recommend limiting yourself that much, but you do you. The list is long, most of the names you already know, but here are some of them worth checking:
Paris Las Vegas
M.G.M. Hotel and Casino
Luxor Hotel and Casino
The Mirage Hotel and Casino
Flamingo Las Vegas
The LINQ hotel
Venetian Las Vegas
We promised we'll explain. This hotel offers you a gondola ride in the Venetian style outdoor and indoor canals. It does feel like a nice blend of Italy and Vegas. Besides that, the Venetian has many entertainment options, like cocktail bars, nightclubs, shows of famous music stars, pools, a spa and gorgeous venues for weddings. It has different types of suites you can choose from, the Luxury King Suite being the most popular one. Prices vary, and even with a good deal, you can't go under $150 a night in the season. Parking is included.
Caesars Palace Las Vegas
Sorry to disappoint, but Caesar didn't actually live here. When people say that hotels in Vegas are an experience, Caesars Palace really is the best example. Prices in this hotel don't go much under $200 a night, and it only goes noticeably up from there. Some of the villas can cost you up to $35.000 a night. The Hangover villa is also available, you just need a wolfpack. Entertainment options are numerous and some of them are:
Forum Shops shopping mall
Pool complex Garden of the Gods Pool Complex
Color Salon by Michael Boychuck
Vanderpump cocktail garden
Cigar bar, Lobby bar or Alto bar
Cleopatra's barge
Bellagio Las Vegas
Home of the dancing fountain sure knows how to make you feel special. This resort is filled with interesting spots you must see and it houses some of the most expensive villas in the world. You can choose a room, suite, V.I.P. lounge experience or a huge room with a prime view of the fountain. If you catch a good deal, you may find yourself a room for less than $200 a night. Be quick, the prices are usually over the $300-500 mark. When visiting Bellagio, don't miss:
Bellagio Conservatory
Dale Chihuly's Fiori di Como floral sculpture
Restaurants that overlook the fountain: Luxury and high prices are the names of the game here.
The Bellagio Buffet
Watch Cirque du Soleil show
Bellagio Gallery of Fine Art
Cheap hotels in Las Vegas
Options for cheap accommodations in Las Vegas do exist, you just have to know where to look. Not every cheap hotel is worth it, some of them will lure you in with fancy signs and promises of good service, but later fail to deliver. Getting a cheap hotel may take you further from the Vegas action, which is great if you'd like some downtime. We get that you won't be spending that much time in your room after all, but we also don't want you to end up in a dirty shoe box. We prepared a little summary of the cheap Vegas rooms that actually aren't that bad.
Cheap rooms in Las Vegas
We looked at some hotels that offer rooms in the price range of $60-150, but some of them may include additional payments, like taxes and resort fees. If your trip is not at the peak of the season you could find nice rooms even at the most famous spots for under $100. When booking online check for amenities, parking options, accessibility and any small print that can state requirements or similar things. Here are some of the best-rated hotels in which you could get yourself a cheap room in Vegas:
Conrad Las Vegas at Resorts World
Treasure Island Hotel and Casino
Hostel Cat Las Vegas
Excalibur Hotel and Casino
Cannery Hotel and Casino
Red Roof Inn Las Vegas
The STRAT Hotel, Casino and Skypod
Frank Sinatra said that Las Vegas is "the only place I know where money really talks – it says Goodbye!" That is a fitting ending to our virtual Vegas tour, but we do hope your luck will be a lady. There is a lot we didn't get to say, but that just leaves you more to discover on your own. Whether you plan on gambling, exploring fancy resorts, partying, or just enjoying the bling, we truly have no doubt that you'll have the time of your life. What happens in Vegas ends up on social media, but let's pretend that it stays in Vegas. We tried to compile a complite Las Vegas Travel Guide. Reckon we did good?