Have you ever wanted to bathe an elephant or go diving to some of the best dive sites in the world? Or have you ever wanted to learn about Buddhism and be a part of a festival with a water fight? If you have, then Thailand is the right place for you! Today we are taking you to a land of smiles, warm people, tasty food, Buddhist temples, and incredible islands with amazing beaches. So strap on, and let's go on an adventure to the wonderful country of Thailand! In this blog you will read about these topics:
Let's learn a bit about Thailand
Now, you might live far away from Thailand, and it would be an incredible hassle for you to go on a vacation there. So why would you? To convince you to visit Thailand, we're going to tell you a bit more about the country in general and explain to you why Thailand is so popular among tourists. Let us go over a few things for those who might not know that much about Thailand:
History - the history of Thailand stretches back to 20,000 years ago, while the earliest evidence of rice growing where Thailand is today is dated at 2,000 BCE. The first mention of the Thai people is from the 6th century BCE Chinese chronicles. There have been various kingdoms, and a constitutional monarchy, while the current constitution was established on April 6th 2017.
Geography - Thailand is located in Southeast Asia and it has 513,120 square kilometres, making it slightly larger than Spain. The north of the country has the area of the Thai highlands with mountains. The highest point at 2,565 metres above sea level is Doi Inthanon in the Thanon Thong Chai Range. The longest river that flows within Thailand is River Chi, while the Chao Phraya is the largest watershed. Thailand faces the Andaman Sea and the Gulf of Thailand. The time zone GMT +7.
Climate - most of Thailand has tropical savanna climate, while the majority of the south and the eastern tip of the east have a tropical monsoon climate, and parts of the south have a tropical rainforest climate. There are three seasons: the rainy or southwest monsoon season from mid-May to mid-October, winter or the northeast monsoon from mid-October to mid-February, and summer or pre-monsoon season from mid-February to mid-May.
Demographics - the population of Thailand in 2020 was almost 70 million. Most of them are Thai nationals, over 95%. Bangkok is the most populated city, followed by Nonthaburi City and Pak Kret City. The official language is Thai, while other spoken languages are Isan, Kam Mueang, Pak Tai, Malay, and English. The most prevalent religion in Thailand is Theravada Buddhism, while Muslims are the second largest religious group.
The most important symbols of Thailand
Over 30 million tourists visit Thailand every year, with numbers rising each year. In 2019 there were almost 40 million tourists in this country. So, why is Thailand such a popular tourist destination? We've compiled a small list of top reasons why most tourists visit Thailand:
The beaches - Thailand has a lot of islands with incredible beaches with white sand and warm water. Granted, many of them have too many people visiting, but you can surely find some hidden gems like Freedom Beach in Phuket or Sunset Beach on Koh Kradan.
The food - Thai food is known for its fresh ingredients and strong spices. Every region has their own specialties, and you can get freshly cooked, incredibly tasty food from the street vendors. You should try Pad Thai, Thai-style fried noodles, Som Tam - green papaya salad, and Laab, spicy meat salad.
The temples - there are over 40,000 Buddhist temples in Thailand and a lot of them are pretty impressive looking. The most famous ones are in Bangkok: Wat Arun, the Golden Mount temple, Temple of the Emerald Buddha in the Grand Palace, and Wat Pho.
The people - Thailand is known as the Land of Smiles, and that is because of how welcoming Thai people are. They are known for their hospitality and respect towards their guests. Thanks to them, you always feel welcome.
The culture - you can always see Thai culture all over the country, in the architecture, in the hospitality of the people, in the food and the way they eat, in the way they travel, in the markets, etc.
How to get to Thailand?
The best way to get to Thailand is by plane because it is the most convenient way to get there. There are plenty of airlines that fly to Bangkok and Phuket. The prices of the flights depend on the season and how long before the flight you purchase your ticket, so make sure to get your tickets as soon as you can. We've singled out how to travel to Thailand from the USA, UK, India, Europe, and Australia.
Travel to Thailand from the USA
The best way to travel to Thailand from the USA is by plane. Most of the flights have one stop along the way. The flights usually last around or longer than 20 hours, including stopovers, or around seventeen hours without any stops. Here is the information on flights to Bangkok from:
Los Angeles - the flight tickets for a round trip to Bangkok in the high season can go up to US$1,600, but generally the prices are around US$800. Some of the biggest companies that fly this route are Emirates, British Airways, Delta, Air France, Qatar Airways, and Turkish Airlines.
New York - the price of a round trip to Bangkok from New York can go up to US$1375 in the high season, but the prices are usually around US$900. Some of the airlines that operate this flight are Singapore Airlines, Emirates, and American.
San Francisco - the prices for a round trip to Bangkok are generally around US$700-800, but of course, that depends on the date. The airlines that fly this route are JAL, ANA, United, and EVA Air, to name a few.
Chicago - if you want to travel to Bangkok from Chicago, expect to pay anywhere between US$700 and US$1000, if not more, depending on the season. You can fly with EVA Air, JAL, American, Qatar, and Turkish Airlines, among others.
Seattle - prices for a round trip to Bangkok from Seattle fluctuate a lot, so you can pay a price as low as US$665, but also as high as over US$1,200. So it's probably best if you check the prices regularly and get the cheapest option. Some of the airlines that operate this route are JAL, American, Eva Air, and Air Canada.
Travel to Thailand from UK
The good thing about travelling from the UK is that there are plenty of options to fly directly from London to Thailand with Qantas, British Airways, Thai Airways or Eva Airways. The flight usually lasts around eleven and a half hours, and the price of a round trip in high season can be around £900. If you want to pay less, you can choose an option with a stop, which would cost you around £600, but off season, you can find round trips as cheap as £420.
If you're travelling from another regional airport in the UK, you will have to fly an indirect flight either by routing via London, or via Frankfurt with Lufthansa, Zurich with Swiss, Abu Dhabi with Etihad, or Dubai with Emirates. The prices usually go from £450 and up.
Travel to Thailand from India
The flight time from New Delhi to Bangkok is around 4 hours. The prices usually go around €200 and €300, and they go up to over €2000 depending on the season and flight route. Most of the flights have one stopover. Some of the airlines that operate these flights are Air India, THAI, and IndiGo.
Travel to Thailand from Europe
One of the biggest airports in Europe that a lot of flights have a stop at is Frankfurt Airport in Germany. The prices for a round trip to Bangkok can go up to over €900 in the high season, and as low as around €360 if you go outside of the tourist peak. Frankfurt Airport is the hub for Lufthansa, but there are also other airlines like Air France, Emirates, and Turkish Airlines. The flight time is around 11 hours.
If you travel from Moscow, you can find cheaper flights for around €300, but the flight time is usually more than 14 hours. The price during the high season goes up to over €500. There are four international airports that serve Moscow that you can choose from. One of them is Sheremetyevo Airport where you can catch a flight from Qatar Airways, KLM, or Finnair, to name a few.
Travel to Thailand from Australia
There are plenty of flights to Bangkok from Australia, both direct and indirect ones. You can fly with Thai Airways or Qantas, among many other airlines. The flight time from Sydney and Perth is around nine hours, while the indirect flights will take at least eleven and a half hours. The prices for a direct flight are usually around Aus$1200, while for an indirect flight it's usually around Aus$900.
What places to visit in Thailand?
Thailand is a country with many places to visit. The more tourist oriented ones have many attractions that you have to see, food to try, and people to meet. We're going to go over some of the biggest tourist cities in Thailand, and hopefully after that you'll get a more clear vision on which ones to visit
Bangkok
The capital of Thailand is a magnet for many tourists. Approximately 22.7 million people visit Bangkok each year. And it's no wonder. This city has everything for everyone - from cultural sites to amazing nightlife, you'll certainly find something for yourself. Bangkok is best known for its temples, markets, street life, and cultural landmarks. Some of the things that are a big tourist attraction are the nightlife scenes of Khaosan Road and Patpong. Bangkok is also a great place from which you can visit other cities and villages in Thailand. Now, let us go over some of the best tourist spots in Bangkok:
The Royal Grand Palace - this complex of buildings is the official residence of the Kings of Siam and it attracts about 8 million visitors every year. Some of the things you can see at the Royal Palace are the Temple of the Emerald Buddha, the most sacred Buddhist temple in Thailand, Phra Maha Monthian, a group of buildings in the traditional Thai style, and Siwalai Garden, with royal residences and religious buildings. The Palace is open daily from 8:30 am to 3:30 pm, and the entry fee is 500 Baht for foreigners. You can find out more about this place at the Royal Grand Palace page on our website.
Wat Arun - a Buddhist temple on the Chao Phraya River that was built in the 19th century. Its name translates to Temple of Dawn. The sights that you cannot miss are the Entrance of the Ordination Hall, with two huge statues at each side, the Ordination Hall, with the main Buddha image, and Phra Prang, the tower with floral murals. The temple is open daily from 8 am to 6 pm, and the entrance fee is 100 Baht. If you want to know more about this temple, visit the page Wat Arun on our website.
Wat Pho - a temple complex that is known as the Temple of the Reclining Buddha. It is classed as the highest grade of the first-class royal temples in Thailand. Some of the sights that you can see at the complex are Phra Ubosot, the ordination hall that houses a Buddha image with a nine-tiered umbrella over it, the Reclining Buddha, the image of Buddha that represents the entry of Buddha into Nirvana, and Phra Maha Chedi Si Rajakarn, the group of four chedis. The complex is open daily from 8 am to 6:30 pm, and the entry fee is 200 Baht. Read more about this temple at Wat Pho page on our website.
Chiang Mai
Chiang Mai is located in the north of Thailand and it is best known for its ancient temples. It is in the mountainous part of the country so it has some amazing natural attractions and incredible views. Chiang Mai was the historical capital of the old Lanna Kingdom, so it has a lot of historic sites. Some of the best tourist spots in Chiang Mai are: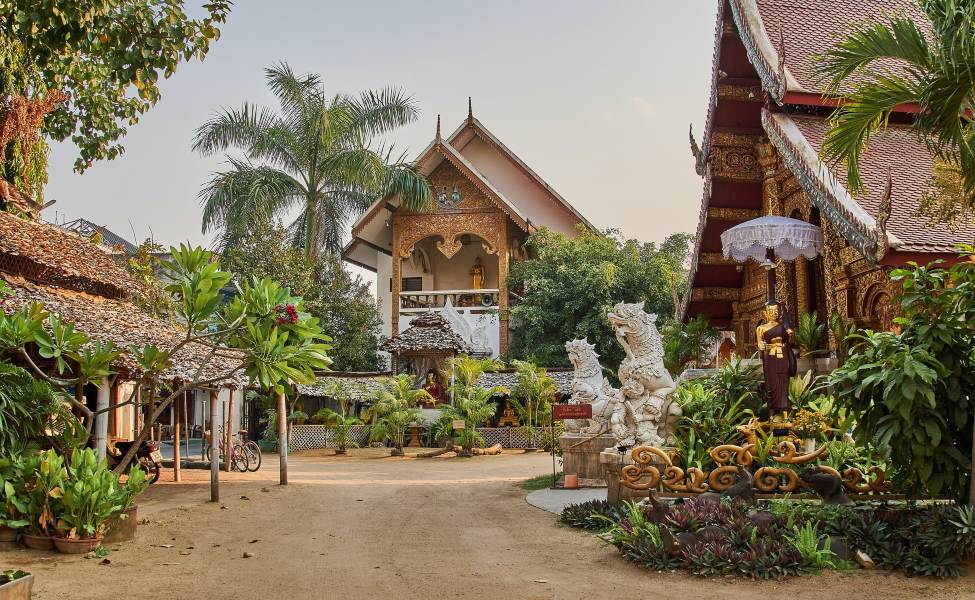 Wat Phra That Doi Suthep, Ratchaworawihan - a Theravada Buddhist temple that is sacred to many Thai people. It is located at 1,073 meters above sea level and if you go up to it you will be rewarded with impressive views of downtown Chiang Mai. Some of the details you might notice there are naga on gates of the temple, stone snake near the gates, golden mount at the temple, and golden Buddha statue at the temple. The temple is open daily from 6 am to 8 pm, and the entrance fee is 40 Baht for foreigners.
Wat Chedi Luang - a 14th century temple in the historic centre of Chiang Mai that has a big chedi. On the temple grounds you will be able to see the city pillar, Sao Inthakin, a Buddha statue Phra Chao Attarot, and a pavilion that has a reclining Buddha statue. The temple is open daily from 6 am to 5 pm, and the entrance fee is 40 Baht for foreigners.
Wat Phra Singh Woramahawihan - a Buddhist temple that has the status of Royal temple of the first grade. It houses the Phra Buddha Sihing statue of unknown origin. The construction of the temple began in 1345, and it was restored in 1925 and 2002. Some of the sights you'll be able to see are the Ubosot, the ordination hall built in 1806, Ho Trai, the library of the temple, and the Kulai chedi, built as a pagoda with five tiered roofs. The opening hours of the temple are daily from 9 am to 6 pm, while the entry fee is 40 Baht for foreigners.
Phuket
Phuket is a province in Thailand, and Phuket city is the capital of the province. It has around 9.9 million visitors every year. There are a lot of Chinese shrines and Chinese restaurants because it has a large Chinese influence. Because it is an island, there are a lot of beaches, but it is also known for its tropical mountains and local food. Some of the best tourist spots in Phuket are:
Sunday Walking Street Market - Lard Yai Market is 360 meters long and is located on Thalang Road in the historical part of town. There are a lot of stalls selling local fare and handicraft products. The market is open every Sunday from 4 pm to 9 pm.
Phuket Thai Hua Museum - this museum is located in a renovated Sino-Portuguese style building at Krabi road in the old town. It was the first Chinese Language school in Phuket, but now it houses exhibitions about the History of Hokkien Chinese traveling to Phuket. The museum is open daily from 9 am to 5 pm except on public holidays, and the entry fee is 200 Baht.
Phuket Indy night market - Phuket is known for its markets, and Indy night market is one of the most popular ones. It is held on three nights of the week on Dibuk Road alongside Limelight Avenue. Some of the highlights of this market are jeans, flip-flops, shoes, bags, and of course the food.
Best places for a beach holiday in Thailand
Many people come to Thailand for a beach vacation since this country has many beautiful islands and coasts. Thailand is great for a beach holiday throughout the whole year because there are always parts of it that are not affected by the monsoons. Here are some of the best places for a beach holiday in Thailand.
Krabi
Krabi is regarded as the most relaxing part of Thailand. The province has incredible scenery, a jungle, over 200 islands, and some of the best beaches in Thailand. The best time to visit Krabi is between November and April. Some of the best beaches in Krabi are:
Phra Nang Beach - this cave beach is located in Railay Bay and it is 450 meters long. There is Limestone Mountain and a cliff. The beach is characterized by white sand and clear sea, and you can climb the cliff, sunbathe, kayak, play volleyball and football, and more.
Railay Beach - this small peninsula actually has four beaches with white sand, limestone cliffs, viewpoints, caves, and a hidden lagoon. There are no buses or cars on the peninsula because there are no roads, so it is a perfect getaway from ordinary life. You can get to it by boat.
Tonsai Beach - this beach is actually located on the Railay peninsula. It is around 600 meters long and is stuck between two high limestone cliffs. There are a few hotels, beach restaurants and bars. You can rock climb, scuba dive, or rent a kayak.
Khao Lak
This resort destination is located an hour drive away from Phuket. It is a 20 km long strip in Phang Nga Province that is best for a quiet vacation. Some of the best beaches in Khao Lak are:
Bang Niang Beach - one of the most popular beaches on the Andaman Sea that has red-yellow fine sand, numerous coconut trees, and beautiful sunsets. There are a lot of restaurants, shops, and bars. You can rent a bike or a jet ski, enjoy surfing, windsurfing, and other water sports.
Nang Thong Beach - this golden sandy beach is around 2.5 km long. The waters there are calm and everything is relaxing. In this area is also located the Nang Thong Resort with bungalows, gardens, and a pool. You can eat at one of the restaurants or bars.
Coconut Beach - this beach is a part of Pak Weeb coast. It is really beautiful with light fine sand, palm trees, and crystal clear sea. You can enjoy food at some of the restaurants, and an impressive sunset.
Phi Phi Islands
This island group is located between the island of Phuket and the Straits of Malacca coast of Thailand. The largest and most populated island of the group is Phi Phi Don, while the second largest is Ko Phi Phi Le. There are beaches and clear water on the islands, as well as the national parks. Some of the best beaches on the islands are:
Maya Bay - this is not a beach, but a bay that has several beaches, and that became famous after the release of the movie The Beach which was filmed there. The bay is surrounded by high cliffs on three sides. There is a small shack that sells drinks and snacks, but there are no places where you can get food. Maya Bay is excellent for snorkeling since the visibility is really good.
Monkey Beach - another good snorkeling spot is Monkey Beach, located on Koh Phi Phi Don. This beach is 150 meters long and behind it there is a forested cliff with monkeys. The monkeys often come to the beach expecting food, but do be careful with them because they can hurt you. The beach is accessible only by boat or kayak.
Long Beach - this beach is also located on Koh Phi Phi Don and it has soft and white sand. You can get to it by foot or by longtail boat. You can see Phi Phi Leh from the beach. There are about six different resorts on Long Beach, each with their own restaurant.
Speaking of beaches, check out our Top 10 Best Beaches in the World Blog!
Best places for a honeymoon in Thailand
After the memorable wedding, you would want to have an even more impressive honeymoon. Thailand is the best place for that because it has sand-white beaches, incredible food, and locals that would make you feel like royalty. Here are the best places for an amazing honeymoon.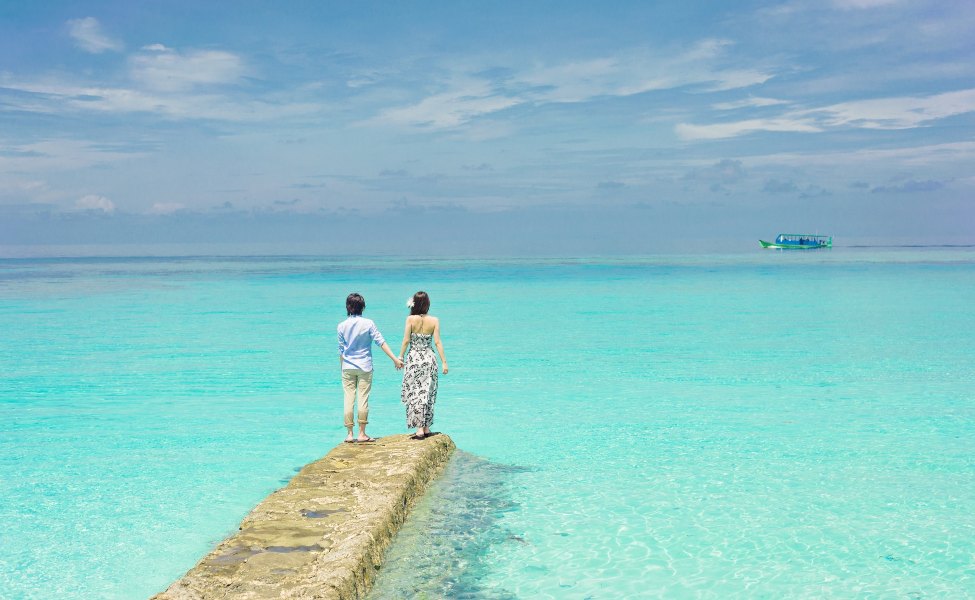 Hua Hin
Hua Hin is a seaside resort in the northern part of the Malay Peninsula.It is one of the top tourist destinations and a favorite gateway for many people both foreign and Thai. This beachside town is perfect for a honeymoon because it has many resorts for couples, quiet and beautiful beaches like Hua Hin Beach and Cha Am Hua Hin, and lush nature in Khao Sam Roi Yot National Park that is nearby. A lot of resorts offer an exclusive honeymoon package that will certainly make your wedding trip relaxing, luxurious and romantic. Some of the resorts at Hua Hin are Centara Grand Beach Resort & Villas Hua Hin and Hyatt Regency Hua Hin.
Apart from relaxing beaches and all inclusive resorts, Hua Hin offers a rich nightlife with places like White Lotus Skybar that overlooks the whole city of Hua Hin, Soi Bintabat where you'll find some of the best bars, restaurants and entertainment, and East Rooftop Bar & Lounge that has a 360-degree views of the surrounding area. Some of the other things that you can do are snorkeling at Talu Island where you can discover coral reefs and tropical fish, visit the temple Wat Ampharam in the centre of Hua Hin, or shop at some of the markets like Hua Hin Nightmarket, Plearn Wan Retro Markets, and Sam Phan Nam Floating Market.
Similan Islands
This group of islands is located off the coast of Khao Lak and the waters around them are the best in Thailand for snorkeling and diving, so if you would like to have a bit more active honeymoon, this place is for you. Of course, the Islands also have beaches with white sand and turquoise sea where you can relax, sunbathe, or go swimming. You could also go on a hiking tour with your significant other and enjoy nature on a romantic walk. The Islands are best known for the Donald Duck Bay on Koh Similan. It got its name because of the rock that overlooks it and that looks like Donald Duck. You can stay on three of the eleven Similan Islands - Koh Similan, Koh Meang, and Koh Tachai. Most of the accommodations on these islands are simple, but they are clean and comfortable. If you want to stay in nature, the campsite on Koh Similan is the place for you. However, if you want a more luxurious place to stay, you should stay on Koh Meang whose bungalows have AC.
Koh Samui
Koh Samui is the second largest island in Thailand and it is perfect for a romantic retreat honeymoon. There are plenty of resorts where you can have an all inclusive, intimate, five star experience. Some of the best resorts for a honeymoon are Silavadee Pool Spa Resort, a 5-star luxury resort on the beach, Tango Luxe Beach Villa, with a private pool and two restaurants, and Baan Haad Ngam Boutique Resort & Villas, where all rooms and villas have their own jacuzzi. Some of the best beaches where you can have a romantic walk are Silver Beach, Thongson Bay, and Lipa Noi Beach.
If you're still not sure if you want to spend your honeymoon in Thailand, read our blog Best Honeymoon Destinations which will give you more ideas for your ideal wedding trip.
Tours in Thailand
The best way to get to know the place where you're vacationing is by going on a tour with locals or guides who have an immense knowledge of it. We've compiled some of the best Bangkok, Khao Lak, Phuket, and Chiang Mai tours that will certainly be an amazing experience that you will never stop telling others about.
Bangkok tours
Bangkok is the capital of Thailand and it has almost 11 million people just in the city area. It is the largest city, so it would be fairly easy to get lost in it. So to make the most out of your trip, here are some of the best Bangkok tours:
Ayutthaya Temples Tour - Ayutthaya is a historic city that was founded in 1350 and destroyed in 1767 with only the ruins left. Today it is a World Heritage Site. On this tour you will learn about this city and visit ancient palaces, monuments and ruins like Wat Phu Khao Thong, Wat Lokayasutharam, and Wat Phra Sri Sanphet. The tour lasts 9-10 hours and it's from US$47.50 and it is operated by Sight Seeing Bangkok.
Floating & Railway Market, Coconut & Salt farm - on this tour you will explore the legendary floating market by boat. You will also visit a local coconut sugar farm, and go on a walking tour. The tour lasts about 7 hours, it's from US$50, and is operated by Thailand Island Travel.
Private Guide In and Around Bangkok - this tour is customizable, so you can visit all of the places that you've heard of. You can choose from sights like the Royal Grand Palace, Wat Pho, Chatuchak Market, and more. This tour is a private one, so you can get the most out of that experience without being in a big group. The tour lasts 8 hours, the price is from US$54, and it's operated by Your Thai Guide.
Khao Lak tours
Khao Lak is known for its beaches, clear water, fine sand, palm trees, and nature. Here are some of the tours on which you'll get to see that:
Bamboo Rafting & Sea Turtle Conservation Center - on this tour you'll get to hop on a bamboo raft and enjoy the beautiful rainforest around the waters. After that you'll get to visit a sea turtle conservation center and learn about the importance of saving and increasing the number of sea turtles in the region. The final stop on this tour is Ton Pling Waterfall where you can swim in the small ponds and relax before getting back to your hotel. This tour lasts approximately 4 hours, its price is from US$43, and it is operated by Tambon Khuekkhak.
Similan Islands Snorkeling Trip From Khao Lak - as its name says, this tour will lead you to Similan Islands where you can snorkel through the crystal clear waters at some of the best snorkeling spots. You will also be able to enjoy the beach, and have a delicious Thai style buffet lunch. The tour lasts 8-9 hours, its price is from US$99, and it is operated by Thai Mueang.
Takua Pa Historical & Cultural Tour - on this tour you'll visit Wat Khongkha Phimuk before going to Takuapa Old Town where you'll explore the streets and visit the Takuapa Market. After that you'll go to Tor Sor Cake Factory, the museum Nam Kem Cultural Centre, and the Tsunami Memorial Park and Museum. The tour lasts 6 hours, its price is from US$58, and it's operated by Green Andaman Travel.
Phuket tours
Phuket is also known for its beaches, as well as its nightlife and friendly people. It is also in a good location from where you can visit many other places. Here are some of the best Phuket tours:
A Morning with the Elephants at Phuket Elephant Sanctuary - this is once in a lifetime experience. Phuket Elephant Sanctuary buys all rescued elephants so they can stay at the Sanctuary their whole life. There they can roam around, bathe and sozialize freely across 30 acres of tropical land. This experience lasts for approximately 3 hours 30 minutes, the price is US$93, and it's operated by Paklok.
Phi Phi Islands and Khai Islands Snorkeling Tour By Speedboat From Phuket - on this tour you'll visit the Phi Phi Islands and its Maya Bay, Monkey Bay, Viking Cave, Loh Samah, and Pileh Cove. After that you'll go to Khai Island. You'll get to snorkel, swim, relax on the beach, and enjoy the sightseeing. The tour lasts 8-9 hours, the price is US$91, and it is operated by ตำบล เกาะแก้ว.
Phuket Jet Ski Tour to 7 Islands - this tour offers you the possibility of visiting the most beautiful destinations in Phuket with their jet skis. You'll get to enjoy secret spots without many tourists. They will take you to 7 different places. The tour lasts 5 hours, the price is US$187 per group (up to 2), and it is operated by Oh-Hoo.
Thailand vacation cost
After seeing all those amazing places you should visit and tours you should go on, you're probably wondering how much would that satisfaction cost. Don't worry, we got you. You will be able to read about how much would a trip on budget cost, and how much would an all inclusive one be. The prices will not include the flights because that will depend on the date of your travel.
On budget
The average daily price is around US$97 - about US$14 on meals, US$12 on local transportation, and US$60 for the hotel for a couple. So the average cost for one week for two people would be around US$1,358. So how can you make that cheaper? You can stay in cheap guesthouses and hotels, hostels, or rent out a room, and keep your expenses down to approximately US$22 for a couple. You could also eat where the locals eat and spend around US$5.63 per day. So you could spend around US$439 for two people for one week and stay on budget. You can find some other places for a budgeted vacation in our blog Top 7 Places for Cheap Summer Vacation!
All-inclusive
If you want to go all in for your vacation, expect to spend around US$347 per day - around US$37 on meals, US$38 on local transportation, and US$174 on hotels. That would cost you around US$4,858 for two people for one week. Of course, there are 5-star resorts where only one night costs even around US$400, and restaurants with expensive pricing. So it's all up to you how much money you want to spend. If you're looking for some other luxury destinations, check our blog Top 15 Destinations for Luxury Vacation!
Thailand is an incredible country with many places to visit and many things to experience. In this blog you had the opportunity to read about the best tourist spots in Thailand. We hope that now you can make a plan of your Thailand trip and have the best time of your life! Oh, and while you're in Asia, you can visit other places there - our blog Top 10 Must See Attractions in Asia will help you!