The summer days are behind us, and the colder weather has suddenly crept upon us. We simply blinked, and it was time for warm sweaters and long winter coats. The days become shorter, the nights longer, the winds more robust, and the cold is expected every day. All we need to do is survive November, for many the most challenging and depressing month of the year, and then we can look forward to the New Year and Christmas holidays. There is something extraordinary and unique about the holiday season. When we get emotional, we try to summarize the entire previous year and always have some new resolutions for the next year; sound familiar? That is why we are here to give you some interesting Christmas ideas, and we hope you will enjoy them!
Christmas vacation for family
It has long been known that Christmas is an extraordinary time in the year. Christmas is a great reason to gather all family members. Students are returning home, children are not in school, parents are on vacation. Suddenly, the house is whole again. Although it can sometimes be challenging or stressful, it's still an exceptional and significant period of the year that helps create unforgettable memories and reconnect us with those we love the most. This holiday is meant for making precious memories with loved ones. If you decide to spend your Christmas somewhere far from home this year, we have some ideas for you.
Family Christmas in Disney World
Is there a place that is more magical than Disney? Well, we can think only about Disney during the Christmas season. This fairytale place becomes even more unique and magical during Christmas. Sometimes it can be hard to explain with words how amazing it is; you have to experience it first hand. Disney has always been a great place to relax with the family, but Disney becomes even more magical, beautiful, and better during the Christmas season. Here is a list of some of the exciting things you can do in Disney during Christmas time:
Try out some fun Christmas themed Disney rides
Go to Christmas show
Sing Christmas carols while waiting in the line
Reserve a special Christmas meal
Enjoy Character sighting and musical group singing holiday songs
Admire the rich and colorful Christmas decorations
Check out the big and glorious Christmas tree
Go shopping for Christmas presents in Disney shops
Wait in line to see in person the iconic Disney Christmas parade
As you can see, there are many great and joyful things to do in the Disney Magical Kingdom on Christmas. It will probably seem like a dream coming true. Your kids will love the iconic Disney Christmas parade where you can see in person all famous Disney characters ahead with Mickey Mouse. The train is quite colorful and impressive.The part where your kids will go insane and burst out of happiness is when they see one and only Santa Clause and his hard-working elves. The first will probably be even more fascinated with famous and beautiful Disney princesses and their theme dresses. Snowwhite, Cinderella, Sleeping Beauty, Belle, Jamin and other iconic princesses are part of the parade and they will make your Christmas experience in Disney even more magical. If you want to have the best family vacation, then Disney is the place to go.
The prices and essential information about Disney during Christmas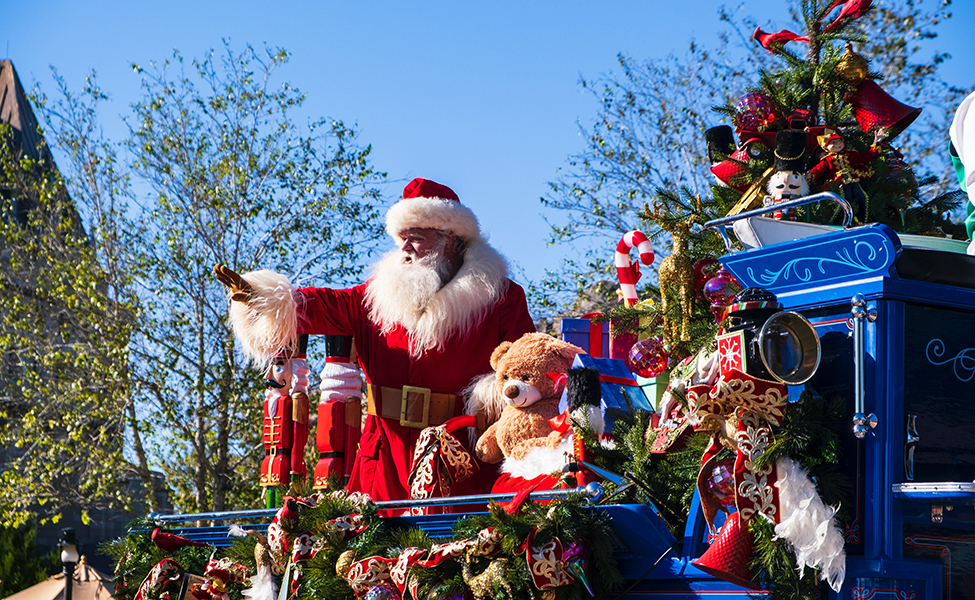 If you want your Disney experience to be truly magical without stress, you need to be well organized. Good organization is the key to everything, especially when traveling with children. That is why we have selected a few tips and valuable information for you that you should know.
Be aware of big crowds, especially when it's Christmas time. Many statistics say that time is the worst for big groups and waiting in line.
Also, the price tickets are not that cheap, so we recommend you save some money because it's worth it.
Many tickets range between 146 euro and 197 euro for November and December
For more information about the prices, go to Disney World's website
Be aware that the most expensive time to visit Disney World is during the Christmas and Easter break
Family Christmas beach vacation
Do you want to mix things up a bit? We are so used to spending the Christmas season surrounded by white snow and Christmas trees, but what do you say about spending Christmas with your family on some nice and warm beach covered with palm trees instead of Christmas trees? That can be quite an unforgettable and unusual experience. Spending time with your family while soaking up the sun and enjoying the warm weather is quite a holiday experience. We recommend you to visit the Caribbean, a true tropical paradise perfect for families with small kids. Here is what you can expect from Christmas on Caribbean islands:
white sandy beaches
coconut trees
sunny shores
tropical sunsets
A really good place to spend your holiday season with family in the Caribbean is Jamaica. Jamaica is famous for its many great and popular family beach resorts. They will offer you a perfect Christmas getaway and pretty average prices. Many of these resorts are kids friendly, and they have small kids pools and many fun activities for kids to do. Some of them even have special Kids Camps with excellent nannies so that the parents can go and have some valuable and quality time. If your kid is a teenager, don't worry, many luxurious beach resorts offer nightclubs for teenagers. If you prefer the tropical holiday season, then you should read our blog: Most beautiful islands in the world. Here are some popular and quite luxurious Jamaica beach resorts:
Skylark Negril Beach Resort
Excellence Oyster Bay
Half Moon
Hibiscus Lodge Hotel
Jewel Grande Montego Bay Resort & Spa
Ski resort family vacation
We are going back to snow and the traditional way of celebrating the New Year and Christmas season and that is why we are taking you to some of the best and most popular ski resorts in Europe. Many of us still love to spend the Christmas season with beautiful, crystal white snow surrounding us and there's hardly anything better than snuggling inside a mountain hotel, next to a warm crackling fire fireplace. In addition, spending Christmas in one of the famous ski resorts is an excellent choice for all lovers of active holidays and skiing.
Skiing gets a unique charm when the holiday season approaches, and many ski resorts offer you excellent training, equipment and ski slopes that are intended for all skiers, both beginners and those who are a little more experienced. Here, you will also enjoy some breathtaking scenery with an entire family and spend the entire day playing the snow with kids. Each resort is different and unique. You need to find what suits you the best. We have selected for you the best ski resorts in Europe:
Courchevel, France
Val d'Isere, France
Cortina d'Ampezzo, Italy
St. Moritz, Switzerland
Courmayeur, Italy
Christmas vacation for couples
As we have already pointed out, Christmas represents the season of love. It is a time of love, selfless giving and a time of creating wonderful memories with those we love and appreciate the most. If you are lucky and have met the love of your life, spending Christmas can seem like the realization of all your romantic dreams. No time of the year celebrates love and togetherness more than the Christmas holiday season. There is something magical about spending time with your loved one on Christmas and that is why we have selected some incredibly romantic destinations for your romantic Christmas getaway.
Romantic vacation in Iceland
Iceland is a place that will offer you a true adventure. Some say that Iceland's capital is one of the most eccentric cities globally, but that is part of its incredible charm. We think that spending time on your Christmas holiday with your partner under the iconic and glorious Northern Lights can be a memorable experience and something you will remember for the rest of your life. The Northern lights are a genuine phenomenon, like no other.
Seeing it with your partner makes it even more magical. It's the perfect thing to do on your romantic holiday. The next thing that you simply must try on your romantic Christmas getaway is soaking up in the Blue Lagoon while surrounded by snow and ice. It sounds pretty incredible, doesn't it? We are talking about fairly-tale surroundings and inside the Blue Lagoon, you will feel only warm and very pleasant water. Also, don't forget to enjoy fantastic volcanic landscapes. You are probably wondering how much does it all costs during the winter season. Well, on average, for two people, a vacation in Iceland will cost you around 3.330 euro for two weeks, and we think it's worth it. Here are some of the most romantic hotels in Iceland that are ideal for couples:
Hotel Reykjavik Centrum
Centerhotel Plaz
Odinsve Hotel Apartments
Radisson Blu 1919 Hotel Reykjavik
Exeter Hotel
Romantic vacation in the Alps
The majestic Alps are always a good idea, but during the Christmas season even more. The festive season in the Alps can be something quite magical. We are talking about a natural winter paradise. Also, many ski resorts have magnificent Christmas trees and ornaments, so your experience will feel even more unique and special. You can find many great couple deals and excellent accommodation that will be perfect for your romantic getaway. Here are some of the most popular ski resorts in the Alps, choose one and your Christmas fairytale can finally begin:
St Moritz - choose St Mortiz for a true winter wonderland and book a fantastic skiing vacation for couples. During the evenings, you can sip a glass of their iconic wine and cheer with your partner. You have many great hotels and apartments around the ski resort so it won't be too hard to book accommodation.
Megeve - Any fan of skiing will be completely mesmerized by how breathtaking the Megeve is. It is also a very romantic place, especially during the Christmas season. You simply must see the lighting ceremony of the central Christmas. It usually happens at the beginning of December.
Zermatt - During the holiday season, the entire ski resort in the Alps is fully decorated. Many colorful lights and ornaments can be found around any corner. Skiing there can be quite an unforgettable experience. Also, expect some romantic, breathtaking scenery.
The prices in the Alps
Prepare yourself and your loved one for real festive and adventurous day ahead. All ski resorts on the Alps look pretty picturesque, especially with thick white snow, amazing landscapes, festive decorations and stunning mountains surrounding the entire area. Be sure to book your place on the slopes in time because it can be pretty crowded during the whole winter season. These popular ski resorts fill up very quickly. Perfect accommodation for your romantic Christmas vacation can be in the mountains, cozy chalet apartments with balconies and a view to die for. Here are some helpful information that will come in handy when planning a holiday in the ski resort:
Low-budget airlines have been offering very affordable flights to Europe and specifically to the Alps for years now, but the price can be different depending on the time of the year. Still, you can find tickets to the Alps for just around 100 eur per person.
Accommodation in the Alps will probably cost you somewhere between 179 euro and 250 euro. You can choose a hotel or chalet room with a double bed and two singles. In many of these deals, breakfast is always included.
Ski rental can be pretty expensive in the Alps, but we are talking about very professional and high-quality equipment, so it's worth it. Be prepared to pay around 200 euro for ski rental. Also, there are different levels of rental skis from the cheapest to the Platnium, so choose carefully.
A lift pass will usually cost around 800 euro, or if you want a 6 day pass, the price for adults is 243 eur. You can buy tickets that will allow you to use only one gondola.
If you want to learn more about the majestic Alps, go to our blog: Top 10 Places to Visit in the French Alps.
Romantic vacation in Paris
Paris - the city of love, the city of lights and many beautiful spots. We can hardly list a perfect city for a romantic getaway for two. Paris is always a good idea, especially during the festive season and the entire city is beautifully decorated with lights and Christmas ornaments. Christmas in Paris with your loved one is something like a dream coming true. Walking on the streets of Paris, visiting the historical sights and enjoying the breathtaking scenery is just one small part of your Parisian adventure. Welcome to the city of love, a city full of culture and art, you will have a fantastic time. Here are a couple of things you can do in Paris on your romantic getaway:
Visit the Eiffel Tower
Explore historical sites
Visit the Château de Versailles
Go to the Louvre and Orsay
Celebrate New Year in the town centređ
Go window shopping
Visit the Christmas market
Go ice skating
Listen to Christmas concert
Go to Christmas church service
Christmas vacation with friends
Celebrating Christmas with friends can be a fascinating and fun experience. Friends are like family and creating memories with them is incredible. It can be significant to share these Christmas memories with them. That is why you need to organize and plan. If you are searching for some creative and exciting ways to celebrate the holiday season with your friends, we have some advice for you. We hope that this season will give a lot of love, a lot of laughter and some unforgettable memories with your friends.
Time with friends is incredibly precious and vital. However, as we get older and have more and more responsibilities, it can sometimes be challenging to find enough time for all our friends. That is why the holiday season is the perfect time to spend some time with our friends again. We need to reconnect and create some beautiful and unforgettable moments with them. Therefore, do not wait for more time to pass. Invite your friends immediately and organize a holiday celebration together. Cheers to that!
Christmas party with friends
Organizing a Christmas party with friends is one of the favorite activities for many. The Christmas atmosphere is felt in the air. Everyone can't wait to see each other, gather, exchange gifts and enjoy a rich, festive table surrounded by glittering Christmas trees, mistletoe, decorations and colorful lanterns. If you are looking for some ideas on how to organize the best Christmas party with your friends, then you are in the right place and just keep reading:
Organize a themed exchange party - Choose your theme in advance and ask your friends to bring something related to that theme. You can put all the themed gifts under a Christmas tree. Also your food needs to be connected with the main theme.
Plan a pancake and Christmas pyjama party - It's the season of the cutest and funniest festive pyjamas! Use that to your advantage. You can tell your friends to dress in their best and funniest Christmas pajamas and organize a little pancake baking competition the following day.
Play Secret Santa - Traditional Secret Santa gift exchange is something to look forward to. This is a great way to include everyone and to create something unique and magical, and let's admit: who doesn't like to get a gift?
Christmas spa day with friends
Christmas spa day with friends might be just what you need because, let's face it, after the entire year full of working hours and stressful life events, who doesn't need a relaxed spa day with closest friends? Christmas spa breaks can provide you with some much needed relaxation. Plus it's a wonderful opportunity to connect with friends again. Silence, relaxation, peace and so much more. You can find many Christmas spa vouchers, but hotels that offer spa salons can be booked on Christmas, so book your spa treatment on time. Maybe you can surprise your friend with a very thoughtful gift, with a gift card for a spa. You can choose between a spa day or spa vaucher. You can select what kind of pamper day you want for your friends. During the spa day, everything is dedicated only to you and your enjoyment. Christmas spa packages can include:
Use of the spa's leisure facilities - swimming pools, terminal waters, special relaxation areas
Several spa treatments - you can choose what suits you the best
Reserve meals and drinks - to have the ultimate Christmas day at spa don't forget to enjoy the food and snacks
Book a perfect accommodation - find a spa deal that will include great accommodation and breakfast the next morning
Organize gift exchange and festive treats - this will show you friends how much you car or them and it will bring that electric positive atmosphere to our fantastic spa day
Christmas trip ideas
Many people use the period of New Year's and Christmas holidays to travel to their desired destinations. Often, many save money so that they can organize their perfect holiday trip. Given all this, travel during the holidays is commonplace. Whether you are traveling with a partner, the whole family or friends, there is something special and magical when it comes to holiday trips. Some Christmas destinations are quite picturesque so prepare yourself to take some fantastic festive pictures. So pack your bags and let your Christmas spirit shine bright!
New York Christmas trip
New York is a traditional place for many tourists, especially for the New Year and holidays. New York is magical during the holidays, but it is necessary to say that this city is always expensive, and during the holidays it can be costly. However, if you can set aside some money, it is worth it, because you will find that festive spirit and traditional Christmas atmosphere in New York. Christmas season in New York will soon begin and it will offer you a lot of fun things to do and explore.
The city has holiday offerings like no other. From the iconic Rockefeller Center Christmas Tree to many great holiday markets, New York during the festive season has it all and, by all means, that trip won't be something you could forget easily. The Rockefeller Christmas Tree is the true symbol of New York's festive season. Few cities in the world shine as brightly as New York during the holidays, and you can find beautiful and rich decorations in every corner of the town.
This majestic and stunning tree is quite enormous, full of flashing lights and lampions, it is the heart of New York during the festive season. If you want your Christmas trip to be complete, then you should attend the traditional tree lit up. There are also a lot of positive things to do around this Christmas tree. After that, you can go to the Empire State Building musical light show for the holidays. From December 19 to December 25, everyone can tune in for a festive song and light display.
What to do in NYC during the Christmas season:
Ice skating in Central Park
Try out carriage rides
See the lights on Empire State Building
Go to Union Square Holiday Market
Sledding in the City
Shop in at Brooklyn Flea
See the Botanical Garden's Holiday Train Show
Enjoy the Christmas Lights
Go to traditional Christmas Shows
New York City Christmas accommodation
Another thing you can do is visit the Grand Central Holiday Fair held from late November through Christmas Eve. If you want to do some quality holiday shopping, this is the place for you. You will find a diverse mix of products, and everything is decorated in a true Christmas, festive spirit. You will probably be amazed with the decorations and all those great shopping sports. So if you are in a Christmas rush and ready to buy some presents at the last minute, this place is an excellent choice for you. Most of these markets are located close to many popular hotels in New York.
Hotels in New York during the holiday season very often look like something that came straight from the fairytale. Everything is full of light and trees, holiday songs, mistletoes and colorful ornaments. If you really want to have a full New York city experience then booking a place in the best Christmas hotels is something you simply must do. You should know that these hotels are quite expensive, but we think they are totally worth it because you will feel like a true royalty there. Here is our list of the best festive hotels in New York:
The Plaza is hardly a more popular hotel than this, especially when the holiday season is in full swing. Many famous Hollywood movies were shot in this luxury hotel that shines in full splendor during Christmas.
Four Seasons Hotel - if you want your holiday spirit to be at its peak, this hotel will provide just that. At the four-seasons hotel, rea royal atmosphere awaits you.
Ritz - Carlton Central Park - this is another extraordinarily luxurious and popular hotel that will delight you with its rich, festive decoration and festive atmosphere.
Christmas trip to Aspen

Aspen has always been one of the favorite holiday destinations for many. This place is something like a true winter paradise and the festive spirit is felt around every corner. If you want to have an active holiday trip, then Aspen is the place for you. It has many great slopes and it's excellent for skiing trips. But not just for that, Aspenis has many exclusive boutiques and fancy galleries. Many claim that the festive season in Aspen looks and feels magical, like something you can see only in movies. Here is what you can do on your holiday trip to Aspen:
Go ice skating - there is an outdoor Silver Circle Rink in town. It's surrounded by lights and festive decorations.
Go sledding - like we said, Aspen is full of slopes, so you can rent your sledding gear and enjoy sliding with your kids and loved ones. It's a really good and fun activity for all generations.
Visit winter workshops - The Aspen Art Museum Offers you six days of exciting workshops for kids.
See Aspens Christmas tree lightning - this is a great occasion to gather friends and family and enjoy some live holiday music while waiting for the tree to light up.
Christmas at home
Considering that the Covid 19 is still a large part of our everyday life and that it has created additional costs, stresses and problems for many, and that has also restricted the movements of many, you can always spend your Christmas and New Year holidays at home, surrounded by loved ones in pleasant, homely atmosphere. If the situation in your country with the number of infected is not good enough and if you care about your health and the health of your family and loved ones, then it may be better and safer to spend, at least, this holiday season at home. That's why we've singled out for you a few exciting ideas you can do at home for the Christmas holiday.
Christmas staycation ideas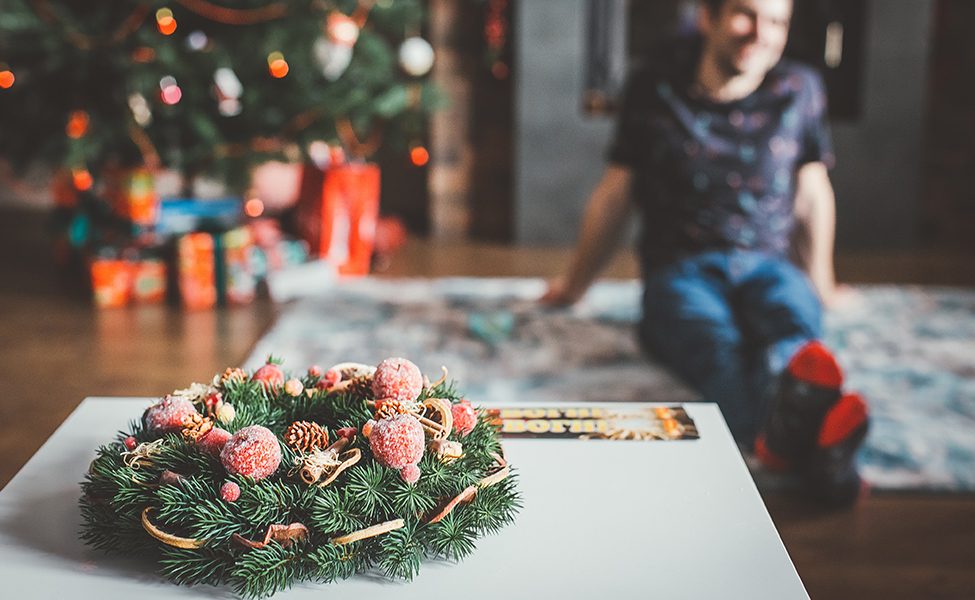 A staycation can have certain advantages. Everyone is in a festive mood and everyone is coming back home. This is a great time to bond with your family and spend some quality time with them. After a positive and rich dinner, you can relax and enjoy yourself a bit. This is a time to reflect and think about new plans, new decisions, and thinking about the previous year and everything that came with it. Many things have changed, we all had to adjust to some new kind of reality. At the end of the year it is time to face all of that, accept it and move on with a smile on your face, ready to face new challenges and new year with all that it brings. But let's be realistic, time for yourself is significant, time to reflect is also valuable, but during the holidays we also need to spend time with loved ones. Here are some exciting ideas of what you can do with them at home:
Organize a Christmas movie night
Plan a unique cooking competition
Throw a pyjama party
Decorate Christmas tree together
Drink hot chocolate from Christmas mugs
Prepare with family traditional festive meals
Play Secret Senta together
Enjoy, relax, read and share some fun memories with family and friends
Best Christmas decoration ideas
The entire festive season is a beautiful opportunity to express your creativity and get crazy with presents and decoration ideas. Crafts can be really fun and if you do them with your family members and loved ones, it can become even more fun. Christmas decorations can make your home look like a place from some winter fairytale. Decoration is what makes this part of the year even more unique and special, so let's start with some new and interesting ideas:
If you have a fireplace put some greenery around it then just add some red or gold ribbons and ornaments to really make it nice and add some color. Try to match the color of decorations with colors in your living room.
Buy some cute Christmas figurines and put them in every corner of your home. These festive figurines will help you in creating a real positive atmosphere, and your entire home will look quite cozy and eye-pleasing
Use the same special wrapping for all your presents. Find a theme that suits you and wrap every gift in a similar style. You can add some small pine and tie it with ribbons around the present for that extra festive look.
Hang some oversized snowflakes and add candles on your Christmas table. In this case the more, the better. It will give you a vibrant look and the entire home will have that unique and authentic festive atmosphere that we all want to achieve.
Create some unique Christmas wraps and put them wherever you like, you can even give them as presents to family and friends. Add layers and layers of pine, spruce, juniper and do not forget to add winter berries and pinecones for that extra sparkle.
Although October has not passed either, we feel that this year is coming to an end. The season of coats, holidays, celebrations, warm scarves and gloves is slowly creeping up on us, while the first snowflakes are expected in November. We hope to prepare you for the upcoming holiday season and provide you with some different and exciting ideas that will help you spend this holiday season in a good spirit and pleasant atmosphere. We hope that next year will be even better, more promising and more successful. Until then we have enough time to prepare for the holidays and to bring this year to an end in the right way.