We'll take you on a tour of the five most popular mountains in Serbia, through areas that will enrich your winter and summer holidays and provide you with perfect family moments, clean air, and relaxation. Use any of the mountains as a starting point for touring Serbia for the ultimate travel experience. Stay tuned for a virtual walk through:
Zlatibor
Increasingly popular and developing from season to season, Zlatibor has taken the title of the king of the mountains in recent years in Serbia. It offers fun for all ages and every pocket. We'll tell you all you need to know, you just evaluate whether Zlatibor justifies its positive epithets.
How to get to Zlatibor?
If you are heading to this destination from Belgrade or the surrounding area, the open section of the highway from Belgrade to Preljina, close to Cacak, is in your favor. The first part of the road is smooth sailings, and then there is an unpopular section among drivers: the Ovcarsko-Kablarska gorge. Although winding, it can be crossed in about 30 minutes. There still are about 50 kilometers to go through, following Pozega and Uzice. A total of 230 km in about 2 hours and 30 minutes. From Novi Sad to Zlatibor, the distance is about 290 km, which is covered in 4 and a half hours of driving, while Nis - Zlatibor is 300 kilometers.
Summer on Zlatibor - Things to do on Zlatibor you cannot miss
If we had to choose just the most prominent attractions on Golden mountain, our picks would lead you to:
Reach the Monument on Sumatno Brdo: Walking to the monument on Sumatno Brdo, one of the biggest symbols of the entire Zlatibor area, is a nice little workout. From the center to the top, you need about 30 minutes of easy walking, which will be filled with beautiful nature, places to rest and smells of delicious local specialties, which are displayed along the path by local vendors. Visit our page Monument on Sumatno brdo to learn more about its interesting history.
Take a ride on Zlatibor Gondola: It is the newly built Gondola, which with its length of 9 kilometers, is one of the longest gondolas in the world. The Gold Gondola is the perfect way to get to know Zlatibor from a bird's eye view. Its starting point is the Ribnica lake, and then it moves through stunning nature to its last stop Tornik, a famous ski resort, now also an urban part of Zlatibor.
Take a hike to Gostilje waterfall: This beauty is located about 25 kilometers from the center of Zlatibor. The entire area around the waterfall was turned into an exciting tourist spot. Within the complex is a soccer field, swimming pools, and an ethno restaurant Gostiljska vrela.
Restaurants for days: The most famous pub district on Zlatibor, a paradise for gourmets and hedonists, is called Borova glava. There are three taverns there, and each of them famous for an exclusive Zlatibor specialty. This is where you'll be served the best lamb in the region. Tavern Zora is known for its excellent barbecue and cooked dishes, and in Krcma kod Zore you will try the famous bun with sour milk. If you're not sure which Serbian specialties are for you, find some recommendations in our blog - Traditional Serbian food.
Explore Stopica cave: It is 330 meters long with magnificent halls. The cave is located 19 kilometers from the center of the mountain.
Experience the old village of Sirogojno: The only open-air museum in Serbia is located about half an hour's drive from the center of Zlatibor. The museum setting, with over 50 objects and 150 exhibits, depicts the life of Zlatibor residents in the 19th and 20th centuries. Sirogojno is one of the last open-air museums.
Winter on Zlatibor - Go skiing on Tornik
If you decide to go to Zlatibor during the winter season, you will enjoy the charms of skiing, snowboarding, and sledding. Zlatibor has the second most developed ski center in Serbia, which can be enjoyed by rookies and pros alike. Ski schools that Zlatibor offers will make it easier for beginners and children to master the basic skiing technique and feel the sport's charms in the right way. Every school has equipment rentals, so you don't have to worry about that. The prices of ski schools range from 1,200 dinars for a group lesson to 3,500 dinars for an individual lesson.
The highest peak of Zlatibor, the Tornik ski center, which is 9 km from the tourist center, will meet the needs of slightly more experienced skiers as well as older beginners. Four trails to test your skills on are Tornik, Cigota, Ribnica, and Zmajevac. They also have an artificial snow system, perfect for when the weather doesn't cooperate the best. Prices of ski passes in Zlatibor vary depending on your category, but you can expect something in this range:
Daily pass: For children is 1,500 dinars and adult daily pass is 1,900 dinars
A seven-day ski pass: For children is about 7,500 dinars and for adults 9,700 dinars
Zlatibor accommodation
Due to the increasing number of visitors, the need for accommodation on Zlatibor is growing, so Zlatibor is inexorably being built. Some attribute it as a flaw, increasing urbanization and losing the appearance of a mountain center, but it is certainly not losing visitors because of this, on the contrary. A handful of villas, apartments, apartments, hotels, and mountain houses are at your disposal. Mostly depending on the location, you can rent an apartment for a family from 2,000 to 6,000 dinars per day. A double hotel room starts at €30 per person per night.
Apartments on Zlatibor: the perfect space for all those who want to enjoy a luxurious vacation, modern interior, and central location. Experience shows that among the best are: Gondola 22, Peković apartments, and Zicara apartment.
Mountain log cabins on Zlatibor: Authentic mountain houses are located in a quiet part of the mountain and offer perfect rest, peace, and relaxation. We suggest you check out - Natural Wood 3, Mountain houses Tara and Marija.
Kopaonik - Serbia's skiing haven
Apart from being the highest mountain and the biggest winter center of our country, Kopaonik is also a national park rich in natural resources. In whatever season you decide to vacation on Kopaonik, real pleasure and unforgettable experiences await you. Find out below what one of the most popular mountains in Serbia has to offer.
How to get to Kopaonik?
We can get to Kopaonik from Belgrade from two sides: via Brus or via Jošanička spa. The mileage in both cases is approximately 300 kilometers. If you start via Jošanička spa, you will drive one hour longer. So, it takes 4 or 5 hours from the capital to Kopaonik. In both cases, you can use the section of the highway to Preljina and thus shorten and facilitate the journey to the tourist destination. If you do go via Brus, an inaccessible part awaits you, at the Yaram crossing. What is important to note is that he never sets off in the winter without complete car equipment. If you are starting from other cities: Novi Sad - Kopaonik 370 kilometers and Niš - Kopaonik 118 kilometers.

Kopaonik skiing - Facts and advice
Ski center: First of all, Kopaonik is the largest ski center in Serbia. It has more than 30 trails, stretching about 60 kilometers, for alpine and Nordic skiing. All ski slopes on Kopaonik are covered by a system of over 20 cable cars. Kopaonik's artificial snow systems are working at full speed as well.
Who can ski on Kopanik: Both professional skiers and amateurs can find a trail to their liking, and ski kindergartens with conveyor belts suitable for beginners are provided for children. There are also ski schools, perfect for your child's first steps.
Skiing at night: One of the favorite activities is night skiing, which is possible on three tracks. It turns into a toboggan run on certain days of the week, which is perfect for kids and elders.
How much will a Kopanik ski pass cost you: During the Ski opening week, which takes place in early December, the first day of skiing is free, and the rest of the week is 50% off. You can get a great deal when booking early and online. Standard prices on Kopanik will cost you around 3,500 dinars a day, a seven-day ski pass goes for 17,500 dinars, and a ten-day one for 21,100 dinars
Natural beauties of Kopaonik - Spend your summer on Kopaonik
The green pastures of Kopanik may be the best part about it, especially if you love spending time in nature. From lakes and waterfalls to flowery meadows, here's what awaits on Kopaonik:
Semetesko Lake: An unusual attraction in this region is located at the foot of the Kopaonik mountain. The mysterious lake, whose islets float, offers the possibility for tourists to ride on them. Ethnic objects have been built here, and every year, a conference known as Ilin Days is organized on the second day of August.
Mark's Rocks: This footpath, bordered by stones, leads to a landscaped section of stacked rocks up to 10 meters high.
Jelovarnik Waterfall: A magnificent natural attraction located in the middle of a dense forest. It was discovered relatively recently and is the second highest waterfall in Serbia, with 71m fall.
Lilac Valley on the Ibar: In the beautiful valley of the Ibar, lilacs grow every April, planted seven centuries ago by King Uros I Nemanjic to prepare the mountain landscape for the reception of his chosen one, the French princess Jelena of Anjou.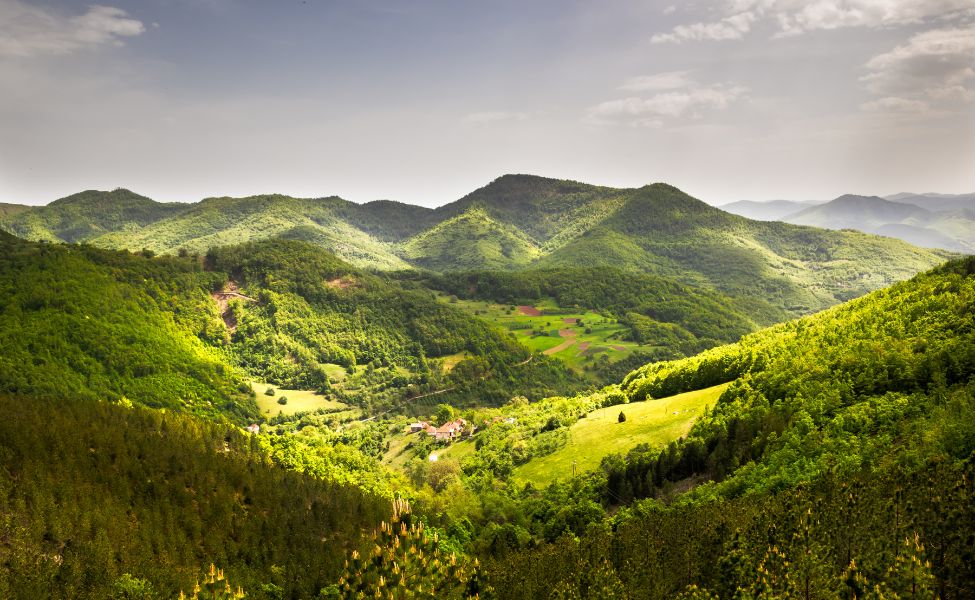 How much will accommodation on Kopaonik cost you?
Accommodation on Kopaonik can be divided into units in the center of Kopaonik, around the trails, and those in the surrounding areas. In both cases, there is an abundance of choices, and it can be adapted to fit your budget. So if you want to watch the snow fall from the pool or ski down to the cable car from the hotel itself, or you don't mind setting aside some time every day to travel to the ski center by car or on foot, you will determine your budget accordingly. The cheapest villa on Kopaonik is available for only 2,500 dinars per person, while for the most expensive hotel, you will have to pay as much as 12,500 dinars per night.
Stara planina - The Old Mountain of Serbia
Although only a small part of Stara Planina is located in Serbia (most of it is in Bulgaria), it is enough to make it one of the most exciting mountain regions of Serbia. You will be charmed by the number of waterfalls here, as more than ten biggest waterfalls in Serbia are situated on Stara planina. It is one of 7 National parks in Serbia and a part of the Balkan mountains range. The climate of the mountain is extremely suitable for winter sports, and the snow cover remains for up to 5 months. Stunning landscapes, numerous waterfalls, intoxicating mountain air, a ski resort - all this awaits you if you go on a summer or winter vacation to Stara Planina.
How to get to Stara Planina?
Belgrade - Paracin - Zajecar - Knjazevac - Kalna - Babin zub. This route will take you to Stara planina in a little over 4 hours. In addition to enjoying the scenery, you will also pass by the Felix Romuliana archaeological site near Zajecar. Another option is the route: Belgrade - Nis - Svrljig - Kalna - Babin zub. This route is shorter by 30 km and will take 3 hours and 45 minutes. The road was also recently rebuilt.
Is skiing on Stara planina worth it?
To put it shortly - YES. Stara planina belongs to the zone of continental climate, meaning cold and harsh winters with strong winds and snow are to be expected. That is why experienced skiers and climbers adore it. This ski center has trails with a total length of 15 km, and the ski season lasts almost half a year. A gondola passes over the Jabucko ravniste path, which takes you to the top of Babin zub peak. This is actually the first gondola in Serbia. Wanna know another thing that makes skiing here great? It's super affordable! Prices of ski pass at Stara planina wll cost you:
Daily pass: 1,500 dinars for children and 2,000 dinars for adults
A 10-day pass: For children 7,200 dinars and for adults 9,700 dinars
Best spots on Stara planina
In addition to the standard mountain activities, such as mountaineering, mountain bike activities, and paragliding, you are offered the opportunity to see stunning waterfalls and lakes. We cannot mention them all, so here's a sneak peak of what to expect:
Arbinje - Dojkina river: There are a number of waterfalls and cascades here, and one of the most beautiful is Tupavica. Located only 50 meters from the road and four and a half kilometers from the mountain lodge Dojkinci, it is very accessible. We recommend you visit it in spring or late autumn when the waterfall is especially beautiful. On the way to the waterfall, there is the Dojkinci sports center, and around it is a beautifully landscaped area with benches and a barbeque area. The waterfall is fully frozen in winter.
Slavinjsko grlo: This waterfall gives you the impression that you are in a distant fairy-tale land. In addition, it is easily accessible, located only 1000 meters from the Slavinja area, suitable for a family trip with children. This waterfall is also beautifully decorated, and equipped with benches.
Midzor - Babin zub - Kaludjerski skok: This route is a real delight for mountaineers. The easiest approach is from the mountain lodge on Babin's zub, from where you'll need two to three hours through the mountain peaks to reach the highest point - Midzor. There, as a reward, a magical view of Bulgaria.
Koprenski waterfall - Jelovacka river and spring: To enjoy this impressive sight, you will have to travel a little longer and also need more stamina. But it will be worth it! On the same stretch is the locality of Vrelo, where you can buy fresh trout and enjoy traditional cuisine at the local restaurant.
Gozji kamen - Zavojsko lake: From this place, you can see the mountain's highest peaks and an 18 km long blue-green Zavojsko lake. It is easily accessible to families with children. In the summer, you can swim in the lake or enjoy some fishing.
Finding a place to stay on Stara planina
Although you may not have as many choices as in Zlatibor or Kopaonik, the offer of Stara planina is quite enough for everyone to find accommodation to their liking. Several hotels are available, but also a large number of apartments. Apartment prices range from 2,000 to 7,000 dinars. Hotel Stara planina would cost you about 18,000 dinars per night and all three meals. Visit our page Stara planina accommodation for an easy booking process.
Tara mountain
This one truly is a natural gem. Located in the western parts of Serbia, Tara is also one of the National parks worth your time. It is widely known for its raw nature, many viewpoints, great food, and summer tourism. Even though skiing isn't widely developed on Tara, you could still enjoy its many peaks and beauties covered in snow. Also, one of the best tourist villages in the world is located within the Tara area - Mokra gora. We'll take you through the spots where the views are immaculate, you just have to plan your path.
How to get to Tara?
Belgrade-Valjevo-Divcibare-Pozega-Bajina Basta-Perucac-Tara is the best route in our opinnion. The second and fastest option leads over a pass on the mountain range of Povlen, Jablanik and Medvednik, which are located between Valjevo and Bajina Basta. And perhaps the most tempting variant, although also the longest, is the road via Sabac, Loznica and Ljubovija, along the banks of the Drina, all the way to Bajina Basta. Depending on which route you choose, it will take you 2.5 to 4 hours of driving.
Viewpoints on Tara
Now we're talking! There are numerous viewpoints on Tara, and some of them are inaccessible. Fortunately, the most beautiful ones are easily accessible, organized, and safe for visitors. You won't have much trouble finding your way to them, as there are well marked paths all the way up. Our top 5 picks are:
Crnjeskovo: is located on a cliff almost 1000 meters high, and hiking trail number 3 leads to it. From the lookout point, there is a view of the gorge of the Raca River, the Drina Valley, and Bajina Basta. At the exit from the gorge is the medieval Raca monastery from the 13th century, an endowment of King Dragutin Nemanjic. From the lookout point, on the left side, you can see the Cross Rock with a metal cross, under which are caves where the monks hid books during war times.
Banjska stena: One of the most famous and beautiful viewpoints on Tara, from where you can see the Perucac reservoir, the Drina river canyon and Osat in Bosnia. It is located 6km from Mitrovac on the Tara neighborhood and can be reached by two marked footpaths and a macadam road.
Oslusa: It is located in the popular weekend village spot of the same name. You can reach this viewpoint by following the European pedestrian corridor E7 or by the Visoka Tara bicycle route. TOslusa overlooks the Drina valley, Bajina Basta, and Osat in Bosnia, while the Povlen mountain is in the background. It is an excellent airfield for paragliders.
Sjenic: This lookout is located on Crni Vrh peak. It is connected to it by a macadam road and mountain path 12b. At this place, at 1,444 meters above sea level, is a wooden observation tower, which is 12 meters high and offers a view of the wooded massif of Tara.
Janjac: With its 1,473 meters above sea level, it is considered one of the most beautiful peaks and viewpoints of Tara National Park. It is located in Zaovine, on the border of Serbia and Republika Srpska. This viewpoint can be reached by an arranged thematic path through the village of Karaklije. It gives a fantastic panoramic view of the village of Zaovine and the massif of Tara, while on the other side you can see Visegrad. In some cases, visitors manage to see the famous bridge on the Drina, which our Nobel laureate Ivo Andric wrote about.
What to visit on your way to Tara?
The surroundings of this mountain are just as interesting and beautiful, so we have to mention them. From a scenic train ride to a world-known movie destination, let's take a walk around Tara:
Perucac lake: It is located 13 kilometers from Bajina Basta, on the right bank of the Drina. A beautifully landscaped beach has been built on the lake, with showers and fenced pools for children. Renting a boat, canoe, or paddle boat gives you the opportunity to see this beautiful lake from a different perspective. In addition to swimming, you will be able to fish, go on a cruise or have lunch in one of the nearby restaurants. You can experience this idyllic lake in the right way if you settle in one of the rafts - houses on the water, and enjoy the sunset and the ripples of the lake.
Drvengrad: A unique work of art is an Emir Kusturic project. It is located on Mokra Gora, between Tara and Zlatibor. Inspired by the beauty of Mecavnik, during the filming of Life is a Miracle, Kusturica designed a town made of wood, as the name would suggest. It consists of 50 log cabins, typical of this region, named after famous actors, writers, and athletes. In addition, there are 13 streets, two squares, a city gate, sports fields, bars - everything a city should have. Drvengrad or Mecavnik, as some call it, exudes the spirit of the film, and many say it is a magical village.
The Shargan eight: About 17 km from Tara stands this famous railway in Serbia. It is an old railway that offers tourists the possibility of an extraordinary experience: enjoying the charms of a steam engine made in the third decade of the 20th century when this railway in the shape of the number 8 was constructed. A couple of stops along the way will get you closer to the nature, plus will be a great opportunity for snapping the best photos. More about the rout and tickets you can find on our page - Shargan eight.
Lake Zaovine: It was formed on the river Beli Rzav by the construction of a dam. Its depth in some places is as much as 80 meters, and at the maximum level, it is 890 meters above sea level, so it presents an exceptional visual experience. Here you can swim, camp, and fish. It is interesting that 14 species of fish were found in it, and there is a large trout pond.
Accommodation on Tara - The beauty of mountain life
The accommodation was developed in accordance with this entire tourist destination. Cottages, mountain houses, log cabins, but also apartments, and some hotels. From season to season, there are more and more decorated houses in the area, which people have adapted for tourist purposes. Hotel Omorika is still operating and is the most famous hotel on Tara. Also, on the mountain, there is the famous children's resort Mitrovac, in the complex of which there are 7 pavilions, each of which has 98 beds. The resort belongs to the center of children's resorts, whose headquarters are in Belgrade. To find the best place to rest on Tara, pay a visit to our page - Accommodation Tara.
Mount Avala - Belgrade's favorite picnic spot
Mount Avala and its popular attractions are often the choices for an excursion of busy people living in Belgrade. Just 18 km from the center of Belgrade, an oasis of peace awaits you. It preserves monuments, museums, an amphitheater, and meadows perfect for a picnic. Avala is just one of the stops for our sightseeing Belgrade tour, which you can learn more about in our blog. If you're visiting Avala for the first time, we recommend you start with:
Visit Avala Tower: The most famous attraction of the mountain is the famous tower on Avala, a real symbol of Belgrade. Although it reaches a height of almost 205 meters, the viewpoint itself is located at 122 meters. Complete the experience with a visit to the Panorama bar just 3 meters below. During the warmer part of the year, access to the bar garden at the foot of the tower is also free. The basic ticket will cost you 300 dinars, and visits are possible every day until 8 p.m.
Explore monuments on Avala: Organize a walking tour that will take you to the most important monuments of the mountain, among which the monument to the Unknown Hero stands out. The impressive work of Ivan Mestrovic, who enriched the mausoleum built on that spot, stands as a sign of memory for the victims of the Great War and for all their mothers who nurtured the idea of ​​unity. Vasa Carapic, a historical figure of great importance to Serbs, deservedly got his own monument and a mountain lodge not far from the tower that bears his name. When you head to the top of the mountain, you will pass by the monument erected in honor of the 18 members who died in the plane crash at Avala in 1964.
Take a break in Avala's restaurants: On and around the mountain, you can find more than ten restaurants perfect for a meal with a view. Their price range varies, but you won't be breaking the bank here. These restaurants serve breakfast, lunches, dinners, snacks, the best sweets, and even better booze. Try the iconic Karadjordje's schnitzel or rakija on your break from all the hiking. Be sure to check out 1000 Roses, Lipovica, Sucevic and Konoba pod Avalom.
So, have you already decided where are you off to next? We feel that Serbia is calling to us, ngl. Whether you want to become the next skiing pro or just chill next to a clear-watered lake, these mountains in Serbia are the place to be. As a parting gift, we leave you our blog - Visit Serbia, where you'll find everything a traveler ever needs. Bon voyage!