The time has come to choose another winter adventure that will match how excited you are about the cold and the festive. We searched around the globe to find the most exceptional destinations and activities to throw on the table, so let the brainstorming session begin. Want a sneak-peak of what's to come? Some of the topics we covered that may or may not be our staff's personal favorites are:
Spending your winter vacay in an igloo or strolling the streets of NYC? Use the slider to see both!
Winter vacation - tips and tricks
We may sound like worried mothers, but it's better to be safe than sorry. Traveling during winter has its challenges and not just weather-wise. We all want our winter vacation to go as smoothly as possible, but we must work for it. Before you turn vacation mode on, take care of these things:
Research, research, research: Your favorite destination is cursed with unpredictable weather, there may be some health restrictions, tickets for a show you plan on seeing have to be bought online? Google that thing! Trust us, you underestimate how much people don't want to investigate what awaits them on vacation. Leave something to the imagination and on-sight exploration, but be aware of opening hours and ski pass prices at least.
Travel insurance: Always a good idea, but especially during winter vacations. Your trip gets delayed, somebody steals your luggage filled with warm clothing, or you hurt yourself on the snow? Leave the worrying to the insurance company.
Skincare: Cold weather can impact your skin, making it sore and scaly. Bring moisturizers, lip balms, and soothing creams to help you recover faster.
Equipment: Skiing, snowboarding, or similar equipment can be rented on site. Don't bring your own on long flights; you'll thank us later. Renting is also the best option for beginners who are still not fully committed to the winter sport of choice.
Book everything early to get the best deals and prices, to avoid overcrowded websites. Last-minute travel packages sell fast, and you shouldn't count on them, especially during the holidays.
Not everybody celebrates the same holidays as you. Be respectful of the traditions and celebrations you may encounter.
Winter getaways in the city
Snow-covered skyscrapers, the charm of decorated old town squares, and an abundance of festive activities just get us excited for the winter ahead. The world is made out of beautiful towns of all shapes and sizes, but some exude uniqueness more than others. Whether you want to get on with the festival scene of Nagano, or you see yourself admiring the architecture of the Russian capital, you'll have a once-in-a-lifetime experience. Here's what you can expect.
New York - Ice skating with a view
Ideal place for Grinch group therapy, your heart will be filled with joy, and your legs will be tired from all the sightseeing. The excitement of the ball dropping on New Year's eve is unbeatable, and if you plan on getting a gift for yourself, the best one is a ticket for a Broadway show. Before you head out to the Met wishing you're invited to The Gala or find yourself mesmerized at Fashion Week or Jazz festival, you should go ice-skating at some of the most popular skating rinks in the city. If you're rethinking it because you're scared that you're going to embarrass yourself, remember that you're in New York; most of the people around you are not fazed by anything anymore.
Some indoor options exist, but the party is at the outdoor rinks, surrounded by iconic NYC landmarks. Skate rentals are mostly cheap, but the prices of the venues vary depending on the location and time you want to spend skating. So, when the time comes to choose your ice rink, have these in mind:
Bryant Park skate rink: Skating in the heart of Manhattan may be a dream come true to some, and we get it. The Bank of America Winter Village at Bryant Park is an experience and a half, and you can enjoy food and entertainment after you get off the ice. Be ready to spend $15-45 for rentals.
Rockefeller Center's ice rink: The most famous Christmas tree in the world will be your backdrop if you visit this rink during December. Skating at this location can cost $20-54, and it is open from 9 am to 12 am.
IC Ice Rink: Charming Brooklyn is an excellent place for skating, as you'll be located in the part of NYC that is known for its creative spirit. After the skate session, check out the local bars, restaurants, and exciting attractions.
ArtRink at Brooklyn Children's Museum: Great for kids, this rink is eco-friendly and is decorated with a sparkling roof canopy. For $23, you'll get skate rentals, museum tickets, and access to the ArtRink holiday experience.
Moscow - Fairytale architecture
Strolling down the streets of Moscow while listening to Once Upon a December should be considered self-care at this point. There is nothing like Russian architecture covered in snow, a frozen river that radiates bliss and coldness, laughter from the many skating rinks scattered throughout the city. Russians know how to party and take their liquor, so if you love to have a good time, plan your trip around orthodox Christmas. To summarize, here are some of the most exciting places and activities you need to check out in the Russian capital:
Visit the attractions on the Red Square
Go skating, dancing, or take a class at Gorky Park
Go Christmas shopping at GUM
See a performance at the Bolshoi Theatre
Experience interactive installations at the Garage Museum
Organizing a trip to Moscow will be much easier after you've read our blog about top attractions in Moscow.
Nagano - Immersive winter festivals
This jewel of Japan often gets left out, and we are here to fix that. Once you step into its nature, you'll wonder what took you so long to visit it. Former Winter Olympics host Nagano is especially lively during the winter months when it organizes many interesting festivals worth experiencing. An excellent opportunity to immerse yourself in new culture and witness winter in the new light can be a few bookings away, and we do hope you give Nagano the love it deserves. Some of the festivals in question are:
Nagano Tomyo Matsuri: 5 days are reserved for The Nagano Lanter Festival every February. Commemorating the 1998 Winter Olympics, the Zenkō-Ji temple is illuminated with the 5 Olympic colors, lanterns flood the streets, and the nights are filled with music and lots of activities. You can visit it free of charge.
Alps Azumino Park Illumination: The park comes alive with colors and illuminations from November to January when more than 70.000 lights are scattered around many park areas. Besides spectacular views, you'll find great food and beverages at the park, alongside entertaining workshops suitable for kids. Tickets will cost you 80 yen for kids, 210 yen for elders, and 410 yen for adults.
Shimotsuki Matsuri: First weeks of December are dedicated to the Shinto priest rituals. To breathe the new life into the spirits, the priests boil vast amounts of water and use chants and performances to purify it. Masked deities go through the Village into the temple during the night, splashing the water along the way.
Reykjavik - Scandinavian Winter Wonderland
Visiting Reykjavik should be on our bucket lists, no matter the season. But, Iceland's capital becomes even more charming during the winter months, when you get to experience the power of snow and cold up-close. Many many cats will keep you company along the way, and you'll have to find a local coffee shop to feed your Starbucks addiction in this Starbuckslees and McDonald'sless city. Iceland is a great place to go and watch the northern lights, which we wrote more about in the section: Seek the northern lights. Besides the charm and culture, you should organize a winter vacation to Reykjavik for its natural wonders. You'll get to experience:
Blue lagoon: This geothermal spa formed in the 70s is believed to have healing properties. With consistent 39C water, it's a popular attraction all year-round. It is great for people with persistent skin conditions, and you can even get a psoriasis treatment. Book your time slot and transportation on time, and if you wish to explore it for many days, get yourself a room in the recently opened 5-star Retreat Hotel.
Whale watching: A fascinating cruise that starts in Reykjavik will take you out on the water, where you'll get to see whales and dolphins. For as little as $85 a person, this 2.5-hour expedition will leave you breathless.
Glacier exploring: This one is in the treat yourself category considering the price, but why wouldn't you anyway? The best tour is the one that takes you on a 2-day trip and gives you a chance to hike the Europes largest glacier, but also experience the beauty of the famous black sand beach and a few waterfalls.
Skiing in Europe
Ah, the sport of the rich. From various equipment to travel and accommodations, this can take a toll on your savings. But, with some great planning sessions and a few compromises, we all can enjoy gliding down the Alps. From Italian mountains to skiing in gorgeous Switzerland, let's look at some of the best ski resorts that Europe has to offer.
France ski resorts
The French have it all going for them, don't they? No matter your experience, preferences, or knowledge of skiing in general, you must have heard only good things about skiing in the French Alps. Some of the resorts will take you to the Swiss border, which allows you to test out this country's exciting slopes as well; experience has shown that skiing in the French Savoie has many advantages. If you want to do more than just skiing, be sure to check out our blog about top places to visit in the French Alps. To give you an idea of what to expect in France, we found some exciting ski resorts:
Courchevel ski resort: Being referred to as "the skiing capital of the world" must be nice. This largest alpine ski domain, stretching over Les Trois Vallées/Three Valleys, is expensive and glamorous. It is terrific for beginners and skiers ready for off-piste adventures. When the trails are overcrowded during the peak season, you can spend your time in one of the seven Michelin-star restaurants. You can buy your ski passes online, and it will cost you at least 295 euros for six days.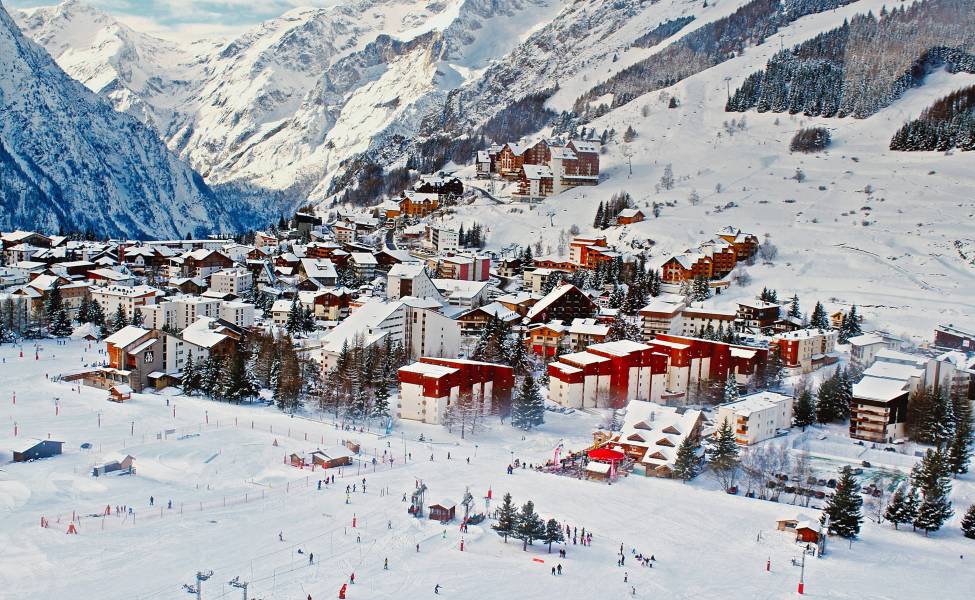 Chamonix ski resorts: Skiing in the place where the first-ever Winter Olympics was held has its perks. Loved mainly by expert skiers, it is known as the best freeride resort globally. Its best selling points are pristine snow conditions, terrain perfect for practicing your medal-worthy jumps, and charming hotels like Auberge du Manoir.
La Plagne resort: Bring the whole family to learn how to ski in this magical French resort. Snow kindergarten and skiing lessons are great for kids, slopes perfect for people in their practice stages, bob and dog sledding, family spa treatment, and so much more do sound idyllic.
Skiing in Switzerland
Skiing with a backdrop of the Swiss Alps and nature sometimes looks too good to be true. But, it very much is. The skiing season starts in November and, in some places, can last until April. The biggest crowds and the highest prices are a combination during December and January, so be prepared for less personal space, and book months in advance. Switzerland is especially rich in ski resorts, with 350 scattered around the country. As they are pretty unique and charming, the smaller the resort, the lower the price logic won't hurt you. There are terrains soothed for all types of skiers, and amongst the best resorts are:
Zermatt ski resort: One of the best ski resorts in Europe awaits you in Switzerland. Skiers of all abilities are welcome, and they will be faced with a 2.133 meter drop. Zermatt is also home to the world's highest 3S cableway, capable of transporting 2.000 excited skiers every hour.
Davos-Klosters: It consists of several resorts in the Landwasser River valley. Skiing paths are interconnected and kept neat at all times, so you're getting about 300 kilometers of pure adrenalin. This is a *chef's kiss* location for all you off-piste skiing enthusiasts.
St.Moritz: You cannot miss out on the slopes that have hosted the Olympics not once but twice! Don't be intimidated by the expert skiers - at this pristine resort everyone can find a spot. St.Moritz is a great place to try out some new snow sports techniques, such as Nordic and kite skiing or bobsledding.
Italy ski resorts
Italians do everything in style and very leisurely, and skiing is not an exception. If you see big crowds on the slopes early in the morning, there's a big chance those people are tourists. Italians love to enjoy a nice meal and a good sleep before hitting the snow. Learn what the colors of the skiing paths mean, and note that some of the intermediate slopes can be challenging. The laid-back ambiance of Italian ski resorts makes them perfect for families and people who love their winter vacation with a lot of time to actually rest. Besides the Alps, skiing on the Dolomites is a first-class experience.
The best way to get a place at a resort you like is early online booking, and some resorts even require advance bookings for ski lifts. Insurance is essential when you plan on going to Italy, as some holiday booking agencies may require winter sports covers. The good news is that you don't need a fortune to ski in Italy, with ski passes in the $45-70 range. Notably cheaper than the neighbors but not lacking in service and luxury, here are some of the most engaging ski resorts in Italy:
Cortina d'Ampezzo: "Queen of the Dolomites," UNESCO World Heritage Site, home to the 1956 Winter Olympics, indeed is one of the most stunning ski resorts in the world. Excellent for beginners and off-piste skiers. The most notable ski areas are Pomedes and Tofana.
Val Gardena: Consisting of the villages Ortisei, San Christina, and Selva, these ski resorts place you in the heart of the Dolomiti super ski area. With an area of around 400 kilometers of interconnected skiing, it will give a chance to watch and maybe train with professionals. Don't miss out on La Longia, the longest ski slope in South Tyrol.
Bormio: Combine rustic feels and views of the local Lombardia spa town with iconic trails ideal for intermediate skiers. Great snow, a snowpark, and interesting tree-lined paths give it its well-known charm.
Ski resorts in Europe - Map of best spots
To make it even easier for you to decide in which part of Europe you'll be spending the best winter days, we've created a map. It's useful for route planning purposes, as you can check the mileage and best driving paths. Use it, admire it, whatever you like best.
Family winter vacation
If your travel buddies are your partner and kids, you must choose your destination wisely. There have to be just enough engaging activities to keep the children busy and entertained, but you can't miss out on the fun as well. We think you'll like our propositions that will keep the holiday spirits going, but will also give you some time to enjoy the nature of Scandinavia. We get that planning a family vacation can be tricky, but don't leave your kid home alone for the love of God.
Christmas markets
Since medieval times, Christmas markets have been around a loved holiday tradition, primarily popular in European countries. 'Tiss the season to be jolly, with charming town squares adorned with wooden huts and cheerful vendors offering sweets, mulled wine, candy canes, and all kinds of handmade wonders. The atmosphere is immaculate, and enjoying the food and experience together as a family is a great bonding opportunity. Almost every destination you go to will have a market of this sort, but we do have our favorites.
Toronto Christmas market
If you find yourself visiting Toronto in late November or just around Christmas, going to the Toronto Distillery District must be on your travel plan. The 19th-century buildings and cobblestone streets give it a special kick, and the decorations make you feel all festive. Toronto Christmas Market is open from 10 am to 9 pm, and you can visit it for free most of the time. Visits from Tuesday to 5 pm on a Friday are free, but after five and on the weekends, you'll have to pay $6 to enter the market. If you hate waiting in line, there's a $20 ticket that acts like a skip-the-line pass at the entrance. There's an abundance of stuff to see, try and do, and some of them are:
Family fun zone: Is it a Christmas market if it doesn't have a Ferris wheel? Take a ride on the wheel to get stunning views of the District, head out to the Christmas Carousel or visit a life-size Gingerbread house. They cost $5 each, but there are special family discounts.
Christmas tree: Toronto market is home to one of the tallest Christmas trees in Canada. A new one is donated to the market every year, around 50 feet tall, and it is decorated with tens of thousands of lights, ornaments, and ribbons. You can buy yourself a locally-grown tree and get a free entry ticket to the market.
Art installations: Walking around the market is much more fun, with many works of art scattered all around. They can be an excellent backdrop for your photoshoots as well. There have been many interesting pieces throughout the years, such as the 14 feet tall "The heart of Christmas" sculpture, Santa Claus House where Santa himself awaits you, The 5 Snowman, and so many more.
Try local foods and drinks: You can't say you've been to Canada until you've tried poutine. Lots of bite-size foods and fun drinks will keep you full and happy, such as pretzels, fudge, all kinds of wursts, eggnog, hot chocolate, or mulled wine.
Do your Christmas shopping at Christmas market boutiques: Show someone how much you appreciate them by giving them a handcrafted and unique gift, especially if they like Christmas-themed presents.
Christmas markets in Germany
When it comes to Christmas markets, or Weihnachtsmarkt, Adventmarkt, Krippenmarkt, Germany is at the top of the game. You can find over 70 markets in Germany, and some of them even last until the first week of January. Yes, there is booze, sometimes even in the food, but we promise you that these markets are kid-friendly. They are situated in the town squares, filled with wooden huts, beautifully decorated trees, lots of lights, and your nose and ears will take you directly to them. You can buy yourself some handmade souvenirs or ornaments, try pretzels and the famous Chimney cakes coated in sugar or cinnamon, go ice skating, or simply enjoy the atmosphere.
The biggest market awaits you in Cologne, and others worth checking are:
Berlin Christmas Markets: You probably won't be able to visit all of the 80+ markets and festive events, so we suggest putting WeihnachtsZauber at Gendarmenmarkt, Potsdamer Platz Christmas Market, and Charlottenburg Castle Christmas Market high on your list. One of the best things about these markets is international vendors that sell exciting food and crafts.
Dresden Christmas Market: Striezelmarkt is the oldest market in Germany, dating back to the 1430s. You can visit it every year from late November to the last week of December and experience the holiday excitement. Once you're there, don't miss out on the handcrafted and baked goods alongside the world's most giant nutcracker and thousands of ornaments.
Munich Christmas Market: From the last week of November to the last week of December, Marienplatz is adorned with this massive market and a Christmas tree with over 3.000 lights. This is an excellent opportunity for you to try out roasted chestnuts and enjoy live music performances every night after 5:30 pm.
Lapland vacation - Visit Santa's home
Do you want to get the parent of the year award? Take your kids to where Santa lives! Finland is a country of many wonders, and Lapland is no exception. This north-most region has distinctive seasons, with 24-hour sunlight during summer and the complete opposite during winter months. Its capital, Rovaniemi, is known as the official hometown of Santa Clause. A truly magical place to treat your inner child with engaging activities is ideal for an active winter vacation.
Many activities and experiences come in a travel bundle, and some can be paid for online. Some of those bundles even include flights, appropriate clothing, airport transfers, and prices range from $1.120 to a little less than $3.000. If you wish Santa to follow you on these adventures, be ready to pay more. Spice up your vacation with:
Sleigh rides: The weather will undoubtedly be lovely for a sleigh ride, whether you choose husky or reindeer sledding. Also known as husky safari, firstly, you'll go to the husky farms filled with enthusiastic dogs ready to take you on an adventure. Besides being provided with all the necessary equipment, you'll get the chance to be in control of the dogs. The husky rides last up to 2 hours and cost around $90 for kids and $120 for adults. At the Reindeer center, you'll get educated on reindeer gathering techniques and will get to feed them before going on a scenic 10-minute ride.
Snowmobile safari: Go into the Lapland wilderness, and you'll find yourself in the real-life wonderland. With kids in a sleigh attached to a snowmobile and you on your snowmobile, you'll follow tracks through the frozen woods and beautiful open spaces. This fantastic ride can last up to 90 minutes and will usually cost you around $80 and $70 for the kids aged 3-11. Don't forget to bring your driving license!
Snow activities: You can either go downhill skiing at Saariselkä's ski-slope, which is excellent for beginners, go on a guided snow-shoeing tour or embark on a cross-country skiing trip. Prices vary, $29 private skiing lesson for kids under 7 being the least expensive option.
Accommodation: Even your rooms can be an exciting experience. Amongst the most captivating options are Star Arctic Hotel at the top of the Saariselkä Fell, with Glass Cabin rooms perfect for stargazing, charming and small Saariselkä Inn, or even a glass igloo for a once in a lifetime experience.
Unique winter experiences
There's no place like home, but does your home have a bed made of ice? We didn't think so. Winter weather brings out many wonders of nature that are worth organizing your entire vacation around. Be ready to be amazed by the Aurora Borealis that caress the Nordic skies or admire the frozen waterfall of North America.
Visit the Ice hotels
Are you ready to sleep in a room where the temperature doesn't go above -5 C? Specialized sleeping bags and mattresses are prepared for you, no worries. Revamped every year, these spectacular architectural works of art can be found worldwide. You'll get a few different suits to choose from, some exciting activities and attractions to fill up your days, and lovely views to enjoy. Here are some of them; choose wisely.
Hotel de Glace in Canada
Located at Village Vacances Valcartier, this icy marvel is the only one in North America. Just 20 minutes outside of Québec, a one-day trip to it is a must. Constructed and designed from the ground up every year, many local artists gather to decorate the walls and igloos made out of 500 tons of ice. It's usually open from January to March, and you can get a room for as little as $150 a day. Your luggage will be safe at the close by Hôtel Valcartier, sleeping equipment alongside instructions are provided by Hotel de Glace. There are over 40 rooms, some of them for non-smokers, suits that follow a specific theme, and all of them come with a fireplace, saunas, and hot baths that will prepare your body for the cold, cold night ahead. The fun never stops when these activities are involved:
Have a drink at the ice bar: Fantastic cocktails served in a glass made of ice while you're enjoying yourself by a fireplace? Yes, please!
Explore the architecture: The Grand Hall and Chapel, alongside a big slide and art on the ice blocks and ceilings, really are stunning.
Take an exciting tour: You can learn so many intriguing details about the hotel itself; get a sneak-peak of the building process on a weekend tour, and you might get a chance to make your ice glass! The Village offers lots of entertaining activities, such as an indoor waterpark, 35 snow slides, roads for ice skating, and so much more.
Icehotel in Sweden
Moving on to Europe, a tiny village Jukkasjärvi has been home to this fantastic hotel complex that has attracted tourists since the 90s. A combination of ice from the river Torne, snow, and a special material known as "snice" is used every year to build the hotel and almost all of its utilities. Since 2016 a part of the complex has kept low temperatures during summer months using solar power. Room temperature goes to a minimum of -8C, and during your sleep, on the block of ice bed, you'll be protected by a mattress, reindeer hide, and a thick polar sleeping bag.
Besides a bathroom and a superb restaurant, the hotel offers many options for an overnight stay, interesting activities, and remarkable architecture. Be ready to pay at least $480 for a standard room, with prices rising to more than $780. Staying in an ice hotel is fun on its own but make it even more engaging with:
Art suits: Amazing sculptures and decore are very well incorporated in these rooms that you have to see, but we recommend you stay in them.
Ice and snow activities: Take advantage of the Swedish scenery and nature surrounding the hotel to try new and exciting things; this includes ice sculpting and ice fishing, snowmobile rides, and even dog sledding.
Wilderness dinner: Take a minivan to a wilderness camp where you'll be greeted with a three-course meal prepared to honor the winter season. You need to book your date online and be ready to spend at least $290.
Nourish your body: Sauna treatment that follows a beloved Jukkasjärvi sauna ritual is a must, alongside the body and face massages that will 100% rejuvenate you.
Seek the northern lights
Roald Dahl once said that "those who don't believe in magic will never find it". If you want to believe but don't know where to start, head out north to look for the polar lights. Every year between September and March, a unique natural phenomenon lights up the night sky above Antarctica, Canada, Norway, Finland, Iceland, Sweden, Alaska. Thanks to the Earth's magnetic field, we are saved from the impact of the fast sun particles. Sending them back towards the North Pole, their collision with different atmospheric particles combined with the height at which it occurs creates the magnificent blue, green, violet, and red light waves.
It can be a little tricky to catch them, but please be patient because it is so worth it! The best course of action is to regularly check the northern lights forecasts and be ready to change your location on foot quickly. Time flies when you have fun, so keep yourself busy and entertained with old school games, for example. If you plan on photographing them, take good care of your equipment that can be affected by the harsh winter weather. Also, don't forget to take care of your body as well! Warm clothing, skincare products, and hot drinks will be your best friends. Some of the best places to see the northern lights are:
Norway: Head out to Svalbard to experience the northern lights during the polar night, or go to the north city Tromsø to get the best seats in the house.
Alaska: Some would say that Fairbanks is the best place in the world for northern lights watching, but you be the judge of that. If you go north to the Barrow, you'll get immersed into the local culture as well.
Canada: Places like Battle Harbour in Newfoundland and town Whitehorse are great, but the best views have to be in the Aurora Capital of North America, Yellowknife.
Greenland: This is for the real adventurers, as it involves tricky transportation methods and freezing temperatures. If you are up for a challenge, head out to island Kulusuk or the town of Ilulissat.
Northern lights cruises: Cunard cruises lead the game with 12-night cruises that start in England or 26-night cruises from NYC. Two large ships, top-notch service, accommodation and entertainment, and first-class views of the lights will cost you at least 1.640 euros.
Niagara falls in the winter
Shared by Ontario and New York, and with a total height of over 50 meters, Niagara falls are a vision during the winter months. Partially frozen and stunning, a combination of 68 miles per hour running water and surrounding nature almost looks like you've stepped on a different planet. Temperature doesn't go over 2C before March, so dress warmly to enjoy it as much as possible. Some of the perks that visiting Niagara during winter brings are the festivities in December and January that will spice up your trip. Be sure to check out:
Festival of light: Starting in November, the falls are surrounded by a fantastic light installation festival in the Niagara Parkway and on Dufferin Island. You can see light sculptures created with millions of lights, alongside indoor entertainment at the Hilton Hotel & Suites.
Grape and wine festival: The most famous vine from this region of North America is the ice wine. It is considered a dessert wine and is made out of grapes that get picked while still frozen. You ought to try this and some other exquisite wines at the festival that takes place every January.
New Year's eve fireworks and concert
Warm winter destinations
Dashing through the snow and wearing double socks isn't everyone's cup of the, and we respect it. Whether you want to experience winter holidays in a warm climate or just enjoy the feeling of the sun on your cheeks, we got you. From heartwarming celebrations to beach fun, here are some of the destinations that will make your heart happy:
Key West, Florida: Parades for days can be a slogan of this lively city that is closer to Cuba than Miami. Check out the most fun light displays in the city on the Holly Jolly Holiday Trolly, which takes you on an engaging 1-hour tour while you sip on some local cider. Also, don't miss out on the Key West Ghost tour through the allegedly haunted Old Town, and afterward, chill out on a beautiful Sunset cruise. If you'd prefer to experience Florida during spring break, we got you! Check out our blog about the best spring break destinations, where you'll find some other suggestions.
Dubai in winter: We all know how spectacular it is throughout the year, but some of the most interesting sights to witness during the winter months are The Dubai fountain shows, desert safaris, skydiving sessions, and indoor skiing at Ski Dubai. Visit our Dubai city tour blog before going for an easier trip planning session.
Puerto Vallarta: Beach holiday in winter? Look no further than this amazing Mexican resort town. Besides sunbathing and swimming with all kinds of fish, the best way to immerse yourself in the culture and vibes is to go to a Rhythms of the night show. A boat will take you to a private cove where you'll have a night filled with music, dancing acts, good food, and an even better atmosphere. Continue your Mexico exploration with the help of our blog - Popular tourist attractions in Mexico.
Have your planning sessions already started, or are you just storing these ideas for some other winter? Either way, we hope you won't wait long before you start packing for your next adventure. Tell Santa we still believe, and don't forget to take amazing photos!