Is there anything more beautiful than a vacation by the shore of a beautiful, peaceful, clean lake? Imagine the following scene: you are in a beautiful house with a terrace overlooking the glassy surface of the lake. You are comfortably sitting in a chair and enjoying the fantastic view and the pleasant breeze. Your perfect vacation on the lake can begin. If you are wondering how to have the best lake vacations, then you are in the right place, just keep reading. Here is our list of the most beautiful lakes in the world.
Best lakes in Italy
Lakes in Italy are very stunning and very special places to visit, especially during the summer or spring season. Of course, Italy is full of beautiful destinations. Italy is a very special country with a rich culture, tradition and history, a country of immense beauty and grandiose works of art. Therefore, it is not at all strange that some of the most beautiful lakes in the whole world are located in Italy. This country can offer you a lot, beautiful lakes are just a part of that magnificent offer. Let's explore them together.
Lake Garda
Lake Garda is the largest lake in the country. There is a good reason why Italy is on most bucket lists. If you are looking for the perfect vacation, you are in the right place because this popular lake will give you the dream vacation. Here you and your wishes always come first. Get ready for charming Italians who will give you compliments every single day, as well as for beautiful landscapes that look like something from a postcard.Breathtaking scenery and charming little town, that is what you will get when you visit Lake Garda. This place can be perfect for taking the best family lake vacation ever.
When to visit Lake Garda
Our recommendation is to visit this wonderful place during the summer and spring. During the summer, you will be very comfortable here because of the nearby mountains. You will never be too hot on this lake and pleasant air currents will please everyone. The climate is perfect, and so is the whole environment. Lake Garda is a favorite place for many skiers and hiking enthusiasts. In addition, during the summer and spring, the unique and authentic color of the lake is best seen. The guard is a striking and unusual turquoise blue color that perfectly matches the sky.
What to do on Lake Garda
There are many interesting things you can do on this beautiful lake. In addition, the whole place is so beautiful that you will enjoy exploring it. The perfect Italian town located on the shores of the lake is full of significant and interesting places that you simply must visit. The picturesque little town is perfect for the entire family and will offer you many great sights and fun things to do:
Organize sunset cruise on the lake
Taste the most delicious Italian wine from lakes vineyards
Try out fun water sports with the whole family
Visit the breathtakingly beautiful castle, called Sirmione and Castello Scaligeri
Explore the ruins of a Roman Villa
Take your kids to nearby theme parks
Visit Torre del Benaco
Lake Como
Lake Como is one of the most famous lakes not just in Italy, but also around the world. Due to its beauty and uniqueness, this lake attracts many tourists every year. In addition to the beauty of the lake itself, the surroundings are equally beautiful and popular. The architecture is simply stunning and is a true witness of the rich Italian culture and tradition. You will be completely delighted with Lake Como and all its attractions, and there really are many of them. This lake is located only 50 miles north of Milan and it's a perfect romantic destination for many couples. If you are looking for an ideal place for your honeymoon, then lake Como is the place to go.
Why visit Lake Como
You have probably heard that many famous, rich and influential people often visit lake Como. Well, the entire lake is so pretty that it will leave you stunned. Lake Como looks like a perfect, Disney fairytale place where the main character lives and starts its adventure. The environment, the stunning scenery, rich and authentic architecture, valuable art and beautiful, clean, blue lake are just some of the amazing things you will get to see and experience here. Another great reason why visit this lake is because of its charming resort villages. Also for all the enthusiastic swimmers, Lake Como is perfect. The lake is approximately 410 meters deep and that makes it one of the deepest lakes in Europe. While being there expect to see:
Stunning landscapes
Rich and diverse wildlife
Gorgeous Italian villas and architecture

Lake Como accommodation
Since this lake is one of the most popular destinations in the world, the offer of accommodation near the lake is excellent and you can find something for everyone's taste. Of course, Lake Como is one of the most expensive holiday destinations, so be prepared to set aside a considerable amount of money if you want to have the perfect holiday in this part of Europe. However, we believe that it is worth spending every euro because this lake is such a beautiful and perfect destination. Here is our list of best hotels and villas:
Hotel Tre Rose ( double room )- € 85/ € 90
Hotel Baia di Paré -( Deluxe double room with balcony and lake view)- € 138
Palace Hotel Lake Como ( Standard Double Room )- € 245
Hotel Villa Flori ( Superior Double or Twin Room with Lake View)- € 484
Lake Orta
Lake Orta is one unique destination that is sure to delight you. If you decide to visit this lake we believe you will not regret it. Whether you are going on a honeymoon or planning a family vacation, this lake is always a good idea and the right choice. It has a very unusual shape and is full of lush, untamed vegetation. This lake is known for its unique location. It is very small and surrounded by water on all 4 sides, so you can only reach the mainland by boa, but that is where its charm lies. The entire tiny island has the most amazing architecture and the iconic 12th-century Basilica di San Giulio. There, you will forget all your problems. Also small shops can be found in a narrow main street and Piazza Motta, the place where you can board a boat.
Lake Orta attractions
There are many amazing and great things to do and to visit on this great Italian lake. We recommended you to:
Book a private tour to Lake Orta from Milan
Try best food and wine on a private tour to Lake Orta
Explore the island old, authentic villas and architecture
Go on a fun boat ride around the island and see its wild vegetation
Visit Sacro Monte di Orta across the lake
Explore medieval pathways and narrow streets
Swim in the cleanest lake in Europe
In addition to these three lakes, you can find many other equally beautiful and popular lakes in Italy. In order to be able to cover them all, we need a whole blog dedicated only to the best lakes in Italy. However, these three stand out in particular and attract the most attention. We are sure it will delight you too. If you want to know more about the best Italian places, read our blog: 10 Reasons to Visit Italy.
Hot to get to Lake Orta
If you are coming from another country then our recommendation is to get to this lake by plane. First to Milan. The closest airport to Lake Orta is Milan Malpensa, just 24 miles from the lake, it takes about 40 km. We recommend you to rent a car upon yoour arrival. You can also take a train from Malpensa to Busto Arsizio Nord. Here is the precise location.
Best lakes in Slovenia
Slovenia, a country of incredible and amazing beauties that always enchant you and make you want to visit them again and again. Slovenia is one of the most beautiful and well-organized countries in Europe. Although it is not big, it has a lot of nice and good things to offer to all tourists, as well as to all people who are lucky enough to live in such a beautiful and well-organized country. Did you know that there are several beautiful lakes in Slovenia? This country is really rich and lucky when it comes to its natural resources, and lakes are definitely one of them.
The Valley of the Triglav Lakes
Welcome to a real paradise on earth! The area of ​​the famous Slavenian National park Triglav, which is full of wonderful and stunning lakes, will probably be the closest thing to paradise that you will see on earth. The other name for this valley is, conveniently, the Seven Lakes Valley. This very special area has been protected by the state since 1924. Here is the list of iconic 7 Triglav lakes:
The Lake under Vršac
The Brown Lake
The Green Lake
The Great Lake
The Double Lake
The Black Lake
The Pool in Laštah
Hiking in Triglav National park
Our recommendation is to organize the hiking tour that will lead you to all those lakes. Hiking tours can be a very special and unforgettable experience. This national park is the most beautiful thing that slovenia can offer you, so you can be sure that it is an unforgettable experience. You can hike, if you want, to the Seven Lakes Valley as part of a multi-day hike. It's fun and exciting, although be prepared to feel a bit tired, because it's a long hike. The best way to get to the majority of these lakes is from mountain Blato (1147 m). When it comes to cheap lake vacations, visiting this area is simply a must.
Lake Attractions
Each of these lakes is beautiful and special in its own way. In order to come and visit each lake, our advice is to book an experienced guide who will take you through the entire Triglav National Park and give you its beauty and great importance. Also, this valley is very interesting because of its rich and beautiful flora. The higher parts of this area are covered in stunning lichen. Theore, you will be able to find many pretty and endemic flowers that surround the lakes. We can hardly imagine a better landscape than that. If you eant to know more about Slovenia and Triglav, read our blog: 8 Reasons to Travel to Slovenia.
How to get there
We recommend you to drive to Stara Fužina, a small village near famous Bohinj lake. From there, you need to drive about 8 km to reach Planina Blato. It's really not a long ride, but from there you can easily start your hiking adventure. Also, you can take a bus to reach Planina Balto during the summer seasons, but for that you need to seek more information on their Lake Bohinj website.
Wild Lake in Slovenia
Do you like unique and mysterious places? If the answer is yes, then the Wild Lake in Slovenia is the perfect choice for you. It is located in the west of Slovenia and it has been protected as a natural monument of great, national importance. Another interesting and fascinating thing about this wonderful place is the fact that Slovenian first outdoor museum in nature was built here in 1972.
Why to visit this lake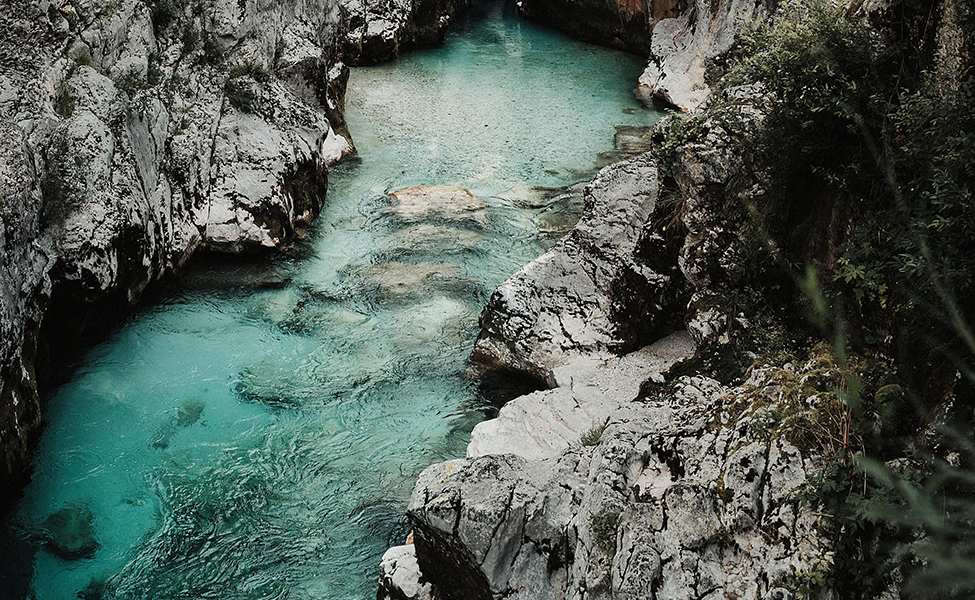 There are many good reasons why you should visit this lake, and one of them is the unusual light blue color of the lake that blends into greenish tones in sunlight. We are sure that the unique color of the lake will leave you amazed. In addition, the surroundings of the lake are as beautiful as the lake itself. The lake itself is surrounded by plants and wild vegetation. This is one of Slovenia's most picturesque lakes,even though it is not as famous as Lake Bled or Bohinj. If you want to relax and have some me time, then this location is perfect for you.
Lake Bohinj
After Bled, Lake Bohinj is the most popular lake in Slovenia and one of the most famous vacation spots for many tourists. Bohinj is a completely magical and beautiful place that will always enchant you with its beauty and attractions. The lake is especially popular for holidays with the whole family because it offers a range of fun attractions and facilities for all generations. It is up to you to get ready as soon as possible and come to this lake to start your adventure. This is the largest natural lake in Slovenia that offers endless possibilities. If you want to learn more about all the wonders in Slovenia, read our blog: 8 Reasons to Travel to Slovenia.
What to do in Lake Bohinj
Be sure to do all the things on our list, and make no mistake, you will have your perfect lake holiday:
Swimming- the first thing on top of our list is to go swimming in this lake because the waters is so pleasant and clean
Relax and sun bathe on the beach near the lake- there are many great spots aroun the lake
Enjoy the outdoor activities- go exploring around the lake, the nature is amazing there as well as architecture
Go boat riding- this can be a fun activity that will unit the whole family
Try out kayaking - this is very special and fun activity that will allow you to see this area from another perspective
Go fishing - for all the fish lovers this is a perfect destination because the lake is full of incredible fish
Go ice skating- If you decide to visit this lake during the winter season be sure to go ice skating. The surface of the lake freezes during the winter time, so that can be a very special chance to try out something new and exciting.
Lake Bohinj accommodation
Here is our pick of best accommodation places that are quite near this lake:
Hotel Jezero -This 4 star hotel has it all. Hotel Jezero is located next to Lake Bohinj. There, guests can fill their lungs with mountain air and admire the beautiful sunsets and landscapes over the mountains. The price goes from € 120 to € 196, depending on what you want from service and the rooms.
Eco Hotel Bohinj - Another great hotel that can be an excellent choice for the entire family.It's very comfortable and well decorated and the beautiful National park is very close. Lake Bohinj is only 6 km away. Suite Executive costs € 491, but you can get more affordable rooms as well, that will cost € 159.
Hotel Center Bohinjsko Jezero - 3 star hotel is perfect for families and it has really good prices for everyone. It also has lovely restaurants and a beautiful yard. The location is great and the lake is only 100 meters away. The hotel is a great base for exploring the surroundings, mountain biking and hiking. The price is € 120.
Lake Bled
Of course, this blog could not be complete without including the famous, widely known, Lake Bled. This is a truly fairytale place. Over time, Lake Bled has become a true symbol of Slovenia and one of its largest and most popular attractions. A small island with a magnificent castle from the Middle Ages that is proudly rising from the cliffs of the island, surrounded on all sides by calm and glassy greenish water is the perfect picture that brought fame to this lake. Slovenia is a country that possesses so many beauties, Bled is definitely one of them.
Attractions of Lake Bled
The biggest attraction of this lake is its great and unique beauty. It is a small lake so it won't take you too long to properly explore it. The whole island is pretty stunning and captivating. You should definitely take a boat. This will give a better view of the immense beauty of the entire island, including the fantastic view on the majestic medieval castle. While being on a boat you will be able to see how bright blue, almost turquoise is the color of Bled and how the entire surface looks calm and glassy. Also, you will be amazed by the incredible and untamed nature that surrounds the lake. It's a truly glorious spot for all the nature lovers.
Castle on the Bled Lake
While being on this popular and quite iconic lake be sure to go and explore the stunning castle. This medieval castle has adorned the wooded cliffs of Bled for more than 1000 years and is one of the most recognizable symbols of the island. Be sure to schedule a tour of the entire castle and try quality wines from the wine cellar of the castle. The wine tastes incredibly good, and the castle has its own wine basement that is filled with valuable and old wine bottles. Also, a private tour of the castle will allow you a better look inside the castle's interior and you will get to learn a lot about its rich culture and history.
Lakes in Switzerland
What is the first thing you think of when it comes to Switzerland? Do you think of beautiful green spaces, magnificent mountain heights covered with a white blanket, untouched nature that is beautiful and breathtaking lakes? Switzerland is all that and much more. Welcome to the land of beauty, land that is proud of its beautiful lakes, let's explore them together. Switzerland is known for its beautiful lakes and panoramas. Many claim that lakes are the most beautiful in this country. Let's learn about some of them.
Lake Brienz
This lake is one of the most popular and most often googled lakes. Spectacular mountain scenery is also one of the perks and something that will probably leave you breathless. This lake is very popular, not just because of its immense beauty, but also because of its outstandingly beautiful beach. Lake Brienz can be the perfect place to start your wonderful Swiss adventure. The lake is crystal blue, its unique color will surely attract you. The nature around the lake is beautiful and untouched, and the roads to it are all beautifully landscaped and well marked.
Why is this lake so special
This is one of the deepest lakes in the whole country so swimming in it can be quite an unforgettable and special experience. Lake Brienz is a very popular destination for a vacation for many romantic couples as well as for romantic couples that like to admire its coral blue and unique color. Surroundings of the lake are equally special and beautiful. The water is blue due to glacier particles that slowly sink to the bottom. These colors are practically mesmerizing in summer and even more in spring when the glacier begins to melt.
How to get to Lake Brienz
This stunning lake is located in the canton of Berne in Switzerland. The best way to reach this special place is by taking a funicular from the ferry station that is very near the train station in Brienz. It takes a little over 2 hours to reach Brienz from Zurich on the train.
Lake Geneva
You have probably heard of the deepest lake in the whole of Switzerland, the famous and beautiful lake Geneva. This lake will give you an unforgettable holiday experience. Be sure to create some of your best memories right on this lake. The lake and the whole environment around the lake looks quite fantastic, like a place from a fairy tale. Here you will be able to have a nice rest, as well as recharge your batteries for new work victories and beginnings. In addition, every day you will have a unique opportunity to enjoy magical panoramas and scenes that never leave you indifferent.
Lake Geneva hotels
Lake Geneva is very famous for its many great and luxury resorts and hotels. Those places are perfect for the ultimate summer getaway. In Geneva resorts the guest is always right and you can be sure that your needs and desires will be put in the first place. It is safe to say that this lake has maintained its reputation to this day. There is also a very famous lake that goes by the same name in the US, but we will write about it more later in a blog. Just be sure not to get confused. Here is our list of the best Lake Geneva hotels:
Nash Airport Hotel - This hotel has an amazing location. It is located a 10-minute drive from the centre of Geneva. The couples really loved this hotel.Select a room type and the number of rooms you want to reserve. A Double Room with one large bed will cost you between € 88 to € 100.
Warwick Geneva - Only 300 m from lake Geneva this hotel is great for the entire family.A great and delicious buffet breakfast is available at the restaurant each morning.Classic room will cost you between € 179 and € 220.
Royal Manotel - Well the name says it, it's a place worthy of a true royalty. In this hotel you can enjoy a sauna and steam bath. The service is, of course, excellent. This great experience will cost you between € 200 to € 330. It depends what suite or room and service you choose.
Lake Neuchatel
Lake Neuchatel plays an important part in Swis tourism. Beautiful vineyard landscapes are something to look forward to when you come to Lake Neuchatel. This is the largest lake within Swiss borders. It's a very popular tourist destination. The town centre is something you need to visit and properly explore.
It is medieval and it owns many great and authentic cafés and restaurants. Also, this medieval town really nurtures its culture and rich architecture. The town is surrounded by the lovely lake and it has several theatres and museums. For all the art and nature lovers this is a great place to go on a vacation.
What to do in Lake Neuchatel
There are many great and fun things to do on this lake. The entire place is ful of life and vibrant colors. Here is our recommendation:
Explore the rich architecture of the medieval town
Visit traditional cafes and restaurants
Go shipping in the luxurious stores
Visit theatres and museum
Go to the wine festival
Go hiking round the island
Try out cycling tours along the shoreline
Try out many fun water sports
We are absolutely sure that this lake will give only the best. Here you will create some of the best memories. In addition to the fact that this lake is one of the most beautiful in the whole world, the city near it will provide you with countless interesting options. The whole place is just full of life and fun events, and when we add to all that beautiful sunsets and magical landscapes, what more could you want from a vacation.
How to get to Lake Neuchatel
It is easy to get to this lake. You can use public transportation, trains or boats or your own car. The city is within easy reach of Geneva and Zurich. Neuchâtel is located in the northwestern parts of Switzerland and the city is located between Lake Neuchatel and the Jura mountains.
Best lakes in California
California, the land of the sun, the land of the successful, famous and rich people, the land of healthy living, of new opportunities and the land of absolutely beautiful lakes. There are a lot of gorgeous lakes spread over this famous country. You will read only about some of them in this blog, but don't worry, you will get only the best and the most valuable information. Large and brilliantly blue that is how we would describe the majority lakes in California.
Lake Havasu
We would highly recommend this gorgeous lake to all the fish lovers out there. This is a great area for fishing and having a really peaceful and calm vacation. California is quite famous for its beautiful landscapes and this lake is certainly one of them. Climate is always very nice and pleasant and you can find many fun activities for the entire family. Lake Havasy is a big reservoir that borders Arizona and it boasts impressive 724kms of shoreline.
Lake Havasu city
This wonderful city will bring you 300 days of sunshine a year, sounds nice, doesn't it? Many claim that this is one of the best cities in Arizona and the proximity of the lake only helps it. This nice city has it all. Amazing water sports, great climate, nice restaurants, gorgeous lake and a lot of sunny days. What more can you ask for? The surroundings of this city are equally beautiful and mesmerizing. Lake Havasu State Park and Havasu National Wildlife Refuge are also one of the reasons why this place is so popular among all generations.
Clear Lake
The water in the lake is always very warm and that is one of the reasons why it's so popular during the entire year. This lake is great for many water sports. Clear Lake is California's largest freshwater lake with an amazing surface area of over 100kms. All of that makes Clear Lake an incredibly popular summertime destination. This lake has been rated as the third best bass lake in the United States. If you want to book a perfect summer holiday with your family this lake is the one of the best choices in America. Many parents as well as kids enjoy it during the summer season and that is why Clear Lake always gathers a lot of people.
Clear lake fishing
Clear Lake is also a very famous destination for fishing. Many passionate fish lovers come to this lake to fish every year. The lake is exceptionally rich in a variety of fish of excellent quality
Fishermen all over America come to this beautiful and popular lake to enjoy days of great fishing. If you like this recreational sport, then this lake is the best choice for your vacation, especially during the summer months. Here you will find many good fishing spots near the lake that will provide you with fantastic panoramas. This sparkling lake is a great spot for many fishermen and for those who want to learn more about it.
Silverwood Lake
Of course we can not write about California without mentioning the iconic Los Angeles. Silverwood Lake, San Bernardino is quite close to Los Angeles. Only 90-minutes away from this popular city. This lake got its name because of the unique and special color it has. The unusual, but breathtakingly beautiful silver color comes from small, shiny particles that shine on the moon and create a wonderful silver glow that glows and shines along the entire water. The water reflects its slover glow and creates a picture of immense beauty.
What to do in Silverwood Lake
We made a special list of all things that you can do while being on this lovely lake:
Boating - you can rent many great boats that are lined up next to the lake and enjoy exploring the lake from a whole new perspective
Swimming - during the summer the water in lake is quite pleasant and warm so you can enjoy the swimming season
Biking - you can also rent a bike with friends or family and go to see the surrounding of the lake, it is even more beautiful than you can imagine
Picnicking - the entire lake and its nature is perfect for having a nice picnic and spend the whole day relaxing, enjoying the sounds of the water and untamed, gorgeous nature
Hiking - if you like to stay fit and healthy, and have very active vacation
Kayaking - this is another great and fun water activity that you can do with the entire family, and it will allow you to experience all the beauty of this lake in its prime.
Windsurfing - this sport is incredibly fun and definitely an unforgettable experience. This
recreational activity will show you from the first hand how great the environment is and how clean the water is, so clean you can practically see through it.
Best swimming lakes
Lakes can sometimes be a great substitute for the sea. If they have a beautiful beach with a number of comfortable deck chairs and spacious umbrellas, then a real summer vacation is guaranteed. Sometimes a vacation on the lake can also be a real savings for your wallet. In addition, the climate on the lakes is extremely pleasant and suitable for everyone, so you will find a safe escape from the heat next to the lake.That is why we have selected for you some of the most popular lakes where you can swim and enjoy water sports or just sit comfortably by the shore and enjoy a good book and cocktails.
Faaker See Lake
Austria is one of the best-organized countries in Europe, proud of its natural resources and wealth. Lakes are no exception. If you decide to come to this lake, we are sure that you will not regret it because you will find everything you need for a real dream vacation. This lake is located in the south of Austria very near the Slovenian border, so you can easily go to Slovenia afterward and visit stunning Slovenian lakes. Faaker See Lake is famous for its turquoise-blue water and mountains that surround the lake creating a picture of immense beauty. The main attraction is the island covered in forest that splits the lakes into two parts. Also, this lake is a great choice for all those who don't like cold weather. Water during the summer can reach up to 27C.
Lake Annecy
Of course, this blog couldn't be complete without mentioning the gorgeous France and all her attractions. Lake Annecy is one of the most famous lakes in the whole of France. Emerald green forest, mountain tops covered in snow, lots of great beaches and lovely little beys from which you can enter the water, all of that awaits for you and so much more. This lake is also great for the entire family and it will offer you only the best. Plus the accommodation near the lake is also very good and everyone can find something that will suit their needs.
Grand Lake in Colorado
Another great lake for swimming. The water is excellent and very clean. It's the largest and deepest natural lake in Colorado, so it is no wonder that many people go there, especially during the summer season. You can find a lot of fun things to do on this lake no matter the season, but during the summer you can go boating, sailing, or fishing. What will surely surprise you is the lakeside scenery that is truly mesmerizing because of breathtaking views of the famous Rocky Mountains. The lake is surrounded by abundant wildlife and deep green forest with many trees and plants. You will be simply stunned by the immense beauty of the entire area.
Lakes, rivers and seas are our greatest natural resources. That is why we should protect and nurture them. Our waters are our true treasures. They are natural resources and without them there is no us. The lakes of our planet are precious and wonderful places that have been generously given to us as a gift. We hope that this text has brought you closer to that gift and introduced you to all its benefits. It is up to you to find out the best for you and embark on a real lake adventure. If you need more interesting and good suggestions on where to spend your summer vacation, then read our blog: 20 Best Beaches in Croatia.