One of the Serbian proverbs will tell you that to know the path ahead, ask those returning, and we cannot wait to tell you all about the uniqueness of the regions of Serbia. We'll take you on a trip from north to south, stopping in the biggest towns, drinking the best wine, learning about Serbian history, and enjoying the views. From Vojvodina to Vranje, here are the Serbian regions that await:
the duality of Serbia - don't forget to use the slider!
Vojvodina - Serbia's wine region
| | |
| --- | --- |
| When is the best time to visit Vojvodina? | Summer in Vojvodina is the perfect time to enjoy its many lakes, the Danub, camping on Fruška gora mountain, and catching your fav artists at Exit Festival. |
| The largest city in Vojvodina | Novi Sad, also known as Serbian Athens |
| Famous Vojvodina landmarks | Petrovaradin fortress overlooks Novi Sad; Zasavica nature reserve, which sells the world's most expensive cheese made of donkey milk; Deliblatska Peščara with hills that will transport you to Middle Earth. |
| Vojvodina fun fact | If Sombor sounds familiar, you might be an avid NBA watcher, as it is Nikola Jokić's hometown. |
Vojvodina is the most northern Serbian province, also known as Pannonian Babylon. It borders Hungary to the north, Romania to the east, Croatia to the west, and Bosnia and Herzegovina to the southwest.
Vojvodina's plains are divided into Srem, Banat, and Bačka. Its administrative center Novi Sad has been crowned the European Capital of Culture in 2022, which significantly influenced Vojvodina's tourism to the forefront. Learn more about this gorgeous city in our blog - Things to do in Novi Sad.
In addition to Novi Sad, cities that stand out for their unique architecture are Subotica, Sombor, Zrenjanin, Pančevo, and Apatin. Architectural works of art follow the rules typical of Hungarian Secession.
Vojvodina is adorned by an island mountain, a national park called Fruška gora. As much as 90 percent of the park's surface is forested. Fruska gora is also home to over 20 monasteries, and only one other part of Serbia can compete with it. Keep reading to find out which one.
Where to try the best wine in Vojvodina?
Where to start if not from the famous Fruška gora. This area is suitable for wine production, with main hotspots in towns Irig, Banoštor, Sremski Karlovci, and Šid. That is where you can taste the best Riesling, Bermet, Frankova, Merlot, Gamma, Vranas, Portugiser. Besides sipping on some wine, winery tours in Serbia include a visit to the cellars and a walk around the premises, followed by a fantastic lunch. We recommend you check out:
Zvonko Bogdan Winery: One of the most famous Vojvodina wineries for a good reason. It was named after a famous singer born in this part of Serbia. This winery uses the most modern French technology that creates wines of intricate taste and prestigious quality. The winery is situated in an authentic and recognizable Subotica-style house, which will be your perfect photo backdrop. In this Subotica winery, everything is about wine and art. Two of their most famous wines are Život teče and 4 konja debela and we could recommend them enough.
Kiš winery: Sharp, sweet, intoxicating, and incredibly tasty, that's how you can describe the quality wines of the well-known and prominent Kiš winery. A long family tradition and years of hard work and effort brought this winery in Sremski Karlovci world fame. It has been operating since 1830s when the family bought its first vineyard. It is best known for its dessert wine Bermet. This type of wine was served on the Titanic and bought in this very town.
Winery Čoka: In Čokas 100-year-old tradition, it belonged to Count Marzipan, who handed over the entire winery to Count Lederer. The count families had good connections with Austria and Switzerland, which helped modernize the production. Vineyards occupy around 150 hectares of the winery, and another 150 are under crops. Čoka Winery is a fruitful business selling over 6 million liters of wine annually. It has recognizable bottles, making it a great souvenir as well. Don't miss out on their most famous wine, Ždrepčeva krv.
Šumadija - Land of forests and monuments
| | |
| --- | --- |
| When is the best time to visit Šumadija? | Šumadija is most beautiful during spring when everything is in bloom |
| The largest city in Šumadija | Kragujevac, the city of many firsts and the former capital of Serbia |
| Famous Šumadija landmarks | Šumarice Memorial tells a story of a dark day in Serbian history; Takovo is where the rebellion against Ottoman rule started; Bukulja mountain is every hiker's dream |
| Šumadija fun fact | Šumadija is home to the first capital of modern Serbia, the first established gymnasium and university, the first Serbian theater, modern court, library, gallery, and museum. |
Šumadija got its name from the lush forests that covered this part of Serbia, šuma meaning forest in Serbian, while before it was proudly called Trivalija.
The Šumadija relief is dominated by basins and mountains with the characteristics of the Rhodopes and the Dinaric Mountains. Šumadija comprises cities, some of which also held the title of capital, places where rural tourism flourishes, urban environments, and rustic bazaars.
It is said that men and women from Šumadin are exceptionally talented, girls from Gruža are compared to roses, and you can meet charming and spontaneous people at every step. Illyrians, Celts, Romans, Huns, Byzantines, and finally, Slavs have all lived in the area of ​​Šumadija throughout history.
Turbulent Serbian history has left scars in this part of it as well. Šumadija remembers the particularly difficult fate of the people during Ottoman rule and the Second World War.
Šumarice Memorial Park - Remembering the fallen
In October of 1941, 2,300 people died at the hands of Nazi German soldiers, marking this day as one of the blackest in Serbian history. The memorial complex in Šumarice preserves thirty mass graves on which ten monuments were created. The Pain and Defiance memorial depicts vividly and touchingly the moment when a man and a woman met their end that day in Kragujevac. A little further away, at the site where the students and their teachers were shot, a concrete monument was erected in their honor. All the sung songs, touchingly written film scenes, and carefully taught history lessons could not sufficiently convey the fear and pain that must have been felt at that time. With a victorious tone that indicates the dignity of all those who suffered, the Monument of Resistance and Freedom was erected, whose abstractness allows you to interpret it as you see fit. No matter how hard it may be, we suggest you visit this important memorial.
Western Serbia - Home of the best tourist village in the world
| | |
| --- | --- |
| When is the best time to visit western Serbia? | Plan your next winter vacation in western Serbia to have the best skiing adventure. The mountains of western Serbia are also gorgeous during summertime, as most are considered national parks. |
| The largest city in western Serbia | Čačak, the city of best-roasted pork in Serbia |
| Famous landmarks of western Serbia | Meanders of Uvac are the most gorgeous landmark in Serbia; Tara and Zlatibor mountains are centers of winter tourism, with skiing spots and countless viewpoints; Banja Koviljača spa town is the ultimate spa getaway |
| Western Serbia fun fact | One town in Zlatibor county is the birthplace of šljivovica, a Serbian national drink. This is a type of brandy made from locally grown plums. If you can't handle liquor, maybe sit this one out. |
The entire region of western Serbia is spread over hilly and mountainous terrain, tucked between thick forests. The territories of the Golija and Tara mountains are among the most forested regions of Serbia. Three of the five mountains mentioned in our most visited Serbian mountains blog are located here.
Remember the monasteries of Fruska gora? Well, the Ovčar and Kablar gorge gives it a run for its money. More than ten saved monasteries sit in this part of Serbia, on both shores of the Morava river. Some of them date back to the 14th century! Learn more about them on our page - Monasteries of Ovcar-Kablar gorge.
Did you know that Serbia is among the largest exporters of raspberries? This Serbian region is where they are mostly grown alongside plums. We can already taste šljivovica!
Although this region has a moderate-continental climate, its southernmost city, Sjenica, is also known as Serbian Siberia, the coldest inhabited place in Europe, where winter temperatures go below -20°C (-4F).
Drvengrad, Mokra Gora - Village of wonders
This a unique work of art brought to you by Emir Kusturica. Inspired by the beauty of Mećavnik, during the filming of Life is a Miracle, Kusturica designed a sustainable town made of wood. It consists of 50 log cabins, typical of this region, named after famous actors, writers, and athletes. In addition, there are 13 streets, two squares, a city gate, sports fields, and bars - everything a city should have. Drvengrad, or Mećavnik, as some call it, exudes the spirit of the film, and many say it is a magical village. You have to see for yourself.
Kustendorf, a festival dedicated to the greats of contemporary cinema but also up-and-coming creators, is held every January in this unique town. The festival is divided into five program units: the competition program of the festival, Retrospective of the greats, Contemporary tendencies, Foreign program, and Music program. In 5 days, you have the opportunity to watch some of the most outstanding film productions of today and meet some of the world-famous movie stars, such as Johnny Depp and Monica Bellucci.
Eastern Serbia - The most mystical of Serbia's regions
| | |
| --- | --- |
| When is the best time to visit eastern Serbia? | Use the liveliest spring days to explore springs, waterfalls, and a pyramid-shaped mountain of eastern Serbia. Your Instagram feed will be blessed, trust us. |
| The largest city in eastern Serbia | Zaječar - the city of beer that host a festival dedicated to rock and roll. |
| Famous landmarks of eastern Serbia | Krupajsko vrelo is a hot spring famous for its bluish color and fairytale-like surroundings; Lepenski vir is the oldest Neolithic and Mesolithic settlement in Europe; Rtanj mountain is maybe a pyramid? |
| Eastern Serbia fun fact | It is believed that the Vlah people of eastern Serbia use the so-called vlah magic. They practice many customs, can allegedly communicate with the dead, and predict your future. |
The edges of eastern Serbia meet Romania in the north and Bulgaria in the east. The Danube and corridors 4 and 10 are set as a natural border, within which mountainous plains and urban areas intertwine.
It's worth noting that as much as 40% of the territory of eastern Serbia is under forest. In addition to dense forests, the east of Serbia can boast of arable land, home to orchards and vineyards famous for their unique wine storage methods.
East is the mining center of Serbia, with the city of Bor leading the way. In addition to the copper mine in Bor, the Copper and Precious Metals Mine can also be found in Majdanpek. Other cities to visit in this region are also Zaječar and Kladovo.
Eastern Serbia is also home to a number of protected goods, amongst which Stara Planina Nature Park, "Đerdap" National Park, and the unmissable Golubački grad fortress stand out. Learn more about them and ten more interesting landmarks in our blog - Unique attractions in Serbia.
Places in eastern Serbia that make it unique
If you asked someone from Serbia to tell you a story of the east, they would tell you all about how it's the most mystical of all regions in Serbia. We wrote about the customs of eastern Serbia in our blog - Things to know before visiting Serbia, so you can check it out. Now, let's look at some unique spots you ought to see:
Rtanj: Near Boljevac stands a mountain, or perhaps a pyramid, whose highest peak exceeds 1,500 meters. Rtanj is part of the Carpathian Mountains, mainly composed of sandstone and rocks. Beliefs and legends about Rtnje rank it among the most mystical locations in Serbia. The slopes of Rtanj and their joining at the top made it look like a pyramid, so it is not surprising to think that Rtanj is hollow in its center. It is said that it has a negative effect on technology and that whoever enters it comes out mad. This is allegedly why all potential entrances to the pyramid are closed. Conspiracy theorists will tell you this is where aliens meet, which we so wish were true.
Rajac pimnice: The Negotin wine region is proud of its complex of wine cellars. It is a settlement made up of stone houses, built sometime during the 19th and 20th centuries. Winegrowers from Negotinska Krajina decided to build them not only to have space for storing and producing wine but also to be as close as possible to their vineyards. These houses were dug a few meters into the ground during construction to secure ideal conditions and insulation. In addition to the fact that they paint the panorama of eastern Serbia most beautifully with their appearance and structure, pimnice attract tourists from all over the world. You can spend the night there and finish your day with a big Serbian dinner.
Park of miniatures: Beloved Serbian churches and monasteries are gathered in one place in this park created by Milenko Ilić. Take a stroll through this park to feel like a giant and find inspo for your tour of most famous Serbian churches. You can visit the impressive miniature models made with many details every day, from April to November, between 9 a.m. and 4 p.m.
Southern Serbia - Food and ćilims
| | |
| --- | --- |
| When is the best time to visit southern Serbia? | Head out to towns of southern Serbia during autumn to get the best experience. September is the month of Roštiljada, barbeque inspired festival that holds many Guinness World Records. |
| The largest city in eastern Serbia | Niš, a city of turbulent history |
| Famous landmarks of eastern Serbia | Ćele Kula is a tower made from skulls of fallen soldiers during Ottoman rule; Đavolja varoš is a unique geomorphological gallery of naturally formed stone figures that resemble people with hats |
| Southern Serbia fun fact | If you want to be in two places simultaneously, you can do it on Stara Planina. Southern Serbia and Bulgaria share the stone located on this mountain, and it is considered a member of both countries. |
The territory of southern Serbia includes Nišav, Jablanički, Toplički, Pirotski, and Pčinjski districts. Because of its position, it is called South Pomerania, and you will often read about these parts of Serbia combined with Eastern Serbia. One part borders Bulgaria, which has led to interesting combinations of cultures and traditions.
Southern Serbia is also known for its many spa towns, a pride in the tourist offer of Serbia. If rural tourism is what you are looking for, this is the place to be.
South Serbia is an extensive territory that about 1,000,000 people call home. Most people live in Niš, followed by Leskovac and Vranje. Although Serbs mostly inhabit these regions, Bulgarians, Albanians, and Roma have also found their home in the south of Serbia. That's why places like Dimitrovgrat are inhibited mainly by them.
Have you heard of the village of Donja Lokošnica? The pepper capital of the world, with less than 1,500 inhabitants, is where you will see rows of fresh and dried red peppers on every house. It is a particular type grown only in this part of Serbia.
World-famous brands of southern Serbia
If your favorite part about traveling is all the food, welcome to the club. Southern Serbia will take you on a wild ride through the creamies cheeses, crispy pork roasts, dreamy pepper spread called ajvar, and record-breaking barbeque. Besides food, the crafty hands of women in Pirot are what put this Serbian region on the world map. You can learn all about the local dishes in our blog - Traditional Serbian food, but before that, let's talk about the two most famous brands of southern Serbia.
Barbeque festival of Leskovac: The town of Leskovac is known far and wide for its art of grilling meat. It is made exclusively from beef, and before baking, the meat must be well-salted and left in the pan. Leskovac barbecue is traditionally made on open fire and charcoal, which gives the meat that juiciness. Meat used to be chopped on a stump before meat grinders were a thing, and some people still think this is the best way to prepare it. Every September, people from around the world gather in Leskovac for the Roštiljada, a barbeque festival. Besides testing many variations of this food, you can witness the preparation of the biggest patty in the world, three times champion!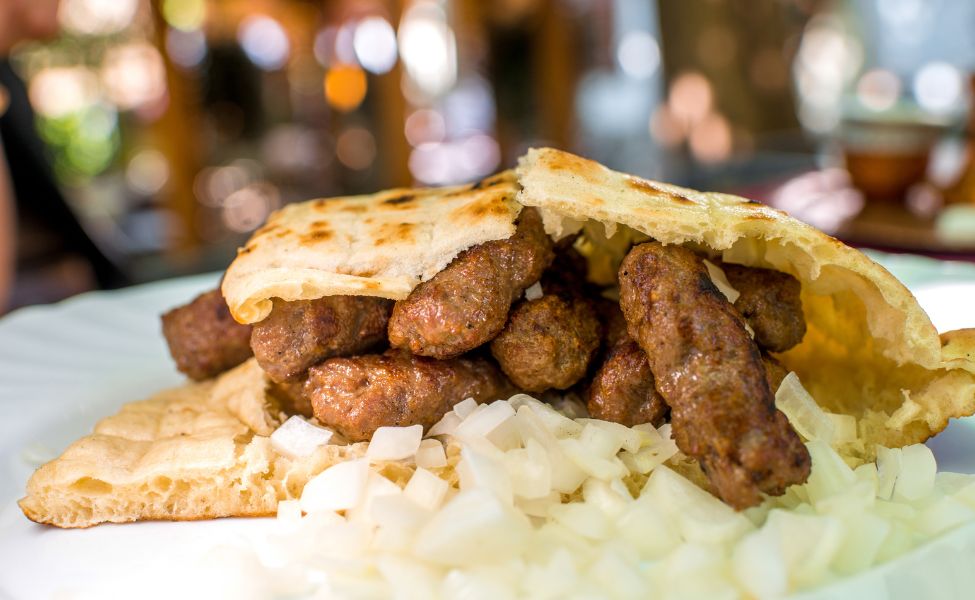 Ćilim from Pirot: The Pirot carpet is a traditional product of the Pirot district, mainly in the area around Stara Planina. Ćilims of Pirot don't have an unusable back side, as both faces of the rug are unique works of art. Nowhere else in the world has such a practice been recorded. From Pirot, carpet making also developed in the surrounding towns, as married women brought with them skills and tools and passed the craft to younger generations. Since 2002, the carpet has been protected as a product with a geographical indication. A total of 122 patterns and 96 ornaments are recorded in the Pirot carpet catalog. Today, the Damsko srce association continues to share this knowledge.
Which of these regions in Serbia sounds the most fun to you? You will fall in love with Serbia whether you visit them all or just one, we are sure of it. Use our virtual Serbia travel guide to plan the next steps. Get comfortable shoes for all the hiking, build your food and booze tolerance, and you should be fine. Bon voyage!